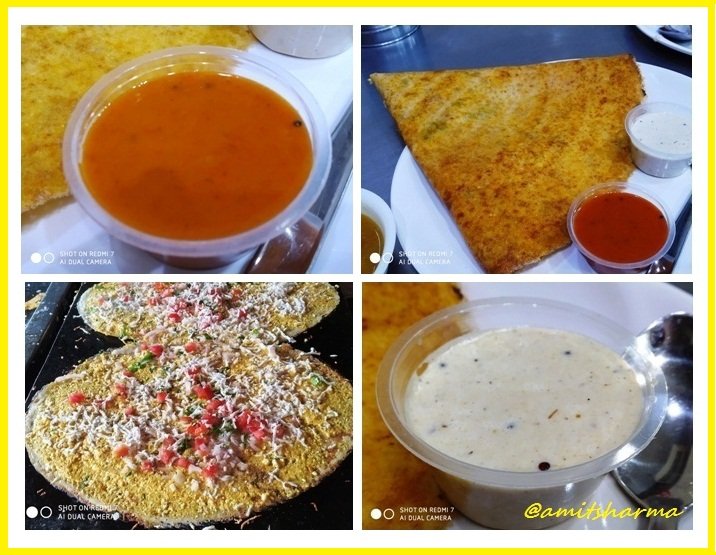 Today, I am taking you all, to the LIVE KITCHEN, to See-N-Enjoy the super delicious Butter-Cheese-Onion-Tomato Masala Dosa. For me its always such a wonderful experience to see the entire process happening infront of my eyes and it really pleases my senses, the aroma and flavour, truly divine.
So let's start the process... to begin with... the Big long Hot plate is ready to deliver multiple Dosas in a single go and demands much speed by the person making them.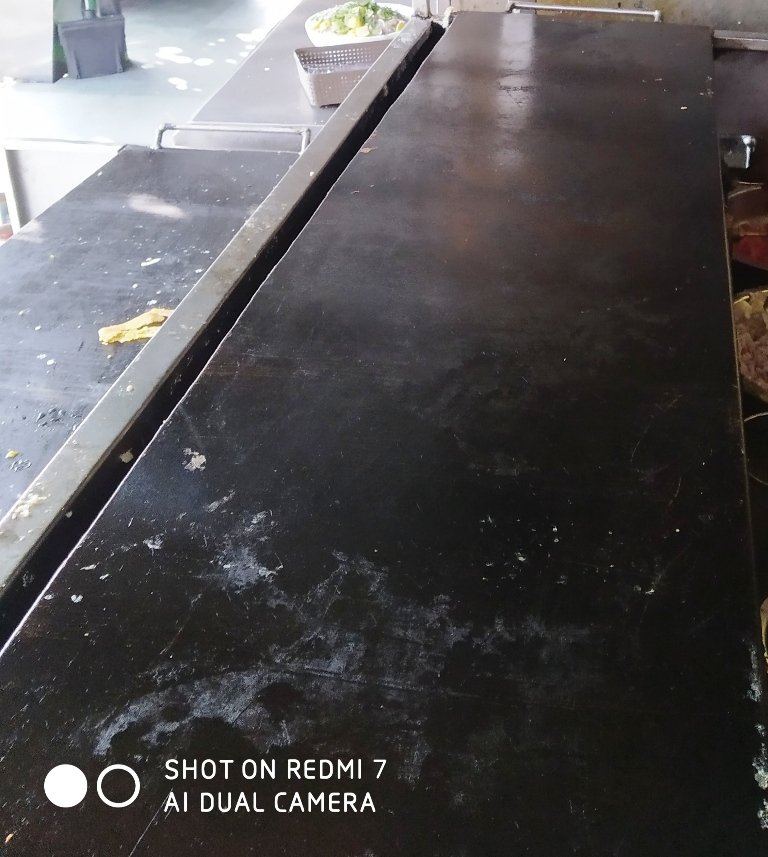 This is the pre-made dosa batter, which is made with the combination of the said ingredients in relevant proportions: skinned black whole lentils, bengal gram, raw rice & parboiled rice, mixed, grind and fermented, as thick batter, to make Dosas crispy n crunchy.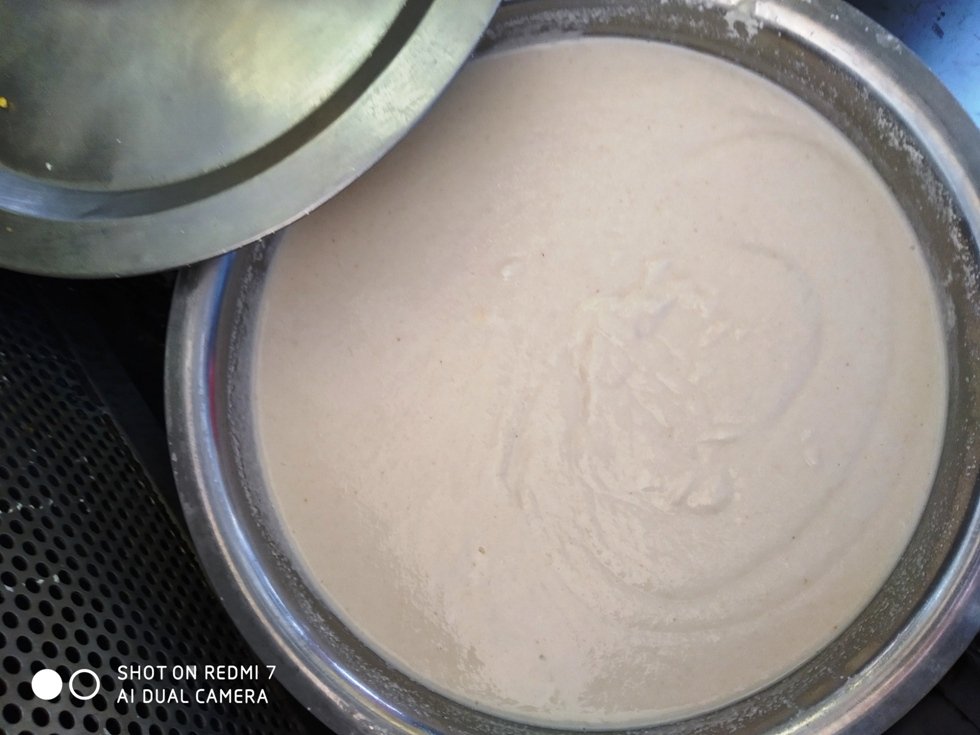 Now, this one is Potato & Various Herbs n Spices filling for the Dosa, however we opted for Cheese N Herbs Mix filling, which is made instantaneously and then applied to the Dosa base.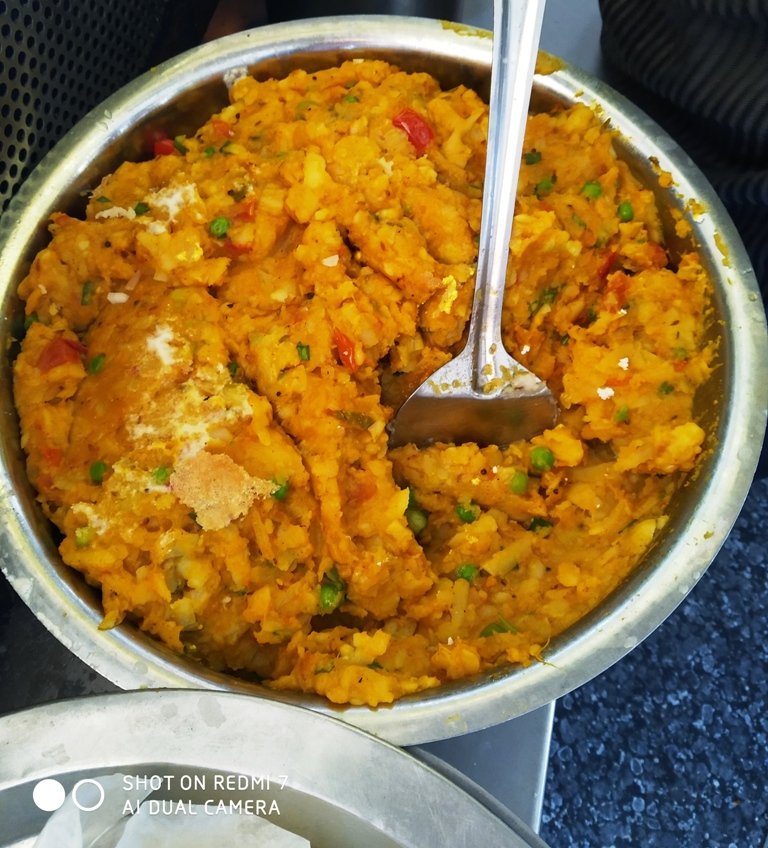 So, the process of making Dosa eventually starts, with a medium sized bowl being filled with batter and then transferred onto the Hot plate and it all goes round and round and then finally oval shaped. One and then the second one, the third one and so on ! At a quick speed ! So that all of them bake at the same time...almost and served simultaneously as per the individual order.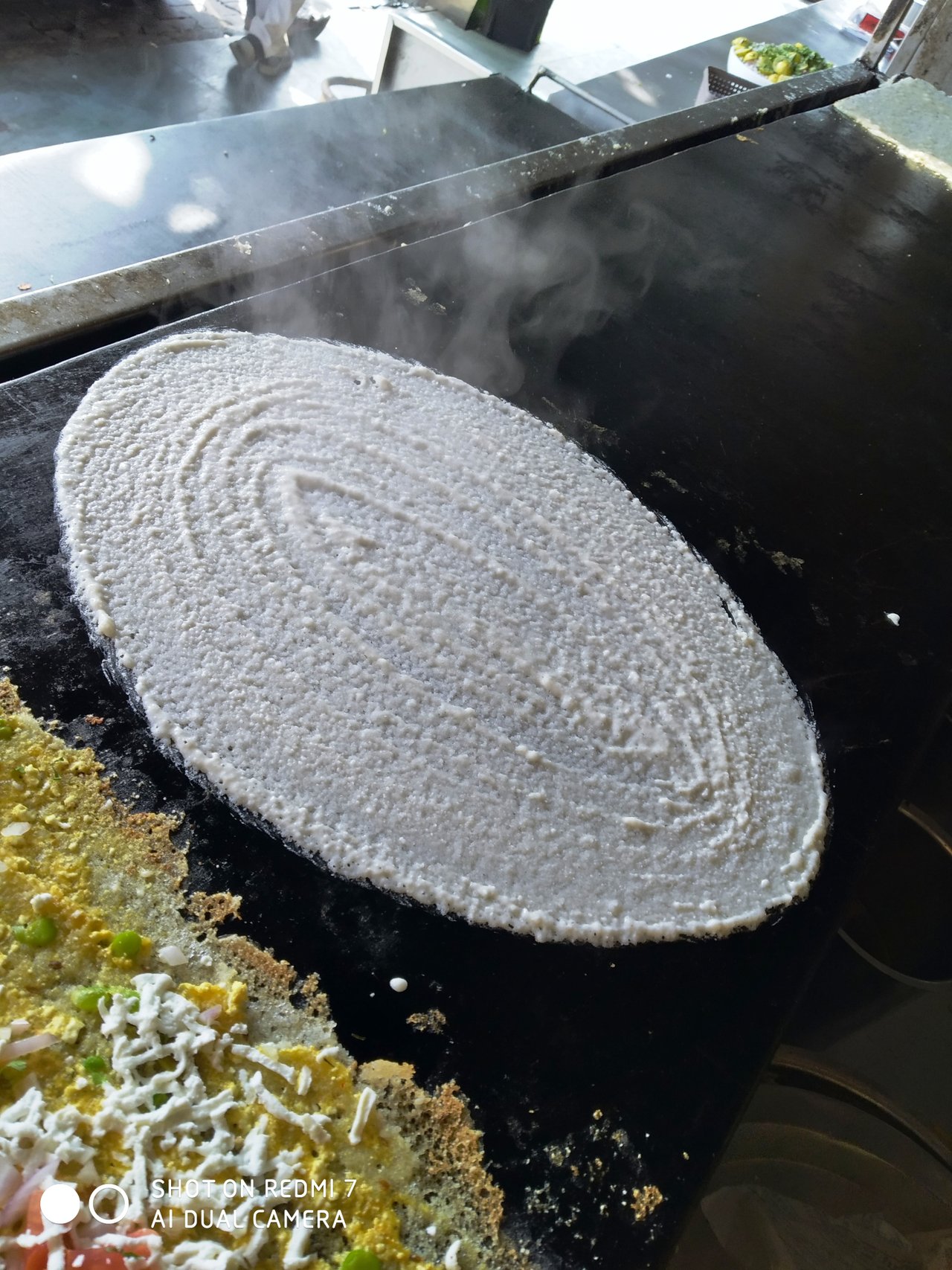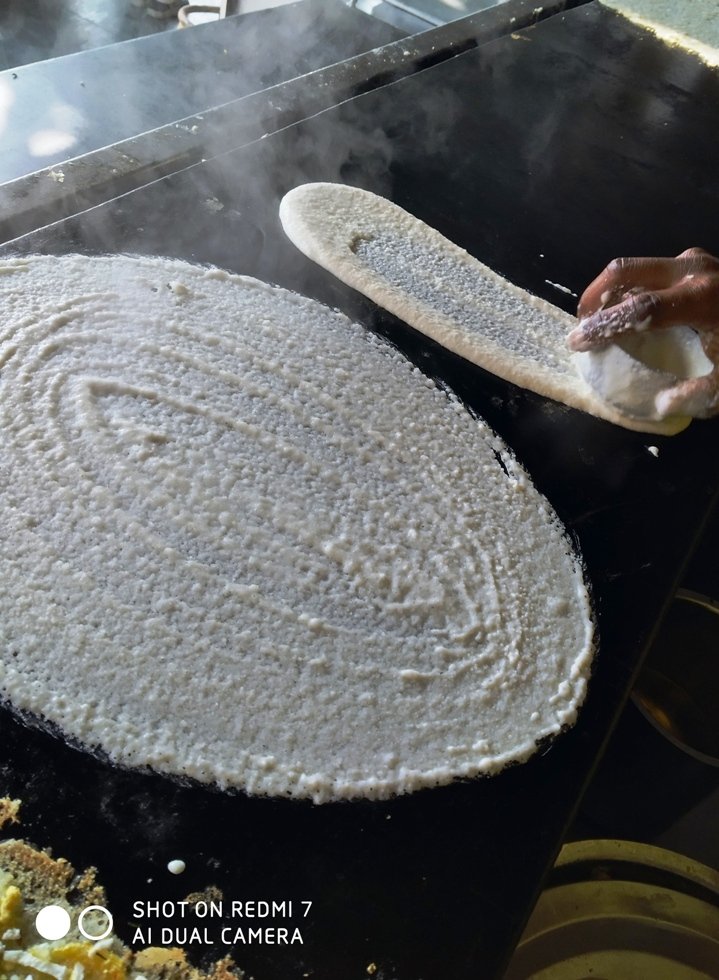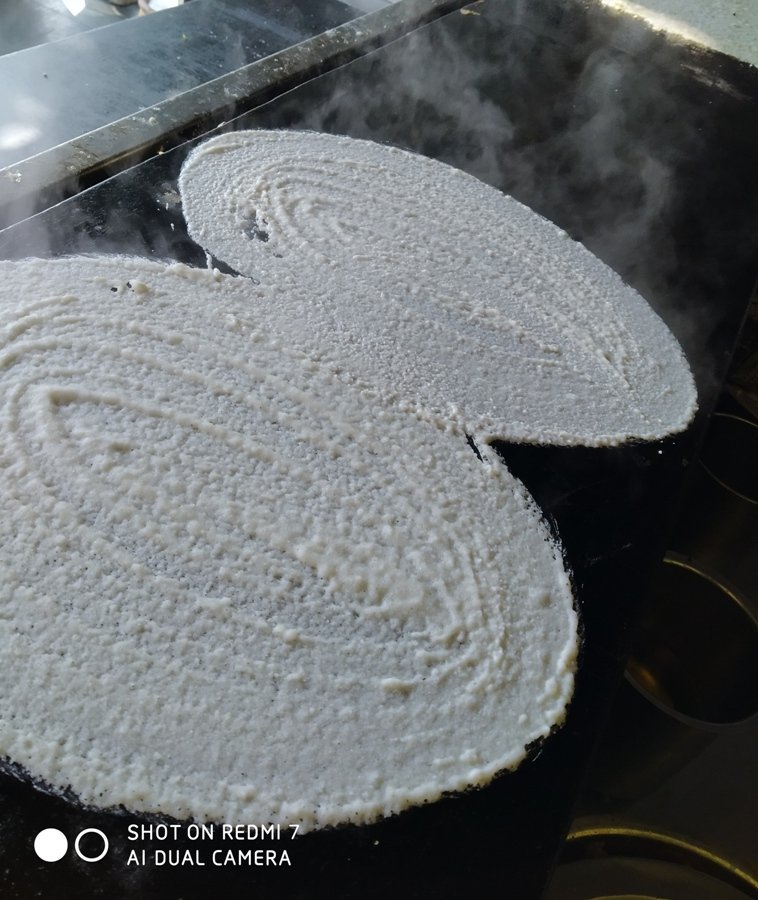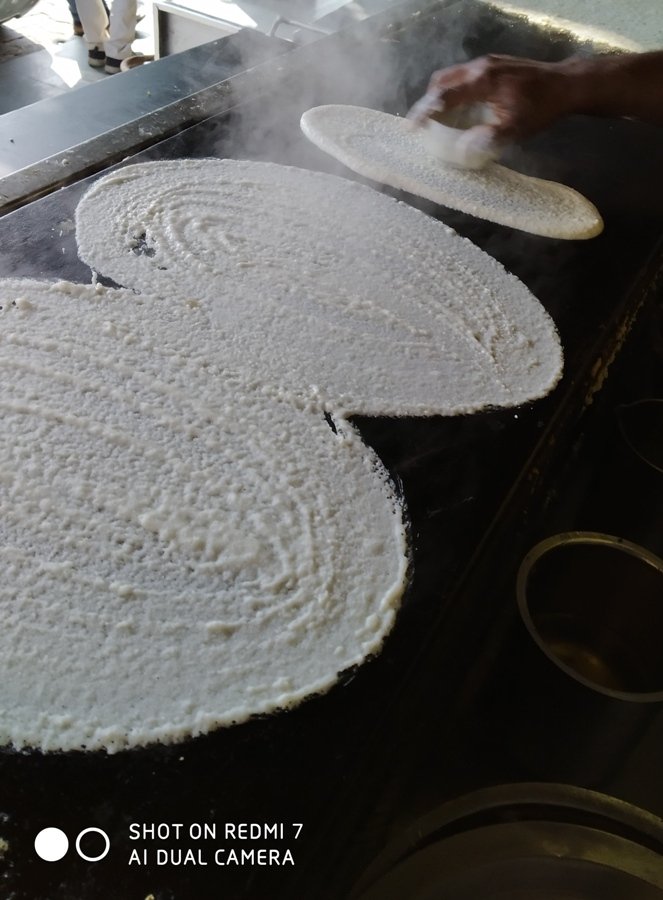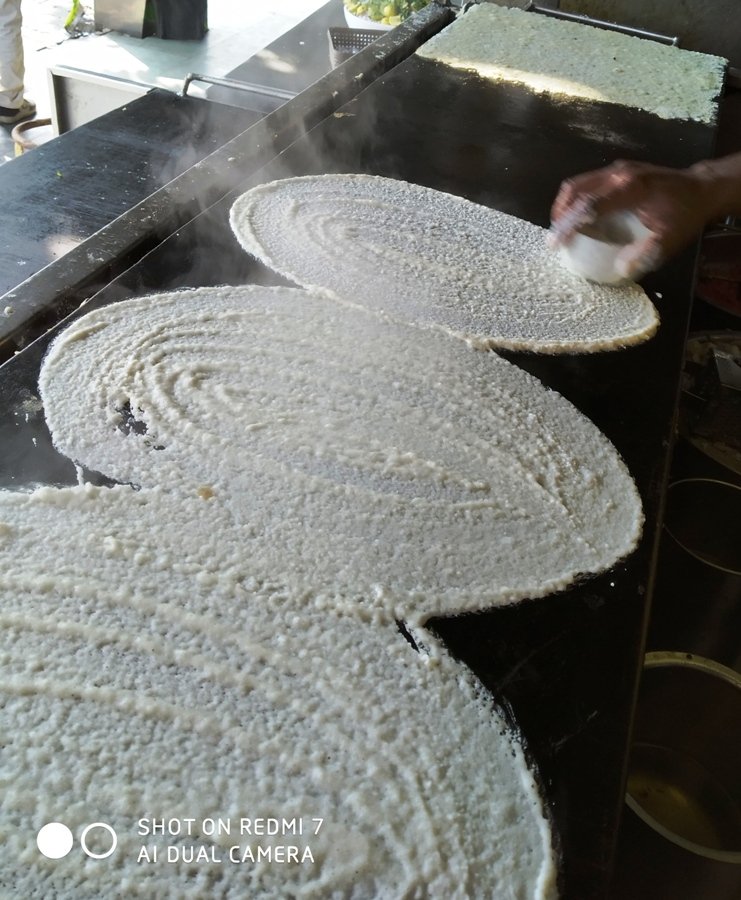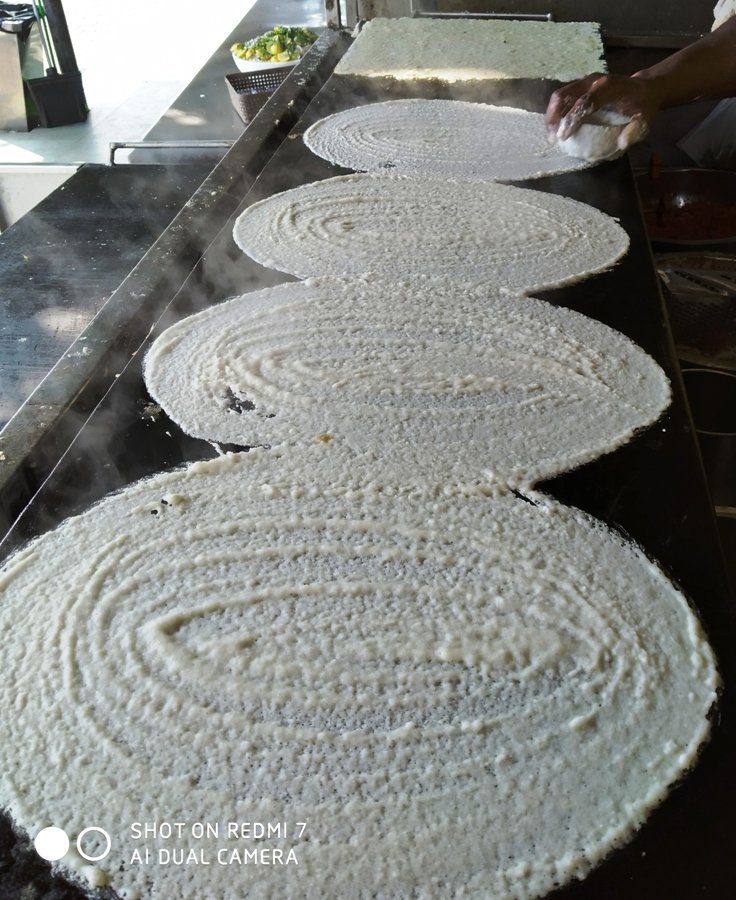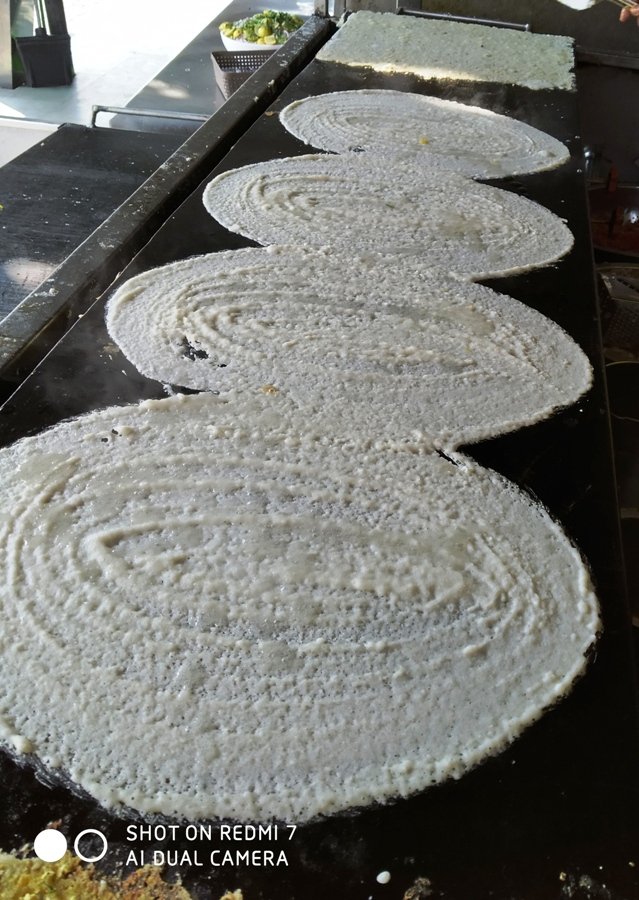 After couple of minutes when the base is getting ready the Butter is applied in good quantity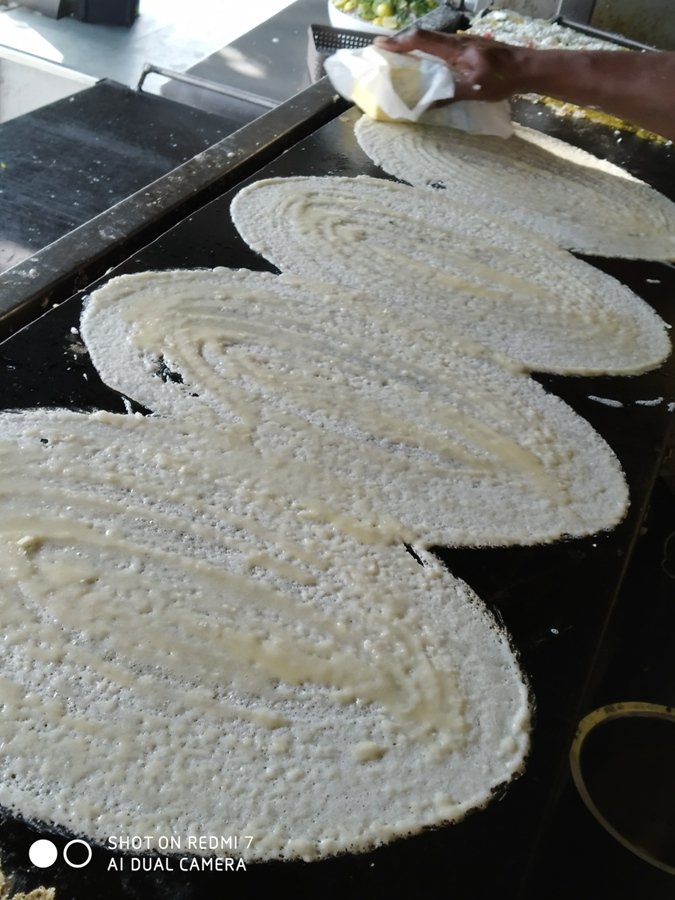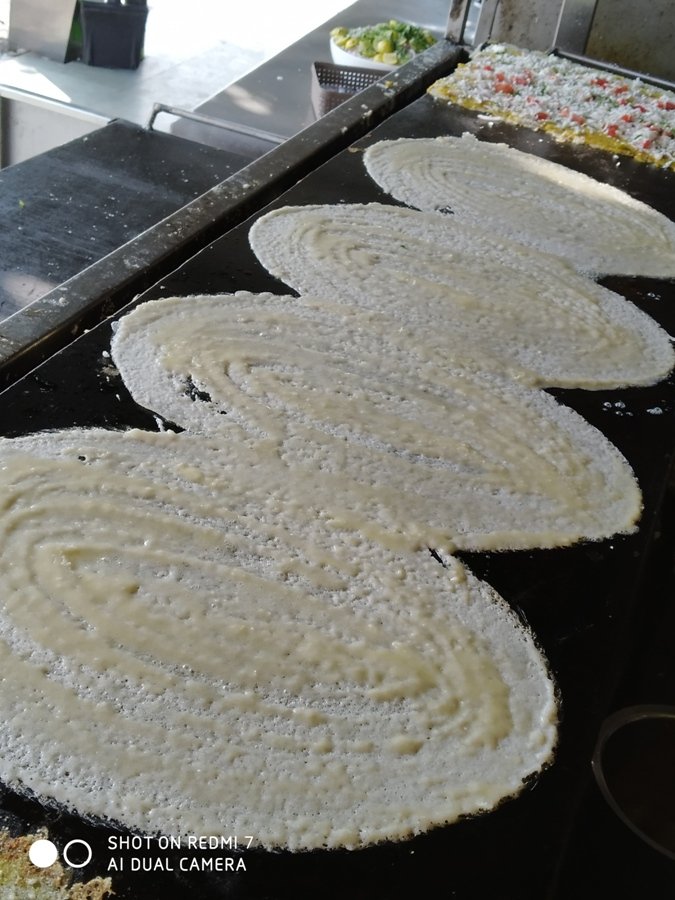 Time for the Cheese N Herbs Mix filling to be applied to all the individual dosas at superfast speed and its an interesting moment to watch and all happens in couple of seconds.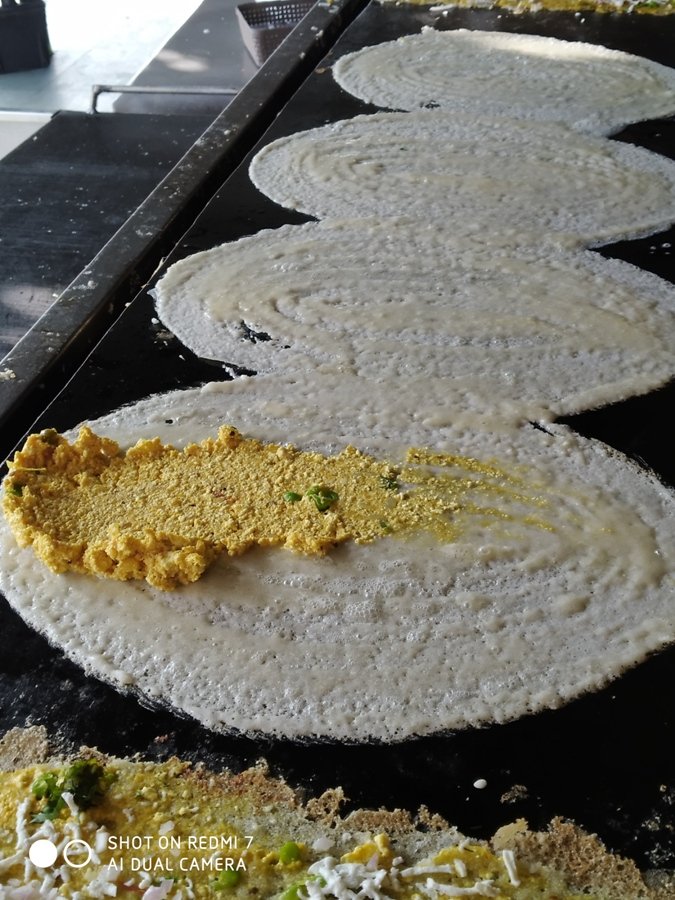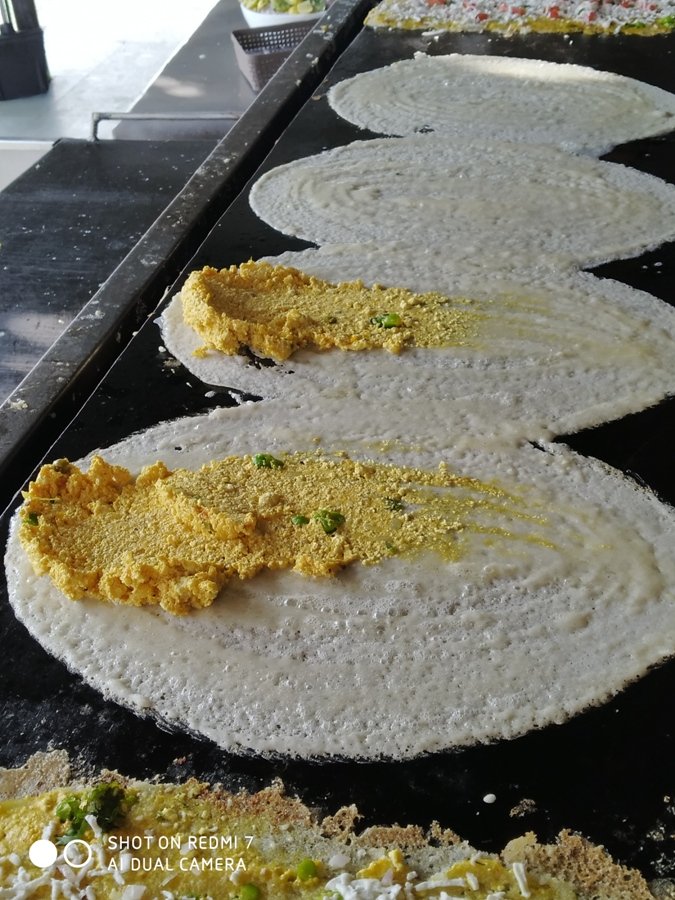 The first two are Cheese N Herbs Mix filling and then the next two are Potato N Herbs & Spices Mix filling all action happening at the same time.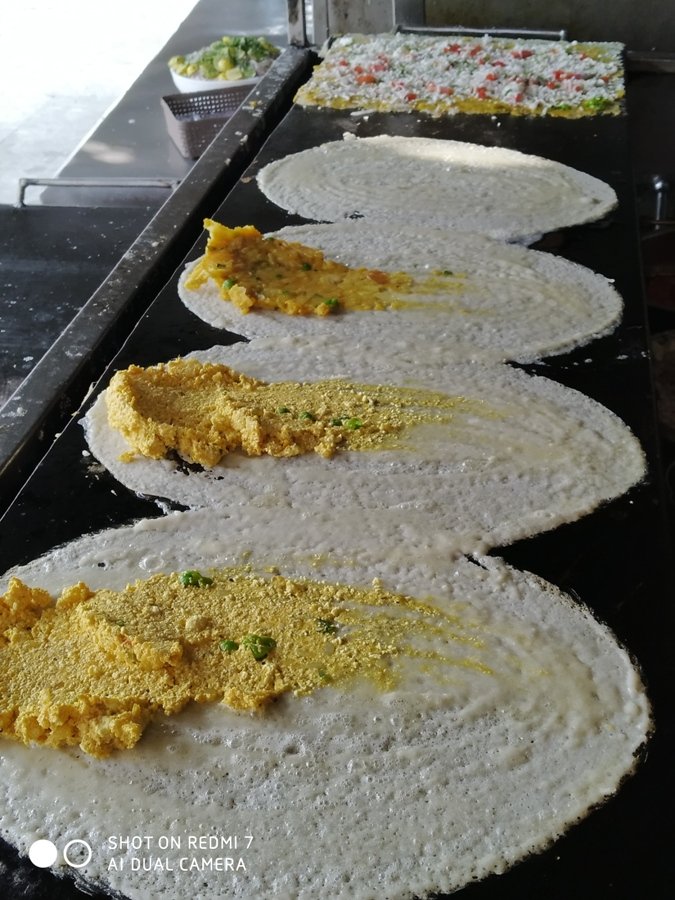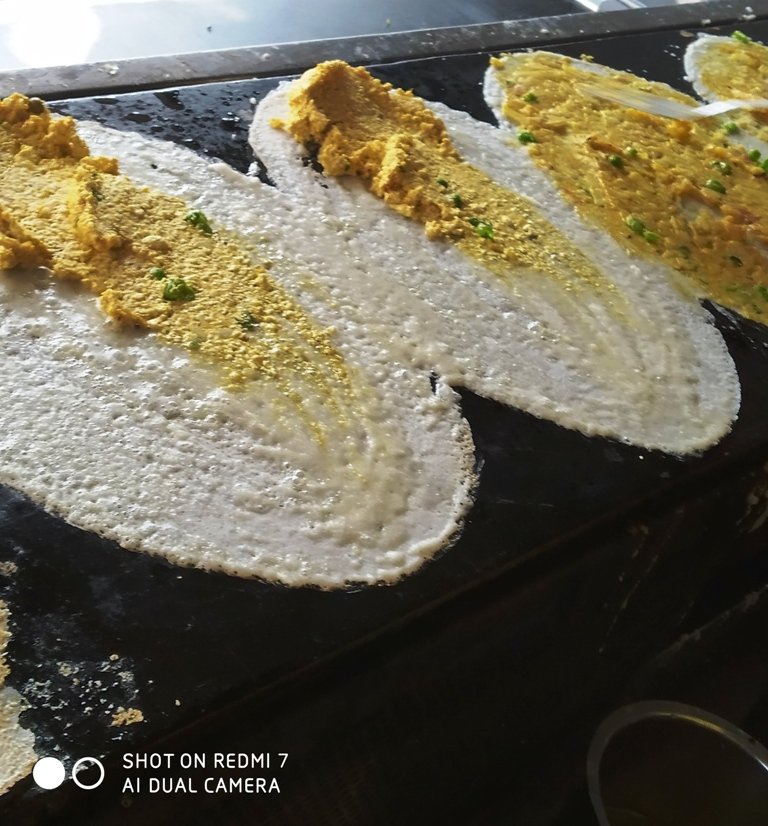 Time to evenly spread the filling on the entire dosa base...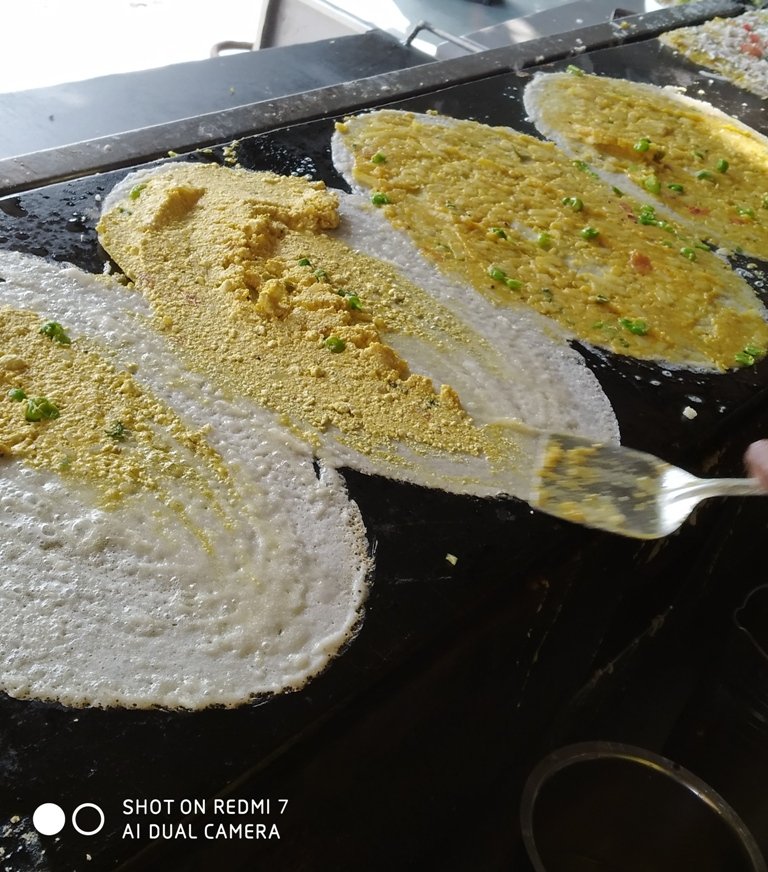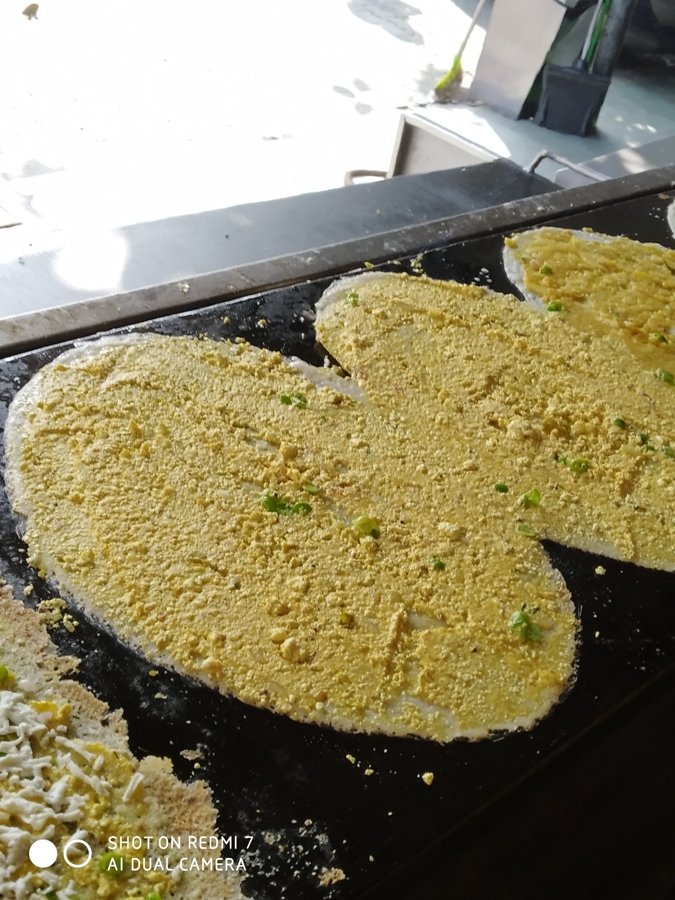 Sprinkle chopped onions...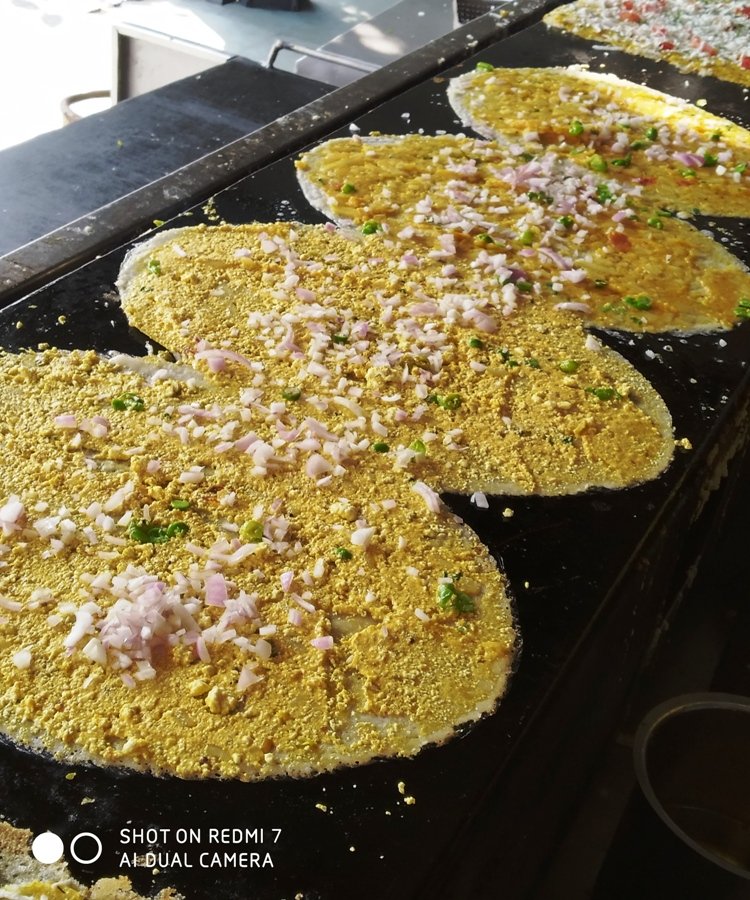 Sprinkle chopped tomatoes and some coriander sprigs...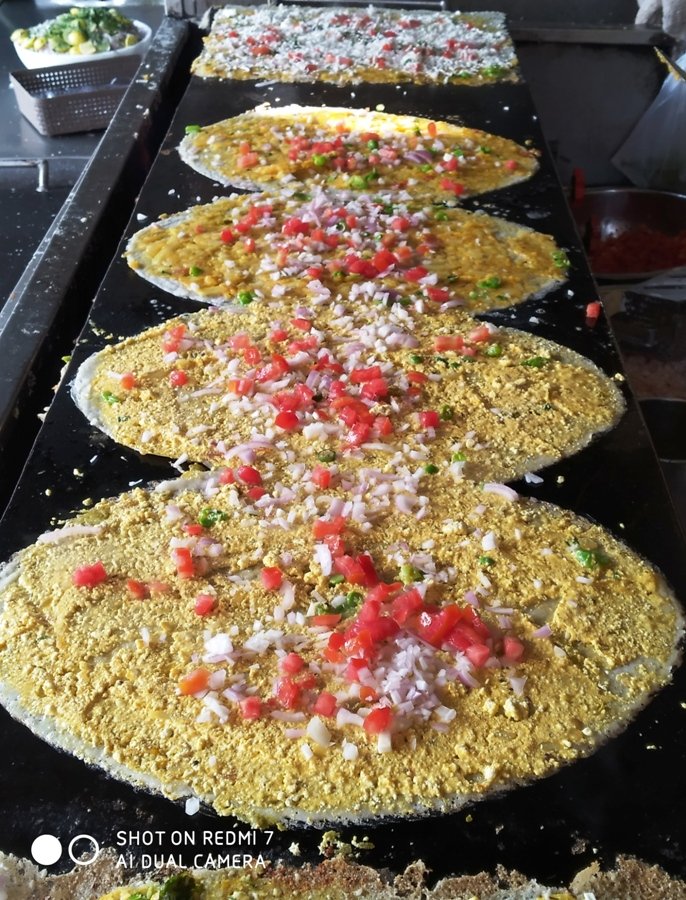 Time to grate cheese...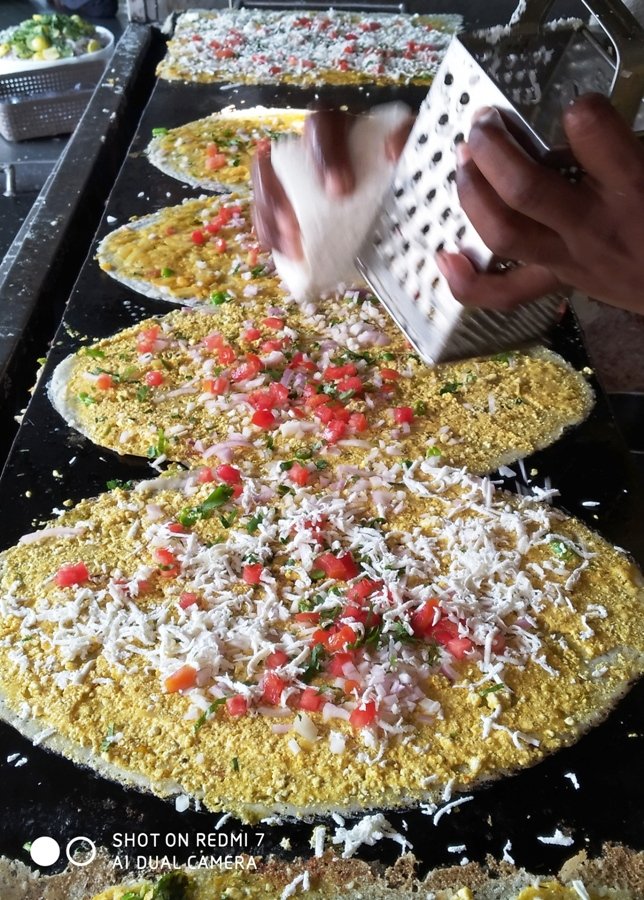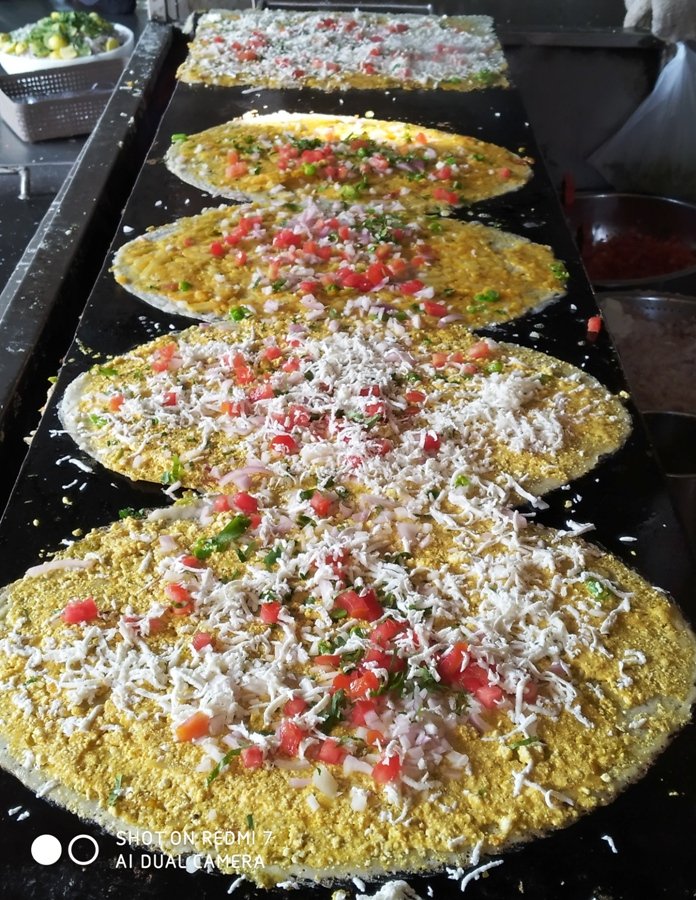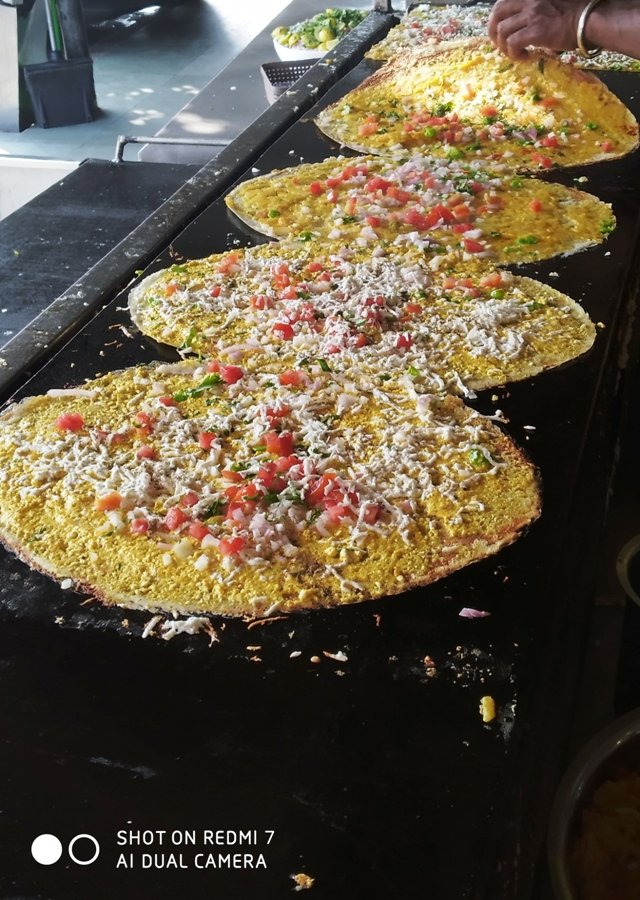 The Potato N Herbs & Spices Mix filling Dosa is ready and about to be served !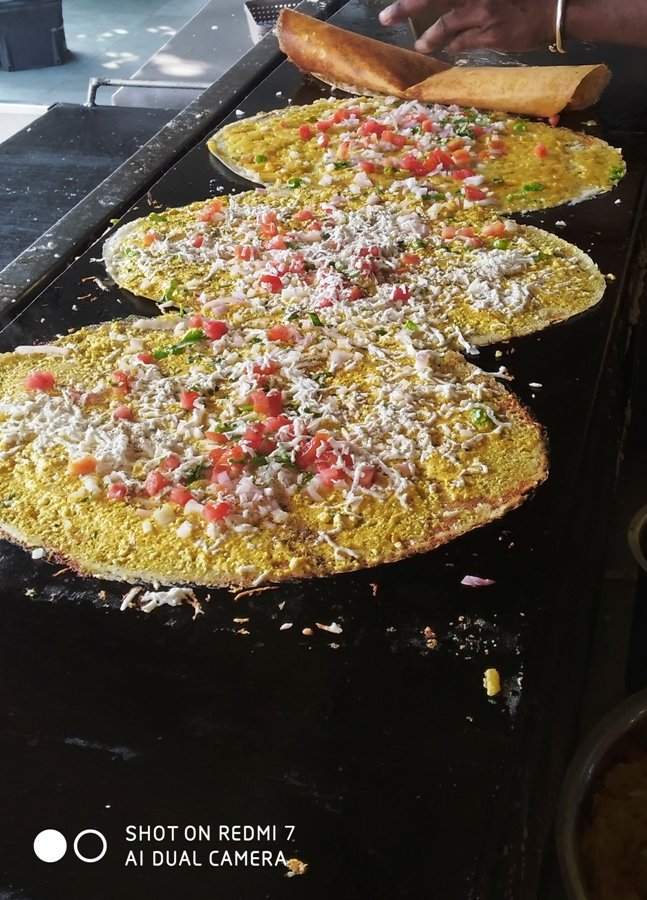 These all are ready and will be served in couple of seconds...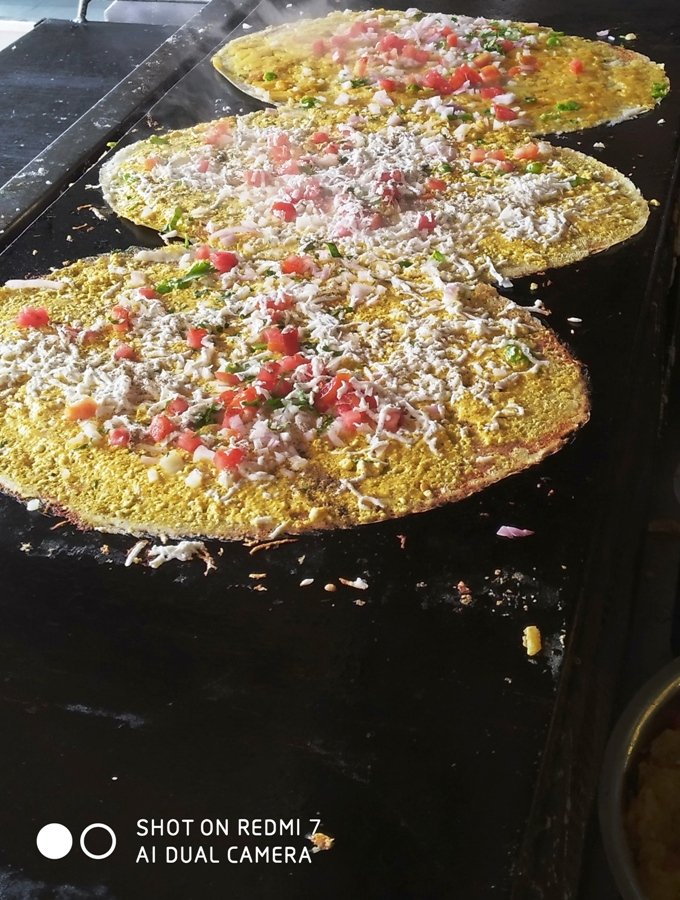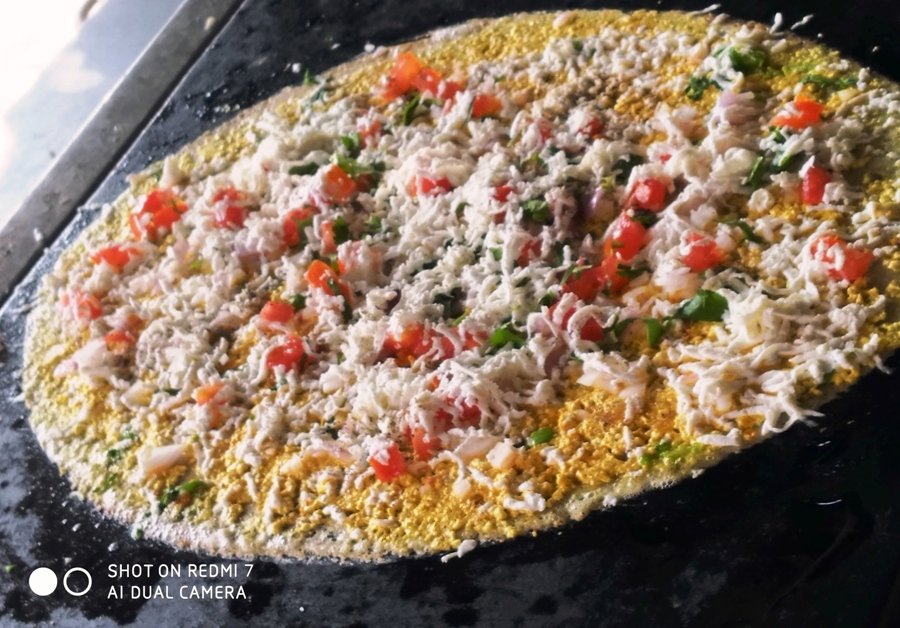 This is also one another variety of Dosa... Called Semolina Base Dosa with Cheese filling in abundance...Yum Yum !!!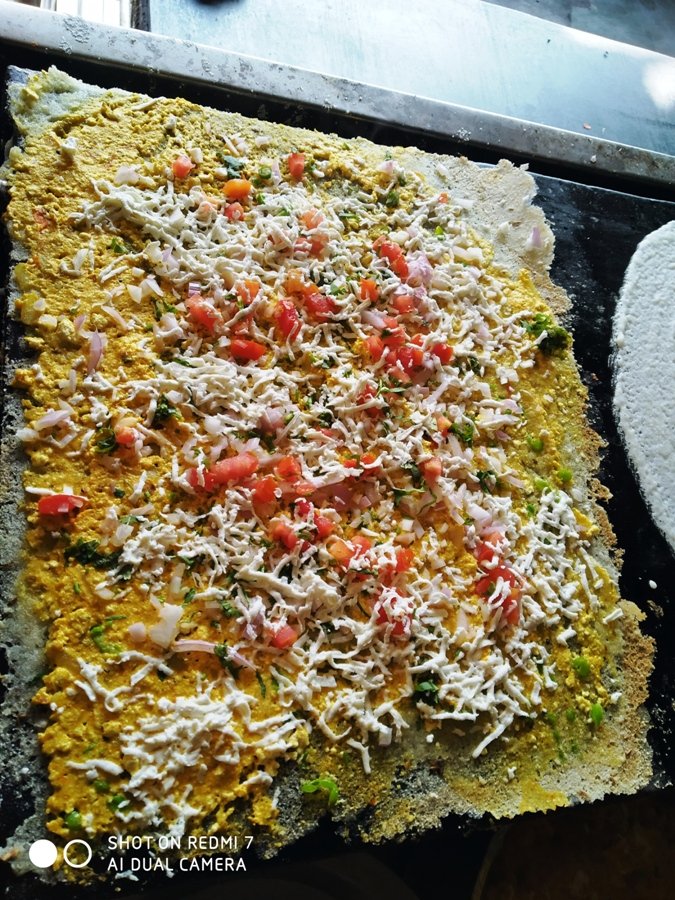 Being Served !!!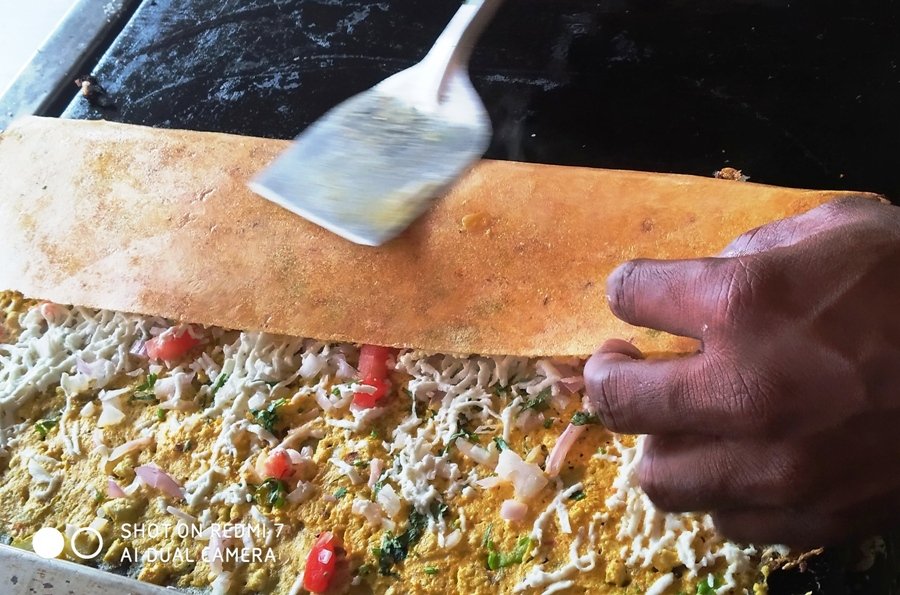 Serving plate is ready with pumpkin chutney and Coconut chutney !!!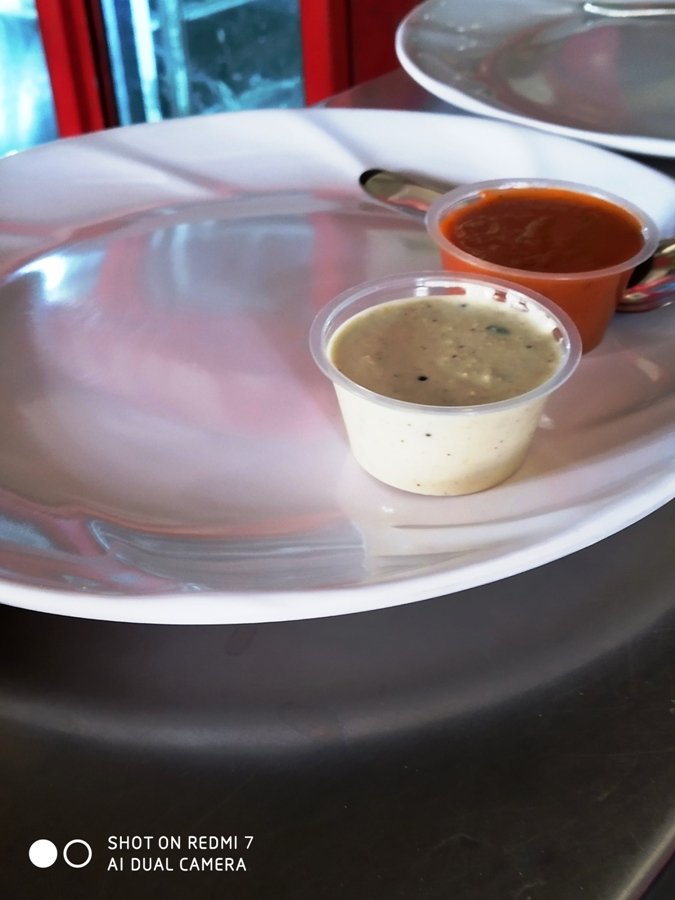 Serving plates...lined up....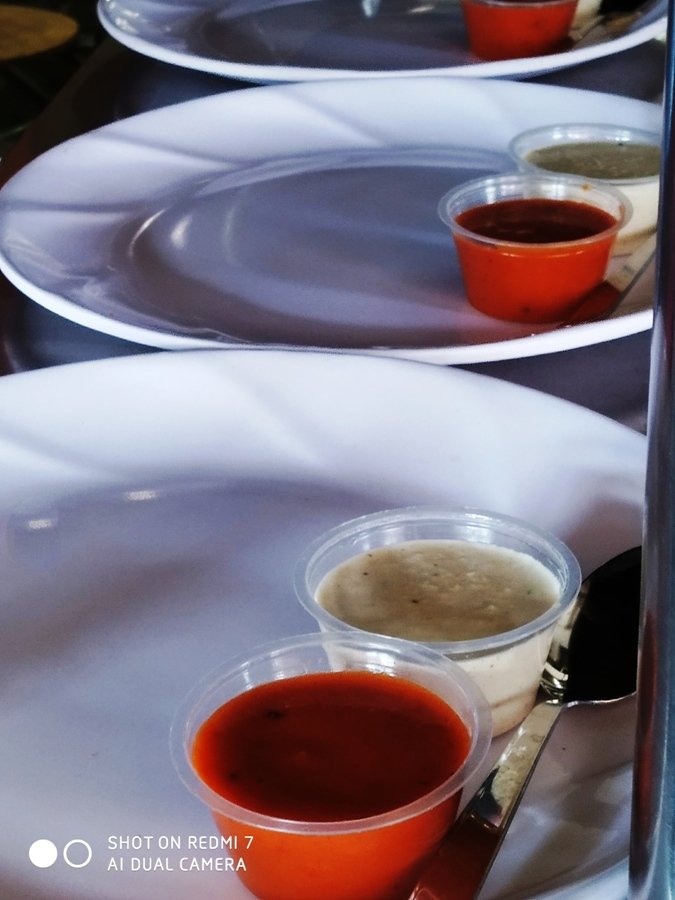 There you go !!! Our Butter-Cheese-Onion-Tomato Masala Dosa !!!... Is ready to be delightfully relished ! with tasty chutneys !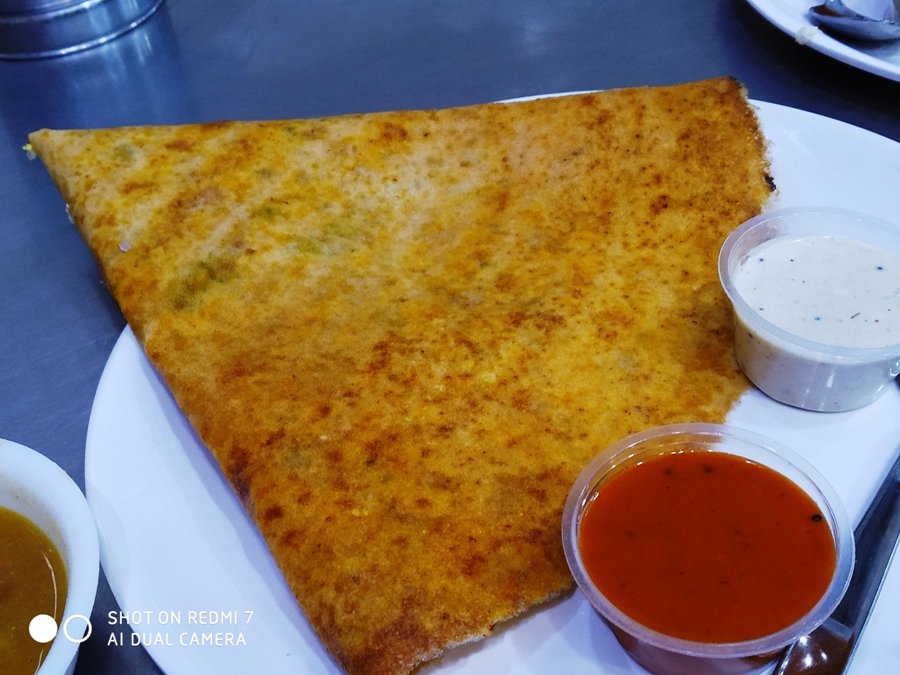 This one is Pumpkin Chutney...its absolutely Spicy ! Hot ! Hot !! Hot !!!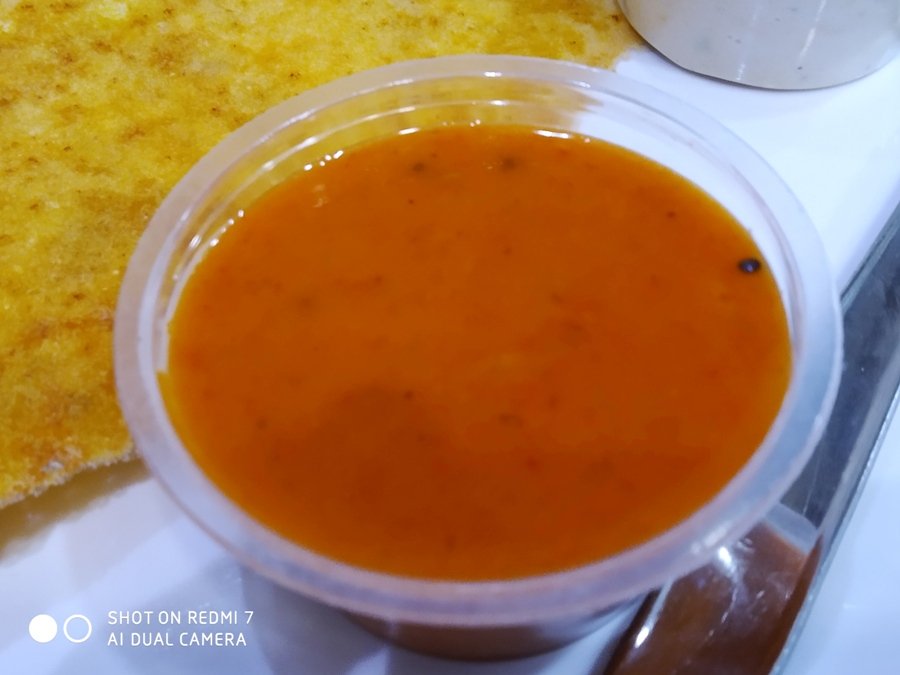 This one is Fresh Coconut chutney... its rich in taste and very very tasteful with several herbs n spices in it.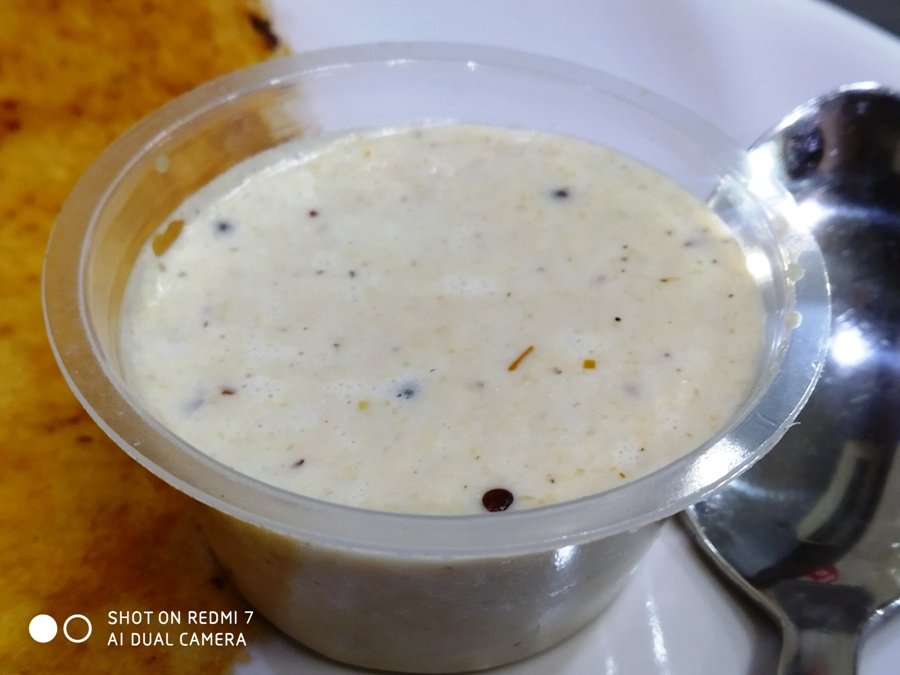 Crispy N crunchy Dosa...you can see the crust !!!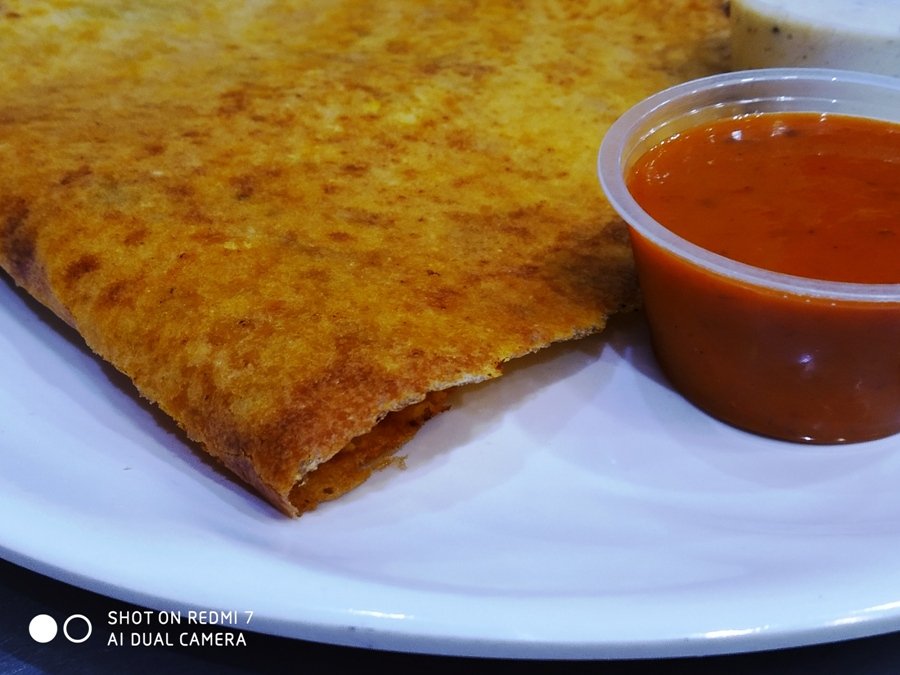 For my little princess ! She just loves it !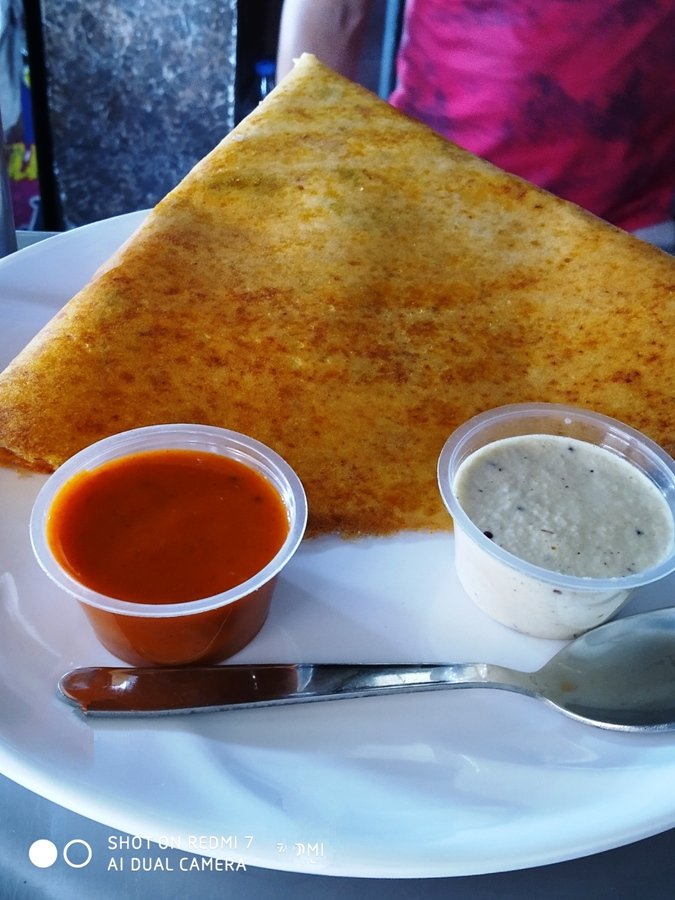 For me.... Yeah ! I am loving it ! :)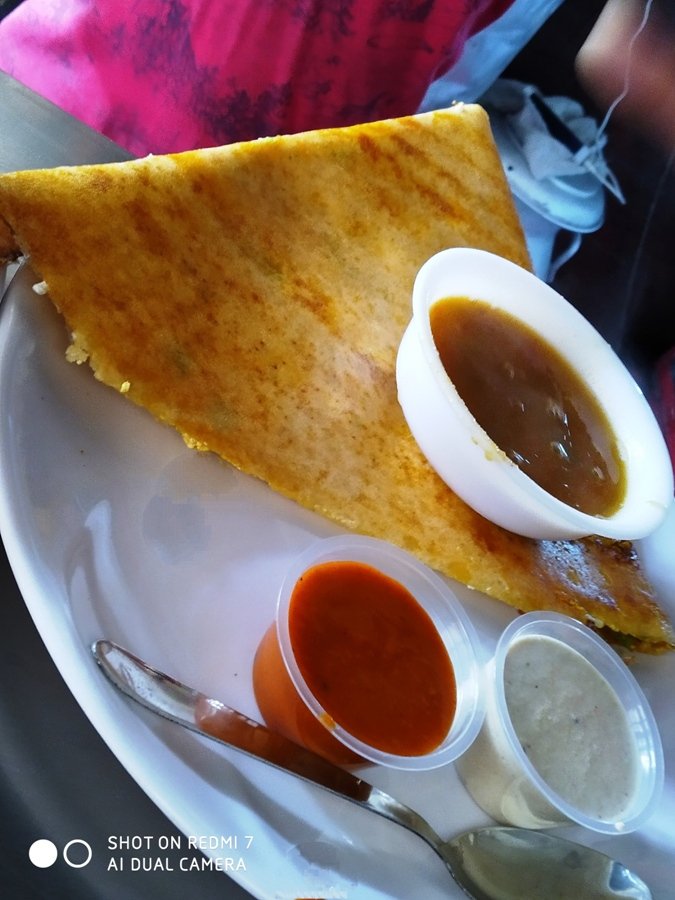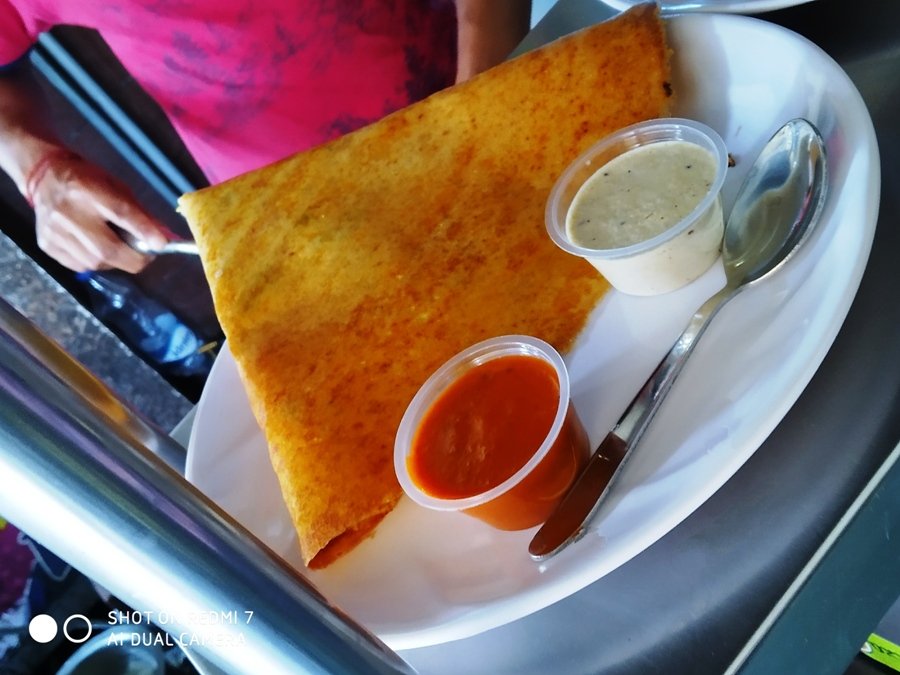 Served with Sambhar also called as Sambar...Its kind of veggie puree mix and some small pieces of vegetables in it !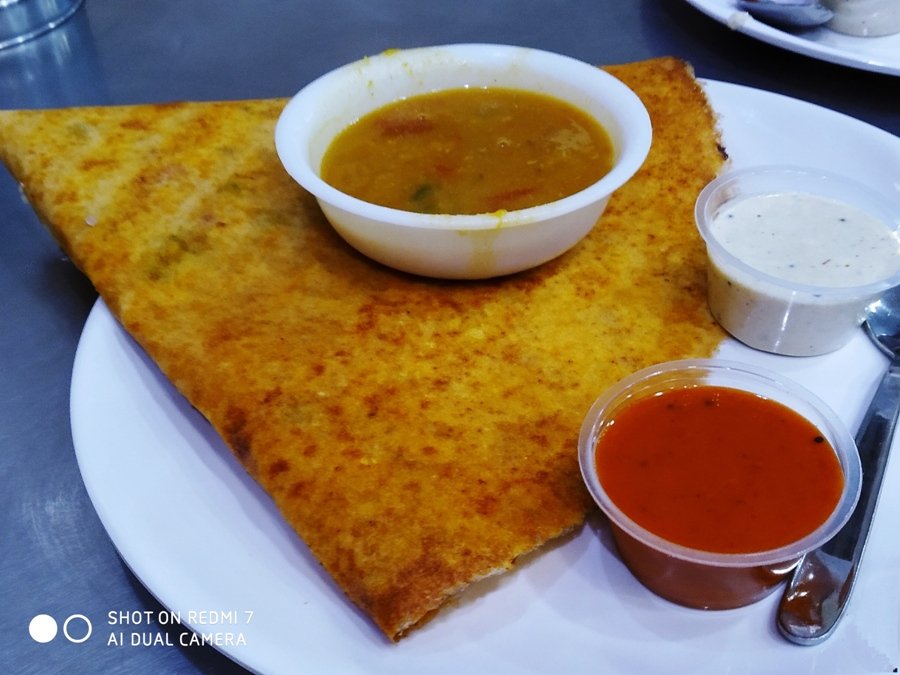 I just started... enjoying it !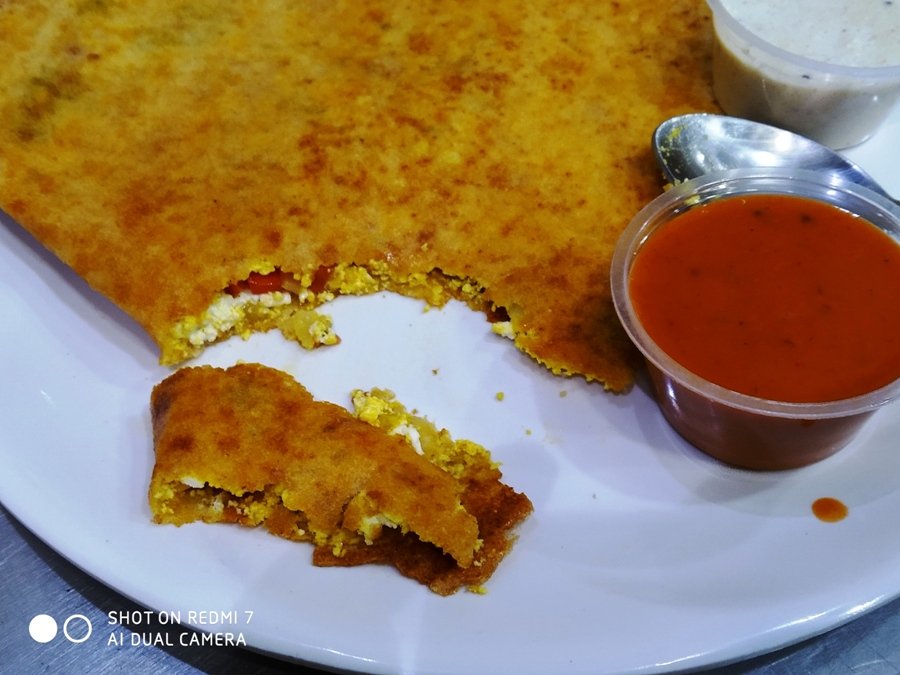 Wonderfully enough they also specialize in making and serving "Black Chickpeas Soup" !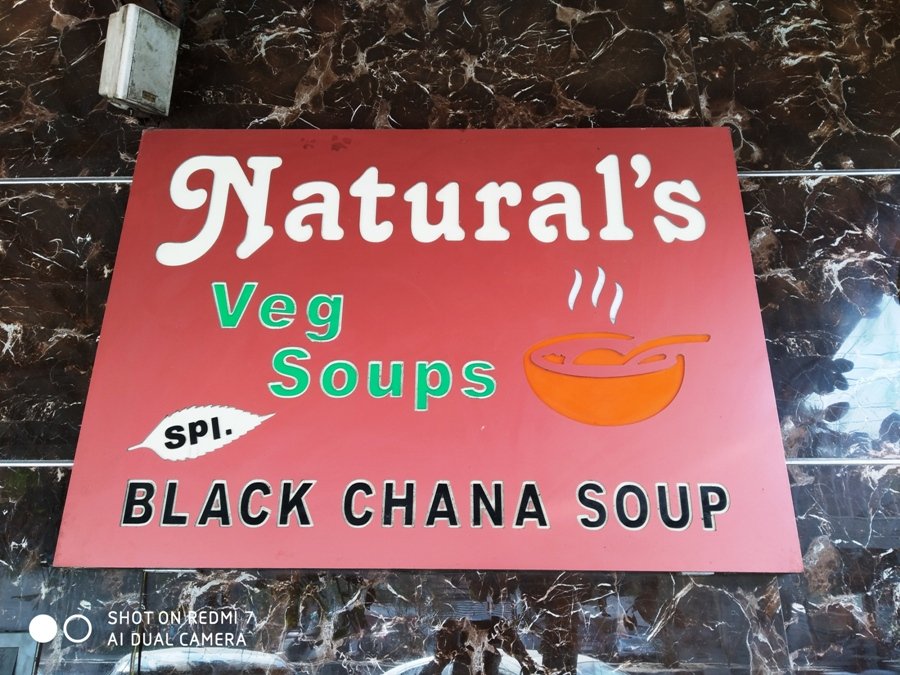 When you place your order and or when you pay your bill, they serve you Colored Sugar Coated Fennel and Rock Sugar Candy mixed together in a big bowl...take little with the help of a spoon as a mouth freshener or sweetener !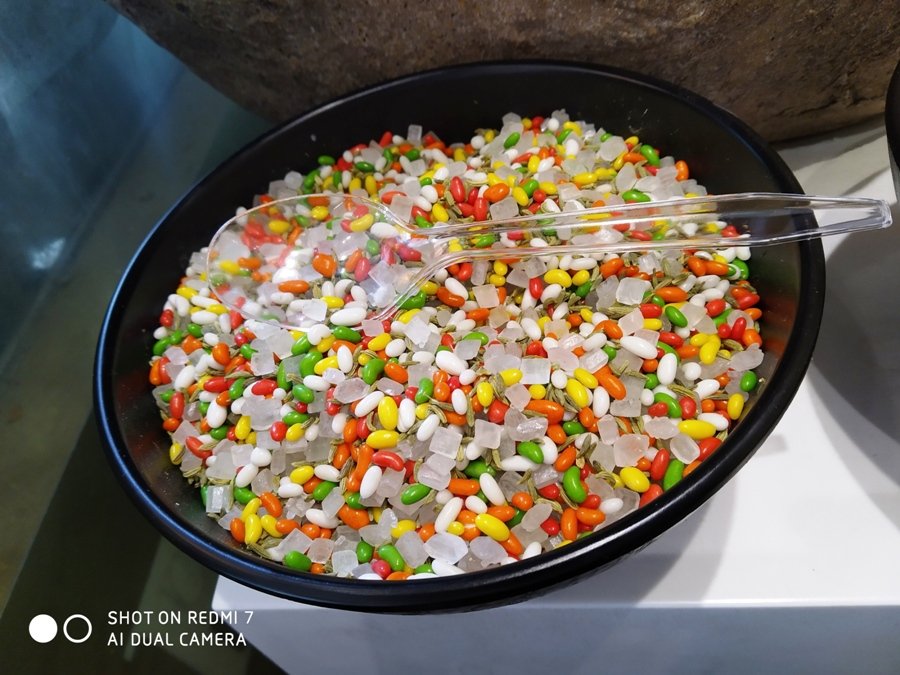 This is their Brochure ! with Items and its prices ! Serving size etc.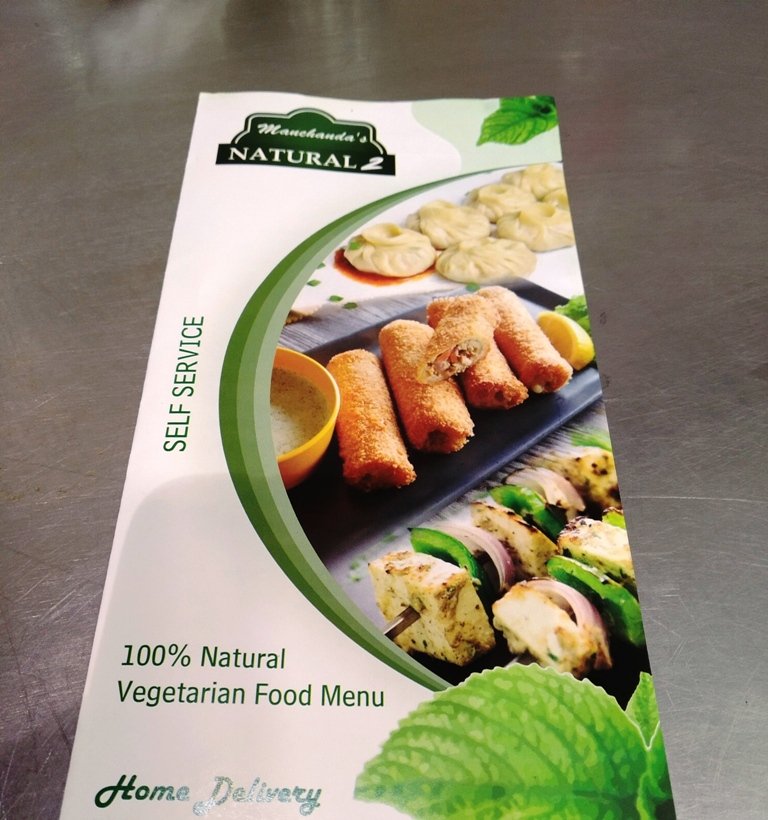 Hope you enjoyed watching the entire process and pictures.