¡Bienvenido Comunidad Steemit!🥰
Welcome Steemit Community!🥰
¡Saludos!🤗
Cheers!🤗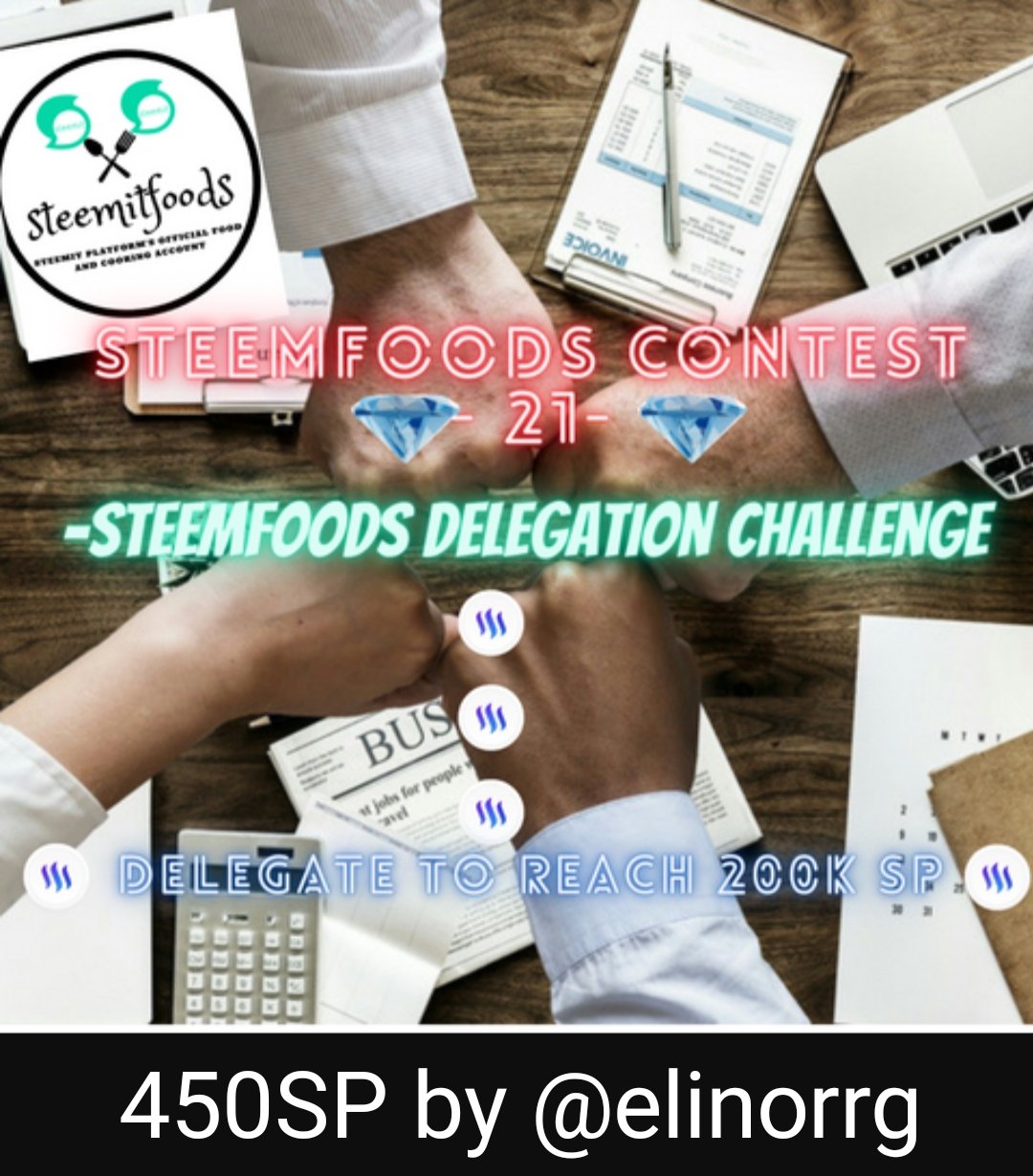 Hola a toda la comunidad de #steemit.
Hello to the entire #steemit community
Saludos a la Comunidad #Steemfoods🤗😘
Greetings to the #Steemfoods Comunity🤗😘
Es un placer poder participar en el concurso "SteemFoods Contest -21- | SteemFoods Delegation Challenge Contest | To Reach 200K SP" para el apoyo de nuestra comunidad. Es muy bueno apoyarnos para así crecer juntos y poder seguir presentando contenido de calidad en nuestra comunidad. Digo nuestra comunidad porque me he sentido en confianza con ella porque he tenido el apoyo que merezco por mis contenidos y creo que todos ustedes también piensan igual. Ahora apoyemos a nuestra comunidad #steemfoods delegandole para que pueda apoyar a todos. Esperamos su ayuda y aprovecho la oportunidad de invitar @davidcentenor y a @omairita a unirse al apoyo de la comunidad. Soy persona de pocas palabras pero intentaré responder las siguientes preguntas:
¿Por qué estás delegando en la cuenta de steemitfoods?
En estos últimos tiempos de la única comunidad que he recibido apoyo es la de steemfoods por lo tanto es la que merece mis delegaciones hasta los momentos. En ella he tenido apoyo en cuanto a comprar ingredientes para poder seguir publicando contenido de calidad. Mientras que en otras no toman en cuenta la calidad del contenido y sin apoyo para seguir creando. Contenido que en mi pasado he elaborado y actualmente también porque me gusta la cocina desde mi adolescencia. Cocinaba con mi papá y estoy feliz y es grato para mí el poder compartirlo con ustedes en esta comunidad.
He visto en esta comunidad muchas cosas buenas y dentro de ella las donaciones que hacen. Eso lo veo maravilloso y bondadoso de parte de la comunidad. Que feliz estoy por formar parte de una comunidad que le gusta ayudar el prójimo porque yo también soy así siempre y cuando tenga.
Yo siempre y cuando esté bien de salud mi pensar es seguir apoyando a la comunidad para que puedan cumplir con todas sus metas y crecer todos juntos para mejorar nuestra calidad de vida en general y hacer de #steemfoods una comunidad sin igual de, amor, paz y felicidad.
¿Qué ha cambiado la Comunidad SteemFoods en tu vida?
Aunque tengo muy poco tiempo en la comunidad me he sentido feliz y motivada en seguir trabajando en ella. No puedo decir mucho porque apenas estoy comenzando en esta comunidad pero he sentido mucha satisfacción en cuanto al apoyo que he tenido y me ha servido de gran ayuda económica. Con el apoyo de la comunidad, hasta los momentos he comprado un Wok (sartén hondo) y comida para mi persona y seguir trabajando porque solo tengo dos ollitas para cocinar. Aquí se lo muestro el sartén que compre: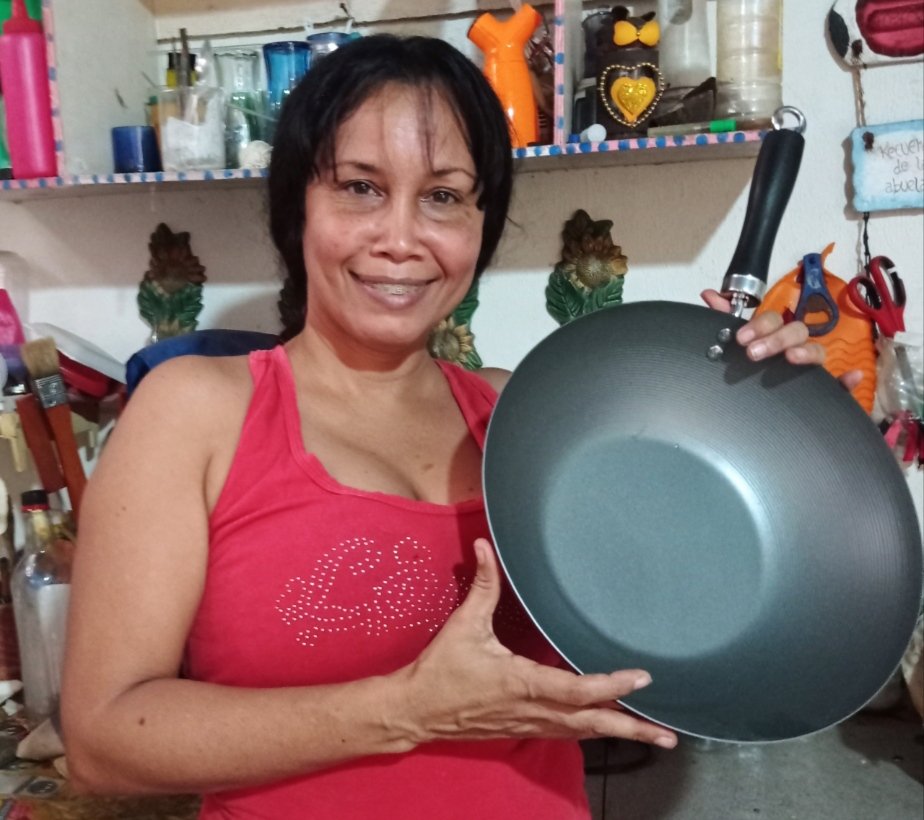 ¿Por qué queremos llegar a 200K SP?
Se quiere llegar a 200K para que nuestra comunidad tenga un poder de voto razonable en el momento de actuar con los usuarios y así reforzar o apoyar con voto justo, es lo que pienso.
¿por qué quieres fortalecer tu delegación elevando la cuenta SteemFoods?
Teniendo el apoyo de los curadores nos ayuda tanto a la comunidad como a los usuarios y si tenemos el apoyo damos el apoyo y
crecemos juntos
Mis expectativas en la Comunidad SteemFoods
Espero ver la diversidad gastronómica de cada usuario de su país para aprender de cada uno de ellos y también Crecer, viajar y que aprendan de mi en mis contenidos.
Esta es mi delegación: disculpen no haberle tomado foto al proceso, pero descargue la clave del proceso: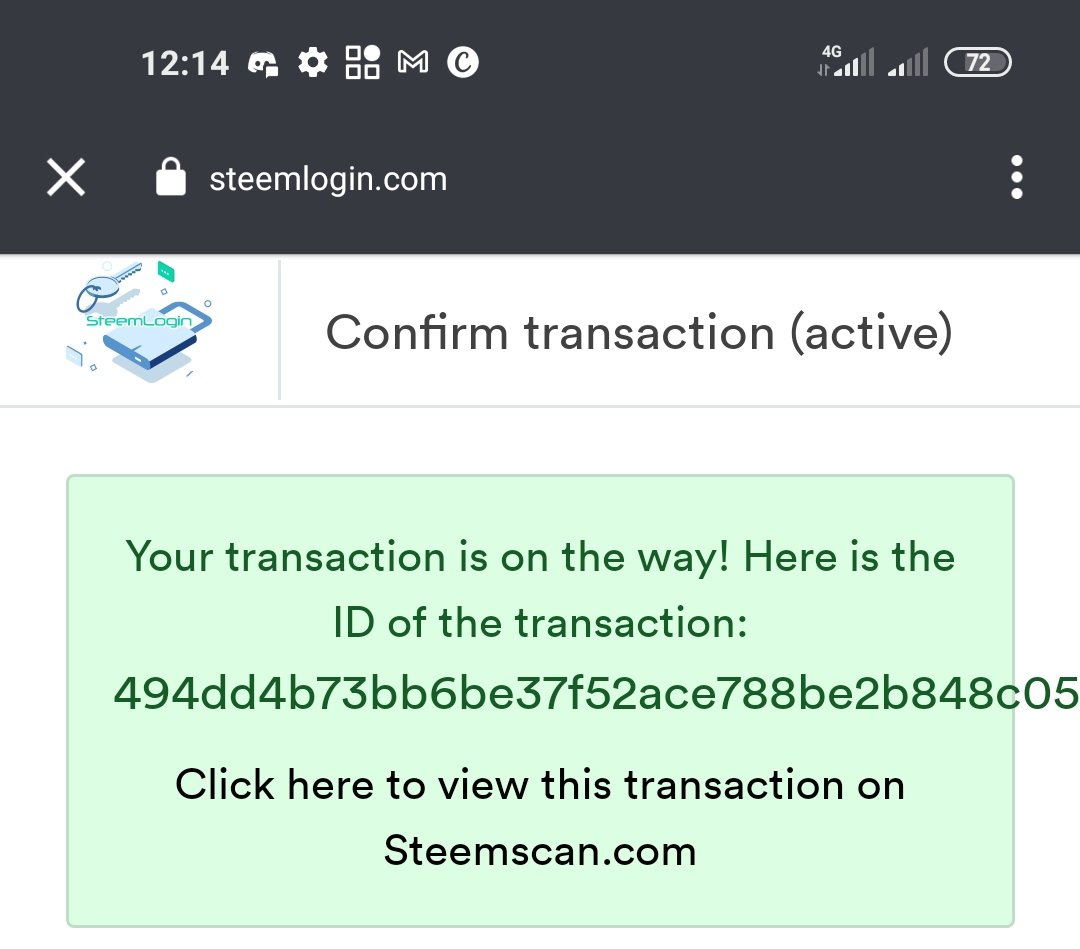 Agradezca toda su atención
Los quiero mucho
A CRECER TODOS JUNTOS"
¡Gracias Steemit por disfrutar de mi Post!😘
Inglés
It is a pleasure to be able to participate in the contest "SteemFoods Contest -21- | SteemFoods Delegation Challenge Contest | To Reach 200K SP" for the support of our community. It is very good to support us in order to grow together and to continue presenting quality content in our community. I say our community because I have felt in confidence with it because I have had the support that I deserve for my content and I believe that all of you also think the same. Now let's support our #steemfoods community by delegating them so they can support everyone. We look forward to your help and I take the opportunity to invite @davidcentenor anda @omairita. I am a person of few words but I will try to answer the following questions:
Why are you delegating to the steemitfoods account?
In recent times, the only community that I have received support is that of steemfoods, therefore it is the one that deserves my delegations so far. In it I have had support in terms of buying ingredients in order to continue publishing quality content. While in others they do not take into account the quality of the content and without support to continue creating. Content that I have prepared in my past and currently also because I have liked cooking since my adolescence. I used to cook with my dad and I am happy and it is gratifying for me to be able to share it with you in this community.
I have seen many good things in this community and within it the donations they make. I see that wonderful and kind from the community. How happy I am to be part of a community that likes to help others because I am also like that as long as I have.
As long as I am in good health, my thinking is to continue supporting the community so that they can fulfill all their goals and grow together to improve our quality of life in general and make #steemfoods a community without equal of love, peace. and happiness.
What has the SteemFoods Community changed in your life?
Although I have very little time in the community, I have felt happy and motivated to continue working in it. I cannot say much because I am just starting out in this community but I have felt a lot of satisfaction in terms of the support I have had and it has been a great financial help to me. With the support of the community, so far I have bought a Wok (deep frying pan) and food for myself and continue working because I only have two pots to cook. Here I show you the skillet I buy: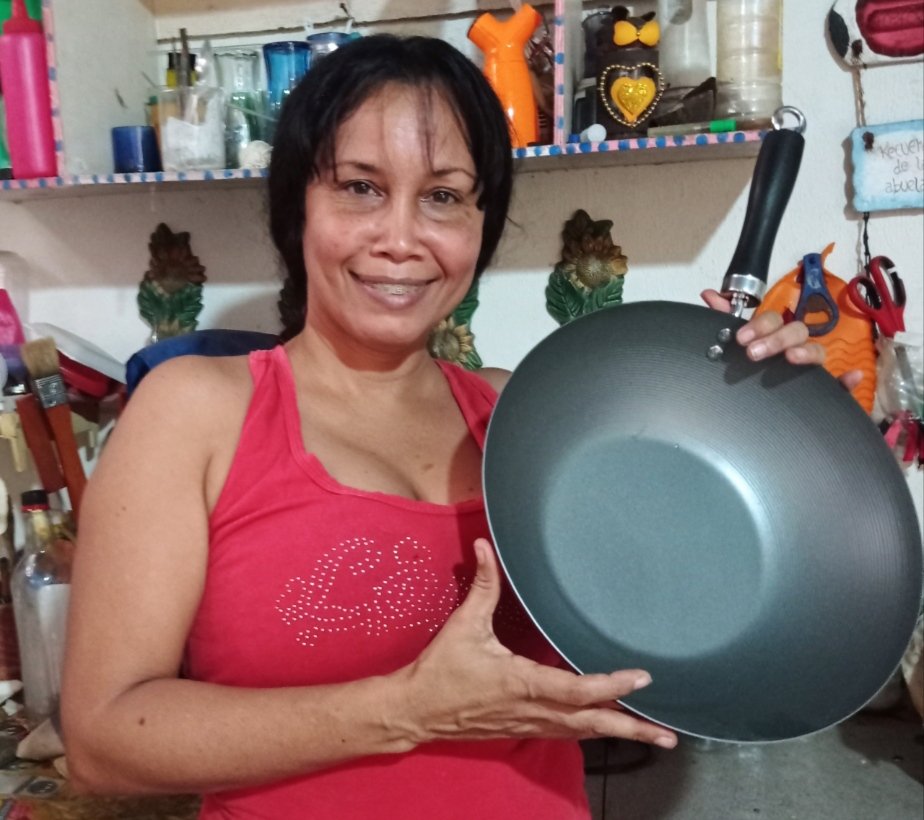 Why do we want to reach 200K SP?
They want to reach 200K so that our community has a reasonable voting power when acting with users and thus reinforcing or supporting with a fair vote, is what I think.
Why do you want to strengthen your delegation by raising the SteemFoods account?
Having the support of the curators helps both the community and the users and if we have the support we give the support and
we grow together
My expectations in the SteemFoods Community
I hope to see the gastronomic diversity of each user in their country to learn from each of them and also to grow, travel and learn from me in my content.
This is my delegation: sorry for not taking a photo of the process, but download the process key: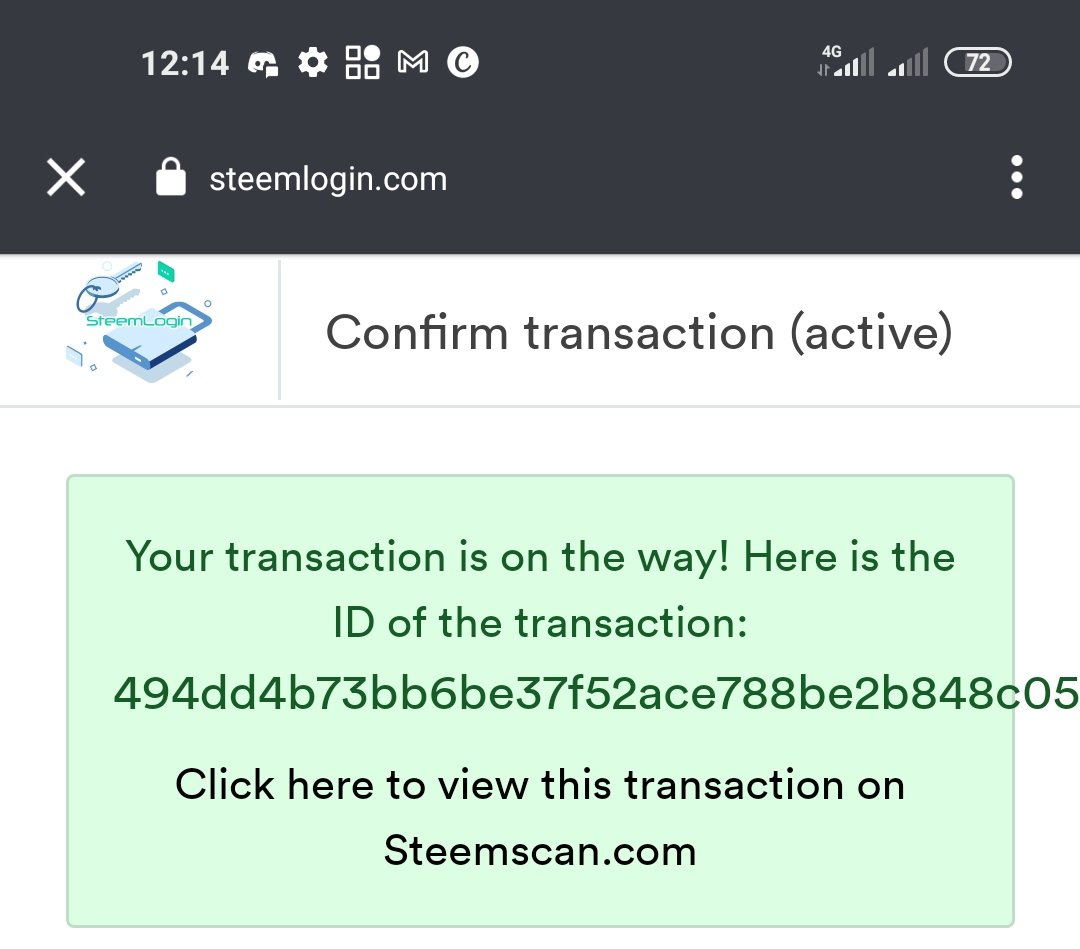 Thank you for all your attention
I love you so much
TO GROW UP TOGETHER
Thank you Steemit for enjoying my Post! 😘