Bienvenidos Queridos Lectores
Welcome Dear Readers
---
Feliz y bendecido viernes queridos Stemit-Amigos y muy especialmente a los amigos que comparten en esta maravillosa comunidad de @steemfoods creada por el amigo @alikoc07, siempre es un gusto estar con ustedes. Hoy apoyando el proyecto del equipo de Steemit #betterlife, y aprovechando una costumbre adquirida recientemente en mi familia y que ahora en cuarentena más que nunca la ponemos en práctica. La cual consiste, en consentirnos el fin de semana preparando nuestras comidas favoritas, además, de probar recetas nuevas y distintas a las que preparamos comúnmente.
Happy and blessed Friday dear Stemit-Friends and very specially to the friends who share in this wonderful community of @steemfoods created by the friend @alikoc07, it is always a pleasure to be with you. Today supporting the project of the Steemit team #betterlife, and taking advantage of a custom recently acquired in my family and now in quarantine more than ever we put it into practice. This consists of spoiling ourselves on the weekend by preparing our favorite foods, as well as trying out new and different recipes from those we commonly prepare.
---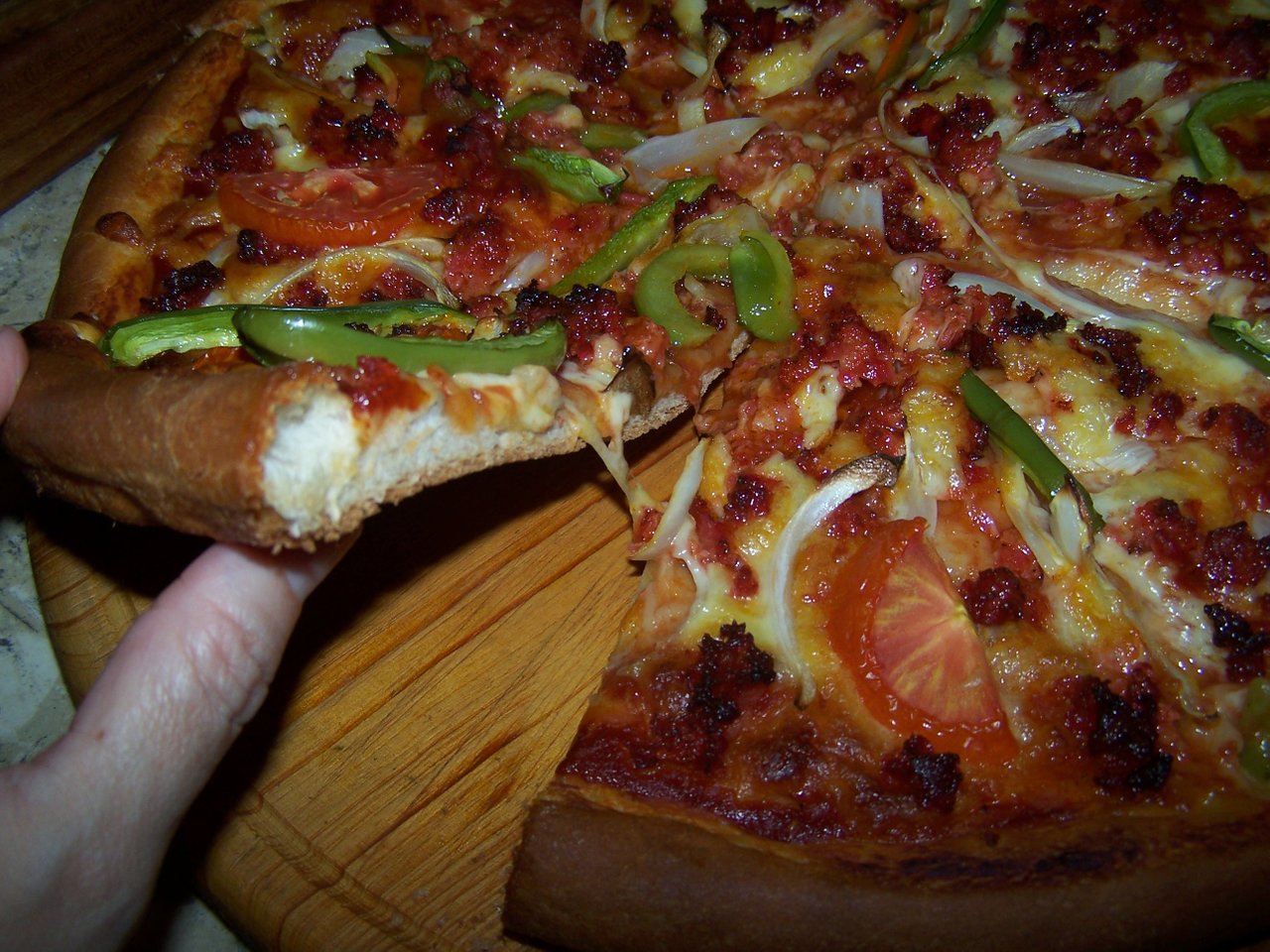 Como ya todos saben aquí en Venezuela no siempre es fácil hacerlo, por limitados recurso e ingrediente con lo que contemos en casa, pero siempre no las ingeniamos de la mejor manera posible. En esta oportunidad premiamos a nuestras queridas princesas y le preparamos su comida favorita PIZZA, como siempre las niñas y yo fuimos las Sub-Chefs, porque mi esposo es el Chefs. Aproveche de documentar fotográficamente todo el proceso de preparación, para poder compartirles este sencillo tutorial, para preparar este divino platillo el cual esta enmarcado en el tema #learnwthsteem. Ahora iniciemos con los ingredientes, para luego pasar al paso a paso de la preparación.
As everyone here in Venezuela knows, it is not always easy to do so, due to limited resources and ingredients at home, but we always do not manage them in the best possible way. In this opportunity we rewarded our dear princesses and prepared her favorite food PIZZA, as always the girls and I were the Sub-Chefs, because my husband is the Chef. Take the opportunity to photographically document the entire preparation process, so we can share with you this simple tutorial, to prepare this divine dish which is framed in the theme #learnwthsteem. Now let's start with the ingredients, and then move on to the step-by-step preparation.
---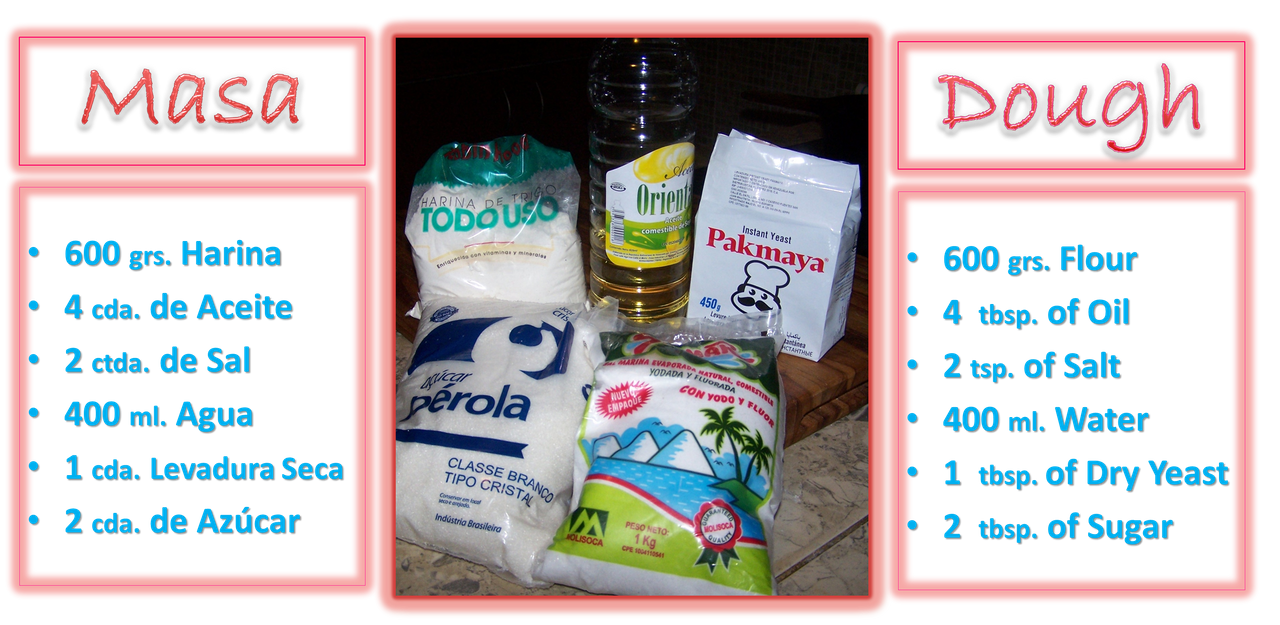 Nota: Los ingredientes alcanzan para preparar 2 pizzas tamaño familiar
Note: The ingredients are sufficient to make 2 family size pizzas

Paso 1: La Masas
---
Lo primero que se debe preparar es la masa, ya que debe dejarse levar, inicialmente mezclamos el fermento, lo cual se hace agregando en medio vaso de agua tibia, una cucharada de levadura seca y una cucharada de azúcar, se debe esperar a que se active, eso la saben porque empieza a formarse espumita, cuando ha doblado la cantidad, ya está lista.
Step 1: The Stuffing
---
The first thing that must be prepared is the dough, since it must be left to rise, initially we mix the yeast, which is done by adding in half a glass of warm water, a spoonful of dry yeast and a spoonful of sugar, you must wait for it to activate, you know that because it begins to foam, when you have doubled the amount, it is ready.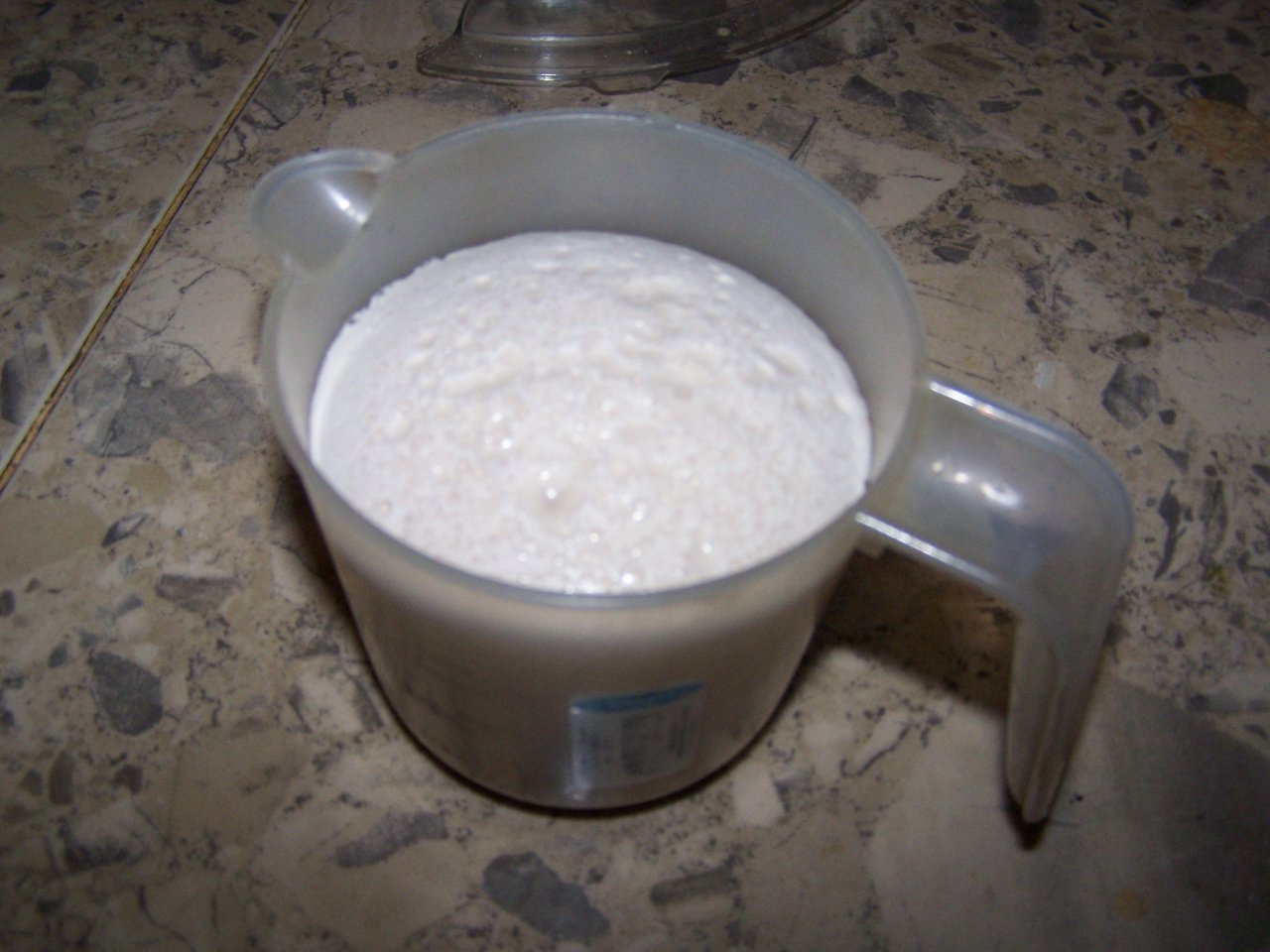 Paso 2:
---
Lo siguiente, es colocar todos los ingredientes secos en la batidora y de apoco se le agrega los ingredientes húmedos y la levadura y se deja batir hasta que los ingredientes se mezclen bien.
Step 2:
---
Next, put all the dry ingredients in the blender and then add the wet ingredients and the yeast and let it beat until the ingredients are well mixed.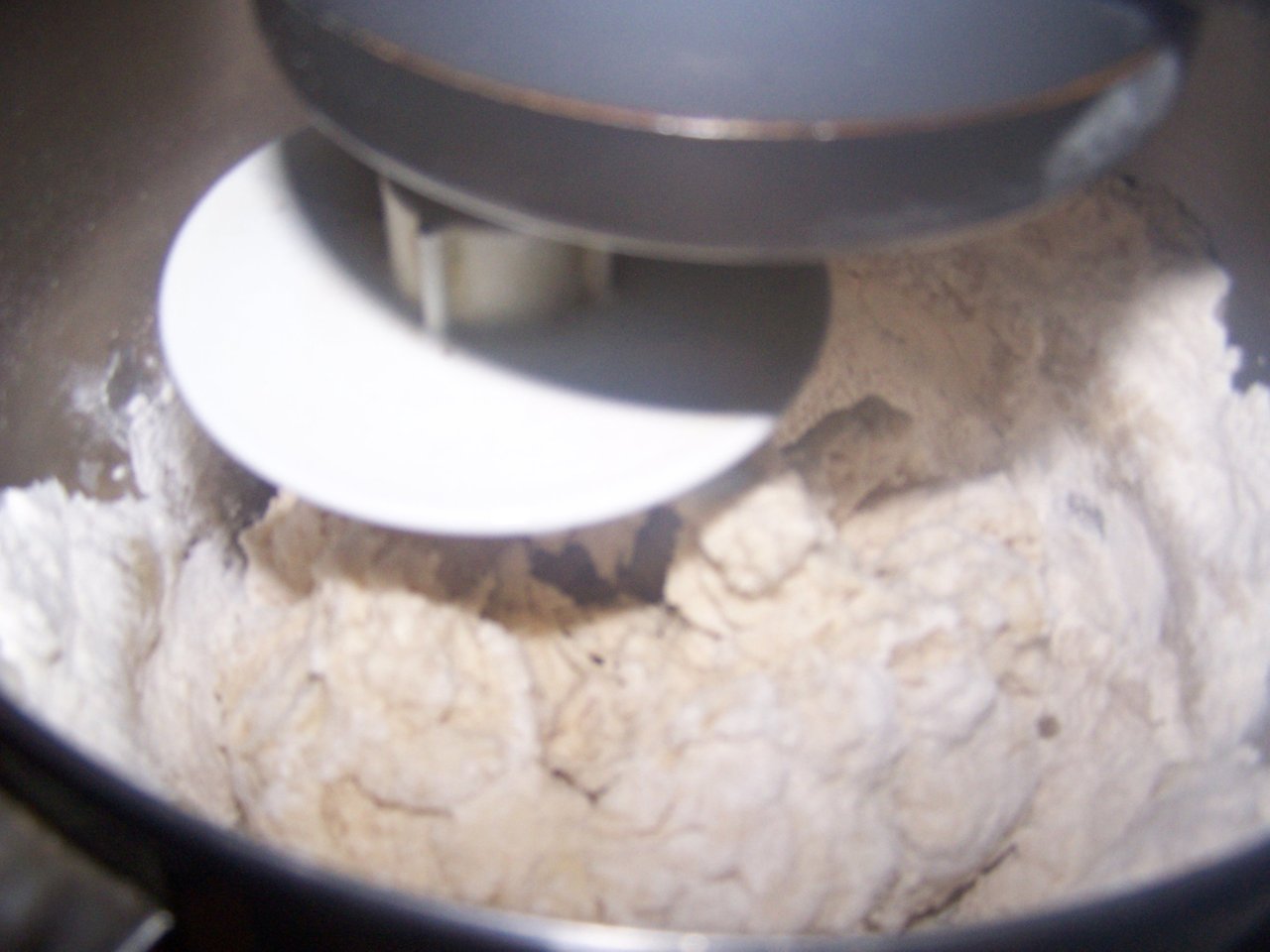 Paso 3:
---
Cuando la masa está integrada, se saca del bol de la batidora, si siente que está muy húmeda o pegajosa le agrega de apoco harina de trigo. Luego se hace una bolita y se colocar nuevamente en el bol, pero siempre recordando de colocar un poco de harina en el fondo para que no se pegue. Se tapa con un paño de cocina y se deja levar hasta que duplique su tamaño.
Step 3:
---
When the dough is integrated, take it out of the bowl of the mixer, if it feels too wet or sticky add some wheat flour. Then make a little ball and put it back in the bowl, but always remember to put some flour in the bottom so it doesn't stick. Cover it with a kitchen cloth and let it rise until it doubles in size.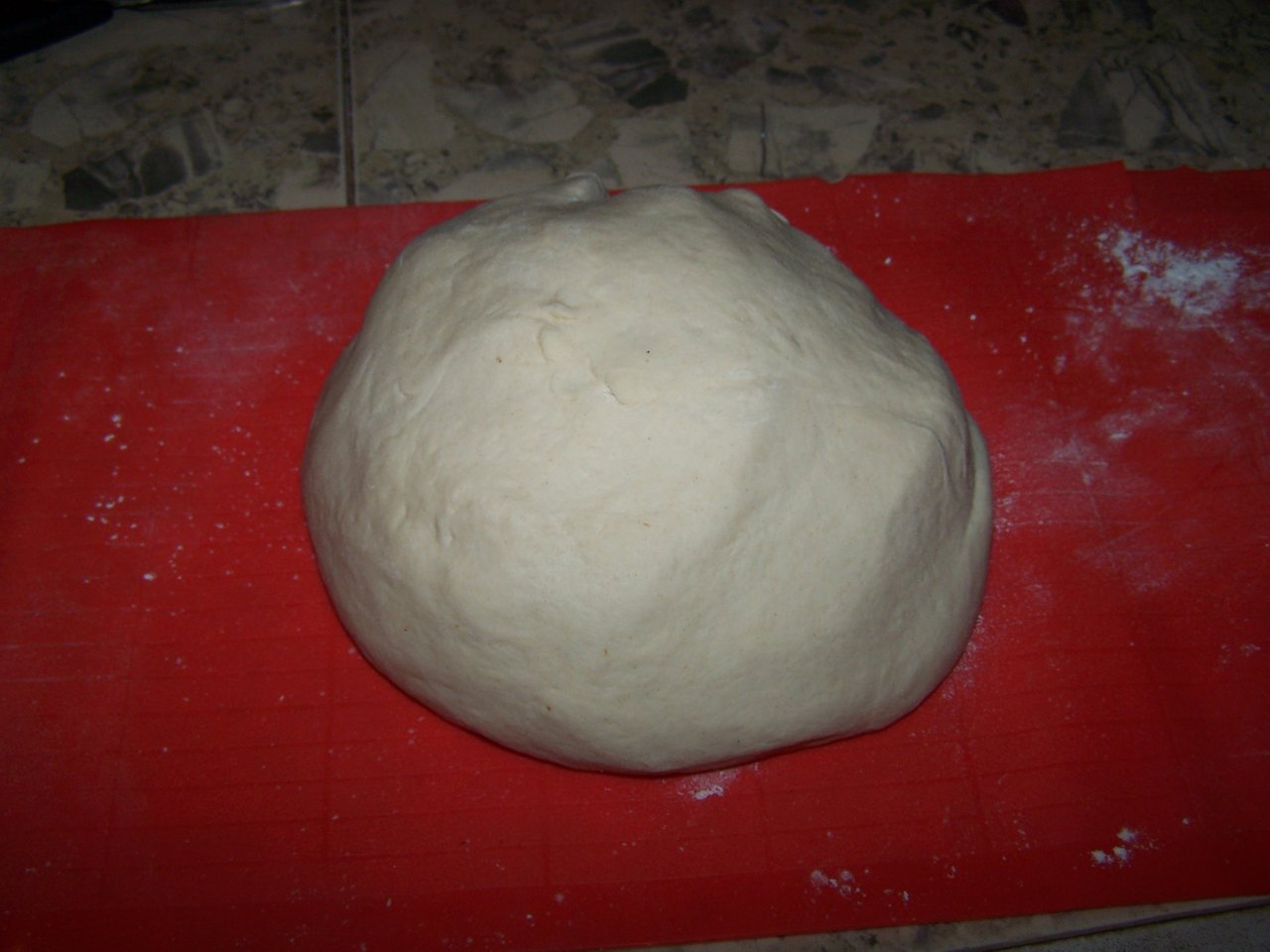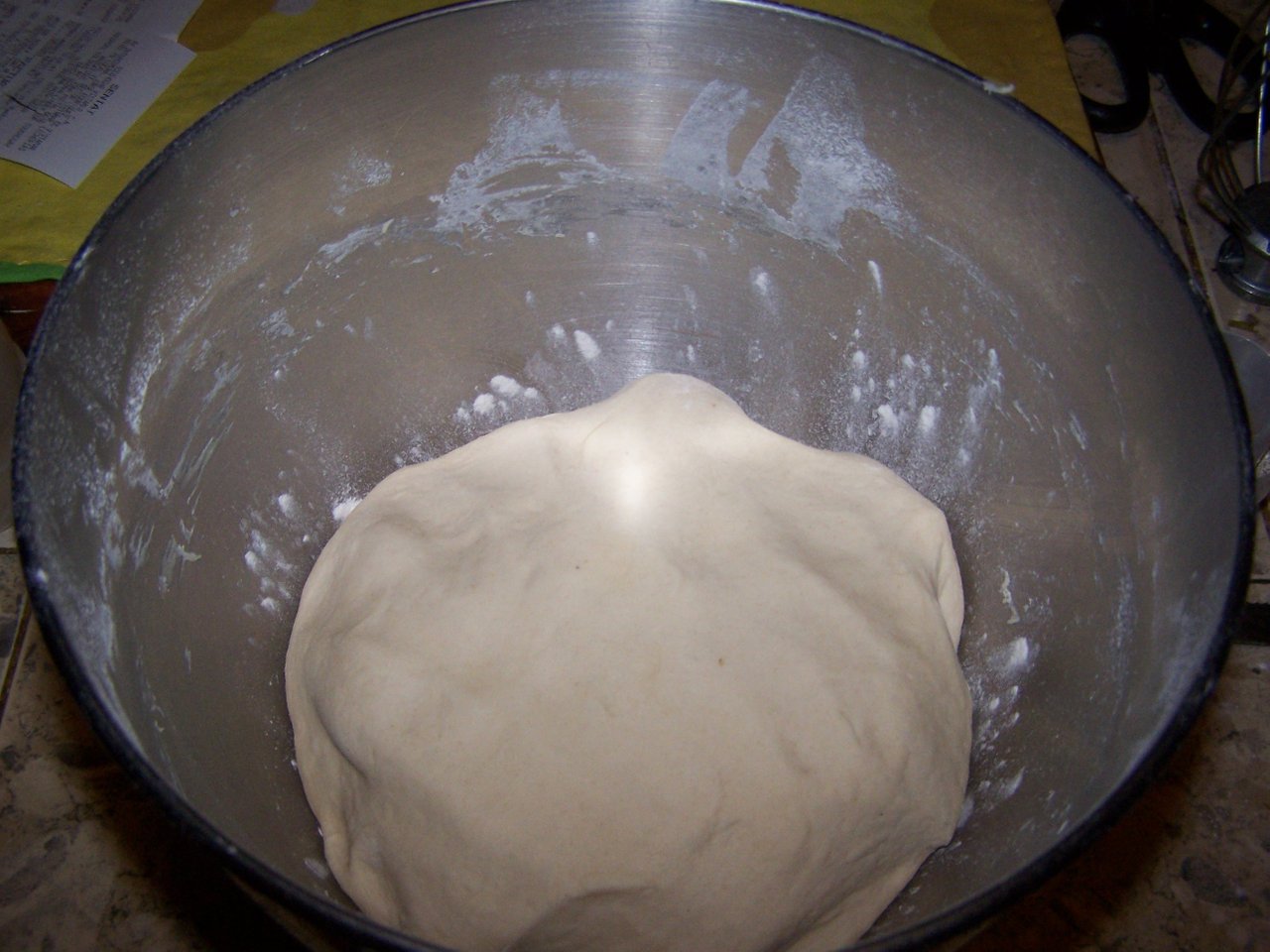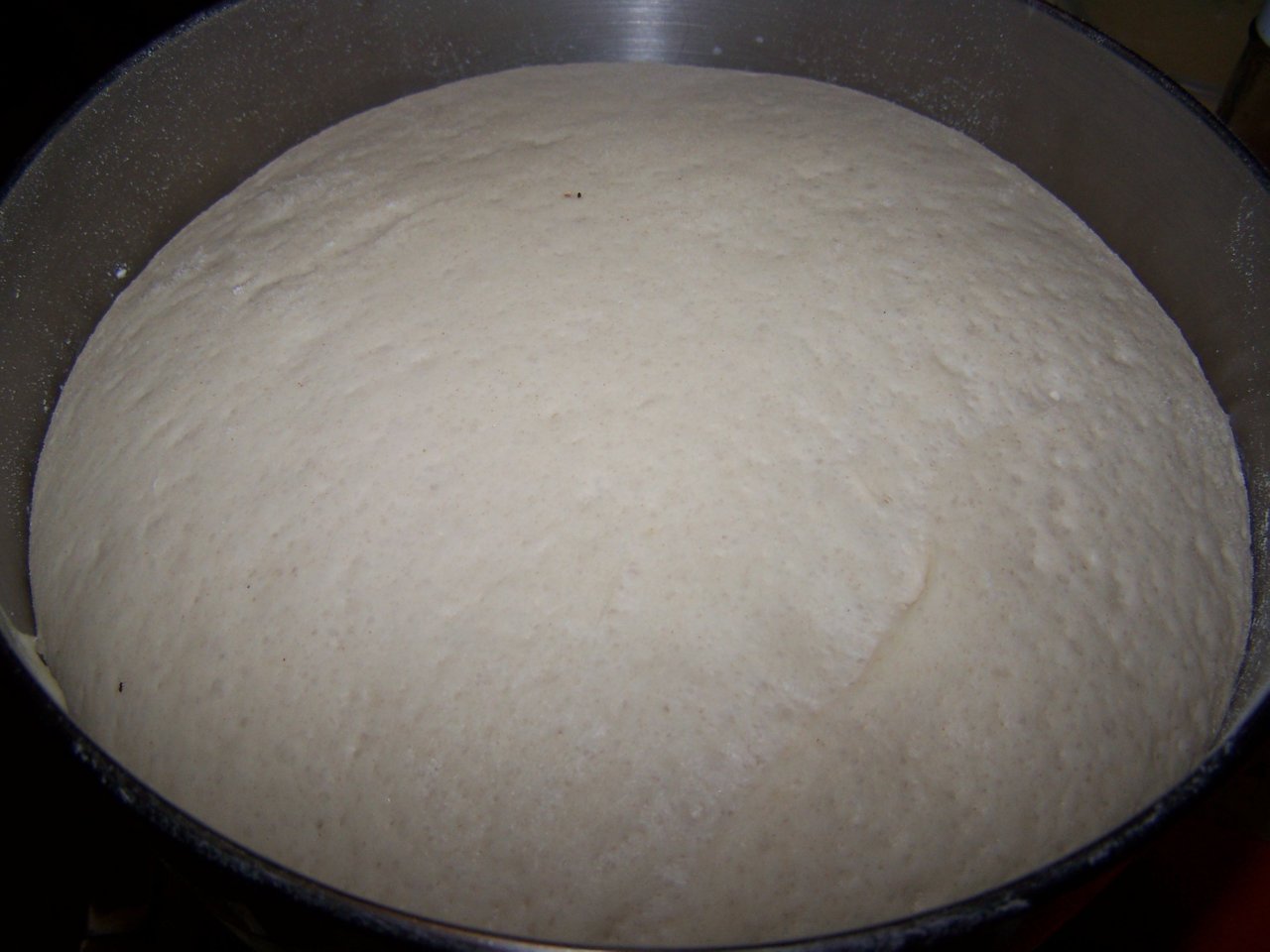 Paso 4:
---
Cuando la masa ha duplicado su volumen se saca la masa y se separa en dos porciones iguales. Se engrasan bien dos bandejas y se extiende cada bolita de masa en las bandejas y se deja levar nuevamente por 15 min, siempre tapadas con un pañito.
Step 4:
---
When the dough has doubled in volume, the dough is removed and separated into two equal portions. Two trays are well greased and each ball of dough is spread on the trays and left to rise again for 15 minutes, always covered with a cloth.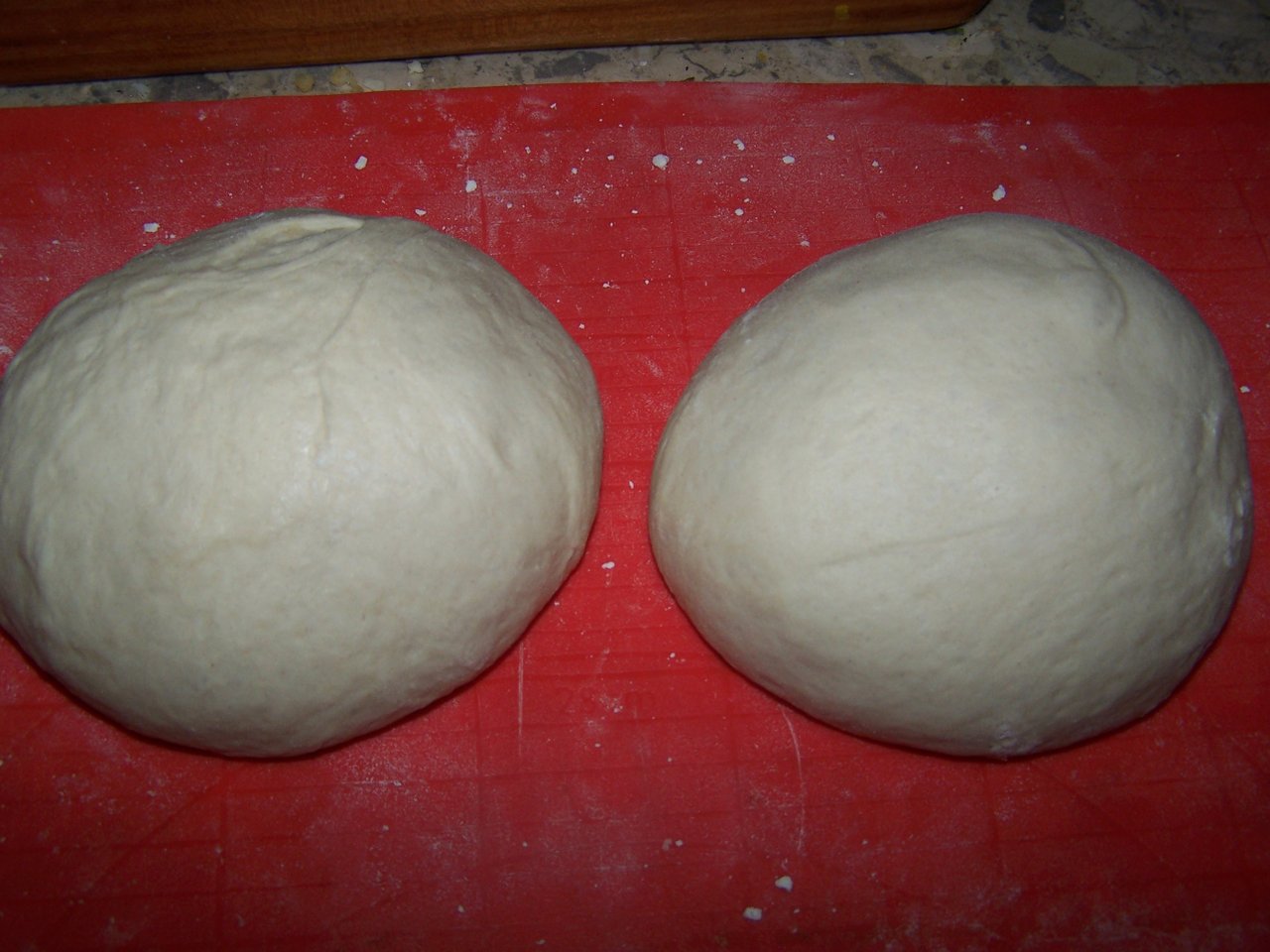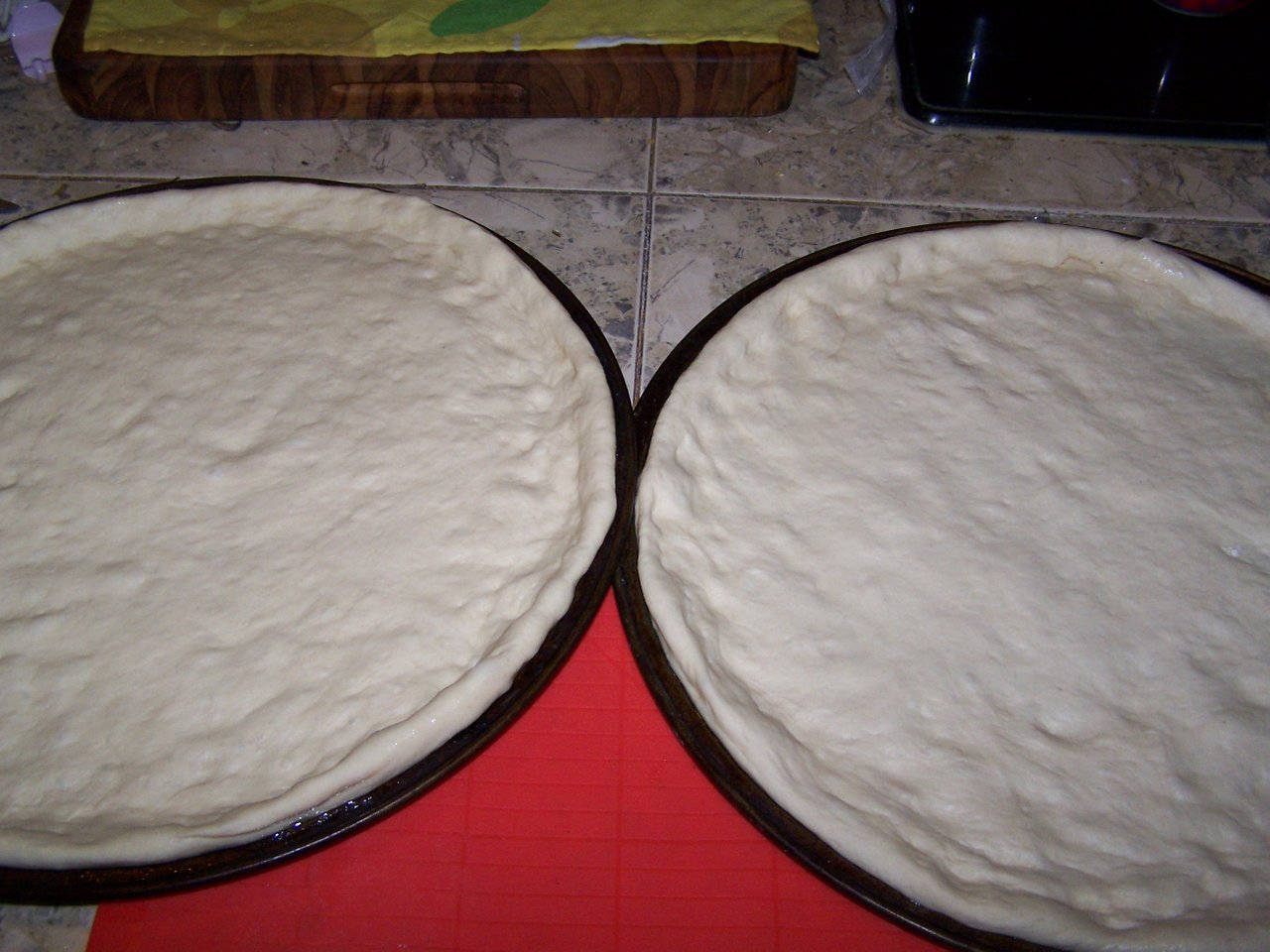 Paso 5: El armado de las pizzas
---
Una vez que se ha dejado levar la masa extendida en las bandejas, es el momento de armarlas nuestras pizzas. Lo primero es extender el puré de tomate sobre la masa, en casa acostumbramos aderezar el puré con orégano y pimienta. Lo siguiente es esparcir el queso mozzarella a partir de este paso el cielo es el límite, porque los ingredientes a agregar dependerán de su gusto.
Step 5: The assembly of the pizzas
---
Once the dough has been spread on the trays, it is time to put our pizzas together. The first thing is to spread the tomato puree on the dough; at home we usually season the puree with oregano and pepper. The next thing is to spread the mozzarella cheese from this step the sky is the limit, because the ingredients to add will depend on your taste.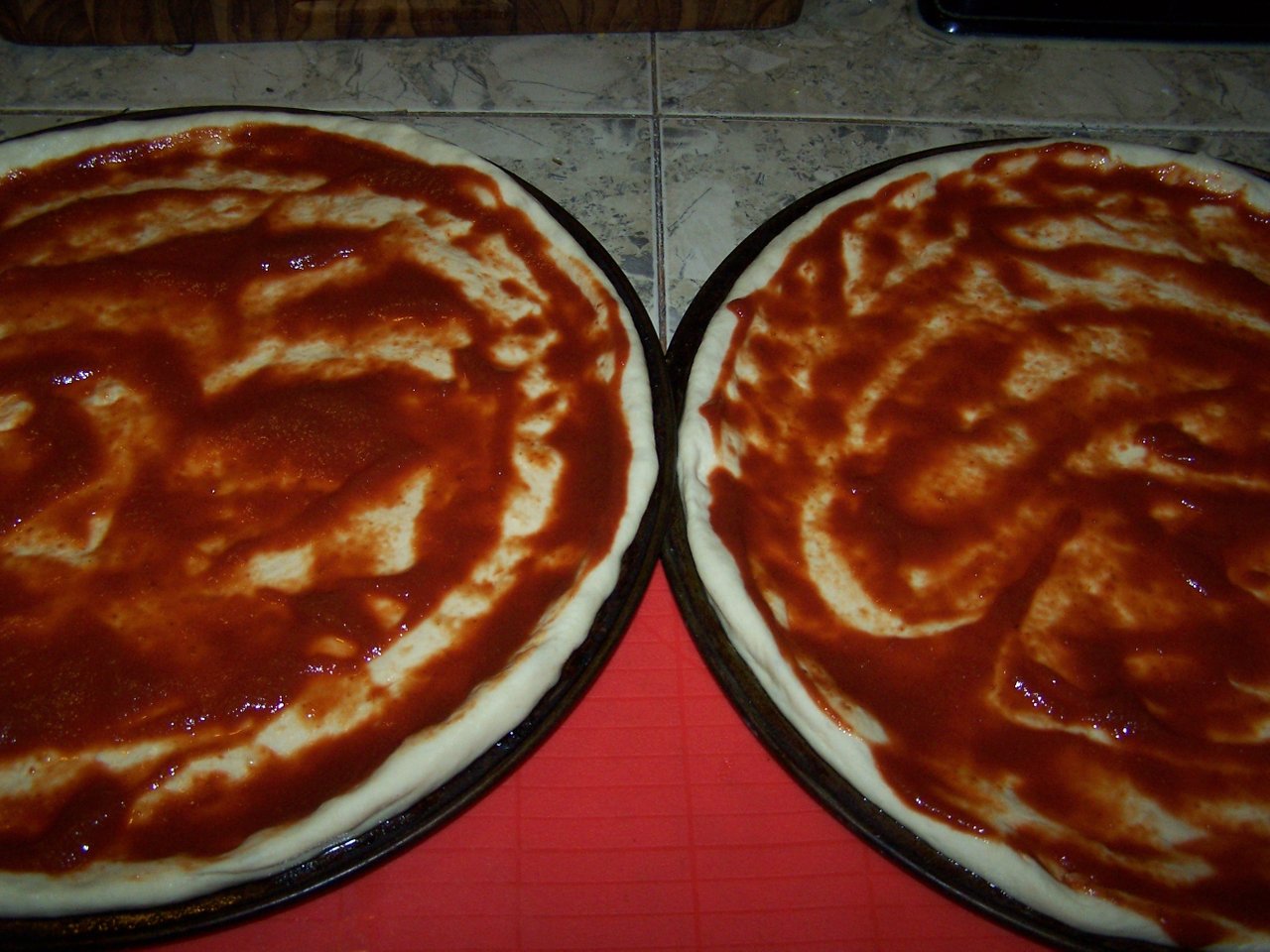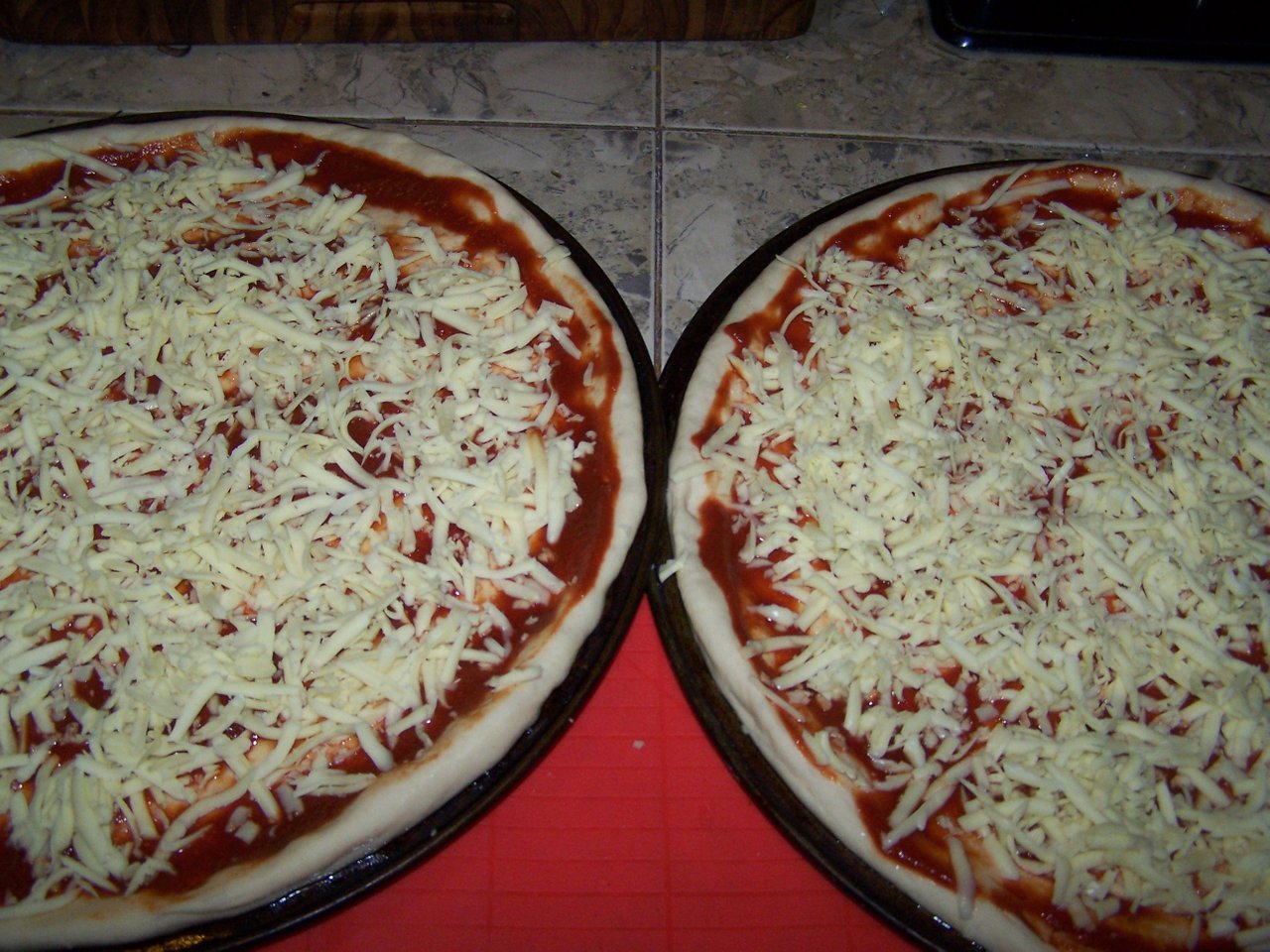 Paso 6:
---
En este caso particular nosotros haríamos unas pizzas de chorizo y la otra de salchichas y a ambas le colocaríamos cebolla, pimentón y tomate.
Step 6:
---
In this particular case we would make some pizzas of chorizo and the other of sausage and to both we would put onion, paprika and tomato.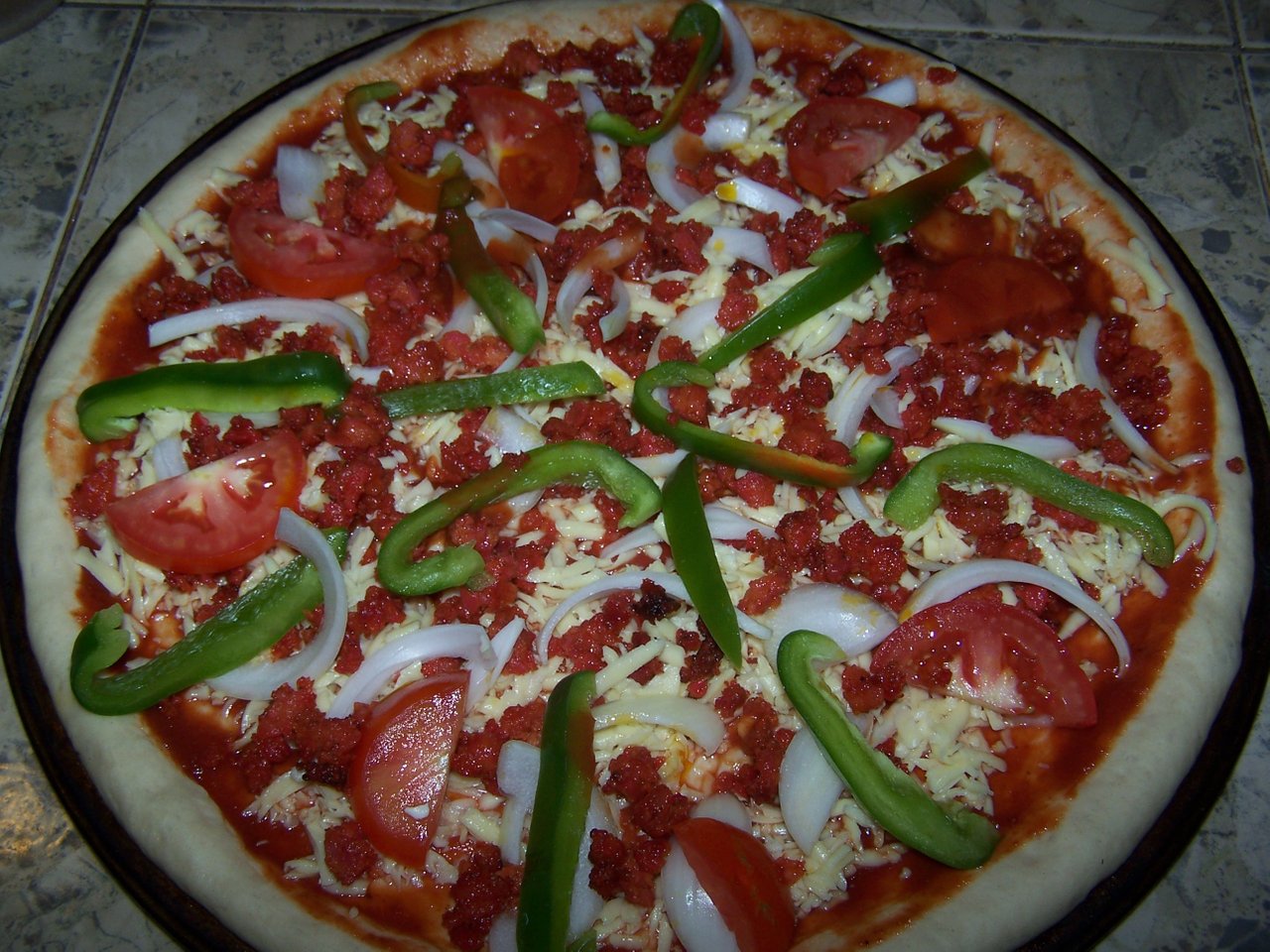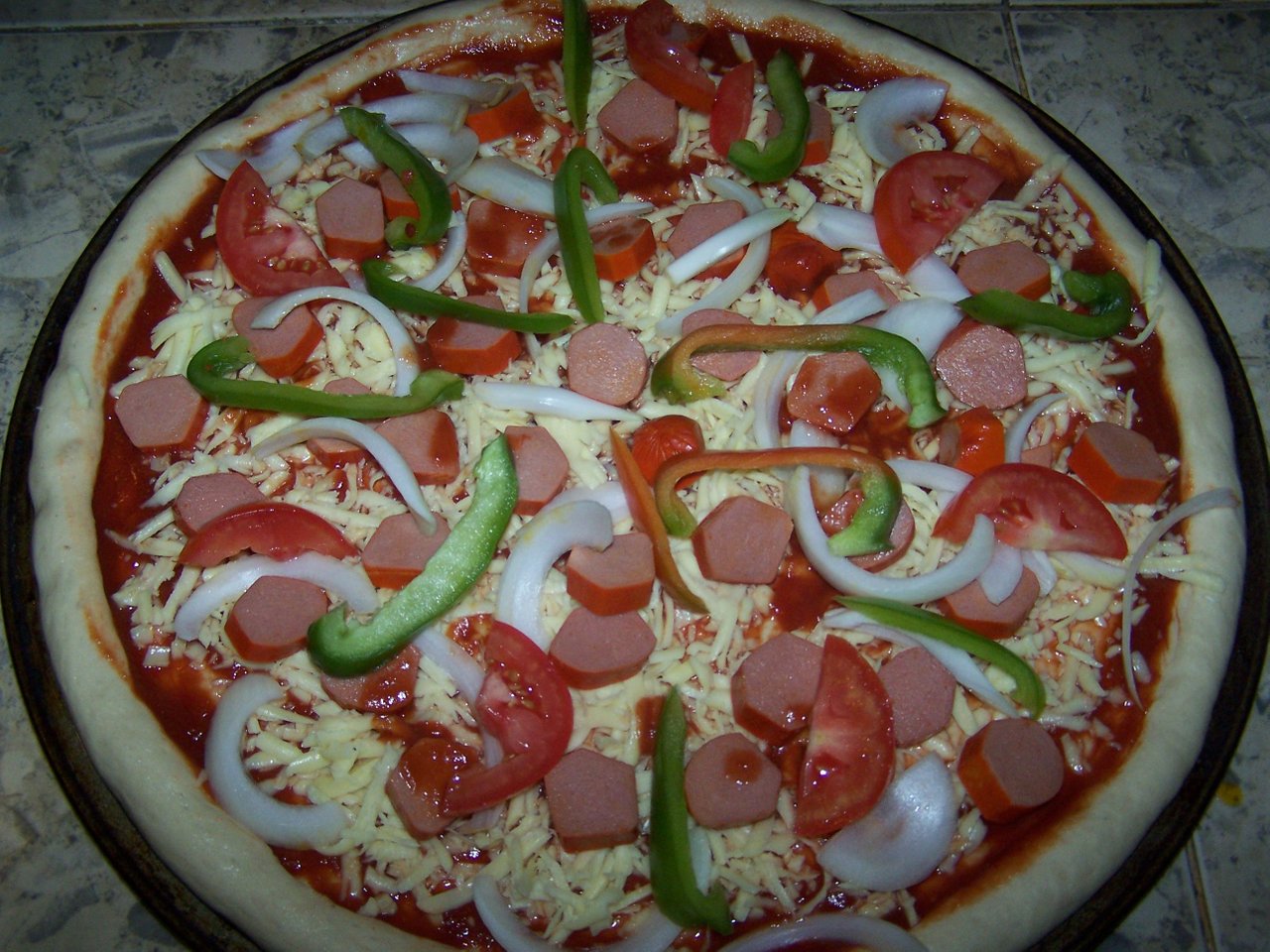 Paso 7:
---
Finalmente, una vez armadas las pizzas solo falta cocinarlas, se debe llevar a un horno precalentado a 200 °C durante 15 min. Luego de pasado ese tiempo, sáquelas del horno, las dividen en porciones y ya estarán listas para degustar, sus ricas pizzas. No les pareció genial, que tal si se animan a preparar ustedes mismos sus pizzas, aprovechen la cuarentena y diviértanse preparándolas en familia, cuídense y hasta la próxima.
Step 7:
---
Finally, once the pizzas have been assembled, all that remains to be done is to bake them in an oven preheated to 200 °C for 15 minutes. After that time, take them out of the oven, divide them into portions and they will be ready to taste, their delicious pizzas. You don't think it's great, how about preparing your own pizzas, take advantage of the quarantine and have fun preparing them as a family, take care and see you next time.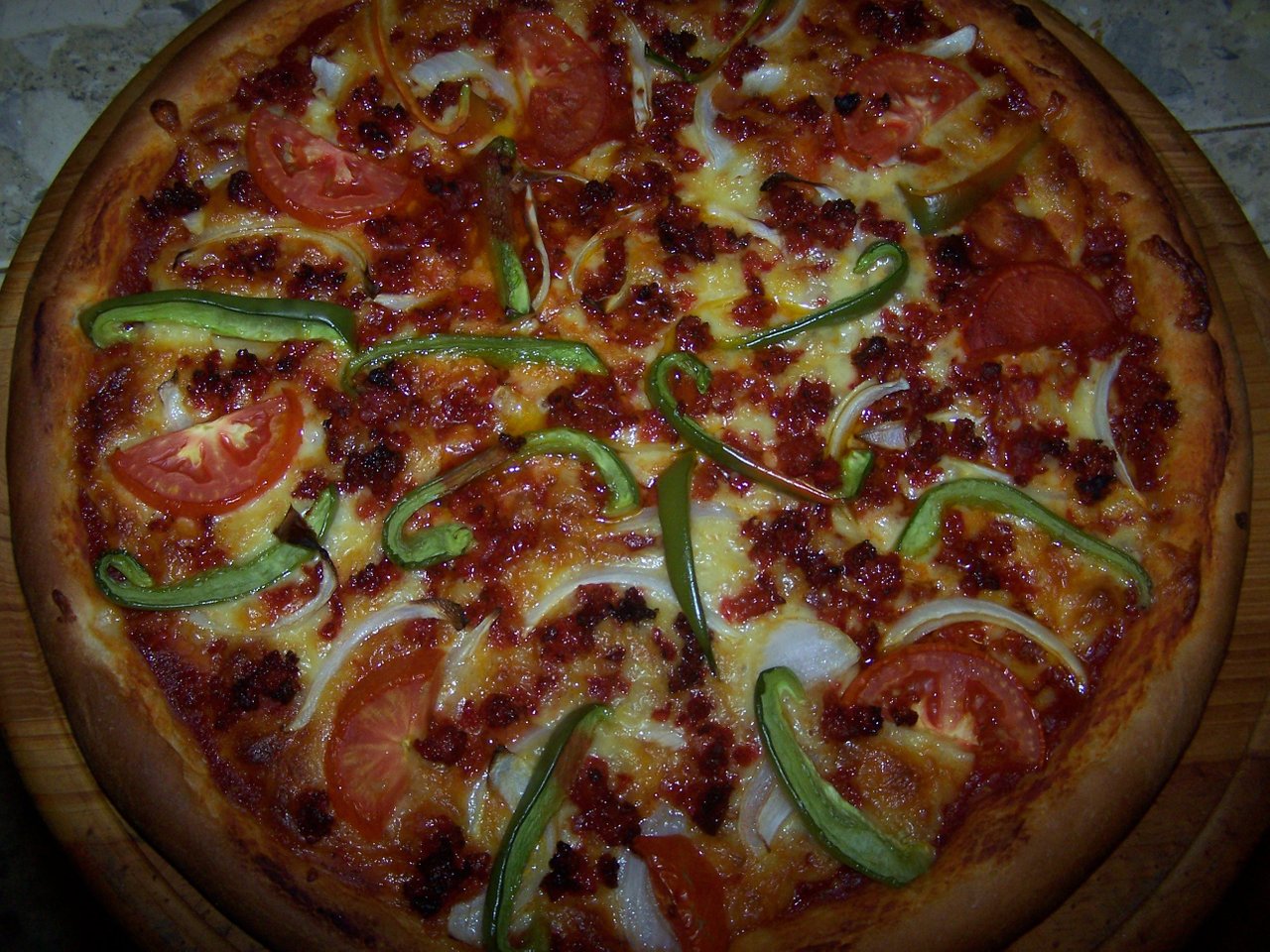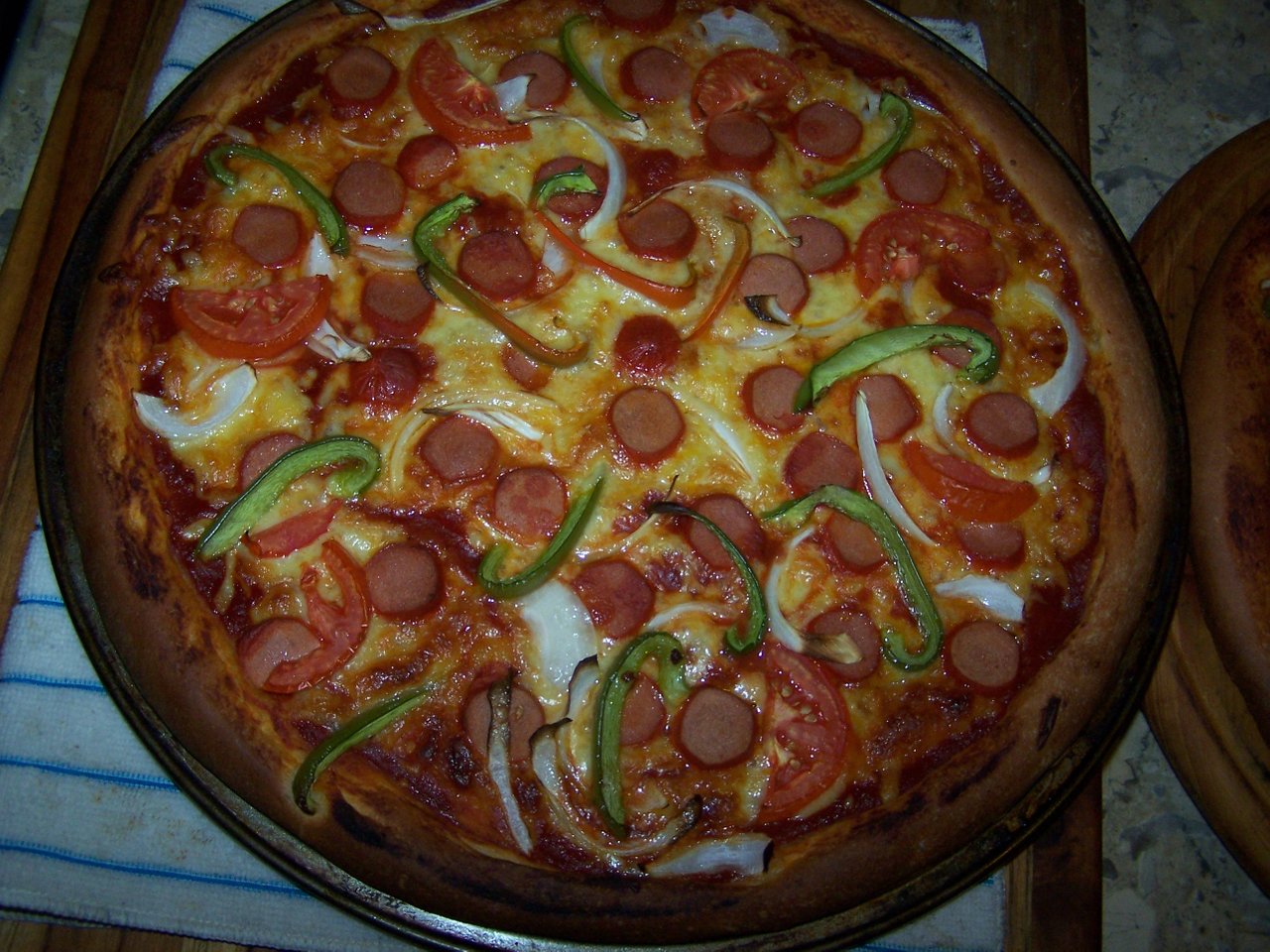 Contenido y fotografías de mi propiedad intelectual
Información Técnica
| Cámara | * Pentax *istDL |
| --- | --- |
| Lente | * Pentax 18-55 |
| Iluminación | Luz Natural |
| Locación | Barcelona, Estado Anzoátegui, Venezuela |
Content and photographs of my intellectual property

Technical information

| Camera | * Pentax *istDL |
| --- | --- |
| Lens | * Pentax 18-55 |
| Lighting | Natural Light |
| Location | Barcelona, Anzoátegui state, Venezuela |
---