Commercial Chinese food in my country is different from traditional food. From highly charged flavors to excessively fried foods, it is one of the most consumed foods at food fairs. Going to a mall and arriving at the fast food section, you will see how the Chinese or Asian food stores have people waiting in line to be served.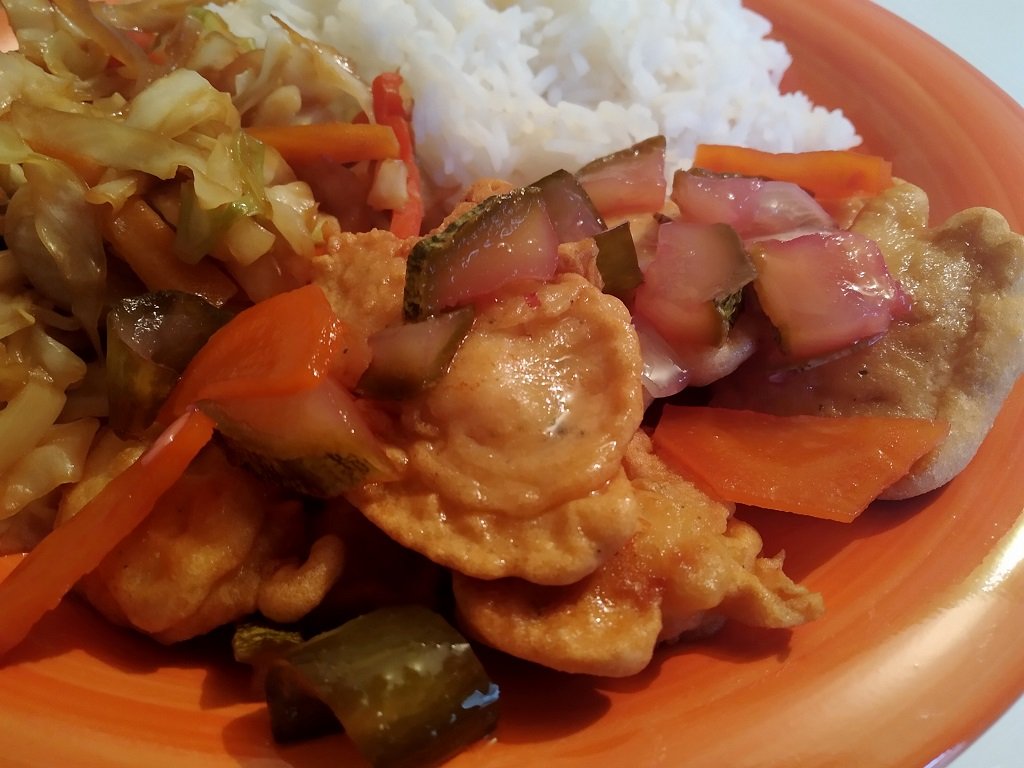 Although the hamburgers and pizzas are tasty, a fried chicken bathed in a sweet and sour sauce and accompanied by rice with pork and sautéed vegetables, has no comparison. At home, we often prepare this type of food because we are fans of Asian food. Sometimes we prepare it commercially and other times we try to do it the traditional way.
Today I want to share a recipe for sweet and sour sauce with zucchini, it is delicious to accompany fried rice, stir-fried vegetables, fried chicken, and other things. In my fridge this sauce can't be missing and that's why I want to share the recipe with you so you can enjoy how tasty it is to accompany meals with this sauce. In addition, I tell you how to prepare stir-fried vegetables that are the ideal companion for almost any dish. Without further ado, find the ingredients, prepare your table that we are going to cook.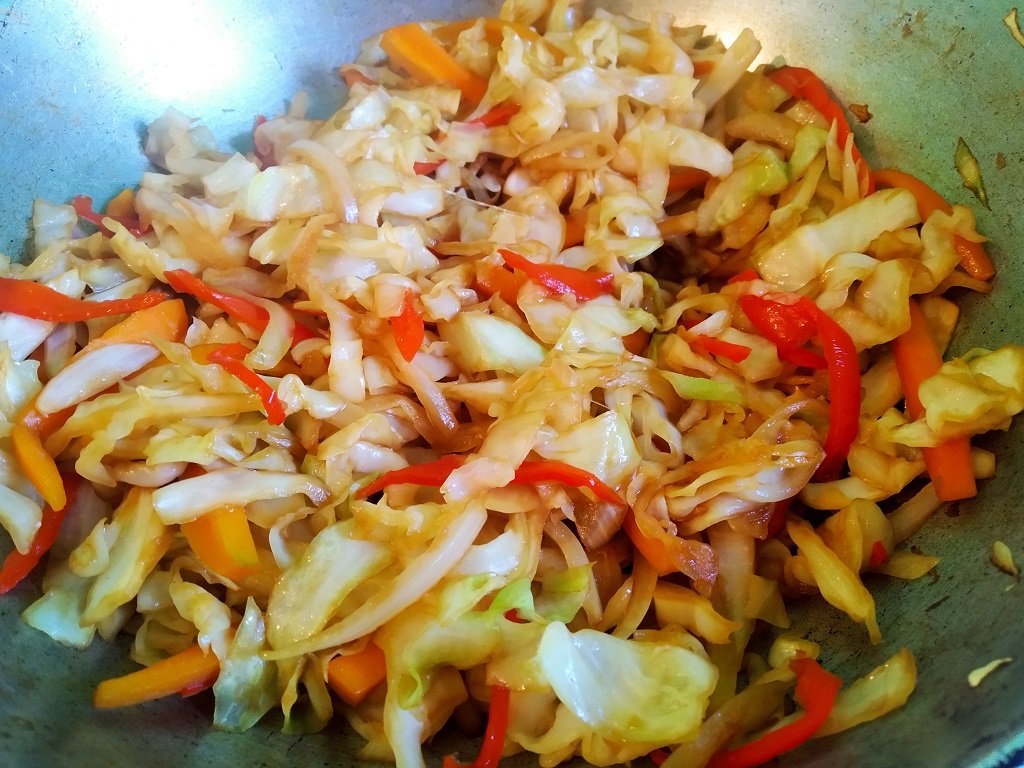 1 cup of white vinegar
1 cup of water
1 cup of sugar
1 small zucchini
1 small onion
1 small carrot
1/2 cucumber
Natural red coloring or 2 tablespoons of ketchup

Preparation
In a pot, add the vinegar, water and sugar and bring to a boil.
Chop the carrot in small pieces, together with the zucchini, the onion and the cucumber. Add the vegetables to the pot.
Let it cook until the carrot is somewhat soft, that is, until it reduces the liquid by half.
Once the liquid is reduced, add red coloring or spoonfuls of ketchup. If you don't like the ketchup, add the coloring. I must confess that the ketchup gives a special touch to the recipe.
Let it cook a little until it reduces a little more and you get a kind of light syrup. Turn off the fire and let it cool down completely before using.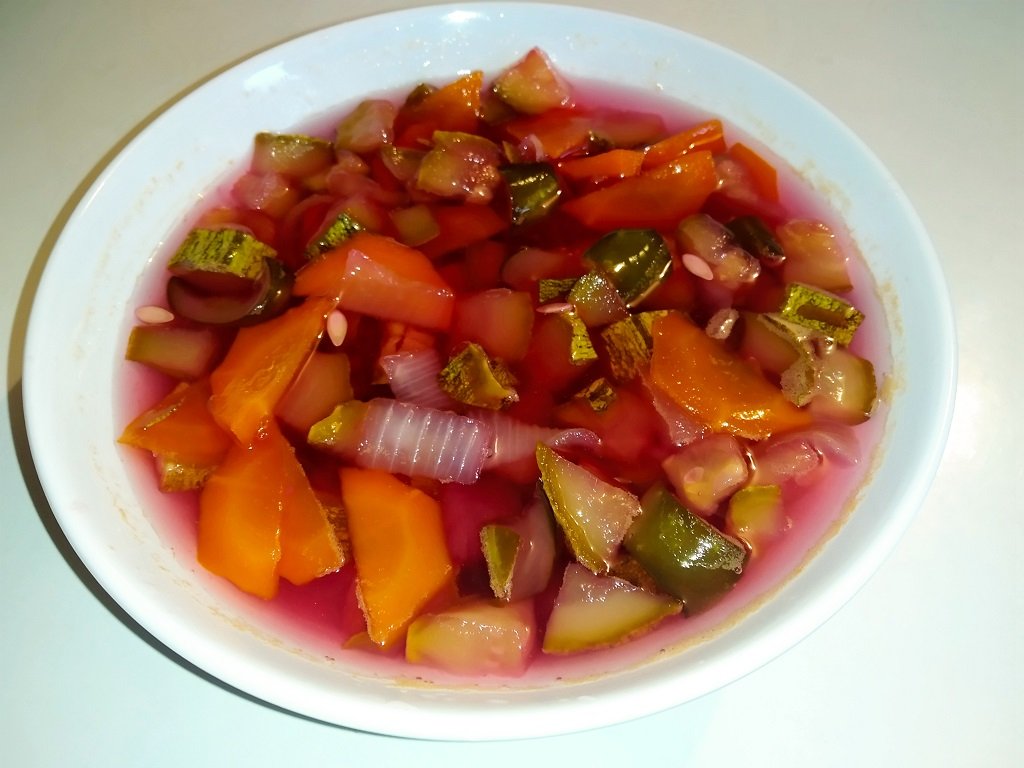 You can add 8gr of unflavored gelatin to give a firmer texture to the sauce and add fruit to the sauce like pineapple or watermelon to give more flavor and that tropical touch to the sauce. I prepared this sauce to accompany a fried chicken and I will tell you how to prepare it later. I also put sauce on the sautéed vegetables that I will explain to you later, how to prepare them.

½ White cabbage
1 Carrot
1 Onion
½ Paprika
2 large chilies
Soy sauce
1 tablespoon of Ajinomoto or monosodium glutamate

Preparation
We will start by chopping the vegetables into thin strips and placing them in a pan. The thickness of the strips is up to you.
Take to high heat and add oil, soy sauce and ajinomoto. Let it cook until the vegetables start to reduce.
Don't add any water since the cabbage has enough and it will start to drop. Add salt, making sure it has what it needs.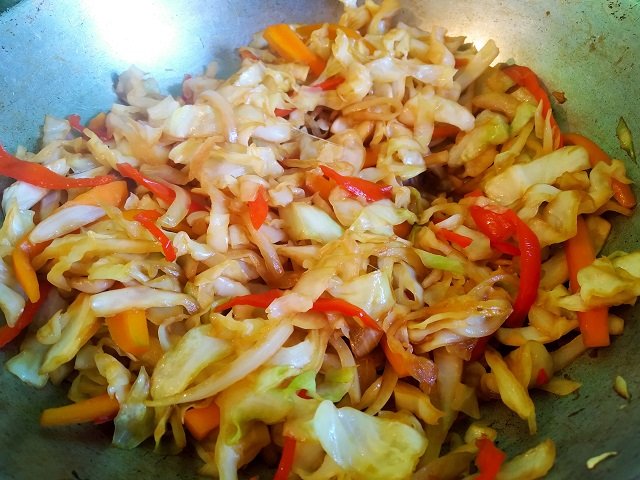 Let it cook a little longer until the water that the cabbage dropped is reduced by half.
Turn off the fire and serve hot.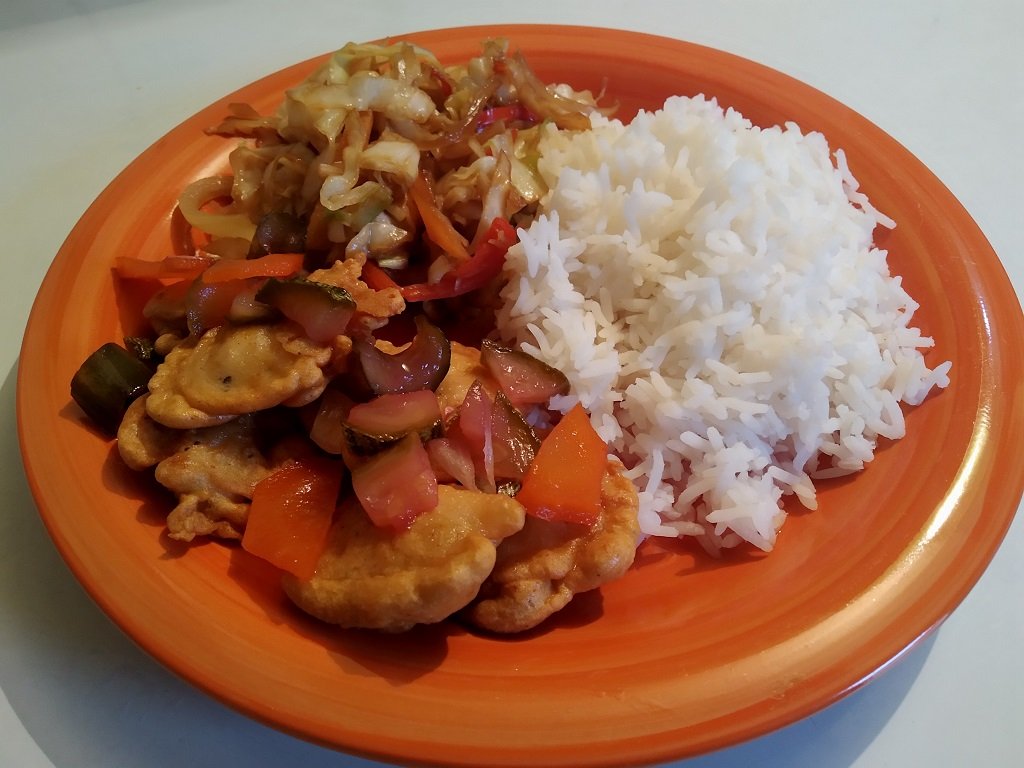 The process of preparing the vegetables this way is fast. About 10-15 minutes in total, so have everything ready to serve hot and enjoy. At home we love to eat vegetables like this almost all the time, we add shrimp, boiled ham, sausages or chicken, to give a different touch to the vegetable stir-fry. You can use oyster sauce too and give it a touch of sea flavor. If you like this style of food, let me know in the comments.

---
All pictures were taken by me, with a Xiaomi Redmi 7 phone, without any edition. They were only compressed to facilitate the visualization of the content. The separators are images taken from pixabay and cut out. Here they are if you want to use them zucchini png,zucchini in group,cartoon cabbage,cabbage