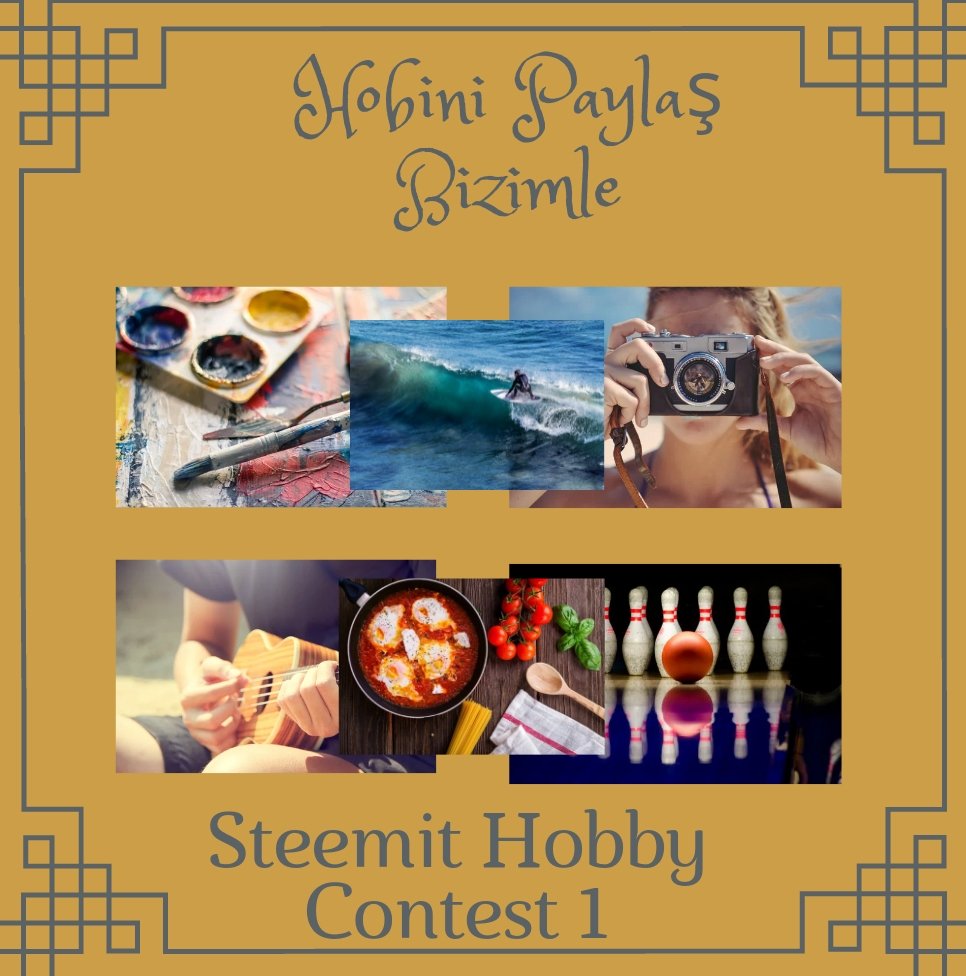 Yeni kurulmuş bir topluluğuz. Çok kısa sürede kullanıcılar tarafından gösterilen ilgi harika .
İlk yarışmamız olan " Hobini Paylaş Bizimle " yarışması da oldukça dikkat çekti.
Yarışmamız 06 Kasım UTC Saat 00:00 sona erecek. Bu zamana kadar daha fazla katılım olacağını umuyorum.
Yarışma konumuz hobileriniz. Hobinizi bize hazırlayacağınız bir gönderi ile tanıtmanızı istiyoruz.
*Yarışma kuralları
Yarışmanın konusu hobilerinizdir.
(Yemek, Seyahat, Film, Kitap, El Sanatları, Fotoğraf, Dans, Spor Kendin Yap ....)
Gönderiniz en az 200 kelime ve 2 fotoğraftan oluşmalıdır.
Intial kesinlikle yasaktır. Fotoğraflar size ait olmalıdır.
Gönderiniz yalnızca steemithobby topluluğunda paylaşılmalıdır.
İki arkadaşınızı davet edin.
Yarışma etiketlerini doğru kullanın. #sthobbycontest1 #steemithobby
-Steemithobby topluluğunun resmi hesabını takip edin. @steemithobby
Cüzdan kazancınızın en az yarısını son 7 gün içinde Steem power yapmış olmalısınız. #club5050
Gönderinizin steemit'e özel olduğunu belirtmek için #Steemeexclusive hashtag'ini kullanın .Yarışma Ödülü 15 Steem
5 Kök
4 Kök
3 Kök
2 Kök
1 Kök
Yarışmaya katılacak herkese başarılar.
CC @disconnect
---
We are a newly formed community. The interest shown by users in a very short time is great.
Our first competition, "Share Your Hobby with Us", also attracted a lot of attention.
Our contest will end on 06 November UTC at 00:00. I hope there will be more participation by this time. Our competition topic is your hobbies. We would like you to introduce your hobby to us with a post you will prepare.
*Contest rules
The subject of the competition is your hobbies. (Cooking, Travel, Movie, Book, Craft, Photography, Dance, Sports DIY....)
Your post must contain at least 200 words and 2 photos.
Intial is strictly prohibited. Photos must be your own.
Your post should only be shared in the steemithobby community.
Invite two of your friends.
Use competition tags correctly. #sthobbycontest1 #steemithobby
-Follow the official account of the Steemithobby community. @steemithobby
You must have earned at least half of your wallet earnings from Steem power in the last 7 days. #club5050
Use the hashtag #Steemeexclusive to indicate that your post is exclusive to steemit.
Contest Prize 15 Steem
5 Roots
4 Root
3 Roots
2 Roots
1 Root
Good luck to everyone participating in the competition.
CC @disconnect