Steemit Hobby Community Rules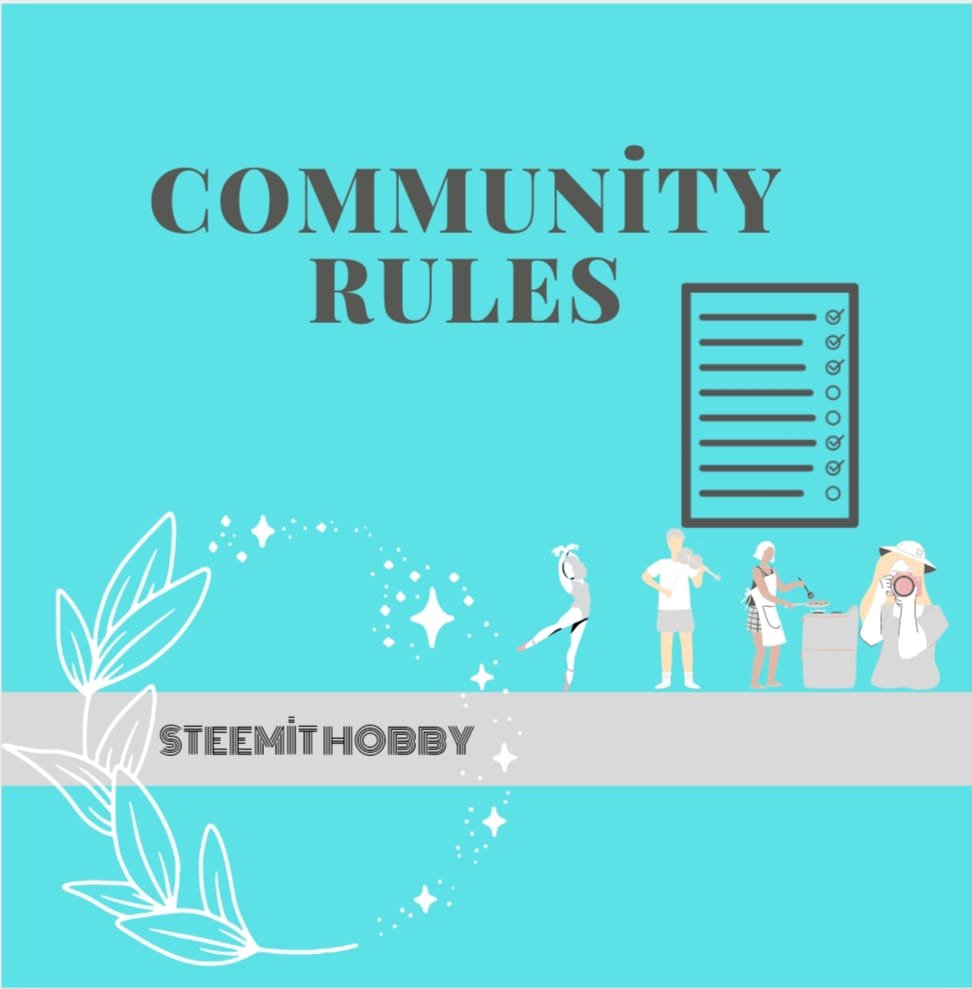 Hello, Distinguished Members of the Steemithobby Community
Steemit Hobby community came up with the idea of ​​being a community where you can share your hobbies. I also believe that with your support, it will be among the popular communities in the near future.
Topics you can share in our community
Eat
Travel\ Travel
Book
Movie\Series
dance
Music
Sport
Handicrafts
Picture
You can also share any of your hobbies with us.
Apart from these, we would be happy to see your #thediarygame posts about your daily life and your posts about the #club5050 event you participated in the steem power event in our community.
Our goal as a community is to grow in a short time and to support our users. In addition, it will introduce the steemit platform in every field and ensure that new users join us.
Follow our community. Various competitions will be held every week and various prizes will be distributed.
In addition, in the last week of every month, Steem power up competitions will be held to guide users to the #club5050 event.
The general etiquette of the steemit platform applies in our community. Users who do not follow these rules will be silenced indefinitely.
*You must use the #steemeexclusive tag to indicate that your posts are exclusive to steemit. You should also include the hashtag #steemithobby among the first five tags of posts shared in the community.
Intial is strictly prohibited.

You can post in any language in our community.
Finally, as we are a newly established community, we need your support. If you want to support, you can authorize the official account of the community, @steemithobby.
After reading the rules, you can share your posts suitable for our community with us.
Steemit Hobby Topluluğu Kuralları
Merhaba Steemithobby Topluluğunun Değerli Üyeleri
Steemit Hobby topluluğu sizlerin hobilerini paylaşabileceğiniz bir topluluk olma fikri ile ortaya çıktı. Sizlerin desteği ile de yakın bir zamanda popüler topluluklar arasında yer alacağına da inanıyorum.
Topluluğumuzda paylaşabileceğiniz konu başlıkları
Yemek
Gezi\ Seyehat
Kitap
Film\Dizi
Dans
Müzik
Spor
El sanatları
Resim
Ayrıca hobiniz olan her konuyu da bizlerle paylaşabilirsiniz.
Bunların dışında günlük yaşamınızı anlattığınız #thediarygame postları ve steem power etkinliğine katıldığınız #club5050 etkinliğine dair postlarınızı da topluluğumuzda görmekten mutluluk duyarız.
Topluluk olarak hedefimiz kısa sürede büyümek ve kullanıcılarımıza destek olmak. Ayrıca her alanda steemit platformunu tanıtıp yeni kullanıcıların aramıza katılmasını sağlamak olacaktır.
Topluluğumuzu takip edin. Her hafta çeşitli yarışmalar düzenlenecek ve çeşitli ödüller dağıtılacaktır.
Ayrıca her ayın son haftası #club5050 etkinliğine kullanıcıları yönlendirmek amacı ile steem power arttırma yarışmaları düzenlenecektir.
Topluluğumuzda steemit platformunun genel görgü kuralları geçerlidir. Bu kurallara uymayan kullanıcılar süresiz olarak susturulacaktır.
*Gönderilerinizin steemit'e özel olduğunu belirtmeniz için #steemeexclusive tagını kullanmanız zorunludur. Ayrıca toplulukta paylaşılan gönderilerde ilk beş tag arasında #steemithobby etiketine yer vermelisiniz.
İntial kesinlikle yasaktır.

Topluluğumuzda her dilde gönderi hazırlayabilirsiniz.
Son olarak yeni kurulan bir topluluk olduğumuz için sizlerin desteğine ihtiyacımız var. Destek olmak isterseniz topluluğun resmi hesabı olan @steemithobby hesabına yetki verebilirsiniz.
Kuralları okuduktan sonra topluluğumuza uygun postlarınızı bizimle paylaşabilirisiniz.