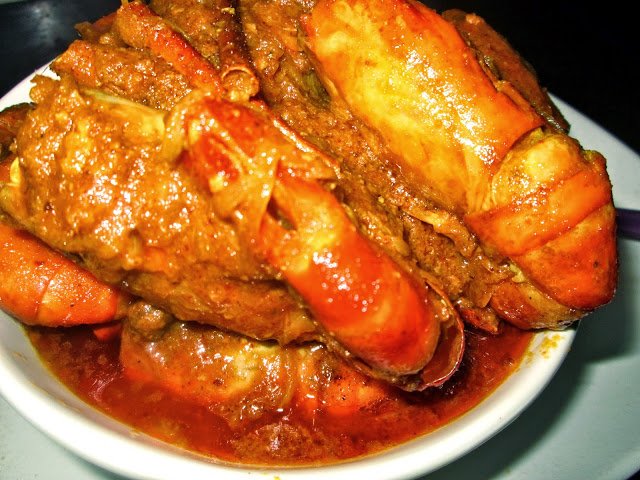 Hello readers,
      Today I'm going to share with you a famous delicacy of Bengal"Chingri Macher Malai Curry"(Lobster with cream) this is mainly a prawn recipe, very often made in Bengali kitchen. Would you like to know how this dish reach in Bengal? Let me tell you! Some people believe that this a Malaysian influence dish 'Malai' is actually 'Malay', and bought by Malaysian sailors to the 'Bay of Bengal'.

Ingredients:

1. Lobster -8 medium size (with the skin over the heads and tails being intact).

2. Mustard oil- 2 tbs.

3. Ghee(clarified butter)- 2 tbs.

4. Cashew paste-2 tsp.

5. Raisin paste-2 tsp.

6. Coconut milk- 1 cup.

7. Fresh cream-3 tbs.

Spices:

1. Onion-2 cups (very finely chopped).
2. Garlic paste-1 tsp.
3. Ginger paste-2 tsp.
4. Black mustard seeds paste-3 tsp.
5.Whole cinnamon (cassia bark)-2(one-inch size).
6.Whole green cardamom-5 to 7.
7. Bay leaves-2
8. Cloves-3-4
9. Red chili powder-1 tsp.
10. Kashmiri red chili powder-1 tsp.
11. Turmeric powder- 4 tsp.
12. Cumin powder-2 tsp.
13. Salt- To taste.
14. Sugar- To taste.(optional)
15. Green chilli-4( for garnish).

Preparations:

Step 1:- Clean lobster well, add salt and turmeric powder to marinate them.

Step 2:-  Take a pan add mustard oil. Once oil will became very hot add ghee (clarified butter) into it. Now add bay leaves, cinnamon (cassia bark), green cardamom, cloves one by one. Add chopped onion and fry till it became soften.

Step 2:- Now add garlic paste, ginger paste, cumin powder, red chili powder, kashmiri red chili powder, salt, sugar, turmeric powder, mix them well add 1/2 cup water and cook this mixture for 5 minutes.

Step 3- Once spices cooked well add black mustard seeds paste, cashew paste, raisin paste & mix all ingredients well. Now add coconut milk.

Step 4:- When gravy will start boiling add lobster. Now cover the pan and cook lobster for 8 minutes in a medium low flame.

Step 5:- Take out the lead once gravy become thicker add fresh cream and cook for 1 more minute. Turn off gas.

Step 6:- Garnish with green chilies, now it's ready to serve.

N.B. This article was also published on my personal blog : https://sduttaskitchen.blogspot.com/