Good food is the best. Healthy + Yummy = LIT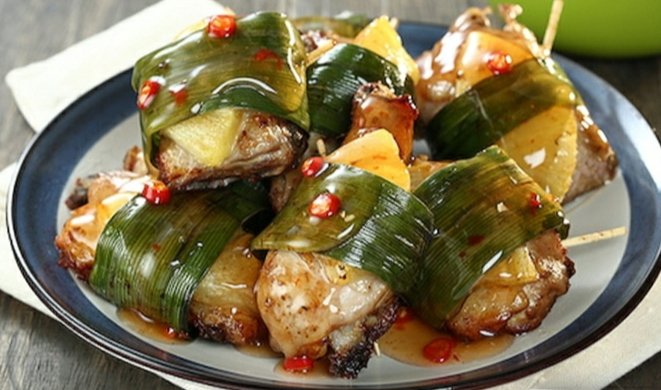 Ingredients:
1 kg chicken, thigh and leg, cut into serving portions
Marinate:
2 tbsp oyster sauce
3 tbsp coconut cream
1 tbsp garlic, minced
1/2 tsp ginger, grated
2 tbsp reserved pineapple syrup
1 can sliced pineapple (227g), drained, cut each piece into 3, reserve syrup
7 pc pandan leaves
1 tsp red cane vinegar
1 tbsp sugar, white
reserved pineapple syrup
1/2 cup sweet chili sauce (325g)
Preparation
Marinate chicken for 2-3 hours in refrigerator. Drain.

Put a piece of sliced pineapple over a piece of chicken then wrap in pandan leaves. Secure with toothpick. Steam chicken for 10 minutes, then fry, still wrapped in pandan until brown. Remove toothpicks. Set aside.

Simmer red cane vinegar, sugar, and remaining reserved pineapple syrup for 5 minutes. Add sweet chili sauce. Allow to simmer for another 2 minutes. Pour over chicken.
Serve! Happy Eating😄