Happy weekend to you my people how was your week all through, hope you are excited as I am. It is my pleasure to present my newbies and friends as they signed up in Steemit. I was privileged to get them finally to join this wonderful opportunity of Steemit Blockchain Social Network.
I had been discussing with them about this Steemit Blockchain Network, but they showed little or no interest at first. I never give up on them because I fully know they will benefit greatly so I persisted, sharing the benefits they will derive if they can leverage with this Network.
Starting from Wednesday 8th to Saturday 11th September 2021, I was able to register four (4) people.
They all have already received Greeters welcome message and many other congratulatory messages as they posted their Achievement 1 post. Infact they are very excited.
Let me share a little about my experience with them before they finally took the decision to sign up.
I first sign up @anthony27, he was very excited to join because of his love for social media platforms. As a student, he is interested in an opportunity where he will be able to learn more and also reach out to other people. When you look at his introductory picture, you can bear witness from his smiling face full of joy.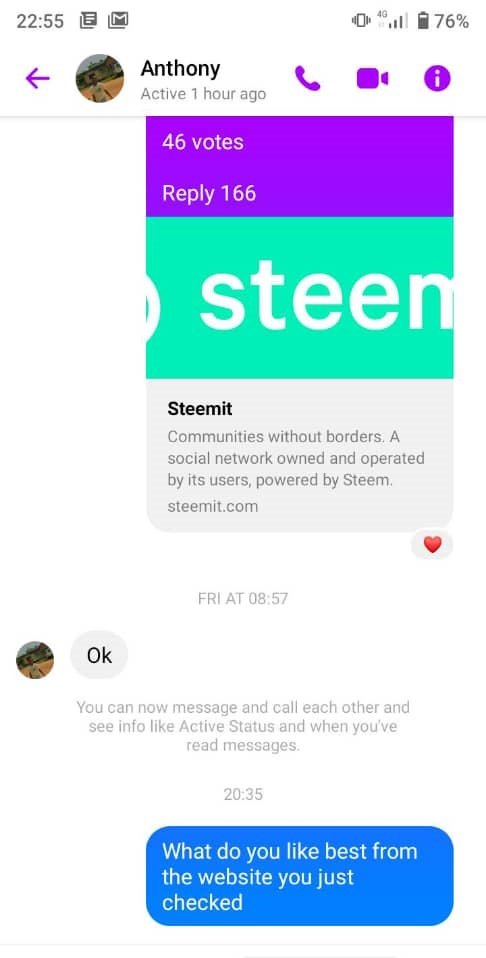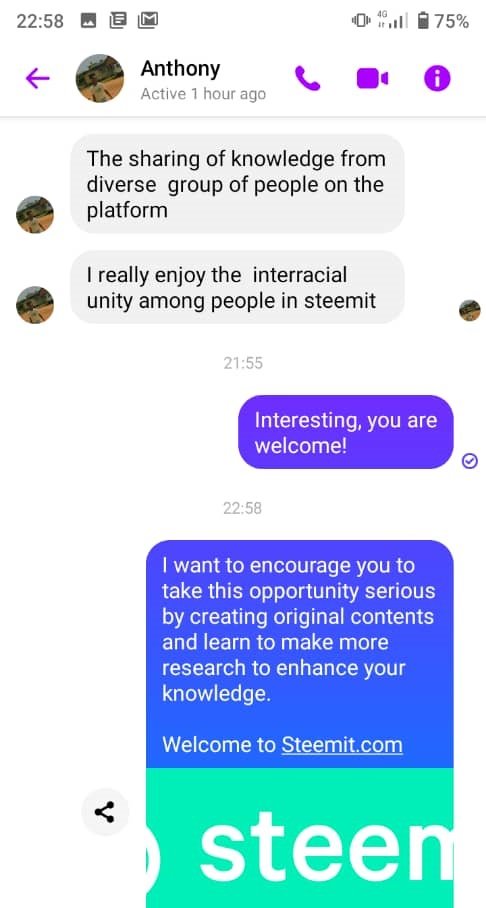 My chats with @anthony27
The second person to sign up on Friday 10th September 2021, was @princesshope. She too is a student and currently is writing a WAEC examination. It has not been easy with her for us to meet together so I can explain to her more better. Finally with little coaching, she was able to write and complete her Achievement 1 post.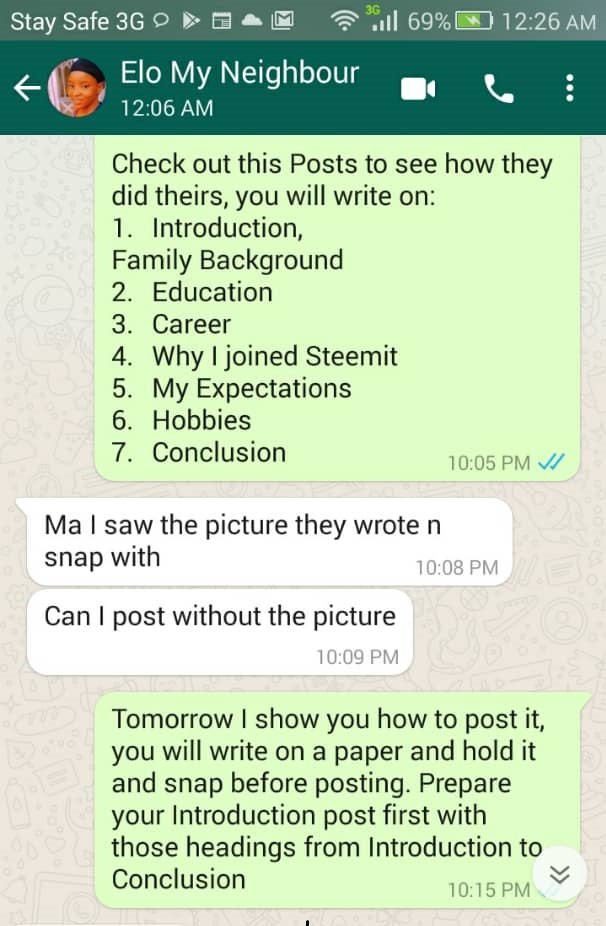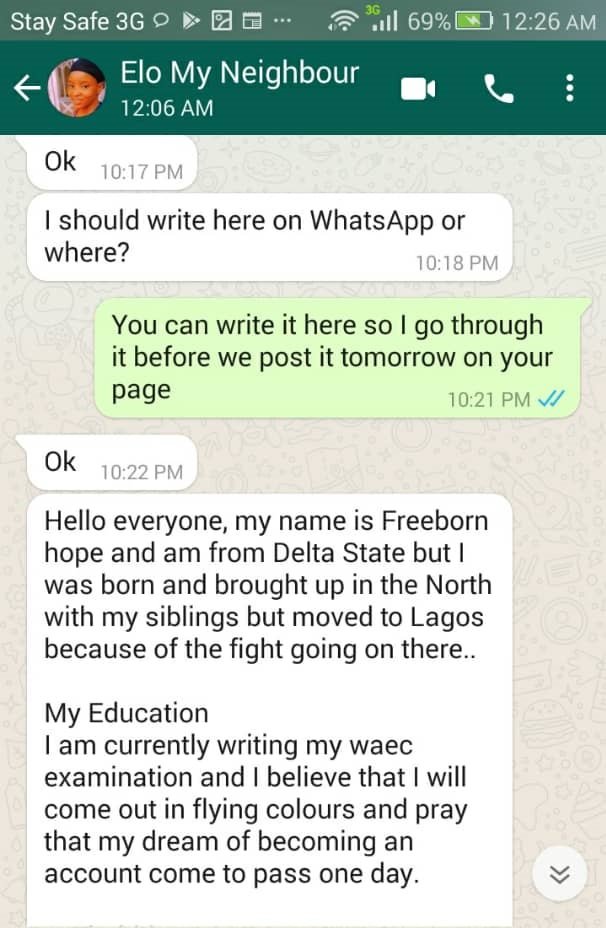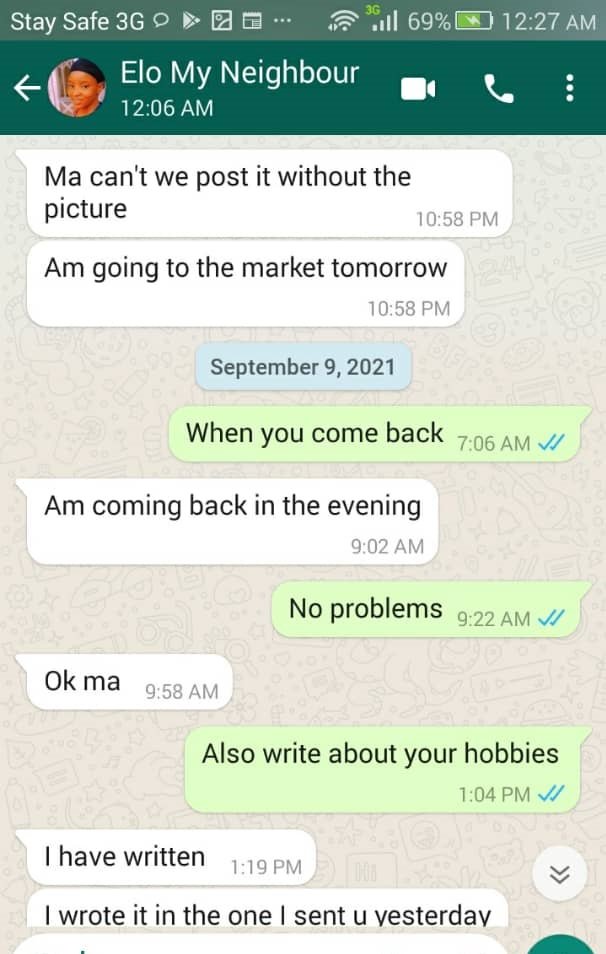 My chats with @princesshope
The third and fourth person's experiences got me laughing seriously. I had been inviting them to join this Steemit since the month of June 2021, but they kept giving out several excuses. Today I sent them message with my 10 SBD (Steem Dollar) earnings that I cashed out yesterday. I sent them the transaction print out as a proof that someone can earn good money from these platform. I also told them that it is not a joking matter. Immediately they called me that they are coming to meet me at home. I thought they were not serious about it, but to my greatest surprise, look at @maubaby coming with Bike to my house with smiling face. She left her business and ran down to my house and we spent a lot of time together as I taught her how to create her Achievement 1 post and other ways she can benefit from the Steemit system of operation.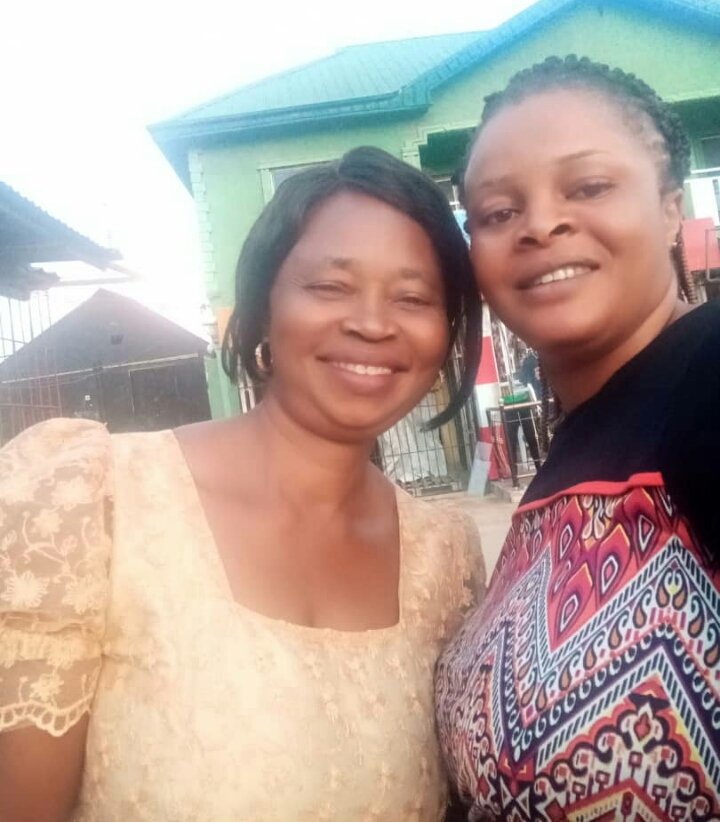 With @Maubaby
Also @kasaragracious started calling me to give her direction to come to my house. After sending her the description, she missed her way. She called several times on phone for directions but finally I went out to meet and welcome her. She too was very happy as I explained the platform of the Steemit Blockchain Network to her and on one-on-one basis, it was really interesting and she promised to get other of her friends to sign up as soon as possible.
Our joys knew no bound as all of us shared our experiences together and are ready to learn from the Steemit Blockchain. Today was a day full of excitement for all of us.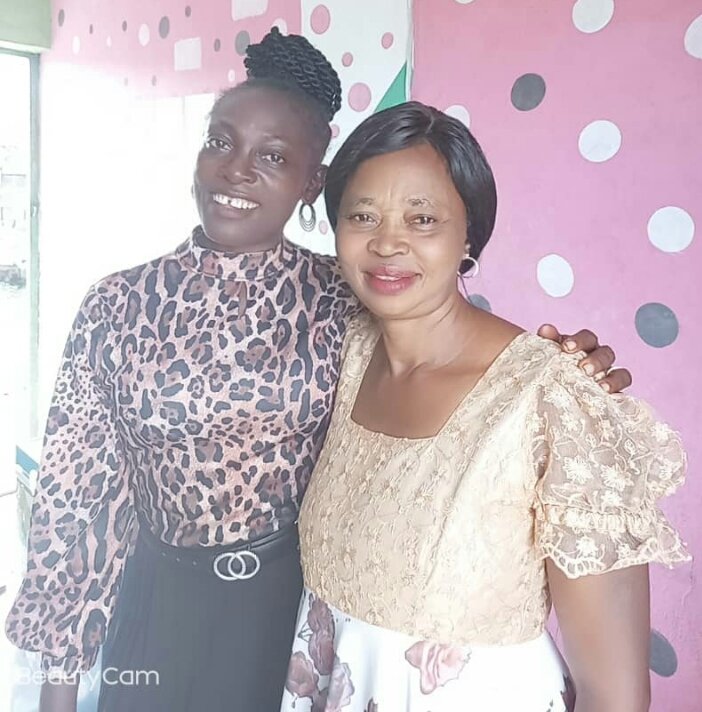 With @kasaragracious
These are the lists of the new members I signed up with their Username and Achievement 1 post links:
I want to show my gratitude to the PromoSteem team for announcing this Weekly Inviting Contest as it has made an open way possible for recruiting new people to join the Steemit Blockchain Networ.
Thank you very much for reading to the end.
cc:
@mcsamm
@nattybongo
@oscarcc89
@saracampero
@talktofaith
@ngoenyi
@shahidchoudary
@ashkhan
@msharif