Note: 50% of Rewards to support the solar power energy @smilenigeria account
---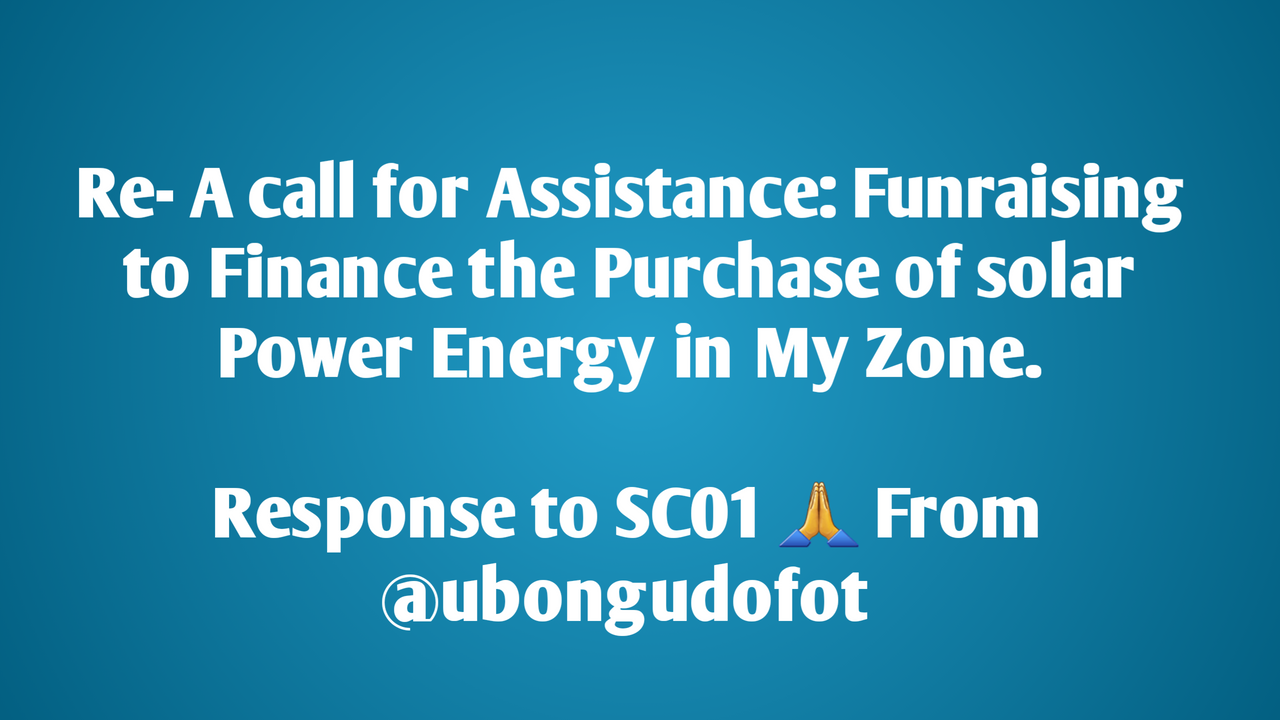 Greetings Family,
In response to the post I made on the 18th of May 2022 about the lack of electricity in my zone entitled: A call for Assistance: Fundraising to Finance the purchase of Solar power Energy in My Zone, SC01 gave me some vital suggestions which can assist me to carry out some proper research on the solar energy assisting project.
And I was so glad to make use of that information and here is my reply to those good suggestions given to me by SC01.
---
Dear Sir @steemcurator01
In response to those questions guides here, I will answer them accordingly below:
where will you source the equipment from? (links would be good)
Sourcing from a company importing from Ningbo China and other countries. The vendor name I will get it from is Cassey Dil Ventures.
They don't have a website yet, but they are working on getting one before the year runs out.
But they have been doing jobs for a decade now, so it's a full technological Company.
In Nigeria, most top Vendors do not own a website, because they don't carry out online sales like ordering goods and selling them online.
They just own a Shop, make a good name from their good services and they are popular and trustworthy.
Before now, I wanted to use one of the online Market here in Nigeria to buy the system if this assistance is approved. But I changed my mind because of the reasons below:
Their return policy is not favorable. In case there is an issue with the System, to return it for replacement will take Some long procedures which might take months and at the end of it, might not even be settled favorably. Though I am not praying for that.

They operate on pay before delivery services. Now, this might not work out as well, because, on some rare occasions, I have seen when some ordered Items from one of the online vendors delivered another specification, which was not what the real owner ordered for.
That was a mistake, they accepted, but then, the procedure to change that item became an issue, which later takes months.

They won't offer a technician that will do the installation and the few electrical wirings.
Sir, please it is with these few reasons, that made me change my mind to buy this system from a Well qualified local Vendor who is trusted and well Known in Selling and installing this system.
Are the equipment prices assured or are they likely to go up?
Prices can rise since they are imported. Globally prices are unsteady these days, especially in Nigeria. So, the price I mentioned earlier on was based on that day's price, it will also interest you to know that at the time I compile this research report which is today, 21st May 2022 the price was still the same as I mentioned in my first report, there is no change.
what models/brands will you be using?
The Solar panel would be - a Canadian product. The Inverter would be - souer China origin
Battery – Sun fit Korea origin
what will be the warranty on the equipment?
The Warranty with this vendor is One (1) year. But Warranty doesn't cover operational mistakes or natural disasters.
will you be roof mounting the solar panels, or ground mounting?
It's going to be a roof-mounted.
How will you ensure the equipment is not stolen?
The area is heavily settled. And the installation will be in an enclosed space. Locked up in the same Compound I am living. It is going to be under my supervision daily.
who have you got for the installation?
The company's (DIL VENTURE) technicians will carry out the installation as It is part of their Services. Though it is optional, I will choose them to do the installation.
Are they experienced?
Yes very experienced.
How many similar PV installations have they done before?
They have carried out so many Solar Energy Installations in Nigeria. From 2013 till date, like fixing Street lights, Installing Solar power Energy in residential buildings, Markets, and School Premises.
what warranty do they offer on their work?
Their technicians are NATE (Nigerian Association of Technologists in Engineering) certified. They're good in their Sevices and in case of any issue in the future, they are willing to render any needed assistance.
How many people will you serve with this solar PV installation?
At least 40 people including the steemians lived close by.
will you be charging them for usage?
No, it will be free. This will help advertise the steemit platform more. But in case you have a suggestion here for me Sir, I will so much be glad to work with your suggestions.
How will you charge for the electricity?
This one will be free.
In terms of collecting money for the project, I was planning of Using the smilenigeria account, however, if this is not appropriate for this purpose, please sir, I will be glad to follow your instruction in this regard.
Or if it is okay to create a separate account for this, I will still be glad to hear your suggestions on this Sir and will follow it up immediately, all your further suggestions are welcome and useful and I will follow them all.
Thank you very much Sir for all your support, I sincerely appreciate it and will continue doing my best to Serve better.
Best Regards,
ubongudofot.
Cc: @steemcurator01 @pennsif @el-nailul @heriadi @irawandedy @miftahuddin
@klen.civil