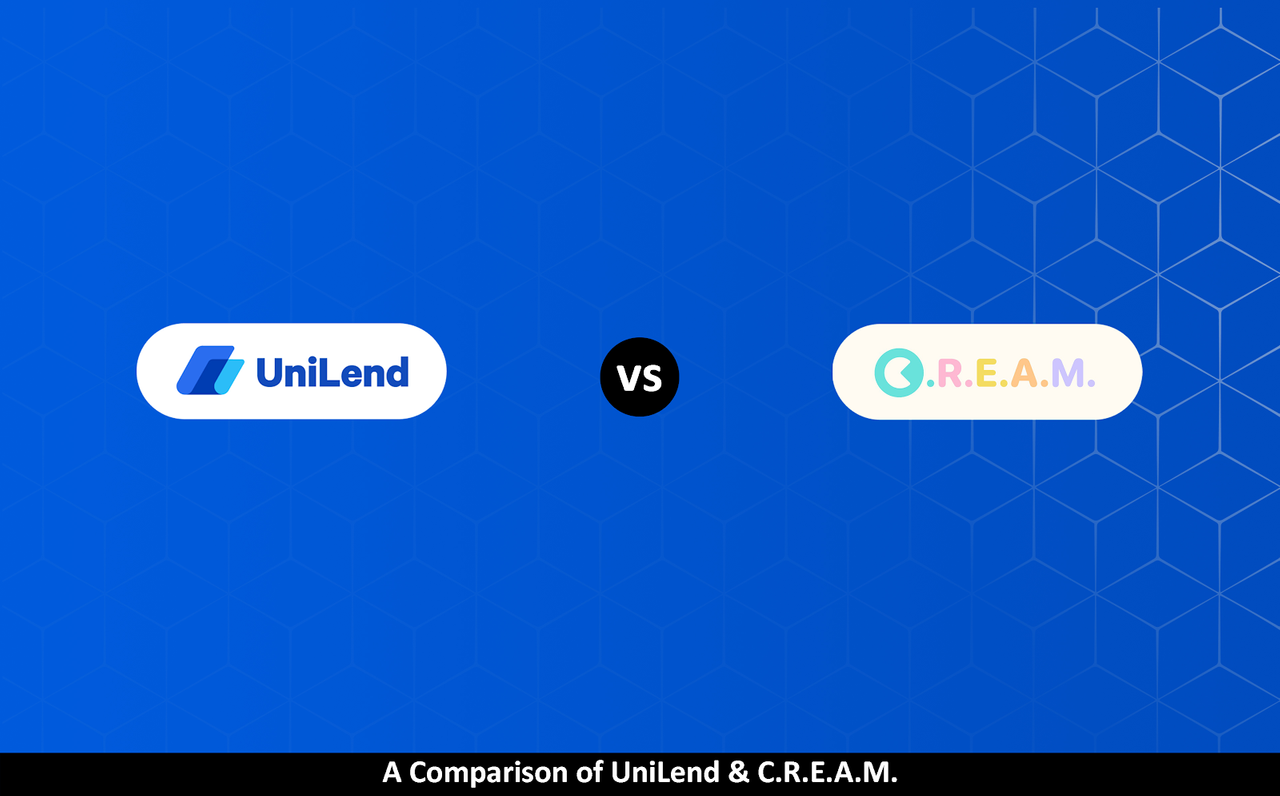 TL;DR:
DeFi is turing the heads of titans within the crypto industry 

Both UniLend and Cream are trying to bring many DeFi capabilities under one roof

UniLend's UX will be much smoother than Cream
Cream and UniLend have many of the same capabilities, though Cream is severely limited because it has a limited amount of assets that it supports;  in comparison UniLend will be able to support any Ethereum-based asset
Both UniLend and Cream are seeking to launch on multiple chains

UniLend Finance has many ambitious goals to add a vast array of additional DeFi features, which we are confident we can execute
DeFi will Continue to Turn Heads in 2021
It's paramount we understand the intrinsic workings of DeFi. It's more than being decentralized, which is key. It's all the capabilities these protocols will provide for users, the future lives that will be positively impacted, sowing the seeds of a better tomorrow for our families. We cannot agree more when people in the industry say, "this is just the beginning." 
Recently, Cameron Winklevoss, Co-founder of Winklevoss Capital Management and Gemini cryptocurrency exchange, made a very important statement. 
"We're definitely not maximalists in the sense that we only believe and love Bitcoin. We hold a lot of Bitcoin. We want Bitcoin to work. We hope it works. We also hold Ether and other cryptocurrencies and we're very bullish on Ethereum and the DeFi (decentralized finance) projects that have been built on top of Ethereum and much of what's going on there. We're long the space."
We at UniLend are also "long" on the space. We see that DeFi is one of the keys opening doors to new opportunities for the masses. As we develop our protocol we have our community at the forefront of our mind. We want to combine the features DeFi protocols have already created, to build a home for all users from around the world; a home where all these capabilities are present. However, we won't stop there, we also wish to innovate, to create opportunities not yet created. As we continue to achieve our goals, we suspect we'll continue turning heads as we add fuel to the fire of the bullish sentiment Mr. Winklevoss holds surrounding DeFi.
As we wade into the DeFi comparison waters, we note that Cream Finance is also an innovator and seems to be trying to bring DeFi capabilities from other protocols together. We dive into these waters to take a closer look at the details Cream Finance has fleshed out already in their several months of existence. Hats off to the team, they seem to be headed in the right direction and we wish them the best.
Key Comparison Points Between UniLend & Cream Finance
It's interesting to see another protocol trying to bring the many DeFi functions under one roof. Cream Finance has forked/combined both Compound and Balancer to provide lending/borrowing and the exchange of assets via the swap feature. This is a great start, and from what we can see, has been done in a relatively short amount of time. In comparison, UniLend Finance has forked some base code from other protocols which has been built upon by our developers.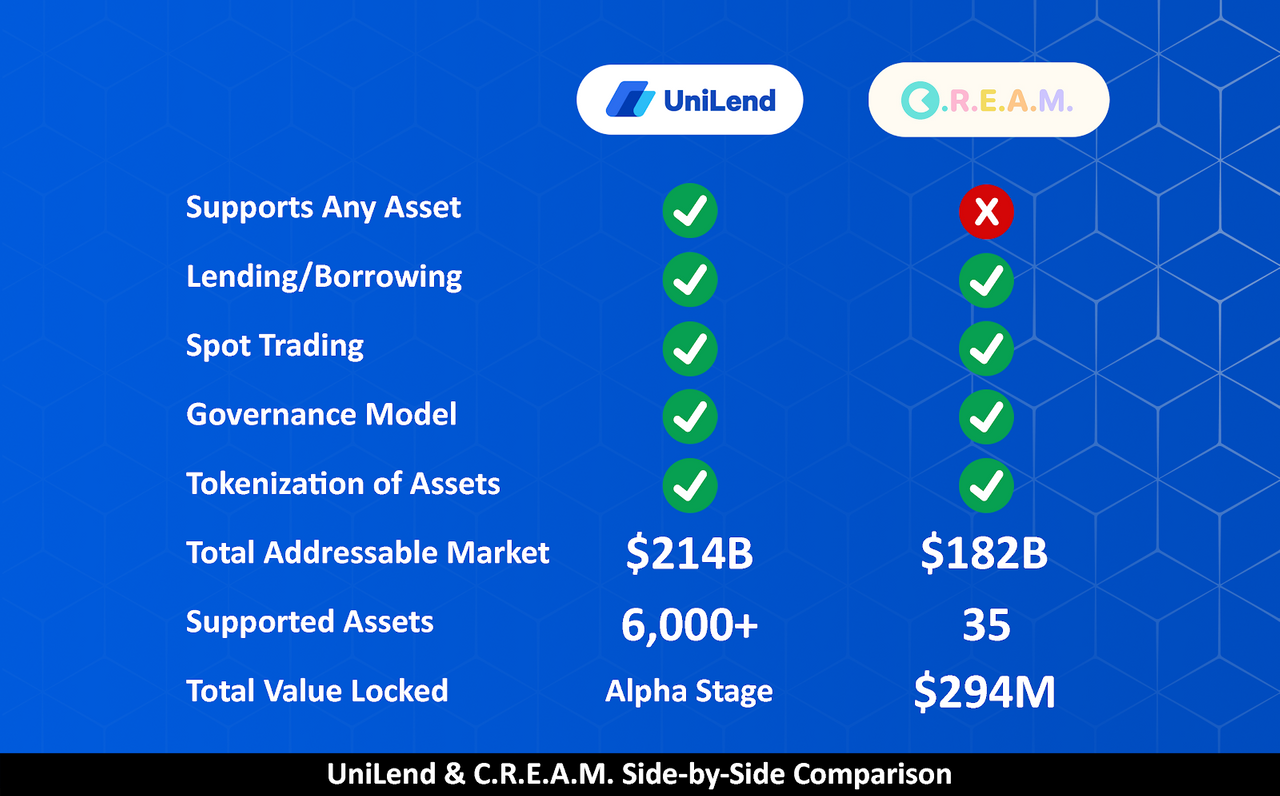 The drawback we hear from users is that one has to already be providing liquidity to a tokens pool on Cream to be able to utilize the swap function for said token. Also, when a user is trying to lend/borrow they must make many transactions to achieve their goal. We understand that the UX could be better, and that's fine, most protocols have instruments that can be improved upon. 
On the other hand, UniLend Finance will have lending/borrowing, and a swap platform built in, so users can trade at spot prices, very similar to the experience users might see on top-tier exchanges. We'll also strive to develop a UX that's seamless. We understand that DeFi has its challenges so we hope to develop as much of a user friendly experience as possible.  
In addition to the items above, we both have other capabilities in common, such as allowing for the tokenization of assets. We acknowledge that Cream can be used for advanced DeFi strategies, due to having a fair amount of pools to provide liquidity to. We'll both have governance commanded by our respective governance tokens and communities. Cream Finance can be utilized on the Binance Smart Chain as well as on Ethereum. We too are looking to launch on multiple chains. 
The largest disadvantage Cream Fiance has when being compared to our protocol is that their users don't have the ability to permissionlessly add tokens. Unfortunately users of Cream Finance have to go through a governance proposal to request that a token becomes listed.
The Road to Comprehensive Protocols
It's clear that DeFi is garnering the attention of many influential titans of the space, and for good reason. DeFi is far from being dead. UniLend Finance seeks to achieve the most comprehensive protocol. When it's all said and done we hope people will look back and attribute part of the success of the DeFi movement to our project.  
UniLend Finance has very specific and very lofty goals. We pay attention to general DeFi concerns we hear on social media outlets, and we believe we'll entirely change the game. As stated before, we seek to be the one-stop shop for all DeFi needs. We're confident that we have the technical know-how to complete this goal and we're already making huge progress. 
During this DeFi Dissected series we've outlined the true revolutionary potential UniLend offers in comparison to key DeFi players within the space. We hope it's been illuminating and our vision's been communicated clearly.
To stay up-to-date with future milestones, please subscribe to our social media outlets. The UniLend team strives to keep a healthy DeFi conversation going and will inevitably throw in some fun games and prizes along the way.
Website | Telegram Community | Announcements Channel | Twitter | Blog