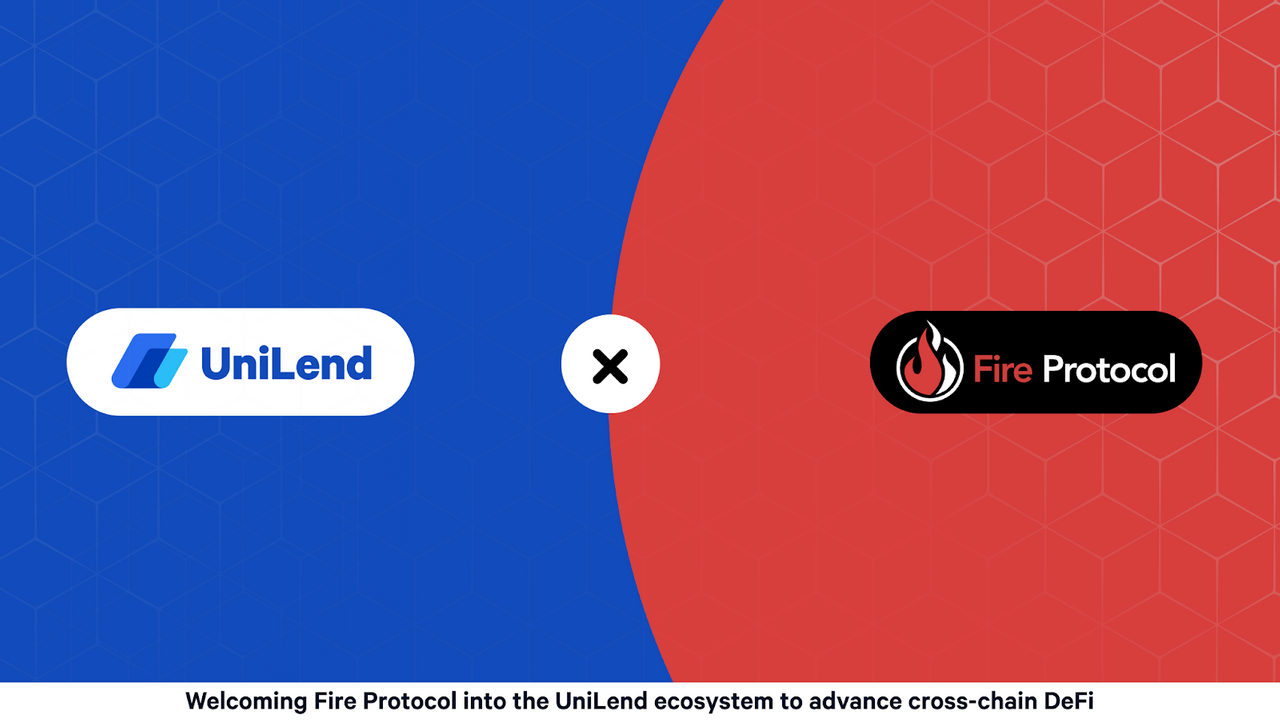 TLDR:
UniLend is welcoming next-gen DeFi player Fire Protocol into our ecosystem

Fire Protocol will integrate UniLend into their protocol to bring ERC20 assets to Huobi's new Huobi Eco Chain

Both parties are exploring wrapped UFT for use with Fire Protocol and ultimately the Huobi Eco Chain

This strategic collaboration will help flesh out interoperability and cross-chain capabilities for the future
With the recent launch of Initium V1, the Alpha release of our protocol, we're evermore on the hunt to forge valuable collaborations with other DeFi innovators to push the space forward. Collaboration and interoperability is the path to a bright future for the burgeoning DeFi industry.
It is our pleasure, therefore, to announce that we have recently partnered with Fire Protocol, the first project on Huobi's new Huobi Eco Chain (HECO). This collaboration has profound implications not only for UniLend but for the future of the DeFi movement as a whole.
Sowing the Seeds for a Strong Cross-Chain DeFi Ecosystem
In recent months the DeFi ecosystem has not only boomed on Ethereum, but has also begun to flourish on newer blockchains. In particular, Binance has recently shifted their focus heavily towards DeFi, and Polkadot is shaping up to be a DeFi juggernaut due to their technical innovation. 
Now, Huobi has entered the ring with the recent launch of their Huobi Eco Chain (HECO) and DeFi innovators are already starting to explore this new chain. The first to onboard to HECO is Fire Protocol, which is focusing on growing Huobi Eco Chain's new DeFi ecosystem via cross-chain support.
Like ourselves, Fire Protocol is also a next generation DeFi protocol. Fire Protocol enables cross-chain asset support, while offering new and robust money markets and DEX/swap features, all while maintaining high speeds, cost effective transactions, and security via Huobi Eco Chain.
Fire Protocol will integrate with UniLend to bring more assets to the Huobi Eco Chain. This will bridge the DeFi ecosystems on Ethereum and Huobi Eco Chain, enabling said ecosystems to frictionlessly grow alongside one another. 
In addition, our teams are currently working together to explore wrapped UFT on Huobi Eco Chain, which will open a vast array of opportunities for holders of our utility/governance token as it will now be accessible to users on the burgeoning HECO chain.
Interoperability is truly the future of successful DeFi platforms and we aim to execute on collaborations that will help to bring this to fruition. Furthermore, with our protocol's freedom to permissionlessly add any ERC20 token, we'll enable many protocols from outside the Ethereum ecosystem that integrate with us to better connect with Ethereum.
As UniLend continues to make huge strides towards achieving our goal of unlocking the true potential of decentralized finance and bringing interoperability to fruition, we believe DeFi will evolve into a new beast that people have not fathomed yet. Everything starts with key strategic collaborations like the one we are announcing today. 
Why Collaborate With Fire Protocol?
As mentioned above, Fire Protocol employs an innovative approach to cross-chain technology, which will bring hundreds of digital assets into the HECO ecosystem with the help of fellow DeFi innovators such as UniLend. This technology can be harnessed to offer UFT more opportunity. Specifically, holders of UFT will be able to tap into the ecosystem provided by the Fire Protocol in conjunction with Huobi Eco Chain.
In the future, Fire Protocol will develop new roads towards cross-chain asset swaps, wrapped Ethereum assets and other innovative DeFi capabilities. Fire Protocol is a prime example of the type of visionaries we seek to align with, majorly due to the fact that their strengths will potentially become our strengths in the future. Obviously, the ties to the Huobi ecosystem alone open the door to many new opportunities in itself, being that Huobi is truly a force to be reckoned with.
In time, we'll release more information on this collaboration. We imagine our current collaboration areas are an excellent start to facilitate the further success of both parties. 
"Whilst we believe Ethereum will remain at the forefront of the DeFi revolution, at least for the foreseeable future, we're already starting to see the beginnings of vibrant DeFi ecosystems on various chains. UniLend is committed to assisting innovators on these new chains to flourish and thrive, so that together we can accelerate the overall DeFi industry on its path to mass adoption. We look forward to collaborating with Fire Protocol to help bring this to fruition."
Chandresh Aharwar, UniLend Co-founder & CEO
Closing Thoughts: Onward to New Heights in DeFi
We're excited to be building in such a historic era for decentralized finance and crypto as a whole, and we're confident that this new and revolutionary technology we're bringing to the table will light new fires of opportunity for our community. We're committed to constantly innovating, BUIDLing and collaborating so that we can all enjoy a bright decentralized future together sooner.
We hope you're also excited to see what is around the corner, for our collaboration with Fire Protocol and the many other advancements that will take place in the near future. 2021 is going to be a monumental year for UniLend and for the DeFi space as a whole.
As UniLend and its partners continue to gain traction in this cutting-edge space, we want our community to know that we're always here for them. Join the conversation by joining our social platforms. Don't forget to say hello, so we can welcome you to the DeFi revolution!

Website | Telegram Community | Announcements Channel | Twitter | Blog