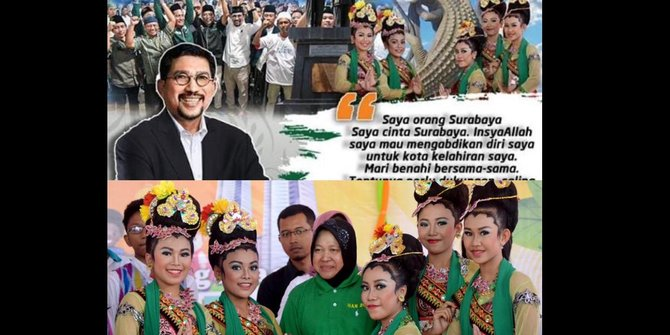 Photos of students in Surabaya became the material for the Paslon campaign. Special
---
Candidate for mayor of Surabaya number 2, Machfud Arifin (MA) was reprimanded by a student for using and editing someone else's photo. The photo of the student dressed in dance was uploaded to the MA's Instagram account, @ cak.machfudarifin.
In the photo, there should be some students posing in dancer clothes, with the Mayor of Risma in their midst. However, in uploading a photo on the IG MA account, the photo is edited so that the students live. Meanwhile, Risma's picture was cut and removed.
A person who claims to be a student who owns the photo with the @deajengramadin account also protested the use of the photo.
"Excuse me sir, how come there is a photo of me and my friends posted by you, without permission, sir? And before that Mrs. Risma was also in the photo in our midst, how come it doesn't exist?" write @deajengramadin account.
The photo of Deajeng and his four friends was taken after filling in the dance arts at the 2015 National Children's Day Commemoration Summit held by the Surabaya City Government. In the photo, he and his friend are still in dance uniforms, with Risma in their midst.
The photo was seen uploaded on the account @ cak.machfudarifin, on March 13 and March 19, 2020. In the two uploads, Machfud Arifin wrote about the status of Surabaya art and its intention to serve as a candidate for mayor.
Confirmed regarding the photo, the Media and Communication Director of the Arifin Machfud Winning Team, Imam Syafii admitted and apologized for uploading the photo without permission.
He said he had deleted the post from MA's account. "We're sorry to upload photos without permission and we've deleted (the photo in question)," he said, Tuesday (13/10).
Regarding the editing of Risma's photo, he said it was because his party did not want to carry around a photo of Risma as the regional head, which according to him violated the Election regulations.
"Why without Mrs. Risma, because we don't want to carry around a photo of Mrs. Risma. Because Mrs. Risma has the status of a regional head who is not allowed to appear in Pilkada contestant uploads," he said.
The Surabaya Pilkada was followed by two pairs of candidates. Namely Eri Cahyadi-Armuji supported by the single party PDIP and supported by PSI. This pair will fight Machfud Arifin-Mujiaman, which is promoted by eight coalition parties, namely PKS , PPP, PKB, Golkar, NasDem, Democrat, PAN and Gerindra.
Erwin Yohanes, Journalist
---