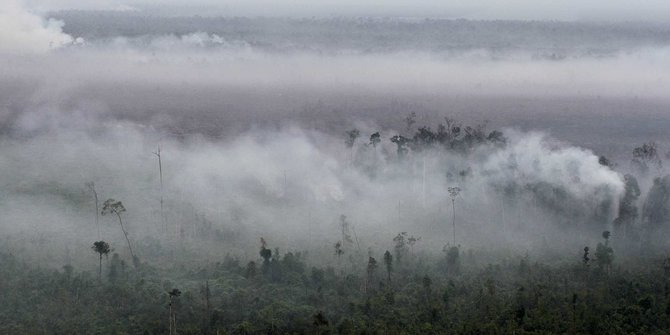 Riau forest fires. © AFP PHOTO
---
When workers and demonstrators voiced rejection of the omnibus law on the Employment Creation Law related to labor issues, foreigners also voiced concern. But they highlighted the flip side of the law that will have a negative impact on forests and their rich biodiversity.
Human rights group Amnesty International called the law a "disaster" saying it was passed through parliament without meaningful public consultation and criticized the drafting process as unclear.
Amnesty Indonesia Executive Director Usman Hamid said in a statement that the law would "harm workers' wallets, job security and their overall human rights."
But while protests have focused on concerns over labor rights, environmentalists say the law loosens environmental protections and could lead to widespread deforestation and habitat loss.
To note, Indonesia's rainforest is the third largest in the world after the Amazon and the African Congo Basin and is ecologically important for its rich biodiversity, with animals including elephants, tree tigers, sun bears and orangutans at risk of extinction.
Deforestation has driven many species to extinction and environmentalists warned that the law could give them "a powerful push to the edge," said Phelim Kine, senior Asia director at environmental campaign group Mighty Earth.
Iqbal Fadil, Journalist
---