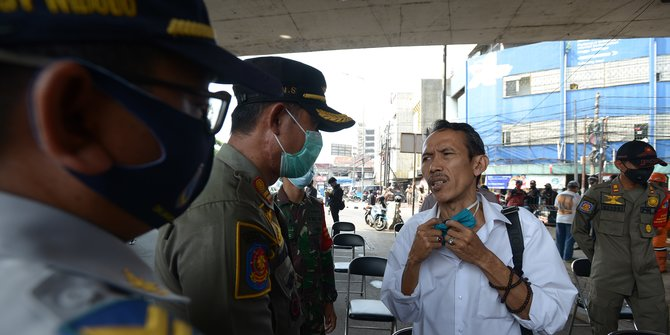 Mask Raids at Kampung Melayu Terminal. © 2020 Merdeka.com/Imam Buhori
---
Professor of the Faculty of Medicine, Public Health and Nursing (FKKMK) Universitas Gadjah Mada Prof. Tri Wibawa asked the public to adhere to the implementation of health protocols even though they have received the Covid-19 vaccine.
"Currently we are still waiting for the results of the research on the number of vaccine protection against the new corona virus. Even though they have been vaccinated, people must still protect themselves by behaving in accordance with health protocols," said Tri Wibawa in a written statement in Yogyakarta, reported by Antara, Monday (19/19/2019). 10).
According to him, the solution to the Covid-19 pandemic rests not only on vaccination, but also public compliance with health protocols. Even though vaccinations have been carried out, according to him, the pandemic still has the potential to continue if people are not disciplined in implementing health protocols.
Tri Wibawa said that a vaccine can be given or applied to the community if the entire clinical trial process has been carried out. Vaccines, he said, can be used, including to treat Covid-19, if they meet a number of requirements, one of which has been tested for safety and does not cause significant side effects.
"It is effective in providing protection against targeted diseases and its quality is maintained in the production line," said this microbiologist.
Meanwhile, for the Covid-19 vaccine, he continued, priority was given to the groups most susceptible to infection. In addition, there are also groups that have a role in the transmission of the new corona virus.
Eko Prasetya, Journalist
---