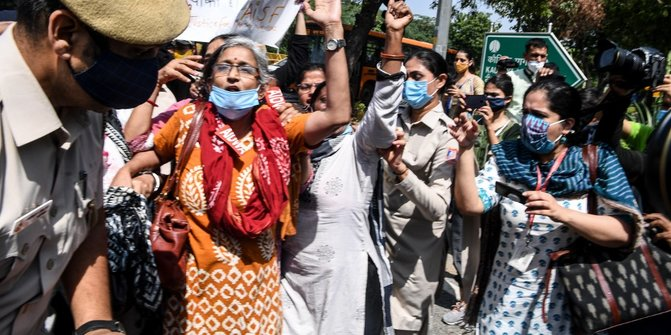 Indian women protest the death of rape victims in a crowd. © SAJJAD HUSSAIN / AFP
---
On September 29, a 19-year-old woman died from wounds she sustained after being raped en masse by a group of men in a field in the Hathras district of the northern Indian state of Uttar Pradesh. He is a Dalit, a member of the community at the very bottom of India's caste system, while the four perpetrators who have been arrested and charged with murder and rape are from the higher caste.
The woman spent two weeks staying in hospital in Delhi after being raped on September 14, which left her spine crushed.
On the night he died, the police took the victim's body to his village. Instead of being handed over to the bereaved family, the victim's family said police insisted the victim's body be cremated there. When the family refused, saying they wanted to say goodbye, the police locked them in their house and took the victim's body to a field where it was burned with gasoline.
In 2014, Prime Minister Narendra Modi came to power with a promise of "zero tolerance" for violence against women, after the mass rape and murder of a woman in Delhi in 2012 shocked the country. But India is still the world's most dangerous country for women, according to a 2018 survey by the Thomson Reuters Foundation, citing sexual violence, cultural traditions and human trafficking as the main reasons for the ranking. In 2019, an average of 87 rapes were reported per day, according to official statistics.
The problems that afflict the Dalits are much more severe. More than 3,500 people were raped in India in 2019, an increase of 18.6 percent over 2018. But the true number is likely much higher, said Kiruba Munusamy, a Dalit lawyer who works on cases of caste discrimination and gender violence.
"Upper caste groups use sexual violence as a tool to strengthen their caste hegemony and caste supremacy," said Munusamy, quoted from TIME, Friday (16/10).
"And for that reason, many families are afraid to go to the police station."
The Hathras case sparked protests across the country, including in Delhi.
Hari Ariyanti, Journalist
---