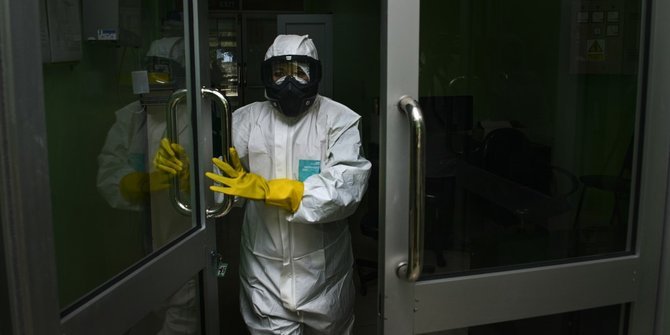 Corona patient quarantine hospital in Aceh. © 2020 AFP PHOTO / CHAIDEER MAHYUDDIN
---
The Indonesian Ministry of Health reported that the number of cases recovered from Covid-19 on Sunday (4/10) increased by 3,410 people. So that the total cases recovered in Indonesia reached 228,453 people. The cure rate or the percentage of cases recovered in Indonesia is 75.3 percent.
There are 18 provinces where the cure rate is above 100 percent today. Namely the Provinces of East Java, East Kalimantan, Riau, Bali, West Papua, North Sumatra, South Sulawesi, South Sumatra, North Sulawesi, Yogyakarta Special Region, West Kalimantan, Central Kalimantan, East Nusa Tenggara, Lampung, West Sulawesi, Bangka Belitung, and Bengkulu.
There is one province where the cure rate is nearly 300 percent. Namely Aceh Province. With details, the number of cases recovered was 196 cases, while daily cases were only 67 cases.
The cure rate for South Sulawesi Province is also almost 200 percent. With the addition of 122 cases recovered and daily cases only 68 cases. South Kalimantan Province, the percentage of cases recovered also reached 173 percent. With details, the number of cured cases was 97 and daily cases were 56 cases.
Meanwhile, if you only look at the number of cases that have recovered without seeing the addition of daily cases, these five provinces have succeeded in contributing to the highest number of recovered cases today.
The five provinces are consecutively, namely DKI Jakarta Province , with an additional 1,032 recovered cases. Followed by East Java, 316 cases recovered, East Kalimantan 230 cases, Riau 210 cases, and Aceh 196 cases recovered today.
---