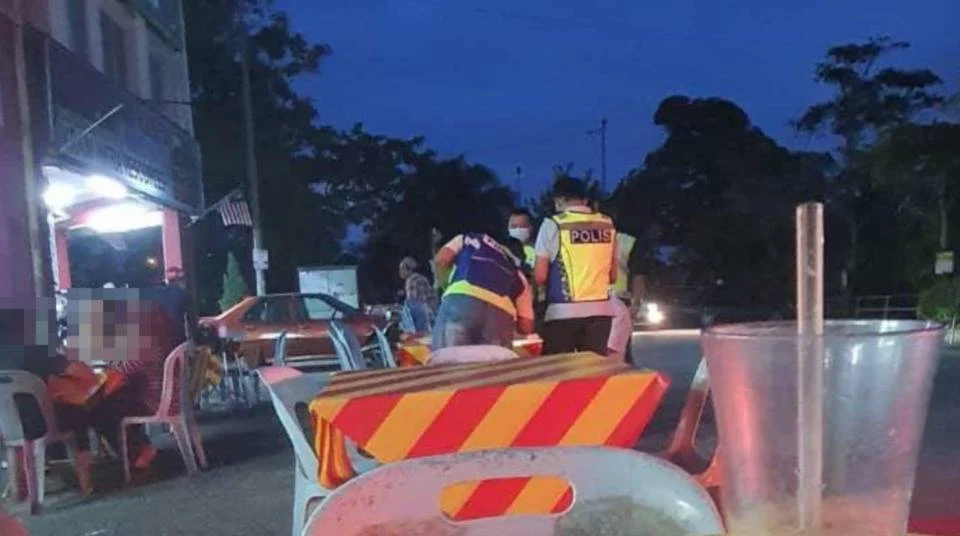 A TEAM of policemen inspected a man in a pink ring who was eating at a restaurant in Bandar Tasik Puteri. - Photo courtesy of the reader
---
A man with a pink ring was arrested for violating the quarantine conditions of the COVID-19 Rehabilitation Movement Control Order (PKKP) in Bandar Tasik Puteri, Rawang near here, last night.
The 52-year-old man, who lives in Bandar Tasik Puteri, was arrested while eating at a restaurant by a team of policemen at 7.30pm following a complaint received from the public.
Gombak District Police Chief, Assistant Commissioner Arifai Tarawe, said the check found that the man had received instructions from the Ministry of Health (MOH) to undergo quarantine at home from yesterday until October 16.
"The man has undergone the COVID-19 screening test after arriving from Kota Kinabalu, Sabah on a flight at Kuala Lumpur International Airport 2 (klia2) yesterday and the test results have not yet been received.
"Therefore, we arrested him for violating the surveillance and observation order for contact contact with COVID-19 infection according to Section 15 (1) of the Prevention and Control of Infectious Diseases Act 1988," he said in a statement, today.
According to him, the remand process against him will be carried out today and it will be made in a special room provided at the Gombak District Police Headquarters.
He said, the investigation of the case was carried out according to Section 269 of the Penal Code, which is the offense of any act committed causing the spread of a life-threatening disease.
Investigations are also conducted in accordance with Section 22 (b) of the Prevention and Control of Infectious Diseases Act 1988 / Regulation 11 of the Prevention and Control of Infectious Diseases (Measures in the local area of ​​infection) (No 8) 2020.
"His actions that do not comply with the instructions to undergo quarantine can clearly upset the surrounding community.
"Therefore, we advise the public to comply with the quarantine order as directed by the MOH to ensure the safety of themselves, their families and others," he said.
Arifai said the police would take stern action against any party found violating the quarantine order.
Meanwhile, several pictures were spread yesterday showing a team of policemen conducting an inspection on the suspect in front of a restaurant in Bandar Tasik Puteri.
---