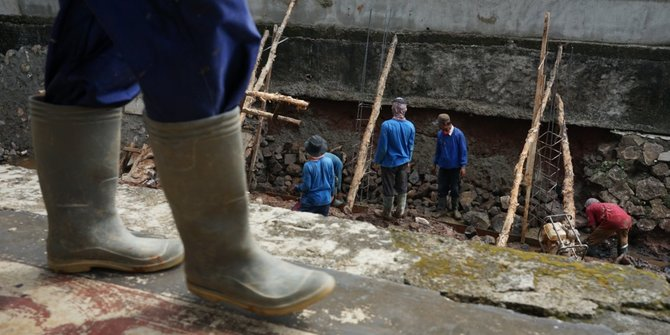 Repair of the Kali Pancoran sheet plaster.
---
Deputy Governor of DKI Jakarta Province , Ahmad Riza Patria, reviewed the location of the construction of canals and plaster at Kali Pasar Baru, on Jalan Pasar Baru Timur RT05 / 03, Sawah Besar, Central Jakarta.
Ariza said that the DKI Provincial Government wants to ensure all means so that flood prevention takes place optimally.
Ariza said that the purpose of working on the canals and plaster is used to collect rainwater so that it can reduce the emergence of inundation in Pasar Baru.
"With this work, hopefully in the future there will be no more puddles. In principle, in accordance with the Governor's direction and all ranks, we must make concrete efforts in the context of flood prevention and mitigation," said Ariza at Pasar Baru, Sunday (4/10) ).
Ariza explained that flood control efforts also need support from the community.
In addition, the DKI Jakarta Provincial Government has planned the construction of around 300,000 units of infiltration wells scattered throughout the region to reduce inundation.
"We will build approximately 300,000 vertical wells later, so this is important to reduce flooding in the future," he said.
"So up to 2022 there will be extraordinary efforts related to flood prevention control. In addition, we are not only doing dredging in 13 rivers and all reservoirs but we also move water and then also make pump polders," concluded Ariza.
Reporter: Delvira Hutabarat
---