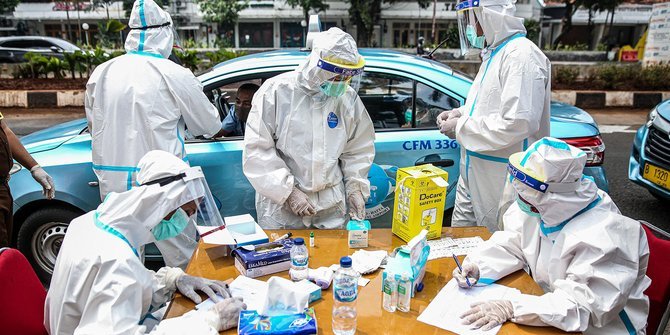 Mass Rapid Test at the AGO. © 2020 Liputan6.com/Faizal Fanani
---
The cases of residents who have been confirmed positive for Covid-19 in Banten have experienced a high surge in the past week. In fact, the number of residents exposed per day is a record of the spread of Covid-19 in Banten during the pandemic.
In facing this situation, the Banten Provincial Government (Pemprov) plans to make a new office located in the Banten Provincial Government Central Area (KP3B), Curug District as a place of isolation. Seeing that each day has added more than 100 people over the past week.
Head of Banten Province Public Housing and Settlement Areas (Perkim), Moh Yanuar, said that the office is currently in the finishing process. By the end of October, the office is predicted to be neat and tidy. So, it can be used to accommodate patients.
"My job is to build the building only. (The office is prepared for isolation) is still an unused building and by the end of October, God willing, it can be finished," he said, Tuesday (22/9).
Meanwhile, Head of the Banten Province Health Office (Dinkes) Ati Pramudji Hastuti revealed, to accommodate patients who fall into the category without symptoms to mild symptoms, the new office will be used as a place of isolation.
The use of the office provided that the open houses in the area were no longer able to accommodate Covid 19 patients. Given that, seven shelters spread across Tangerang Raya have been used to accommodate patients.
"We will set up a building that has not been used in KP3B, to be used as a shelter. The category is without symptoms to mild ones," he said.
---