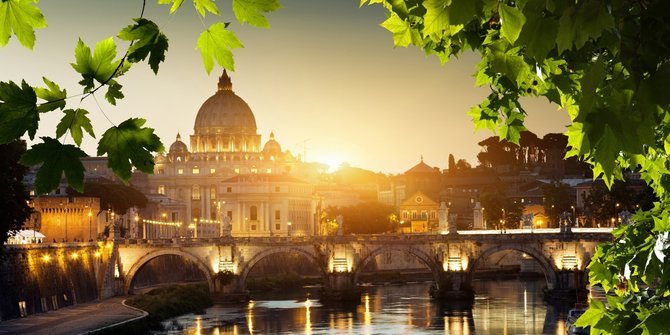 St. Peter's Basilica, Vatican. © 2014 Merdeka.com/HD Walls Hub
---
The Vatican and China are preparing to renew a historic agreement on the appointment of bishops that is slowly thawing frozen ties but inflaming the United States.
Pope Francis approved the renewal of this agreement, which he said was still in the "experimental" phase, for two years, AFP reported on Tuesday.
Pope Francis has tried hard to improve relations with the communist country, but his steps are not in line with US President Donald Trump's efforts to push for religious freedom in China which is the theme of his campaign for a second term.
US Secretary of State Mike Pompeo lashed out at China in an article last week in the religious magazine First Things, alluding to China's "horrible treatment" of people of all religions in the country.
An extension of the China-Vatican agreement is expected to be signed next month, according to a source close to the issue.
Last week, Chinese Foreign Ministry spokesman Wang Wenbin indicated Beijing's relationship with the Vatican was improving.
'Temporary Agreement'
China's roughly 12 million Catholics have over the decades been torn between state-run associations, whose priests are elected by the atheist Communist Party, and unofficial underground churches loyal to the Vatican, whose latter group recognizes the authority of the pope and is often persecuted.
After years of slow negotiations, the Vatican signed a historic "interim" agreement with Beijing on September 22, 2018.
The contents of the agreement have never been published, but the key point is that both Beijing and the Vatican are given voting rights in appointing Catholic bishops in China.
Pope Francis immediately recognized the eight Chinese bishops Beijing had appointed without his consent.
Since then, two new bishops have been appointed in China, with the approval of the leader of the world's 1.3 billion Catholics.
And in a historic move earlier this year, China's foreign ministers and the Vatican met publicly at an international event for the first time in 70 years.
Diplomatic relations between Beijing and the Holy See broke up in 1951, two years after the communists came to power.
Attempts to rebuild relations were hindered by the Vatican's decision to maintain diplomatic ties with Taiwan. The self-governing island, with a population of 23 million, is considered part of its territory by Beijing.
The Vatican is Taiwan's only diplomatic partner in Europe.
A Chinese foreign ministry spokesman said on Thursday the interim agreement with the Vatican had been "successfully implemented", and there had been an increase in "mutual trust and consensus".
Pope Francis' right hand man, Cardinal Pietro Parolin, said in mid-September, "the current interest of the Catholic Church with China is to normalize church life as much as possible".
He acknowledged the results so far were "not very stark".
---