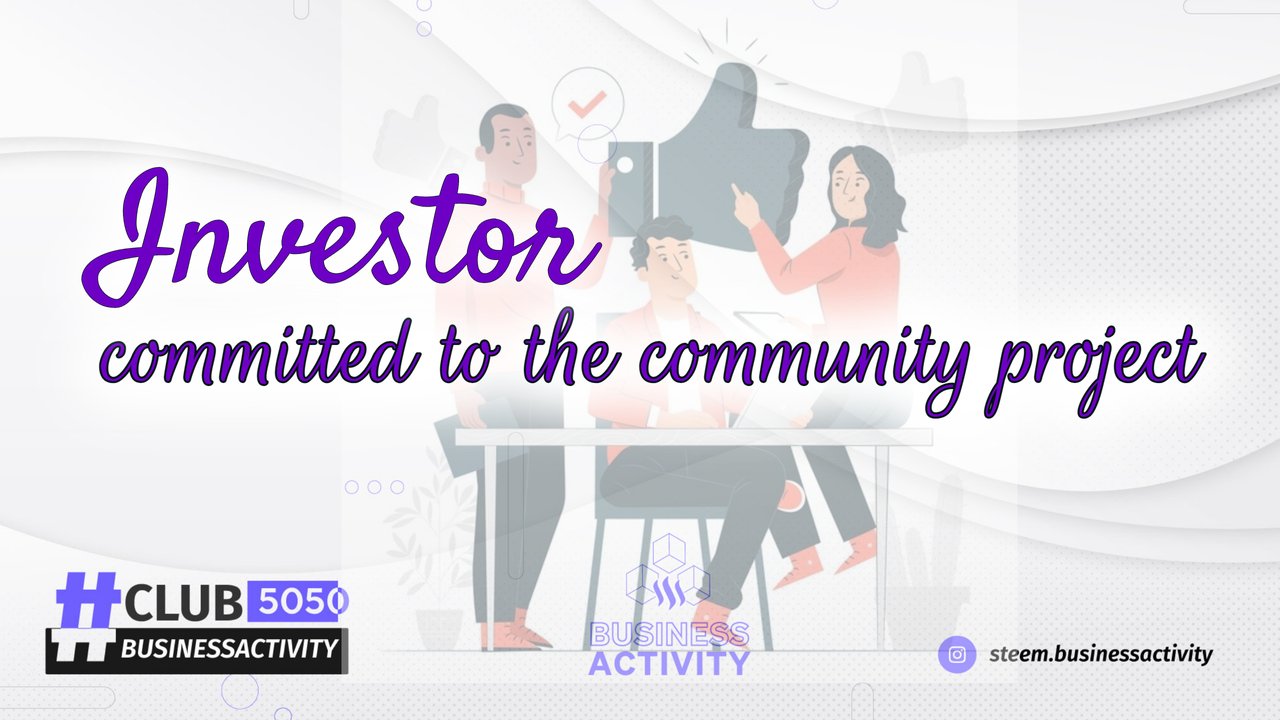 Investor members from their first publication already acquire a commitment with their own steemians account, by showing their presentation in the community of newcomers. After that first big step, a series of investigations are given to which his orientation is directed towards the many communities and purposes of being united as a member of each one of them.
In this particular case, the Business Community; a project for companies, entrepreneurs and where today you have the possibility of sharing content aimed at finances, business growth purposes, redirecting thoughts and ventures towards new horizons.
For the community, the commitment that the investor members have is important and we want it to be maintained and increased.

How to achieve greater commitment to the community?
The business community is not only a space within steemit to post a publication, many other characteristic aspects are required for the community to fulfill part of its purpose.
It is understandable that investors have tasks to perform outside the platform, such as: attend to the business, make requirements, attend to requests, an endless number of actions that are important to maintain the economic balance. However, joining as an investor also requires a commitment to your own business, account, steemians, and the business community.
To grow together as a member and community we must work on the mission, vision and strategic plans to make this possible.
Each investor agrees to work for their business as well as work together with the community. There is a positive side and a negative side, which is making it possible and doing absolutely nothing.
Two lists necessary to clarify the doubts that have and those that have not been understood, but that it is fair to share so that the members increase their support and commitment.
Where do you think it should be located?
| Member committed to the project | Member not committed to the project |
| --- | --- |
| ☑ Quality publications. | ✘ Posts with lack of content. |
| ☑ Interest in pinned posts. | ✘ Not being reciprocal with members. |
| ☑ Knowledge and sharing of community rules. | ✘Not pay attention to the rules of steemit and the of the community. |
| ☑ Kindness to share posts to increase visibility. | ✘ Have no interest in the post, ignore. |
| ☑ Voting for the posts. | ✘ When you omit posts that deserve an upvote. |
| ☑ Comments on the publications, as a good fellow investor. | ✘Don't comment on posts. |
| ☑ Participate in promotional activities and contests. | ✘ Not being actively in any strategic plan. |
| ☑ Implement and publicize the community suggestions adopted for their businesses. | ✘ By not taking into account the suggestions of work activity in the publications. |
| ☑ Teaching others how to prosper as an investor. | ✘Not being a means of professional example in disseminating knowledge and help tips. |
| ☑ Active participation in the 5050 / 75 / 100 club. | ✘ Being a consumer rather than an investor. |
| ☑ Provide support with delegations, these are in favor of the community and for the investor. | ✘ Ignore support based on delegations to the community. |
| ☑ Constructive criticism. Contributing what is necessary for improvement and providing solutions. | ✘ Misplaced comments. They do not contribute anything to the business or the investor. |
| ☑ When your post is shared on different social networks to increase reach. | ✘ When you do nothing to let other users know about Steemit and the community. |
Established for its realization:
Must comment on at least 5 member posts daily and keep an eye on posts from the community account and moderators.

Join the Discord channel to meet the members and clarify doubts.

Participate in the fulfillment of growth strategies: It is about keeping clear what is necessary to fulfill for the strengthening.
Mutual support will benefit both parties, as long as common interests allow for better work. Being part of the community is joining a team where they are driven towards the success of each business sector.
The community is and is made up of all those who are in favor of common growth; where investors in the right place are empowered through the Steem Blockchain.
---
If you're engaged, show it off and stand out!
If your answer is correct with this post, please show it with a comment that encourages the members and the community to continue.
---
---
Do you want to be part of Steem Business Activity
Introduction to the community
Welcome to Steem Business Activity | General Rules
Community of business activity
We are now on Discord!
---
Would you like to support our community with Steem Power Delegation?
@Cindycam - MOD Editorial staff 🔹