The Dialectics of Liberation: Anarchism, Existentialism, and Decentralism
Index and Conclusion of part 2 - Existentialism
"If we cannot stop the clock of the money machinery crushing humanity, it will crumble." charlie777pt
1 - Conclusion of part 2: Existentialism
I walked a long walk in the path to freedom. It has been a long journey that will never end while other people around me are not free, and I'm thankful to all the authors that were my companion in the inner journey and enlighted me to find a more fulfilled existence.
Here I finished digging into my memory of the character of Existentialism, which took me a large part of my reader universe, my social praxis, and my worldview, which I wanted to share in writing the second part of this essay.
Existentialism was one of the building blocks of my personality, attitudes, and values, and made me a politically active citizen at the interpersonal level because movements with leaders and groups with ideologies always dominate people.
Sartre was undoubtedly my greatest influence as a reality analyst, but Camus has always been my wayward rebel model of action in relation to the suffering of people who never get their voice heard.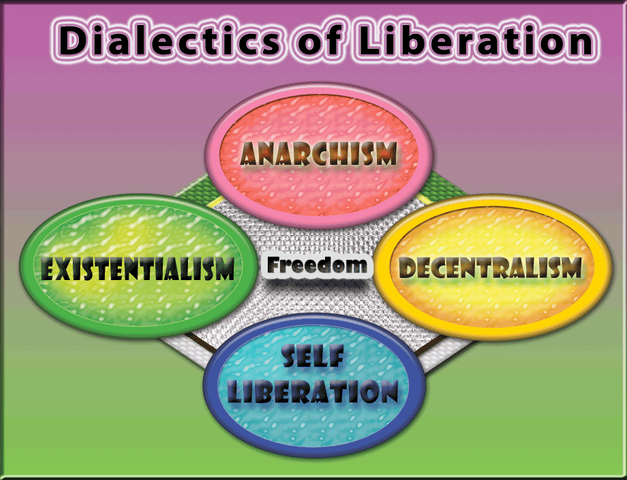 Freedom is a species in extinction leading to an ecocide.
People are in denial of the whole essence of our existence because the conditions of life in the last decades have been drastically reduced but people are doing nothing to stop it.
Today's education is contaminated by the doctrinal illiteracy promoted by the ruling classes elite that have assaulted and kidnaped political power and the State, that belong to all of us.
After this series to talk about Existentialism, which also went through the poststructuralist authors and Humanism, and futurism the next series will be about Decentralization, and its relations with the blockchain, the decentralization models and the open and shared knowledge.
The Philosophy of Decentralization on Decentralization Praxis draws many paradigmatic parallels Anarchism and Existentialism, including neo-cooperativity models supported by electronic platforms or blockchain
After the Decentralization Praxis Series we will move on to more controversial parts, and move on to the most difficult and provocative task of the lines of the Dialectic of Personal Liberation by anti-psychiatry, and movements with anarchist roots such as psychedelia, the beat generation, hippies, freaks, punk, and industrial music, as forms of consciousness that made radical and profound transformations of deconstruction of dominant cultural patterns and reality.
Movies, Press and Social Media are inducing diseases like "zombie personalities" and others that inspire suicide, collective violence, self-mutilation, and destruction.
It's time for the citizens to get united and start the dismantling of centralized structures and representative democracy, to be replaced with a direct participative system, where the people can vote in the laws, and create groups to supervise the wrong-doings of politicians.
We have to stop giving them rope to hang us by the neck because the alternative is to accept total submission and the death of our self-sovereignty.
Keep fighting.!!!!
And once again I want to thank all the stimulating contributions of proof-of-brain commentaries/dialogues, creating space for mutual learning through the exchange of constructivist ideas, which should prevail in our attention economy as one of the fundamental values ​​for vision and strategy centered on Steemit's community.
2 - Index of part 2 - Existentialism
| | | | |
| --- | --- | --- | --- |
| | | | |
| Humanism and Existentialism: Part 7 - Thomas Szasz - The Factory of Madness | Humanism and Existentialism: Part 6 - Carl Jung - II - Psychological Types | Humanism and Existentialism: Part 6 - Carl Gustav Jung, I - Myths and Archetypes | Humanism and Existentialism: Part 5 - Wilhelm Reich - The Orgasm and the Character Shield |
| | | | |
| Humanism and Existentialism: Part 4 - Erich Fromm - The Fear of Freedom | Humanism and Existentialism: Part 3 - Humanistic Psychologists - Carl Rogers | Humanism and Existentialism: Part 2 - Otto Rank - Art and Psychoanalysis | Humanism and Existentialism: Part 1 - Humanistic Psychologists and Existential Psychotherapies |
| | | | |
| Part 6 - Existentialism in the Streets: The Extinction Rebellion (XR) Weather Report | The "Existentialists": Part 5-Merleau-Ponty-The Humanist Existentialist | The "Existentialists": Part 4 - Albert Camus - The Absurdist | The "Existentialists": Part 3 - Simone de Beauvoir - The Castor |
| | | | |
| The "Existentialists": Part 2 - Jean-Paul Sartre - The Man of The 20th Century | "The Existentialists": Part 1 - Gabriel Marcel - The Neo-Socratic | Part 3 - The Philosophy of Existentialism: VIII - The Players and the Times - Now and Then | Part 3 - The Philosophy of Existentialism - VII - The Meaning of Nonsense |
| | | | |
| Part 3 - The Philosophy of Existentialism: VI - Existentialism: The Ghost in the Machine | Part 3 - The Philosophy of Existentialism: V - What is real in the Reality? | Part 3 - The Philosophy of Existentialism: IV - Existentialism: Is Direct Democracy back with The Yellow Vests? | Part 3 - The Philosophy of Existentialism: - III - The Fear of Thinking |
| | | | |
| Part 3 - The Philosophy of Existentialism: II - Fascism, and Existentialism | Part 3 - The Philosophy of Existentialism: I - Existentialism Today | Part 2 - The Short History of Existentialism: VI- Post Structuralists - Paul Ricouer | Part 2 - The Short History of Existentialism: VI- Post Structuralists - Jacques Derrida |
| | | | |
| Part 2 - The Short History of Existentialism: VI- Post Structuralists - Emmanuel Levinas | Part 2 - The Short History of Existentialism: VI- Post Structuralists - Michel Foucault | Part 2 - The Short History of Existentialism: VI - Post -Structuralists - Jacques Lacan | Part 2 - The Short History of Existentialism: V - Humanistic Existentialists - Abraham Maslow |
| | | | |
| Part 2 - The Short History of Existentialism: V - Humanistic Existentialists - Rollo May | Part 2 - The Short History of Existentialism: IV - Humanistic Existentialists - Buber, Arendt, and Tillich | Part 2 - Short History of Existentialism: III - Phenomenology - Jaspers, Heidegger and Sheller | Part 2 - The Short History of Existentialism: III - Phenomenology - Brentano to Husserl |
| | | | |
| What is Existentialism? Part 2 - The Short History of Existentialism: II - Pre-existentialists | What is Existentialism? Part 2 - The Short History of Existentialism: I - Early Pre-existentialism | What is Existentialism? - Part 1 - Unplugged and Erratic Introduction to Existentialism | Index and Conclusion of part 1 - Anarchy |
|   |   |   |   |
|   |   |   |   |
Video to watch to relax from so much existentialism :)
Max Headroom the first Cybernetic Character on TV
The Art of Noise with Max Headroom - Paranoimia (Official Video)

The Dialectics of Liberation: Anarchism, Existentialism, and Decentralism.
Published Posts:
I - Anarchism
What is Anarchism?
The History of Anarchism

Anarchy: Revolution Against The State

Anarchy Today
II - Existentialism
The "Existentialists"
Humanism and Existentialism
Index and Conclusions- This post
III - Decentralism
What is Decentralism?
The Philosophy of Decentralism
Blockchain and Decentralization
Anarchism, Existentialism, and Decentralism
IV - Dialectic for Self-Liberation
Counterculture in the 60s
Psychedelics, Libertarian, and Artistic movements
The Dialectics of Liberation Congress
The Anti-psychiatry movement
The Zen Buddism of Alan Watts
Postmodernism and Madness in a Schizophrenic society
Anarchism, Existentialism, Decentralism and Self-Liberation
V - Conclusions and Epilogue
References:
- charlie777pt on Steemit:

Books:
Oizerman, Teodor.O Existencialismo e a Sociedade. Em: Oizerman, Teodor; Sève, Lucien; Gedoe, Andreas, Problemas Filosóficos.2a edição, Lisboa, Prelo, 1974.
Sarah Bakewell, At the Existentialist Café: Freedom, Being, and Apricot Cocktails with with Jean-Paul Sartre, Simone de Beauvoir, Albert Camus, Martin Heidegger, Maurice Merleau-Ponty, and Others
Levy, Bernard-Henry , O Século de Sartre,Quetzal Editores (2000)
Jacob Golomb, In Search of Authenticity - Existentialism From Kierkegaard to Camus (1995)
Herbert Marcuse, One-Dimensional Man: Studies in the Ideology of Advanced Industrial Society
Louis Sass, Madness and Modernism, Insanity in the light of modern art, literature, and thought (revised edition)
Hubert L. Dreyfus and Mark A. Wrathall, A Companion to Phenomenology and Existentialism (2006)
Charles Eisenstein, Ascent of Humanity
Walter Kaufmann, Existentialism from Dostoevsky to Sartre(1956)
Herbert Read, Existentialism, Marxism and Anarchism (1949 )
Martin Heidegger, Letter on "Humanism"(1947)
Friedrich Nietzsche, The Will to Power (1968)
Jean-Paul Sartre, Existentialism And Human Emotions
Jean-Paul Sartre, O Existencialismo é um Humanismo
Maurice Merleau-Ponty, Sense and Non-Sense
Michel Foucault, Power Knowledge Selected Interviews and Other Writings 1972-1977
Erich Fromm, Escape From Freedom. New York: Henry Holt, (1941)
Erich Fromm, Man for Himself. 1986
Gabriel Marcel, Being and Having: an existentialist diary
Maurice Merleau-Ponty, The Visible and The Invisible
Paul Ricoeur, Hermeneutics and the Human Sciences. Essays on Language, Action and Interpretation
Brigite Cardoso e Cunha, Psicanálise e estruturalismo (1979)
Paul Watzlawick, How Real is Reality?
G. Deleuze and F. Guattari, Anti-Oedipus: Capitalism and Schizophrenia,
Robert C. Solomon, Existentialism
H.J.Blackham, Six existentialist thinkers
Étienne de La Boétie, Discourse on Voluntary Servitude, or the Against-One (1576)