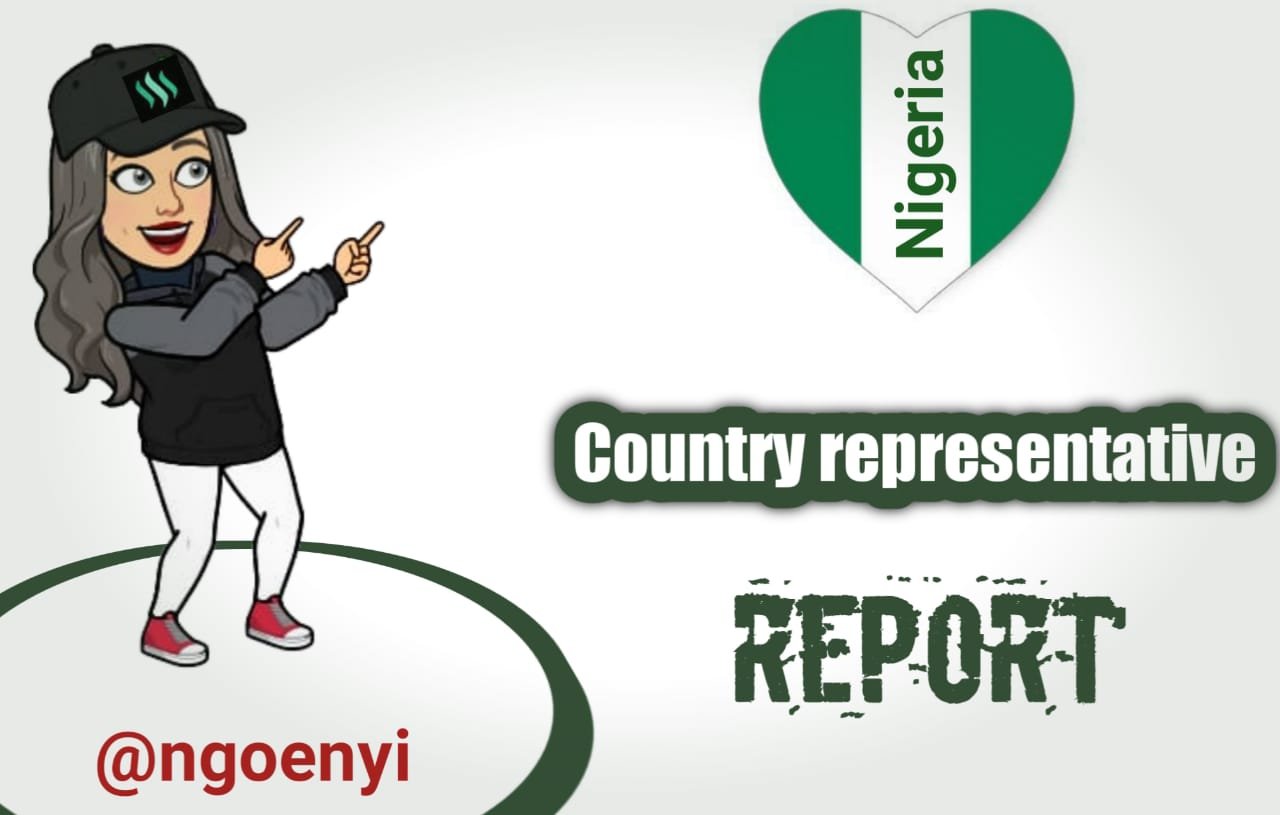 INTRODUCTION
Dear team, hope you are all having happy days? My report is ready. As a requirement for country representatives, I was able to carry out activities that shows that I am still active. My report will cover the following
My powerup for the week

My account stat from my steemworld page

My publications for the week

Engagement challenge update for the African women and men from my own vantage point

My admin/mod duties in steemkids and steemwomens club community

Team 7up

My Greeter's and curator's report

Conclusion

My PowerUp For The Week
My weekly powerup this week happened on a grand scale because as a practice, I usually check my club status to ensure that it is still intact. But after my power up of 325.425, I discovered that I had to power up more 400 at least to maintain my club status. I quickly used my Tron to do that. This brought my power up for the week to 725.425 steem for the week.


With this powerups, my total steempower is now 42707.766 sp


My account stat from my steemworld page
With my steempower, I have been supporting both my fellow users and communities. I support users with upvotes and I support communities with both upvotes and delegation. Below is the stat from my steemworld page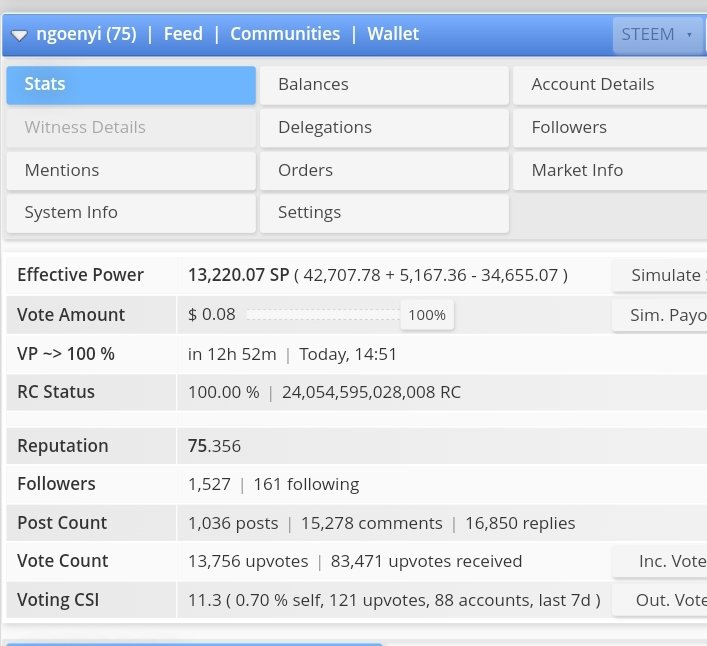 I have made 121 upvotes on 88 different accounts in the last 7 days.
My voting CSI is 11.3
My reputation is 75.354

My publications for the week
To show my activeness, I have made the following publications
| Cover image | Link | post title |
| --- | --- | --- |
| | link | Club75,I Powered up 450 Steem,I Had A meet up with fellow steemians in my city |
| | link | Farming Season Is Here Again, I Have Planted My Cassava Stem, Corn, Pumpkin Seeds, Turmeric And Ginger |
| | link | My experience with The Diary Game +A Mirror To View My Lifestyle , by @ngoenyi |
| | Link | Weekly Report Of The Activities Of The African Men And Women (Week Ending 8/5/2022) |
| | link | Steemit Crypto Academy Contest / S1W3 – Blockchain through the concepts by @ngoenyi |
| | link | Steem Women club Engagement Contest ,Recreation, Farming, Christian meeting, Blogging in Steemit/Steem Promotion Are the Activities I Enjoy Doing With My Family And Friends-By @ngoenyi. |
| | link | Weekly (6-04-2022.......12-05-2022) curation with SC03 and greeter's report in newcomers achievement program by @ngoenyi |
| | link | Steemit Engagement Challenge (week 3): A design for Mr. Steem by @ngoenyi |
That's a total of 8 publications.

Engagement challenge update for the African women and men from my own vantage point
The ongoing community engagement challenge initiated by steemitblog has been moving well. Users now have a target of what to publish. In African region for instance, users have been actively supporting the challenge and publishing as much as they can.
We are already in week 3 and on the 6th day, the table below shows the statistics of the African women and men participation in the challenge though not all of them drop their links in the WhatsApp group chat as most have other groups.
| Steemwomens club | Steemfoods | Steem Venezuela | Steemit Parkistan |
| --- | --- | --- | --- |
| 19 | 2 | 30 | 35 |
| Steem Entrepreneur | Steemit cryptoacademy | Colombia-Original |
| --- | --- | --- |
| 10 | 20 | 14 |
That's a total of 139 entries
The week 2 that was concluded was great. I made a report of the total participants from Africa in the steemwomens club community contest. The report, along with other activities of the Africans that they did in steemwomens club community are what I presented in the post link below 👇👇👇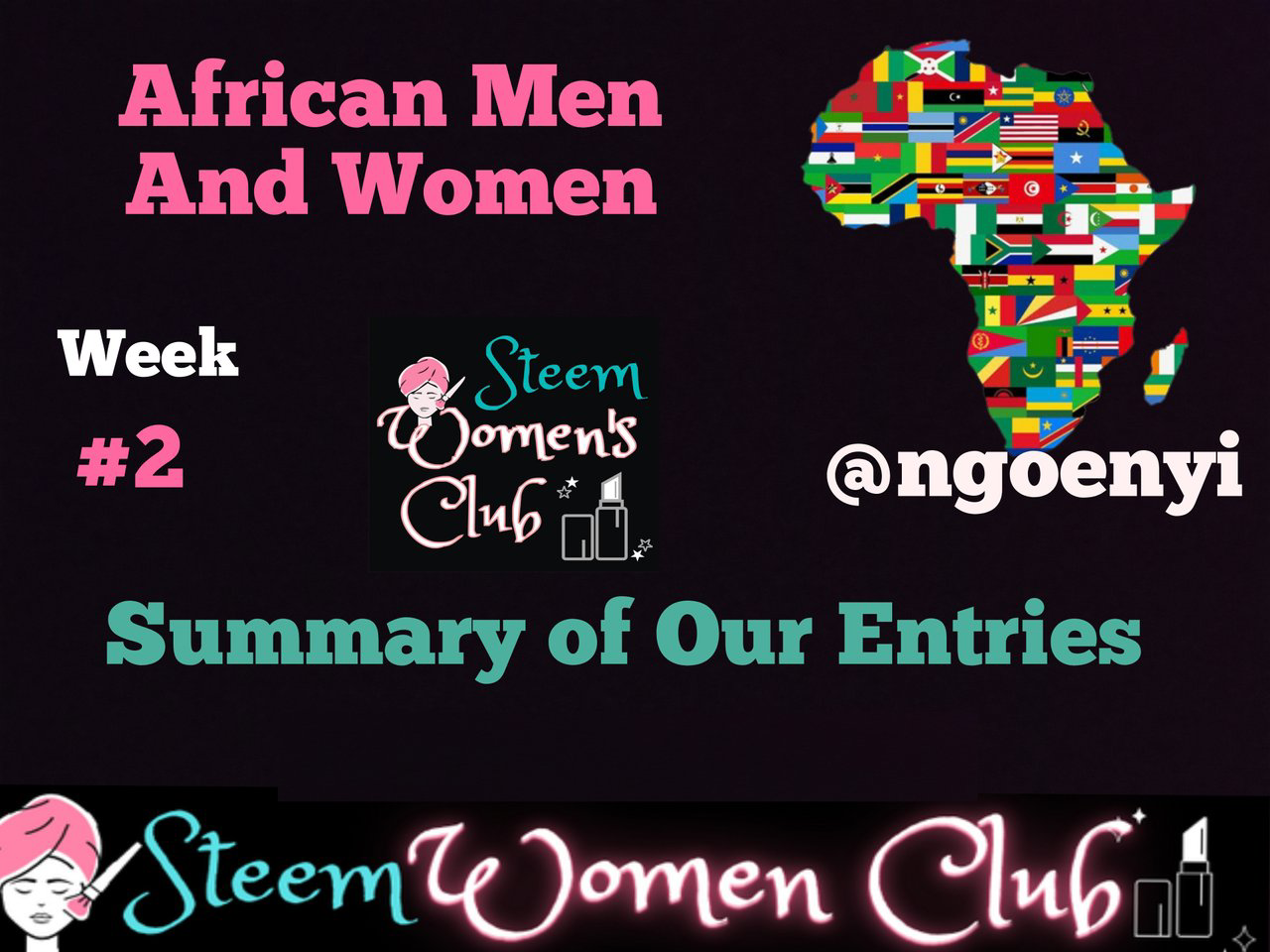 Link
Meanwhile, I made sure I review all entries of the African women and men in the steemwomens club community to check their club status, and other things.

My admin/mod duties in steemkids
As an admin in steemkids community, I have continued to monitor the activities of the community and to make changes or improvements where necessary.
In our #steemkidsedu, we have been able to higher some tutors and most of them have already began their learnwithsteem tutorials. They give homework tasks which the kids are happily carrying out. Soon, I will compile all the tutors in one list. I haven't done so because some are yet to start
I have made a change in our weekend contest. Since it has to do with the weekend activities of our kids, it will be wise if they can also share their activities within the week. Hence, I named it funny, Annoying and Exciting Diary With Kids/Kids Diary Game. So it is now a diary game that will include even mytownin10pcs. The announcement is below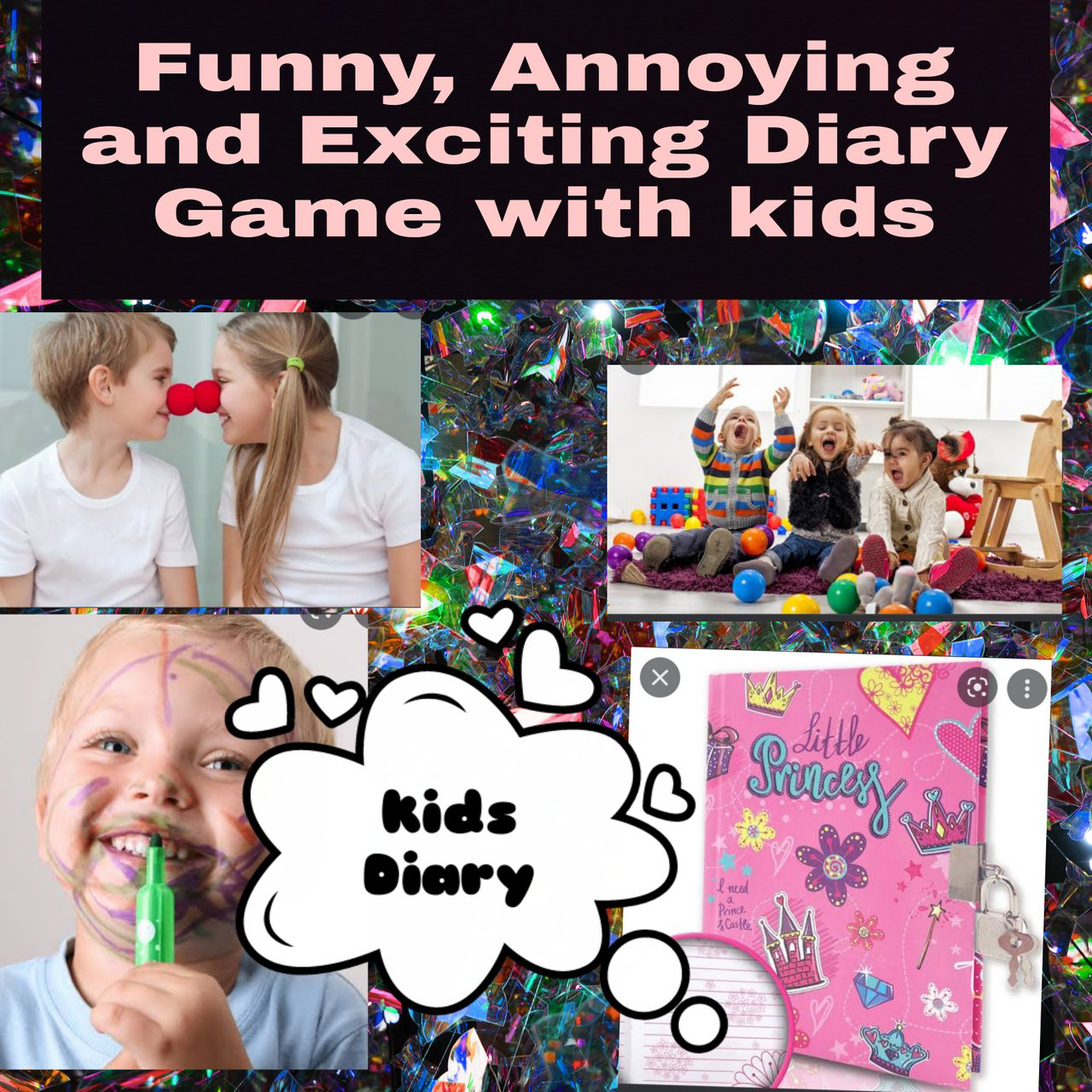 Adjustment In Our Weekend Contest: Now Daily diarygame 👉 Funny, Annoying And Exciting Diary With Kids/Kids Diary
The community updates and other projects that were updated within the week are pinned in the community
As an admin in Steem4Nigeria community, I along with other fellow admins have been doing our best to keep the community running. It's not an easy task but we believe in a better tomorrow. We have started making selection of the daily publications to be rewarded with our little resources. Steemkidss and campusconnectng take turns to upvote the selected publications after doing so with the community account. We choose 3 publications to reward to keep encouraging the publishers.

As a member of the 7up curation team, I take my turns to make selections of the publications to be supported, I then upvote once the account is fully recharged, I leave comments to notify the user. This past week, I also upvoted quality comments as we announced in our application. At the end of the curation, I chose the post to be supported by the SC01.
The screenshot of the Publications I supported is below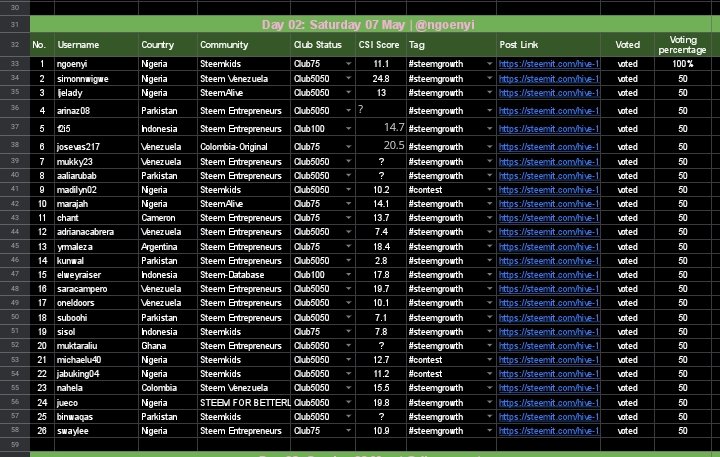 I followed #steemgrowth and #contest to locate the Publications. One outstanding thing about us is that, we have been educating the users of the need to upvote others. We take time to check the voting CSI and if it's not upto 5, we advice the user to support their fellow users. One of the evidence that shows that the users are responding is the user I selected to receive support from SC01, @aaliarubab. As at the day I curated his post, his voting CSI was zero (?). I advised him and by the time I finally made the selection, the voting CSI was already 14.1. so he took the advice and learned the habit of supporting other users

MY GREETER'S AND CURATION REPORT
I have compiled my report for the week of the curation with SC03 and greeter's report. This past week was great, see the report link below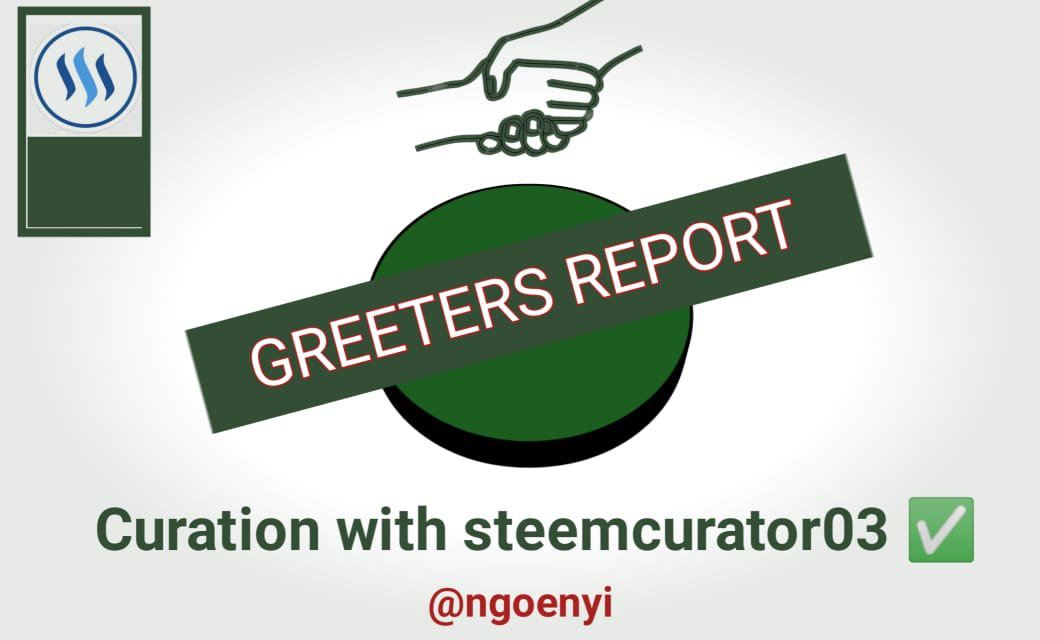 Link

SUMMARY OF MY WORK
| DESCRIPTION | QUANTITY |
| --- | --- |
| Curation (Total) with SC03 | 22 |
| Achievement 1 | 12 |
| Achievement 2-6 | 11 |
| Compilation task | 2 |
| Total | 47 |

my Plan for the Next Week/Conclusion
I will continue with my greeter's work, my admin and mod activities in my communities and then with my curation with the 7up curation team with steemcurator07, let's see how it goes. My greatest plan is to keep building my steempower to reach one Orca which is 50k sp.
This past week was a great one. I am glad I was able to carry out my responsibilities. I appreciate everyone who has made it a success.
See you next week!!!
Cc: @steemcurator01
From @ngoenyi,
CR for Nigeria

This is my introductory post here