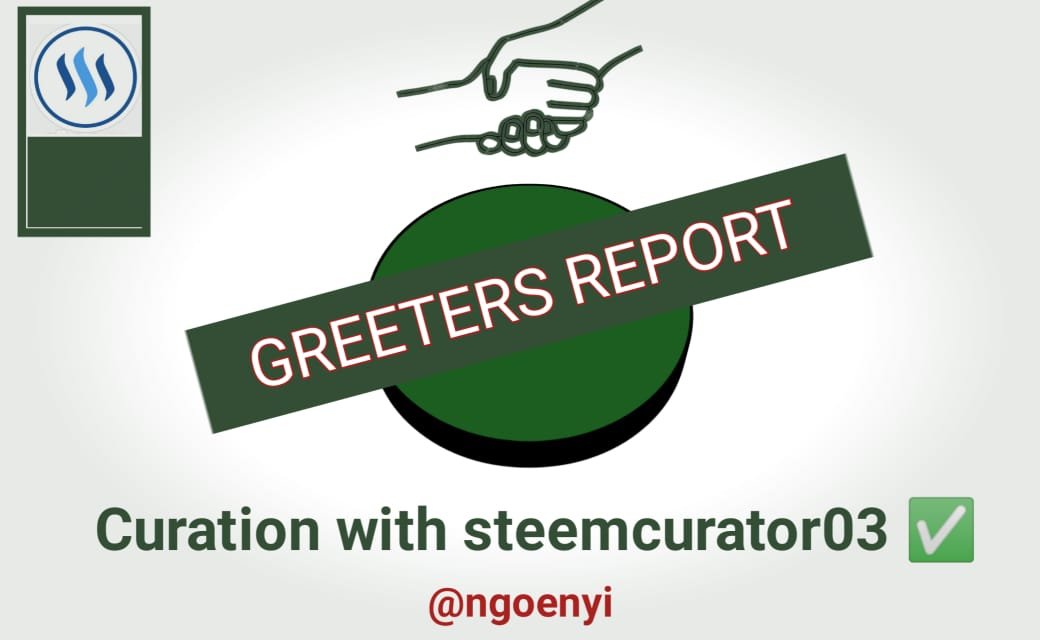 Introduction
Dear team, my greeter's report and curation with SC03 report for the past 7 days is ready. Below are the details

I was able to use SC03 to upvote achievement posts that obeyed all rules.
For Achievement 1
div class="text-justify">
@sammyorok's introduction post expired and I gave a catch up vote on his active post here
For Achievement 2-6
@janeo42's achievement 5:2, 5:3, 5:4, and achievement 6 got expired without upvotes and that was because she was not in any club. She was not powering up. When she complained to me that her achievement posts had not been receiving supports, I told her her problem and she powered up to be in the club.

Having seen that she has joined the club, I then gave a catch up votes for this achievement posts one this active post of hers
Compilation task

SUMMARY OF MY CURATION WITH SC03
Achievement 1|12
Achievement 2-6|9
Compilation task|1
Total|22

Greeter's Work
Achievement 1
Achievement 2-6
Compilation task

SUMMARY OF MY WORK
| DESCRIPTION | QUANTITY |
| --- | --- |
| Curation (Total) with SC03 | 22 |
| Achievement 1 | 12 |
| Achievement 2-6 | 11 |
| Compilation task | 2 |
| Total | 47 |

Observations/challenges
It is true that the community engagement challenge has kept me and everyone busy but I tried as much as possible to search for especially introduction posts to verify of those from my region or from countries without a greeter.
The users are complying with the rules of the achievement posts with explanations. Yes, when I see anyone that is not complying with the rules like powering up or other things, I leave a massage for them and I have been receiving compliance from them.
The rules are
NC: this means Not in the Club. Users are supposed to power up at least 50% of their earnings. Is not, they will be given that label and be advised to do so without any upvotes even after verifying their achievement posts. This usually make them to wonder why there is no upvotes but with the additional explainations at the comment section, they quickly do so and get the upvotes.
Exception is given to those whose introduction post has not paid out and they wrote achievement 2 or 3.
Active/Inactive: users are supposed to join other communities aside newcomers community imediately after their introduction post is verified or at worst, their achievement 2. They are to publish other contents and nit just focus on achievement posts. So when we notice otherwise, we give the label after verifying the achievement post and still explain to them that they need to join other communities. In this case that achievement post will not receive any upvotes until the user complies. This way, we are able to fish out those who just came to milk the system.
KIV: this has to do with those whose account is suspicious or did not comply with the verification rules that has to do with being real accounts.
With all these rules put in place, it is easier to identify farming accounts and fake accounts as well.
On the overall, the newbies are responding to the dir
conclusion
Thank you so much @steemcurator01 and the steemit team for the opportunity to give my report. I am grateful to all the team members for their assistance. @cryptokannon and @inspiration for their support
See you next week!!!

From @ngoenyi,
CR for Nigeria
This is my introductory post here