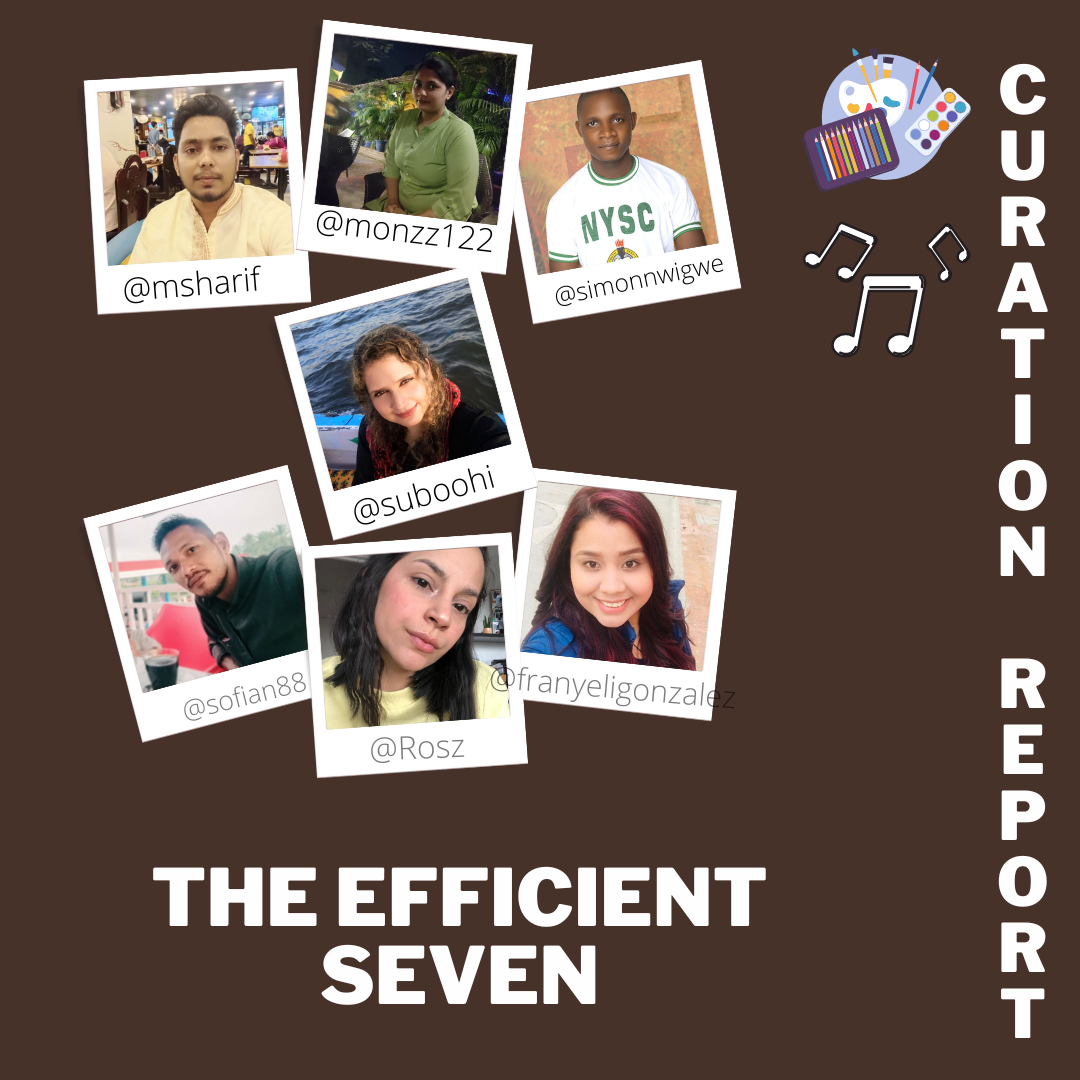 HELLO STEEMIT MEMBERS!
---
This is the second report of the ART Theme managed by THE EFFICIENT SEVEN TEAM. We @suboohi, @sofian88, @simonnwigwe, @franyeligonzalez, @msharif, @monz122, and @rosz work together the whole week to heal quality content at Steemit. We curated several posts this week. We are trying to support with maximum diversity and curated posts from 17 countries and 36 communities and in total 145 votes have been distributed among the steemians through steemcurator04.
the minor plus-minus can happen in the stats.

| TOTAL POSTS CURATED | 145 POSTS |
| --- | --- |
---
POSTS OF THESE COUNTRIES CURATED

---
---
POSTS OF THESE COMMUNITIES CURATED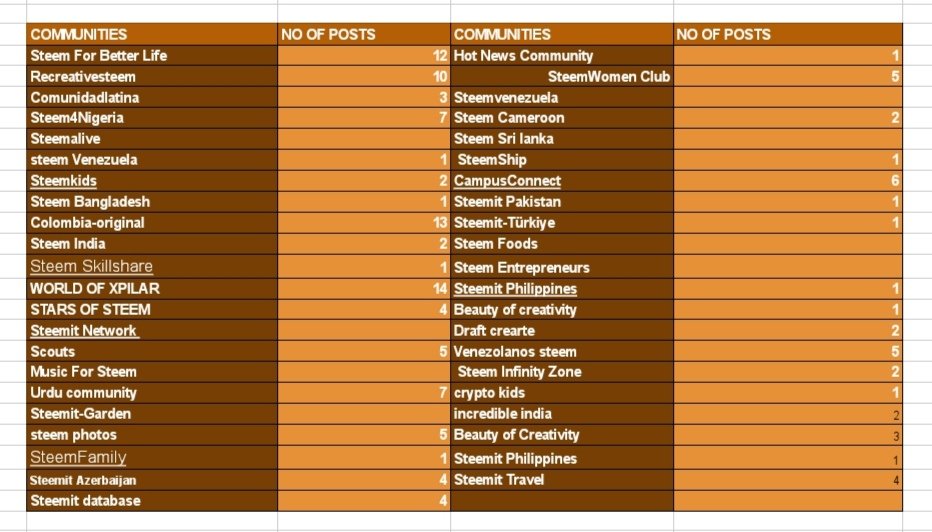 ---
| Club5050 | Club75 | Club100 |
| --- | --- | --- |
| 86 posts | 28 posts | 31 posts |
---
7 FEATURED POSTS
---
Author: @husaini
Club Status: Club75
Featured by: @sofian88
REASON: Through poetry he tries to explain the meaning of a position, he also explains how important it is for someone to maintain and respect every position that is mandated by the community to the stakeholders of each position.
---

Author: @veronica7
Club Status: club5050
Featured by: @franyeligonzalez
REASON:"A great publication where we can find a well done work, an art in the work of our dear friend. In addition to a job or craft that any of us could learn with her tutorials. A skill that she enjoys doing, teaching and also gives us valuable information for the platform. With a good layout and complying with all the rules established by the team. "

Author:@sailawana
Club Status: Club5050
Featured by: @msharif
REASON:A great blogging. There are many combinations in this post and there are some good pictures and writing which is very interesting.

Author: @m-fdo
Club Status: club100
Featured by: @suboohi
REASON: a woman explains how to make beautiful wall decoration at low cost, she makes a craft design for it, the post is very well detailed step by step I think that anyone with this guide could achieve it, you could give this if you have a low budget

Author: @chacaraca
Club Status: Club75
Featured by: @rosz
REASON: A little boy shows his love for one of his favorite characters, a ninja turtle, and he is very happy in the images, the quality of the drawing is very good and he shows it step by step

Author:@josepha
Club Status: club5050
Featured by: @simonnwigwe
REASON: The author explains clearly what creative writing is all about and the various types of creative writing. He gave a complete guide I.e (listing the various ways a writer can attract the audience) when writing a creative article on the steemit platform.

Author:@nishadi89
Club Status: Club75
Featured by: @monz122
REASON:Something interesting, he uses used bottles and then turns them into something very beautiful and has a valuable value. With creative content like this, we hope that more users will take advantage of used goods and then turn them into products that have a high selling price, creativity has no limits!

Team Info :
---
---
---
---
---
THANK YOU FOR VISITING

With best regards,
The Efficient Seven !