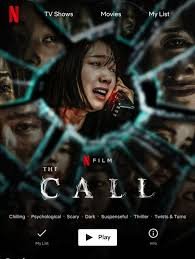 This is a recommendation for those who enjoy complex and rare films, of those that have no explanation and all their conclusions must be drawn by ourselves.
Of course, it hooks from the beginning to the end, and the turns it gives surprise, to the point of not showing any indication of how everything is going to end🎬. In the same way, their performances are IMPRESSIVE👏, especially those of its two protagonists, who an extreme contrast between the dramatic to the Machiavellian 😥.
On the other hand, I could not fail to mention how well done it is, without a doubt and at the level of South Korean cinema it should not surprise me😅.
But hey, I know that this is not a movie that everyone will like ... rather it is for a very specific audience
However, I do not deny that it is a smart film, well executed and that, in a way, it is enjoyed, so if you want to blow your mind for a little while, then this is the option 👍.
PS 1. 20pts the heavy rock musicalization 🎶 (I'll try to get the songs).
PD2. It is a free adaptation of the British film #TheCaller (2011).
PS 3. See the full credits 😥👍.