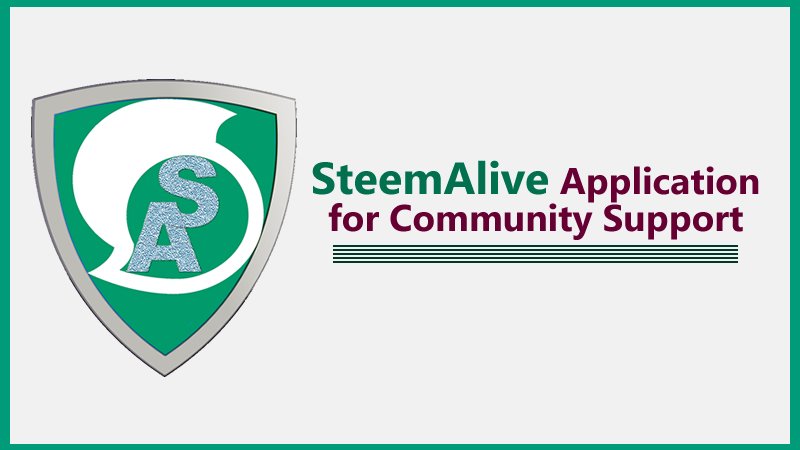 Introduction
Its indeed a pleasure to see the Steemit team working hard to assist communities stand on their feet and support their members. On behalf of the SteemAlive admin and team, I am delighted to make this application for the brand new Community of the Month support program. We hope that our application would receive a favorable consideration from the Steemit team. Let me tell you more about SteemAlive community.

SteemAlive Community - Our Purpose
In our community Introduction post, we made clear our mission. Here is a quote of our mission once again:
Our mission is to take Steemit to every house in the world. We want Steemit to become a household name. We will use all marketing strategies to create awareness for Steemit and the Steem blockchain. If we can get and retain 1,000,000 new users to Steemit in the next few years, we would have accomplished our mission.
We have not lost focus of our mission. SteemALive is fulltime into recruitment, mentoring and supporting of newbies to embrace the Steem blockchain. We were and still are one of the earliest communities to take up promotion of Steemit in Nigeria. SteemAlive recruitment and mentorship programs has made it very easy for so many users to join the platform. We have been so effective that our recruits grew and became valuable members of Steemit. For example. @ngoenyi, @talktofaith, @whitestallion, @alphafx, and many others are products of SteemAlive recruitment and mentorship.
People, especially Nigerians, should join community because apart from the mentorship and support, we represent the largest and most active collection of Nigerians on Steemit.

SteemAlive Community Team
The community has grown because we got a lot of people involved as part of the team. Since we are into Steem Promotion, it definitely requires a Proper team. Here is our team makeup
@focusnow - admin and founder
@Steemalive - admin (Community account)
Moderators
@ngoenyi
@samuel20
@ninapenda
City Coordinators
@talktofaith (Lagos)
@ngoenyi (uyo)
@prolee (Port Harcourt)
@ceendy20 (Owerri)
@samuel20 (Aba)
@peachyladiva (Nasarawa)
@godsbest (Enugu)
@tenguhatanga (Bamenda)
@pricelesspresh (Asaba)
@fredquantum (Osogbo)
All the team members are Nigerians. We speak English which is the official language. Then we also speak the local dialects of our home towns. The city coordinators receive support from the community wallet usually at least once within the Month. They also get a sure vote from their weekly report which is voted by booming. The two moderators @ninapenda and @samuel20 are paid full-time staff. They help @focusnow to work at the Aba center. The moderators also make some posts for the community, so they have the posting key.

Community Curation account
@steemalive is the community curation account with 11,000Sp. It used to be the main curation trail account until recently when the trail website was shutdown. We have joined the new trail - worldofxpillar. Currently we are the third mostly popular trail with 182 followers. We created a new trail account with @steem-alive. Currently it votes with $2.75 at full power.

We swap some SBD earned to steem and power up within each 2 week circle. Thats one of our plans to build community power. Additional, we have Save2soar, a project where commuity members save some steem each week and we power it up. We will do this for at least 1 year February 2020 - February 2021. We are in the 24th week with a total of 9,921 SP locked. @save2soar is also following our curation trail. We also have the city curator accounts where members also save at least 5 Steem each week. Its also locked up for 1 year.
Not all our posts are powered up. Some are used to reward the Team members. We run a daily contest called LID, we send a least 0.5 steem to participants everyday. So we do not power up the account. @ngoenyi, @focusnow and @talktofaith used to handle the voting account under the old trail. But the new one is handled by @focusnow since we are just building it afresh. The old trail had 378 followers and votes at $5.76. But the new once votes at $2 or less. So @focusnow handles that for now. Up to 50 votes are given out in a week. This will increase once more as we build the new trail.


@steemalive voting CSi

Plagiarism and Abuse
Education is an important tool we have used to fight plagiarism. Our mentorship classes stress the importance of original content. So our members are properly informed. The moderators @ninapenda and @samuel20 and @ngoenyi also check for plagiarism. We mute plagiarized posts and ban the member from our group activities. We will soon add @endingplagiarism to our moderators.

Engagement and commenting
We take engagement serious. Which is why we have a post promotion Telegram group where members must comment meaningfully on 2 posts before they drop a link of their own. LID reporting also has similar rules. Besides @ninapenda and @samuel20 have commenting as part of their daily work for the community.

Plans and Update
We post updates weekly through Steemalive account. Updates on our numerous projects such as City curator project, City Coordinators and other projects. We have a robust Telegram Group where we also drop updates. It makes it easy to quickly reach our members with any information. Additionally, the City coordinators also have Whatsapp groups for the city through which they reach their members.

Promotion
We encourage all the City Coordinators to promote Steemit robustly and they are all doing that. We encourage Radio Adverts and Facebook Sponsored ads. Our Facebook ads have been effective and has brought in many users such as @talktofaith. We also use referrals by rewarding users with a little fiat incentive to bring their friends. The Aba center has been consistently broadcasting on Radio every Friday - Real FM and Buzz FM. Lagos and Uyo also speak on Radio periodically. @ngoenyi has been the our most active promoter in the City of Uyo. She implements our recommendation to conduct regular weekly meetups to the core. We appreciate here and all the City coordinators.
Steemalive is all about recuitment, mentorship and support and we are happy to see all the leaders work hard in these areas.

Conclusion
Steemalive has demonstrated in just 1 year what a united and coordinated team can achieve. We have produced all the Nigeria Country reps and 3 Cryptoacademy professors. Our results speak for us. We have a lot planned for the next year. Our projects are many. If we get selected for this Monthly support program, it will help us achieve our ambitious Mision - to take Steemit to every doorstep.
Thank you.



Subscribe:::Discord.
:::Whatsapp :::join trail