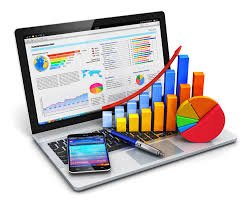 source
Greetings friends,
It's my pleasure to bring us update from my City Umuahia, partaining to our growth so far within ourselves and as well in the city.
I do appreciate @steemitblog system for their assistance on our posts so far and also to the entire @steemalive community.
OUR PROGRESS
We the co-ordinators @kadosh2340 and @davchi have been on the personal meetups to share plans and strategy for the growth of our memebers and how to preach and publicize steemit to the ends of our city Umuahia.
We have been trying our best to encourage and keep every member of our community in high spirit through every attainable medium both in terms of assistance and direction on what to do and how to do it.
Moreover, ever since our medium of meetings both for classes and lectures has been on the WhatsApp media, but this week we had to create a telegram channel and a zoom channel were we decided after much deliberation that our whatsApp media group would be for posting updates (helpful informations), our telegram channel would be our classroom and chat forum, and our zoom channel would be for meetups on fridays at 5:00pm.
We had our first telegram meeting on the 14th of May 2021, where we streamlined the activities for the month and detailed every information in order to guide everyone front one to time for growth sake and prepare for every meeting as well. These were the topics :
• Zoom meetings.
• Offline Meetings.
• T-Shirts.
• Community Activities (Weekly contests, GiveAways, etc)
Summary Of The Meeting
=> We finally agreed that our zoom meetings will hold every Friday by 5pm, which we created the zoom channel. 👇
Our first meeting is scheduled next week by 5 pm
Topic: Umuahia SteemAlive Discussion Group
Time: 5pm
Join Zoom Meeting
https://us05web.zoom.us/j/89741666156?pwd=R2VISWRWK3BPZmZnbk5QZUdKSmx3Zz09
Meeting ID: 897 4166 6156
Passcode: 1SBRFR
=> We agreed that our first offline meeting would be on the 30th May 2021 which on a sunday. For those who won't be able to be present, we plan to host a zoom meetup at that time to carry them along cause nobody is left out.
Venue : Umuahia Abia Hall (@ShopRite).
Time : 3pm.
=> T-shirts : we agreed to print a T-shirt with customized details from 14th May - the offline meeting date. We're already working on the designs which the colors are white, blue and black.
=> Community Activities : we agreed that we would begin weekly contests after our first offline meetup on the 30th of may. We found out that most of our memebers hardly get involved in other community contest and this is because they don't get appreciated after their effort, sometimes it's because they don't have any idea of understanding of what the contests relates about but we hope that all these would reduce drastically as soon as we begin our weekly city community contest.
We finally encouraged everyone to keep writing regardless of lack of votes because one thing amongst many I found about about steemit is that it surely pays hardwork and commitment. The meeting held for an hour eighteen minutes from 08:30pm - 09:48pm.
Below are the screenshots for the meeting on our Telegram Channel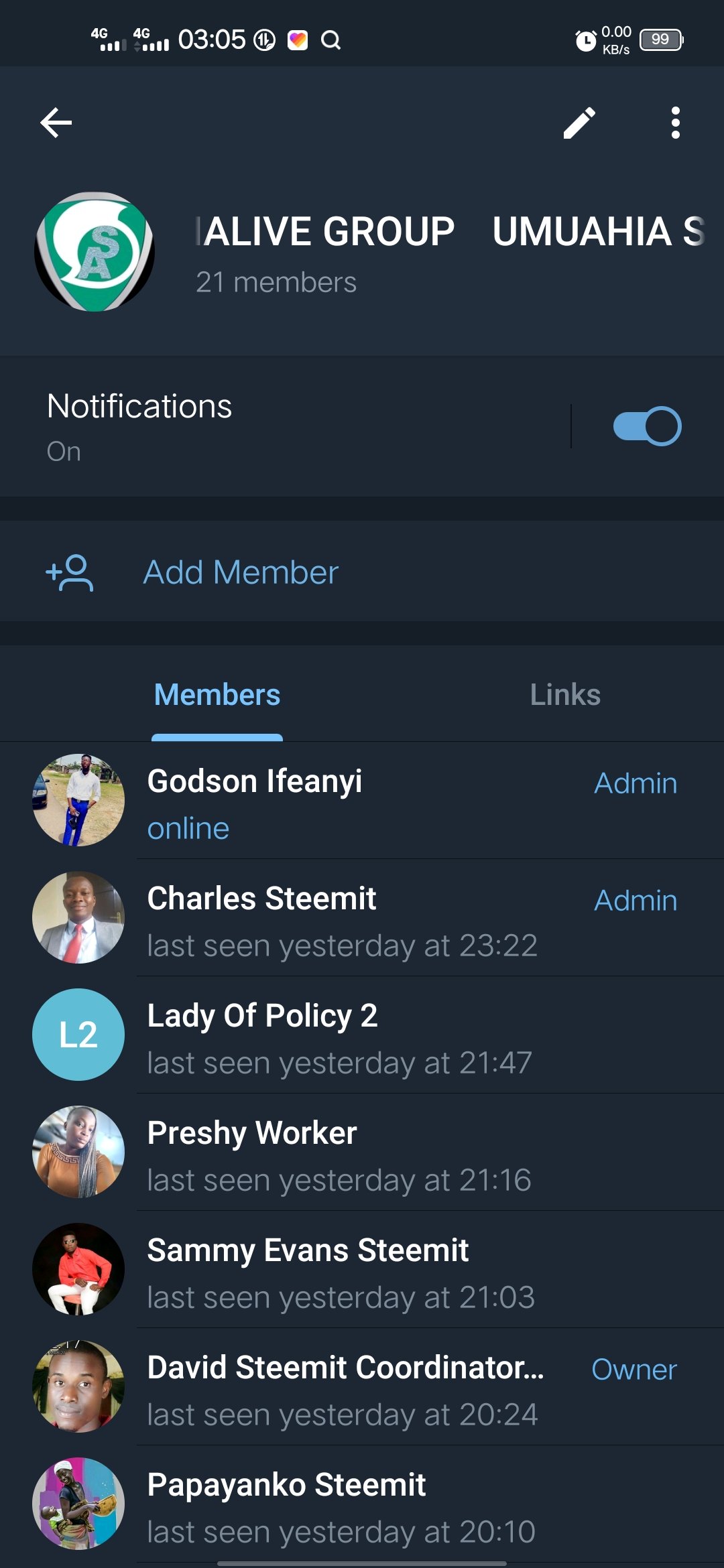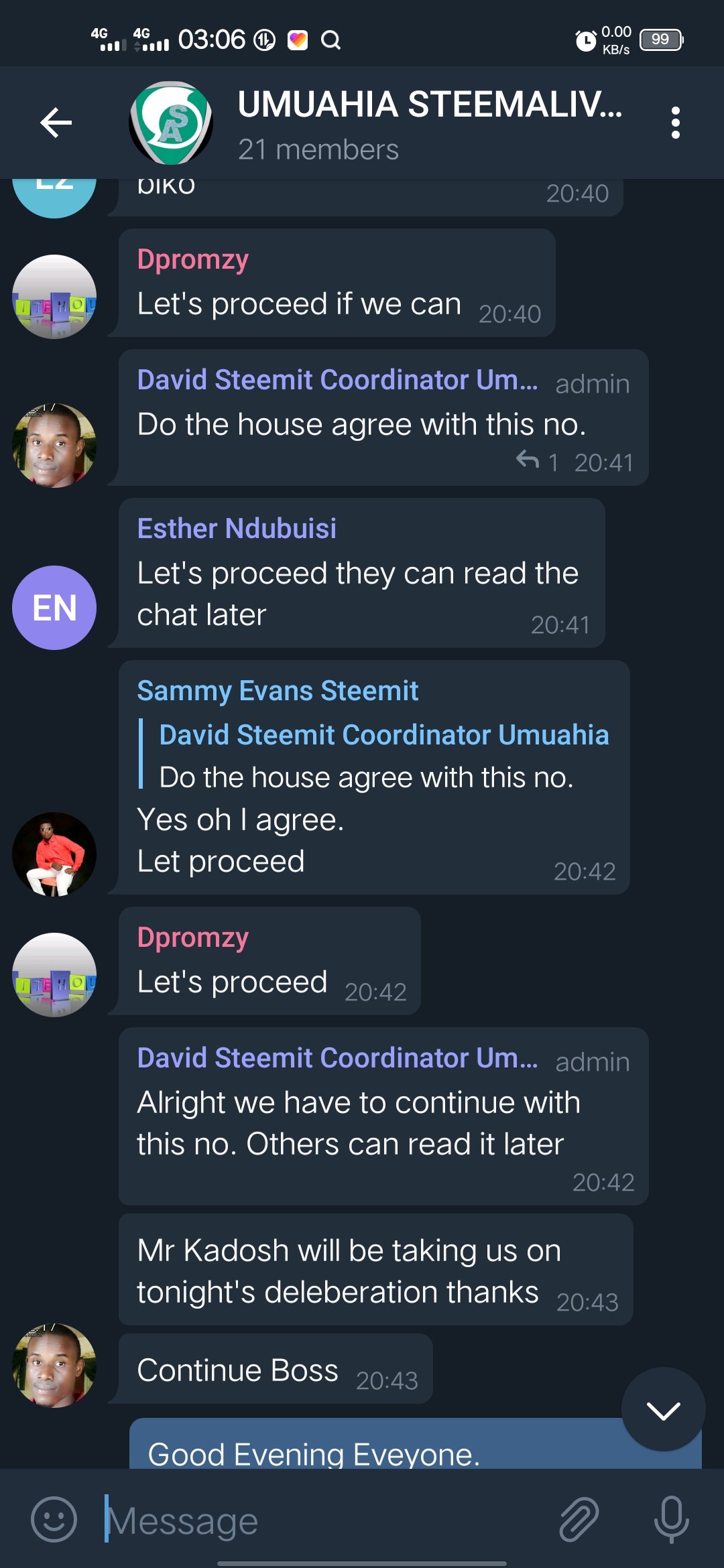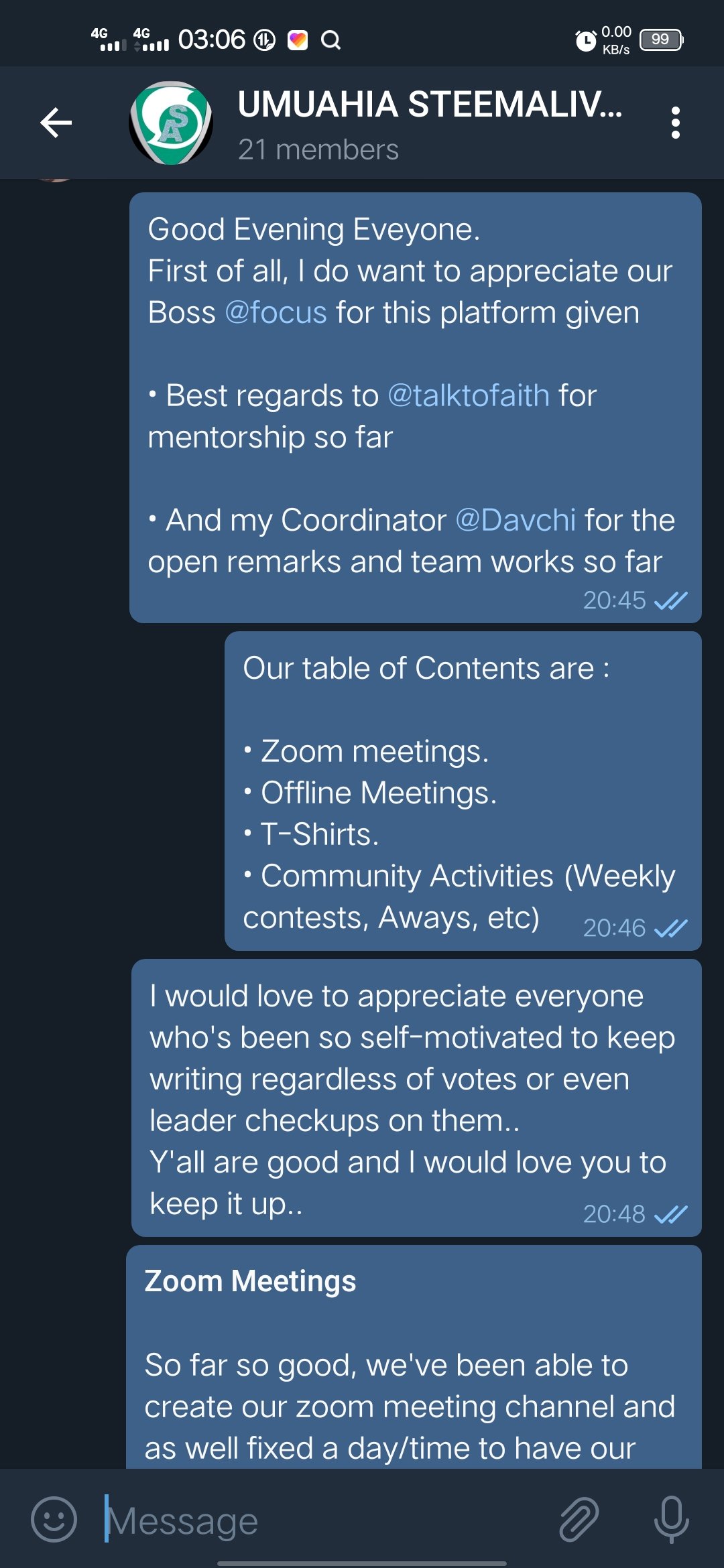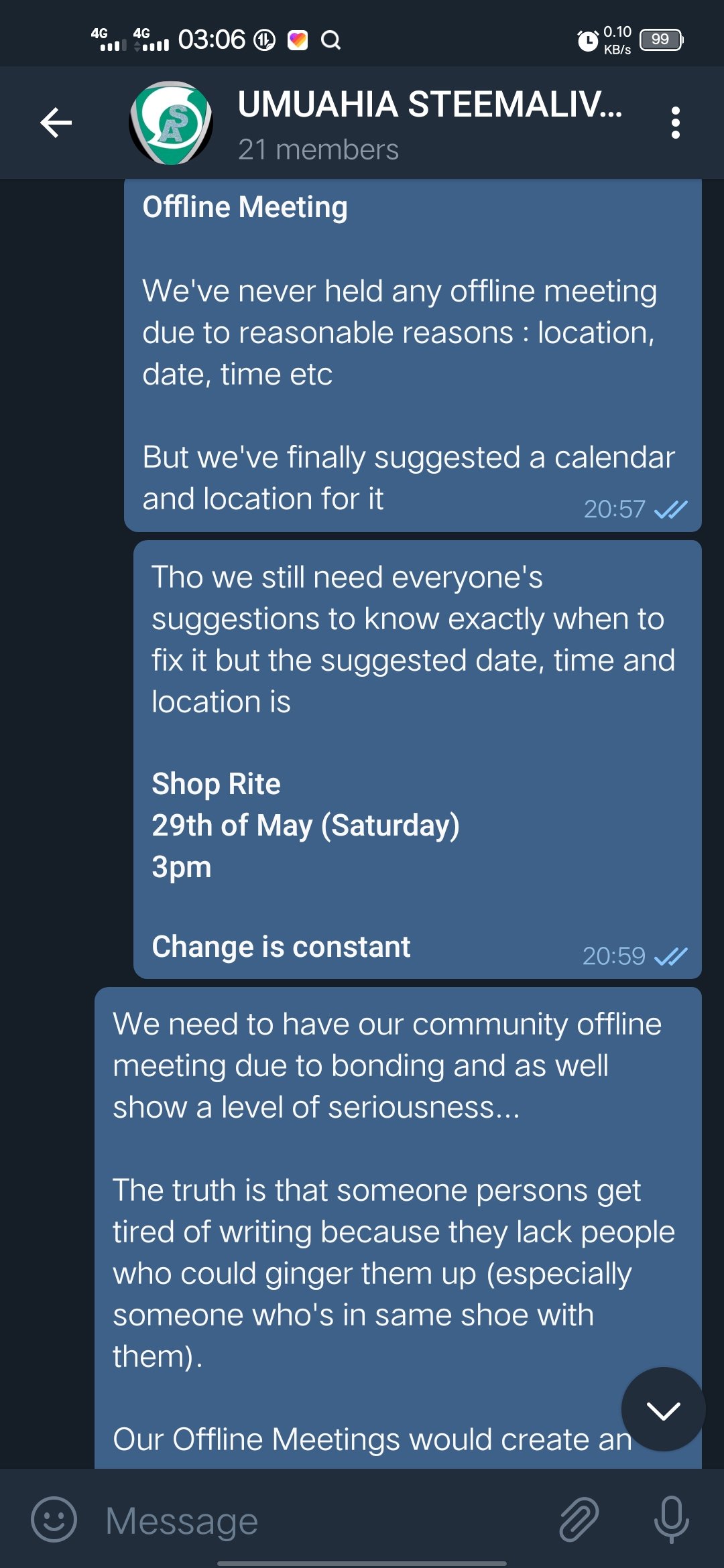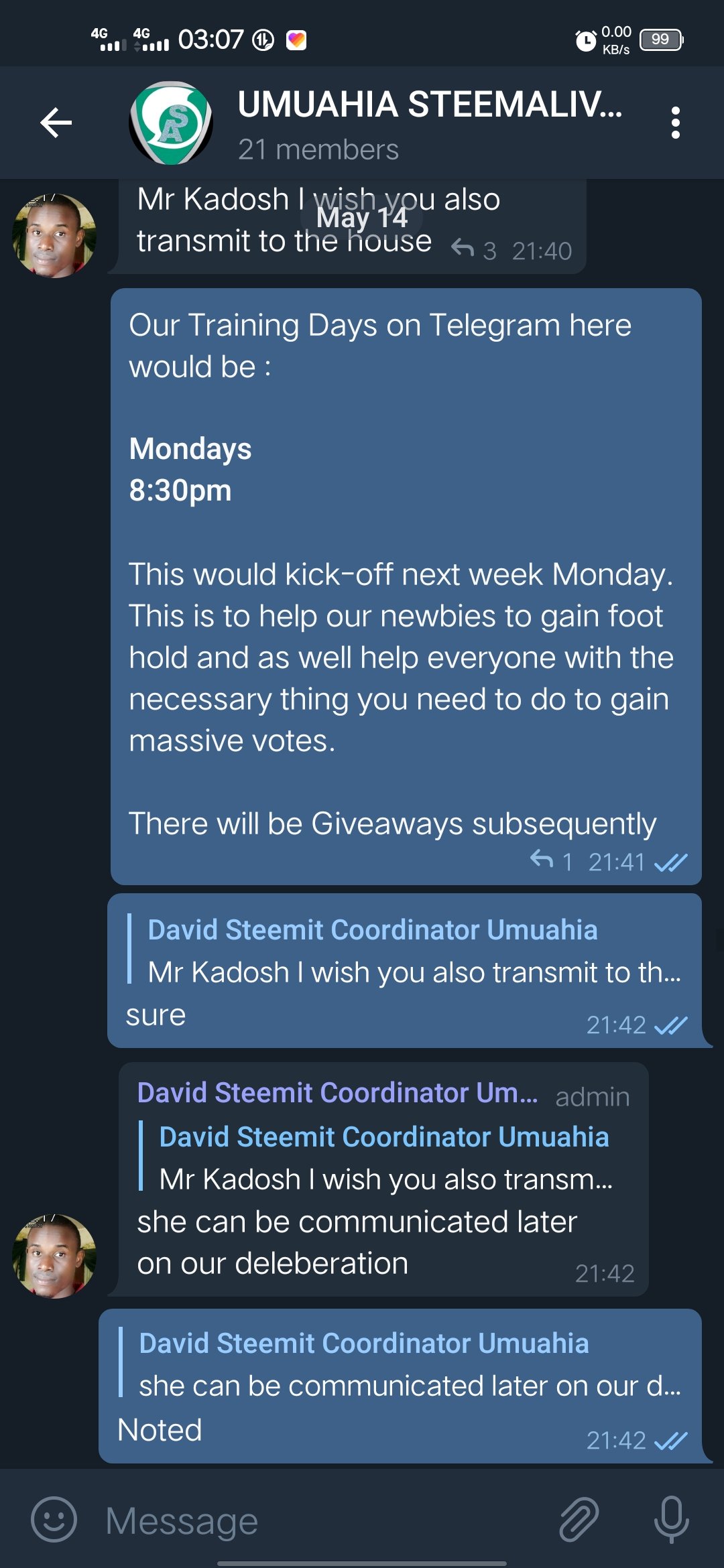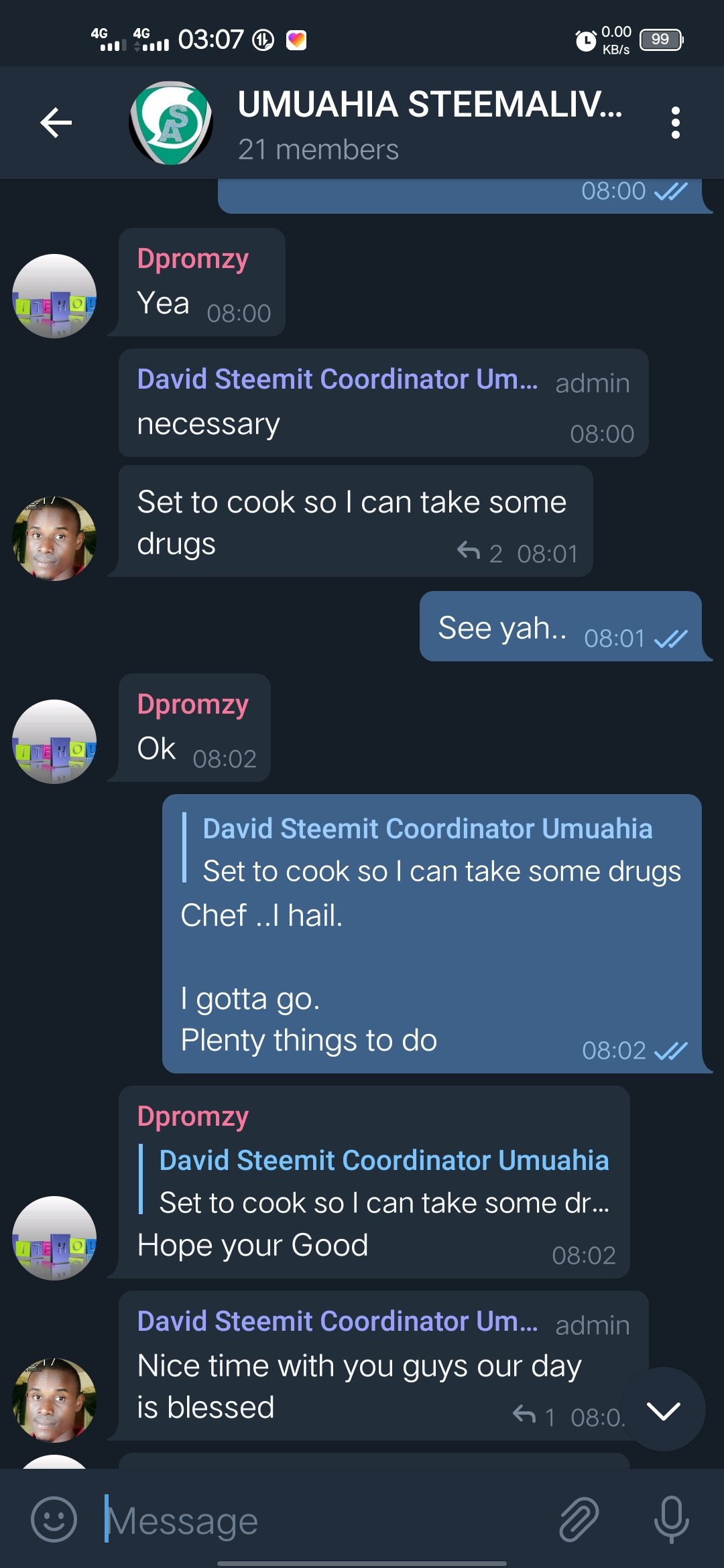 Recruitment
We had been able to recruit a couple of newbies in umuahia here. Below are a couple of the newbies we had recruited over the week.
@okechukwu22 was recruited by @kadosh2340 and @starnation was recruited by @kanuprecious.
Please do visit their Introduction posts to drop a word of welcome on their comment section.
Everyday, I consciously promote steemit on my social media platforms and offline as well. So on weekly basis, there are always some new recruits to introduce to steemit and this refers to eveyone in the city of umuahia.
Compilation of Umuahia Steemalive Steemians
Observations
At the moment, we barely have inactive members regardless a few sometimes stop writing due to the discouragement of no votes to appreciate their prolonged efforts but we the leadership try our best to encourage to put in much hardwork, because steemit pays hardwork and consistency and that I'm very certain about. So when we do this, they bounce back to writing like never before.
Monthly Objectives
• Offline Meetings : 30th Of May 2021
• T - shirts : colors ( blue, black & white). The Design Is Yet To Come Out.
• Weekly City Contests : kicks off 31st Of May 2021.
• Publicity : radio, rally , media ads, etc.. kicks off after our first offline meeting.
Sincerely, I must appreciate everyone's effort for their fast response and continual suggestions for the growth of our city Umuahia. Despite their personal busy schedules, they still create out time to contribute to the city's growth. Regardless of their mood swings for the lack of votes, they're lovely people and I love them plenty 💝
A well deserved appreciation and love goes to my coordinator @davchi for his relentless passion, assistance and desire for the growth of the city of umuahia steemains.
Forever, I'm thankful to my Boss sir @focusnow for his checkups, wisdom, encouragement, ideas, Inspiration to the members of my community and we the co-ordinators to stay put as there are better days ahead and also other city coordinators in diverse cities where @steemalive and steemitblog has spreaded and still spreading too 💝💝
Maximum appreciation goes to @steemitblog for their incredible assistance so far, as a faction of the community, we wish to say a very big thanks to you all ❤️
NB: If you are an Umuahia Steemian and you didn't see your name in the above compiled list, please do well to drop a comment on the comment section about it, or send any of the Umuahia City Co-ordinators a DM on WhatsApp.
Best Regards