Greetings to you all. I hope you had a lovely sunday.Today is the last day of July and we are excited to enter a new month
---
I wish to share with you the guidelines of the LIFESTYLE CURATION TEAM so that you can be properly guided as regards to the right and simple rules to follow.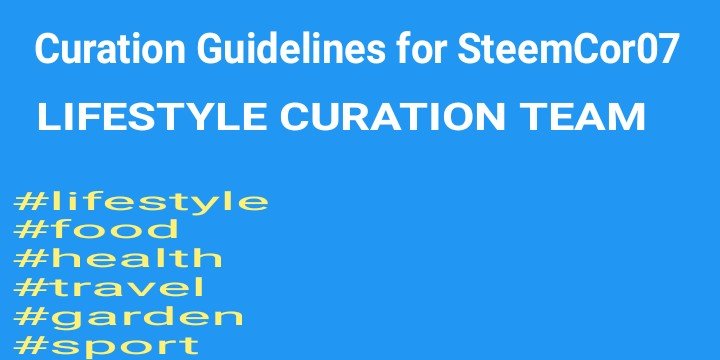 The importance of the community curator program cannot be over-emphasized because it has been an efficient way of supporting authors on various topics and area of interest. Tags are used to sort and curate quality posts that meet the standard practices on Steemit. By this method, it is transparent and beneficial to everyone no matter how little the vote might be.

Our team was selected again for the month of August and we are grateful for such trust on us from the Steemit team. We are going to perform better than we did last month in this August edition.
I appreciate everyone that supported us and encourage us with comments during the application process.It is important to note that I appreciate all members of SteemAlive community where I serve as a moderator for their good wishes as well as the support from Steemkids.
Our team is called the SteemCor07 (Lifestyle Curation Team) which has @ashkhan as team leader and six other members namely @deepak94 @f2i5 @juzkid @marlyncabrera @mrsokal and @samuel20. As you can see,we all are from different countries and have supported the club initiative.We are going to support quality posts within this month of August across all the communities on Steemit.

Important Rules to follow so as to get Supported by our team

1.)Hashtags/Tags
It is important to note that we fetch and curate posts using hashtag.On a general note,the five compulsory tags should be clubstatus,theme hashtag,steemexclusive and your country.The theme tags for our curation team are: #food #travel #health/ #fitness #leisure #gardening/ #garden #sports #lifestyle so endeavour to use any of the theme hashtag which corresponds to what you have written.For example if I have written a post about health,then my first 5 tags would be #club75 #health #steemexclusive #nigeria just like that.
2.)Club Status
This is an important considering in our team curation.A user must be in either club5050 club75 or club100 to get support from our team.The higher the club,the higher the vote.See a sample of what I mean👇
| Club | Vote Mana |
| --- | --- |
| Club100 | gets 50% vote |
| Club75 | gets 40 vote |
| Club5050 | gets 30% vote |
3.)Quality of Post
Post to be curated after satisfying the other conditions must be of good quality.It must be atleast 300 words with justify alignment and correspond to the theme hashtag used.For example if I wrote about food and I used #sports as the theme hashtag.The post won't get attention.
4.)Other Rules
Among other rules.Posts must be steemexclusive-which means that it has not and would not be posted in another platform apart from Steemit.Plagiarism of any form would not be tolerated.Images must be owned by the author or properly sourced if gotten from another source.Use of bid-bot wouldn't be tolerated and CSI must be atleast 5%.
5.)Image Guide
If you must use an image that does not belong to you. Then this sites can help you to get free images.
However, any image that bears Shutterstock, iStock, Pinterest and Dreamstime please avoid it whether it is from those sites I mentioned or not.
Note:If you use the correct tags but you aren't in any club or your post has an element of Plagiarism. It cannot be curated. So pls make sure you belong to atleast club5050 and stay away from text or picture plagiarism.

Curation Schedule

Conclusion
I am pretty sure we have going to support more users in this new month. It is left for the users to follow the rules. Once again the first 5 tags must be club status,theme hashtag, steemexclusive and your country.Ofcourse, I have listed the theme tags for our team. Thank you as we look forward to supporting you.