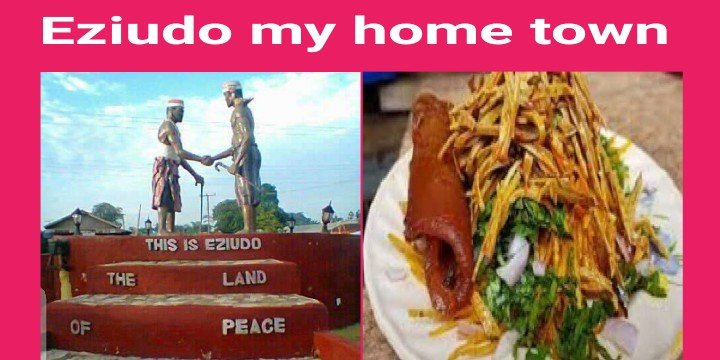 A new week is here, and it has come with a new contest for the week. All the topics are quite interesting but I will have to start with this particular one.
My Home Town: Eziudo, Mbaise
My home town is Eziudo(which means 'true peace' when translated to English) it is located in Ezinihitte Local Government Area of Imo state, Nigeria. Eziudo has 13 sub-villages inside it. We are known for peace and we have always demonstrated that.

History
In my place, dove🕊️ is treated as a sacred bird and no one dares to hunt or kill it. If anyone tries to kill a dove in Eziudo Community, that individual will have to perform some spiritual rites for cleansing, else the person may die or meet continues misfortune through out life.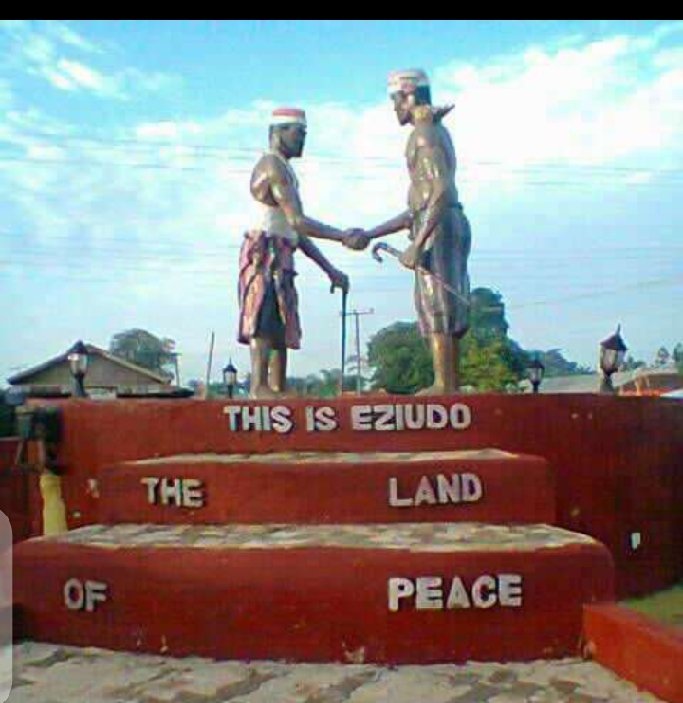 our village square
The story according to history dates to the fact that a dove played a role in the unity of the community and so they decided to treat a dove with so much respect. Even in our village square you can see two men shaking hands and the man at the right hand side has a dove resting on his shoulder.


Food and Language
Well Eziudo is among the Igbo ethnic groups and so we speak Igbo language- although our dialect makes it look unique or a bit different from the central Igbo. In any case, we understand central igbo and speak it too.
As for food,we eat the normally Igbo food.Let me gist you a little. Our main delicacy is oil bean(ugba or ukpaka). We prepare it and serve to visitors or during occasions. As for soup, the soup we normally prepare during occasions is ukazi and egusi soap served with fufu.

Rulership and Festival
Eziudo Community is very big. We have three (3) traditional rulers. They are called Eze which means king.
New Yam Festival
There are lots of festival in my community. One of them is the New year Festival which is done in the month of August each year. This festival is organized to thank the gods for making the yam harvest* a success. So farmers contribute newly harvested yam and it would be roasted at the village square.Prayers are made to the gods of the land and they are offer a slice of the yam, after which all the titled men in the gathering will also eat, and other villagers would also be served.
After this festival, individuals and farmers are now permitted to cook and eat yam in their various homes.
Oji Ezinihitte Festival
Another festival in my place is called Oji Ezinihitte, it takes place on the 1st day of January each year. All the communities in Ezinihitte Local Government Area including our own Eziudo will come with their native dance and masquerade. In the course of the event, each community would be called to the podium, they will dance to the podium(the king in front and other titled men and masqueraders behind).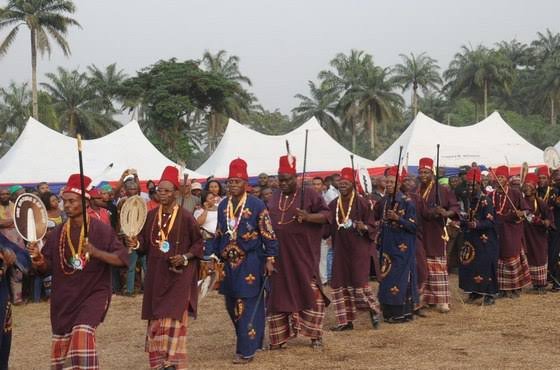 During Oji Ezinihitte festival
Once they get to the podium,the drummers will stop, the king will make a short speech, and then pick kola nut(oji) and they will dance back to their initial location with only the king remaining at the canopy made for all the kings in attendance.
After all the communities must have danced and picked kola nut. There would be general entertainment for all, then the umpire will announce the 1st ,2nd up till the last position. The result is done based on presentation, the costume, how each community danced and the number of elders in their dance line up.

Conclusion
This contest is a quality one as it gives us the opportunity to introduce and promote of native town.My town, Eziudo,Mbaise in Ezinihitte Local Government Area of Imo state is the home of peace and we have produced a lot of notable people. We have a rich cultural heritage and are the main people known for processing oil bean in Nigeria.