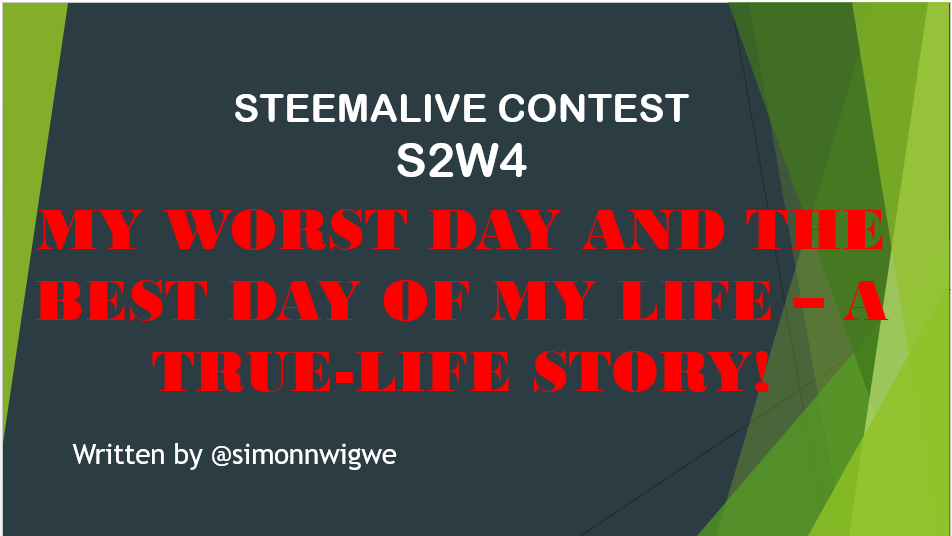 Hello guys,
Welcome to week 4 of the season 2 engagement challenge contest organised by the
@steemalive
community. In this last week of the season, 2 engagements challenge the community to present to us a very unique and important topic titled The Worst day and the best day of your life - A true-life story! This contest as we have seen from the topic requires a true-life story about our lives as individuals.
We all have days in our lives that are so memorable that no matter the situation of things we can never forget those days. Personally, there are many occasions in my life that I always remember any time I sit down to reflect on my life to see the achievement and failures I have made so far. As a person, reflecting on my life always goes a long way in helping me improve myself both physically and spiritually.
To perfectly attempt this contest, I will like to write about the topic in question under the following headings given below. A more detailed explanation is also seen in the explanation of the points highlighted. Please read through to the end and learn about my true life story.
The worst day of my life
The best day of my life


The Worst day of my life


For a day to be your worst day implies that on that faithful day you wish and hope for that day not to come again in your life. The worst days are horror days of our lives and fortunately, in one way or the other we all have once or twice experienced some of these days. I have many days that I tag my worst days but I will be discussing just one of these days because out of the many worst days there is one that is more worst than the others.
My worst day was on Friday the 6th day of March 2009. You may be surprised as to how I'm able to remember the day and death after this long time. The truth is that what happened this day is not something I can forget in a hurry. I was a student of Army Day Secondary School Afi Barracks Ikom Cross River State then. I was a JSS3 student and we all were preparing for our junior WAEC (West Africa Examination Council).
For those of you who went to school, you will agree with me that one of the most tempting classes in secondary school is JSS3 and SSS3. Immediately you get to these classes on those days you will start feeling as if you have arrived. For those in JSS3, they see themself transiting to a new level, like in our case, as a junior student you wear shorts whereas a senior wears trousers. So you will be having this feeling that you are gradually moving from shorts to trousers. For those in SSS3, there is this feeling of being a graduate that normally comes to you.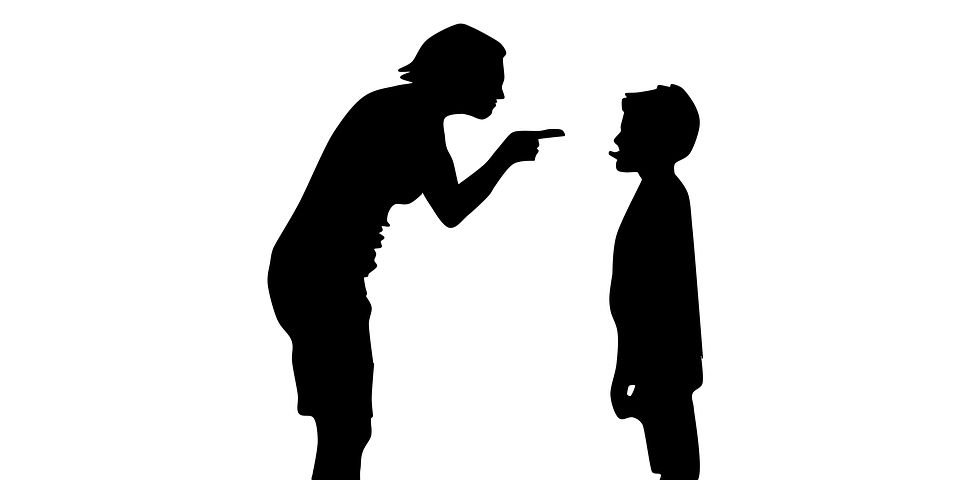 Source
Well, my story is about the feelings I had in JSS3. On this faithful day, we all were in school and so happy because we were about to start the junior WAEC exams in the week to come. Everyone was excited and we were playing all through the class on that Friday. There is this beautiful lady (Adaeze) among us then that everyone was admiring including me. That very day because of the excitement Adaeze allowed all the boys in the class to play with her we all saw it as an opportunity and we even went as far as touching her breast.
In the beginning, Adaeze had no issues with it all. But after a while, she said we should all stop but a few of us refuse to stop and we continued touching her. Well, the end of the story is that when it got to my turn to touch her again, she gave me a very dirty slap and reported me to the discipline master. Hmmm, I was immediately taken to the staff room and she was asked what happened and she told them I touched her breast.
On hearing this all the staff asked me to kneel and every one of them gave about 6 stoke of the came on my back. They went as far as inviting some senior students to hold me. After the flogging that day I couldn't sit down on my sit because of the pain I was using one part of my buttocks to sit. As if that was not enough, Adaeze went and still reported me to my father.
She knew that my father will kill me on that day. Some of my classmate's ad iced her to report me whereas some pleaded with her not to because they know how my father disciplines me. She left the school immediately after closing and went to my house straight. When I approach the house I saw Adaeze at my doorstep with my father, I knew it is finished.
Immediately my father saw me, he asked me to kneel where I'm and standing and then crawl on my knees and meet him. I wanted to run away but where will I go to? I just knew that if I survive that day I won't die again. The punishment I received afterwards was sitting in the air for about an hour. My entire body was shivering and at some point, I collapse. All I could remember next was that I found myself in the hospital the next day.


The Best day of my life


The best day in my life was recorded in the year 2018. I got admission into the prestigious Federal University Wukari, in Taraba State Nigeria in the year 2016. I never understood the university then. I read to pass as every other student of the university and I assured myself that I will not graduate before my mate (I.e to be sent out of the school) no matter the situation I find myself in, so I do my best to read my books.
In 2018, I became so sick that I had to live the school and go for treatment for about a month in the specialist hospital located in Enugu. It is as if I'm going to die. When I finally recovered, I went back to school and the lecturers have already covered a lot, most of them have even finished their continuous assessment. I had to go after them one by one showing them my medical records before they fix dates for me to write their CA's.
The whole story here bowls down to the result I made after I thought all hope is lost. Seeing the situation I was in, I decide to work even harder compared to the times I was completely in school. For two months I was not able to sleep for 4 hours a day. I collected notes and material I tried as much as I can to cover up. I studied as if it were my last. What I was trying to avoid was carryover.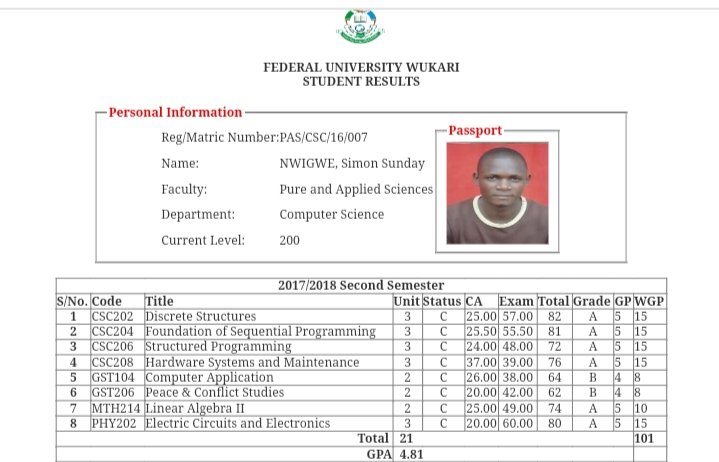 My result for the semester
To my greatest surprise, when the result for that very semester came out, behold I saw that I have made a GPA of 4.81, I was the only person with that type of result that semester among all my coursemates. Everyone was surprised at the result I made. My level adviser asked to see me and the entire class, he appreciated my effort in making such a result despite my absence from school during that semester and he gave me a cash sum of #5,000 and also encouraged every other student to follow my footstep.
I was so happy because for the very first time I was recognised by my entire lecturer and I was also presented with gifts on the fronts of my coursemates. I was also given access from that day to see every lecturer I wish to see in the department due to my outstanding performance. I made a lot of new friends that day because the lecturers from other departments were all my weaknesses in the entire scenario.


Conclusion


The worst days and the best days in people's life comes on different occasion. On the worst day, you may wish never to see such a day again whereas on the best day you will wish to never come to an end. I'm happy because both my worst day and best day were all days of my studies. I learned a lot through these days. Finally, I want to appreciate the organisers of this wonderful contest and the team of moderators for their job Weldon. To my friends, please read through my story.
I invite;
@patjewell
@samuel20
@kawsar
Best regards;
@simonnwigwe