Introduction
SteemAlive community has been on a journey of progress and success over the last 1 year. When we did the Annivarsary on June 2021, it was really awesome to look back and see how far we have come in such a short period of time. The human resource that have come out from a small group that started last year, has been nothing short of amazing. We seize this opportunity to say a hearty Thank You to everyone that has made this journey a memorable one. But we have not yet arrived, which is why the only direction we are looking is - Up.
To go higher and build capacity faster in order to support our growing memebers more, we need all of us. And that is why the next question would be both a request and a clarion call:
Would you like to Donate 10% or more of your earnings to @steemalive?

Why Setting Your Posts 10% Payout to @steemalive matters now!
Little drops they say make an ocean. And when the little drops are many, the Ocean is made bigger faster. Setting your posts to donate at least 10% of your earnings to @steemAlive will help us grow the voting power faster. We will be powering up more significant amount every 2 weeks. And so, the community voting power grows faster to support all better.

How to do it
Its very easy. Check the illustrations below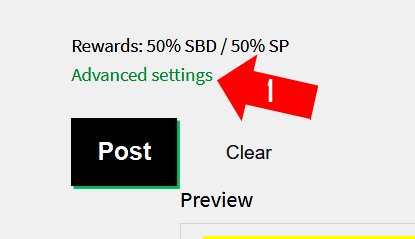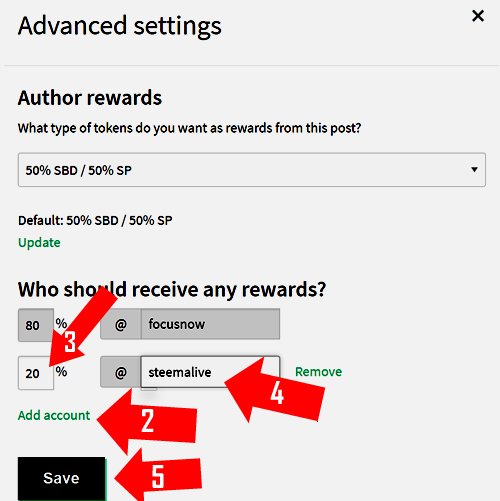 On the page where you compose your post, scroll down and click Advanced
Click Ad account
Enter the percentage amount e.g 20%
Enter steemalive
Click Save

Must it be 10%?
No. We want more. But we are leaving it to you to decide how much you donate. If you set it at 20% or bigger, that would be most welcome. But please make sure your posts in SteemAlive is set to at least 10% beneficiary pay out.

What will be my Gain?
Two hands are required to do proper washing. Because you are helping us to grow when you set us as a beneficiary, we will prioritize your posts for bigger support. Posts that set steemalive as beneficiary are more likely to get support before the ones that are not doing that.
Note: Please indicate in your post title that you have set SteemAlive as beneficiary of a specific amount. It will help us spot you easily.

Conclusion
We thank you all for supporting us. We appreciate all that you have done for us and will yet do. Remember that setting us as beneficiary is a voluntary donation to support the community. We really appreciate that. As we power up and grow our Sp, be assured of bigger support. You win, we win. Lets grow together. Thank you so much!!!




Subscribe:::Discord.
:::join trail