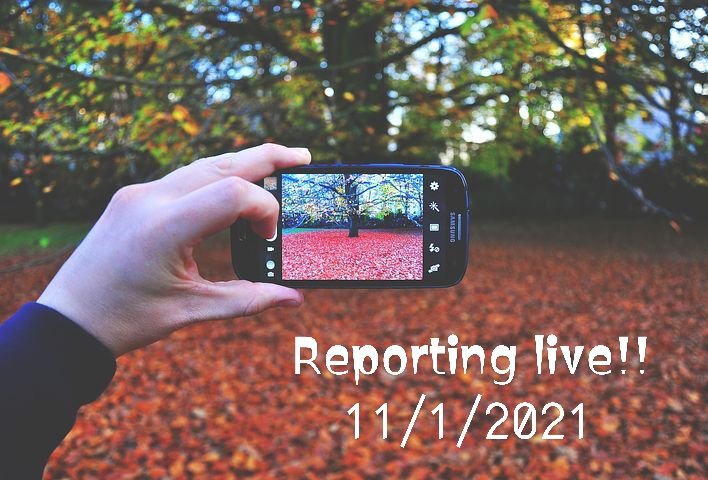 Introduction
This is a brand new Monday, the first working day of the week. You probably have your day scheduled out. LID has already started it's own day. So as you step out, we want to follow you. Make sure your camera is ready to capture great and exciting live events.
Capture everything interesting including street photography, Pedistrian bridge, water fountain, accident scene, peaceful protest, markets and shopping malls, schools,wedding ceremony, etc. Once you capture these live events, use the comment section of this post to report what you saw. We are ready to read your reports.
LID was proudly brought to you by SteemALive. To learn more, please click here

How to start
First take a selfie after you woke up and report here. Your first report could include:
How you spent the night
The weather as you woke up
How you will start the day
Specific activities you will do
Specific places you will go
After your first report, your subsequent reports may contain your selfie, but must show other interesting, important events happening around you.

LID Spotlight(s) for today
For each day, we expect you to capture at least one or two general event in your reports. We call it LID Spotlight Todays spotlight isStreet/Road intersection. We want to see the point where two roads or streets met. Also tell us the names of the two Streets. We will pay you extra 0.1 Steem if you feature a great spotlight.

Picture Co-ordinates using What3Words
Please use What3Words to add Co-ordinates to your images. If you put at least 2 coordinates to 2 pictures in your report, we will pay you extra 0.1 Steem.


Other important things
1. Length of Report text: At least 250 characters
2. Numbering: Make sure to number your reports - 1st, 2nd, 3rd, as the case maybe.
Engagement Leaderboard: Remember to engage meaningfully with other reporters to have a chance to win 1st, 2nd or 3rd prize by weekend. We will count how many meaninful comments you made and reward you.

Support LID
We thank @steemcurator01 and Steemcurator02 for Supporting LID from day 1. You can contribute your own effort by donating Steem or SBD, delegating to @steemalive, Voting this post with value or Resteeming it.
Written by: @focusnow
For: @steemalive



Subscribe:::Discord.
:::Whatsapp :::join trail