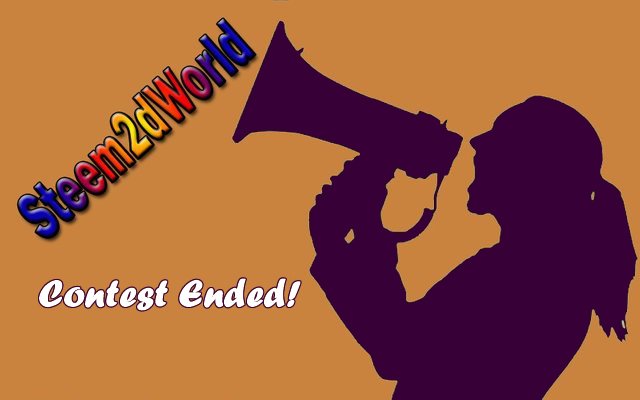 Introduction
You remembered that SteemAlive did a recruitment contest two weeks ago. We asked our members to go into the field and get their friends, neighbors and everyone to join Steemit and SteemAlive community. The 14 days given for this contest has come and gone. Many of our community members participated in this contest and there was massive rise in the number of new recruits that joined Steemit. Its now time to get ready to distribute the prizes to winners.


What next for participants
If you have participated in this contest, congratulations! We do appreciate your efforts in spreading the word. As instructed in the orginal contest post, you will make a post with the following information:
Post title: My recruits as I participated in Steem2dWorld Contest!

Tags: steem2dworld, steemalive and any other 3 tags of choice.

Publish post in: SteemAlive community

Click here to check the original contest post and make sure you followed the rules. For example, the recruits must have made 6 posts within the time. Additionally, you can also list recruits that made up to 4 posts including their most recent post. Also provide details as regards your recruitment methods and difficulties

Kindly copy the link to your post and drop it as a comment under post. We will try to pick all the entries using links dropped here and the recommended tags above

When are am Expecting the prize?
We will check all the entries and announce winners within 48 hours from this post. Please if you have participated in the contest, do not hesitate to follow the above instructions.
Thank you so much
Let us Steem2dWorld!!!!!
Written by: @focusnow
For: @steemalive
c: steemcurator01



Subscribe:::Discord.
:::Whatsapp :::join trail