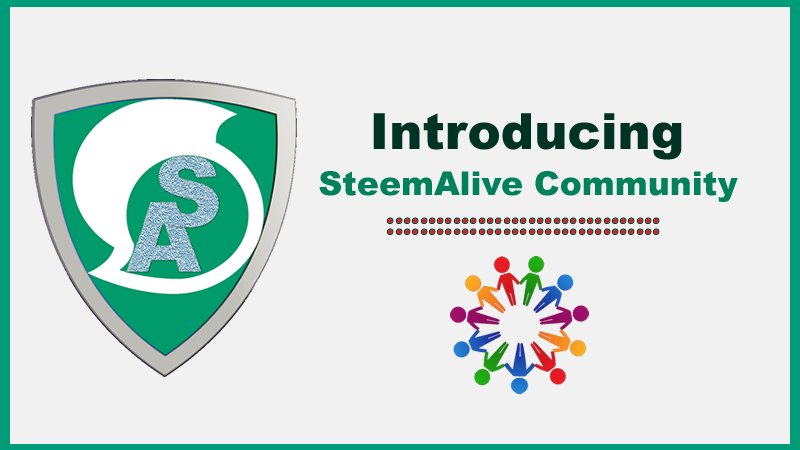 It is with great pleasure and a sense of accomplishment that I @focusnow make this introduction post on behalf of my team, to introduce our communinty @steemalive to friends on this amazing platform. This Introduction post marks a strategic point in our journey to have an organied group and community, with a well-defined goal and objective. This introduction post will be a little detailed, hence patiently read till the end so as to have a complete picture of what we hope to accomplish on Steemit.
To make it comprehensive, we will have a table of contents so that you can quickly jump to some desired topic or sub-topic. Here are the main things we will cover:
1. Whom we are
2. Our community
3. Recruitment plan
4. Retention Plan
5. Reward plan
6. Progress Report
7. Country representative for Diary game Season 2 and country team
8. Support us
9. Conclusion


1. Whom we are
SteemAlive was formed by a group of friends from Nigeria. We have met, some in person, while others through blogging on Steemit. A good number of us are new people that started blogging not too long ago. However, our leader and founder is a seasoned entrepreneur and IT trainer who joined Steemit on February 2018. Our Team is made up of 6 persons, and together we have decided to form SteemAlive. Here is our team profile below: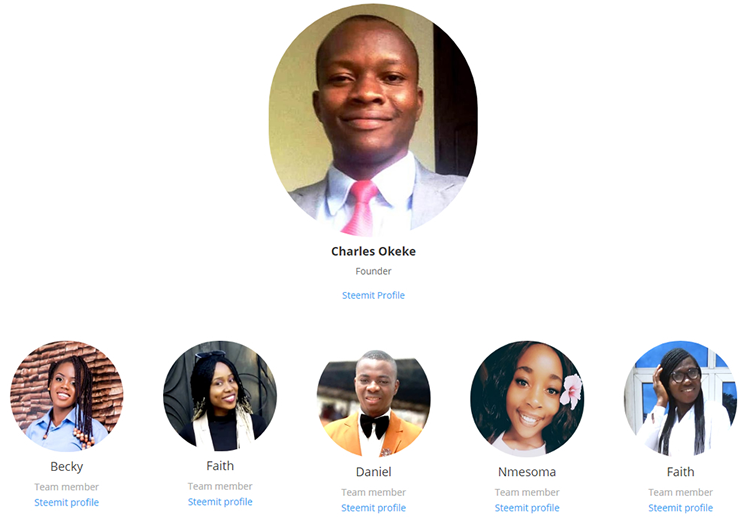 Charles Okeke - Founder @focusnow
Becky - Team member @beckie96830
Faith - Team member @talktofaith
Daniel - Team member @iamdanny
Nmesoma - Team member @mesonia
Faith - Team member @dlioness

2. Our Community
We have selected a name to identify our community. We call it SteemAlive. The inspiration behind this name is the believe among some that Steemit and the Steem blockchain is dead. There are still others that have never heard of Steemit before. So both for doubters and new people, we want to announce that Steemit is alive, active, vibrant and growing everyday.
Here are the links to our account, community and website:
Account: @steemalive
Community: https://steemit.com/trending/hive-167622
Website: http://steemalive.com/
2.1 Our Vision
We see a future where Steemit is the number 1 social media platform in the world. We see a future where Steemit has powered mass adoption of blockchain technology in modern society. We see ourselves in this future and we are happy to work towards that goal. This is our vision.


Source
2.2 Our Mission
Our mission is to take Steemit to every house in the world. We want Steemit to become a household name. We will use all marketing strategies to create awareness for Steemit and the Steem blockchain. If we can get and retain 1,000,000 new users to Steemit in the next few years, we would have accomplished our mission.


Source
2.3 Our members
We started recruiting and on-boarding new people less than 2 weeks now. This was wholly done by the founder, with assistance from team members. Here is a complete list of our recruits and community members so far.
@beckie96830 @venon
@talktofaith @rexgeorge
@iamdanny @thequill
@mesonia @samaria
@dlioness @harrygwec
@smartup @cassieijay
@symplypresh @onyx96502
A total of 14 members from the effort of few persons in less than 2 weeks. We hope to grow this list at a faster rate once we are through with setting up this community.

3. Recruitment plan
We are already using some of the methods that will be discussed below to get new people to steemit platform. We plan to expand on these methods and add new ones to help us widen our reach. Below are ways get new people:
3.1 Website
We invested money to get our brand new, mobile-responsive website. Our website address is: http://steemalive.com/. We know that many people browse the internet and a nice-looking website would be a great we to reach out to people and spread the news. Among other things, our website has a resource center - http://steemalive.com/beginner-guides/. This page will feature tutorials and how-to guides to help fresh people kick-off from basic things like creating their account to advanced things like formatting. Here is a screen grab: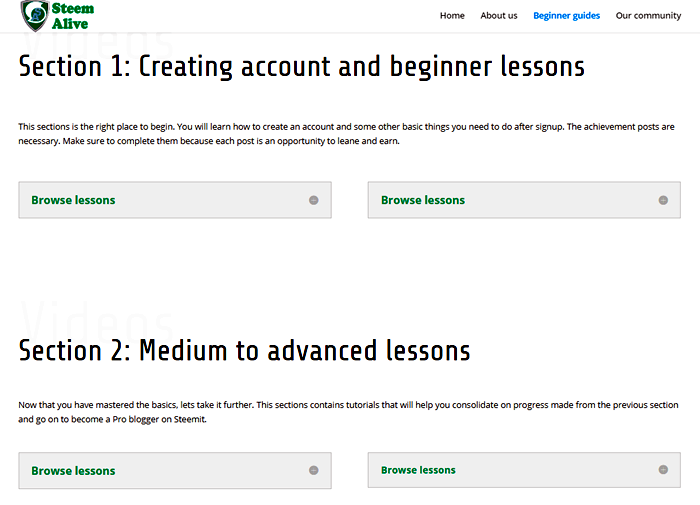 The resource center will point new users to tutorials that will help them learn fast, such as those tutorials made by @cryptokannon. We will update the resource center soonest. Our website will direct people to Steemit and also mentor them on what it is all about. That is part of our recruitment plan.
3.2 Social Media
We will take advantage of various social media platforms to create awareness. We run sponsored ads on Facebook and plan to increase our budget for that. we also plan to use our individual social media accounts such as twitter and Whatsapp to promote Steemit.
3.3 Commercials
We will run ads on popular Radio stations in our area. We also hope to appear on TV programs to speak about Steemit and create awareness.
3.4 Referrals and networking
We encourage our members to refer their friends, family members, workmates, schoolmates and others. If each member tell their people about Steemit, that will result in duplication of effort and increase in the number of potential new recruits.
Our target is not just to recruit end users, we will target investors too. We will look for people that are willing to put their money on Steem power and get ROI. We will also target skilled users that will use Steemit as a medium to promote their career or profession. Hence, we will employ both traditional and digital methods to promote Steemit and recruit new users.

4. Retention Plan
It is much more easier to recruit than to retain, so we will work hardest to retain the newbies we got and always be with them in their journey as content creators. Here are some of our retention strategy.
4.1 Community votes
We will hope to grow our community account as fast as we can so that it will have the ability to vote with value. We have solid plans for the upcoming SPUD for the month of August. We will make sure to support our members especially newbies, with votes so that they will have a reason to keep coming back to create content. When our members see that their efforts are being rewarded with votes, they will be motivated to stay.
4.2 Daily/weekly Contests
As a community, we will hope to keep our members busy by running contests regularly. These contests will be not only be an opportunity to engage, but also to reward winners with prizes. This will also serve as an avenue to motivate and retain them.
4.3 Physical and Virtual Meetups
We will hold regular meetings to motivate and encourage our members. Because of the COVID-19, we may hold less physical meetings, but more virtual ones. We will take advantage of videoconferencing apps such as ZOOM to ensure that we meet at least once every week. These regular meetings will be an avenue to stay in touch with our members, discuss challenges and the way forward.
We hope to include other strategies as time goes in order to make sure that we not only retain our recruits, but also make them active on the platform.


5. Reward Plan
We hope to encourage outstanding members of our community with rewards. When we appreciate the efforts of hard-working people, they are inspired to do more. Here is our reward plan.
5.1 Community Votes
As was mentioned before, we will support our community members with votes. While we will be fair with everyone, larger percentage votes will be given to outstanding performers to motivate them for further action.
5.2 Awards
We will give awards to recognize the effort of all in our community. Our awards will go especially to outstanding performers. We will leave it at the team's discretion to decide on the nature and value of awards. But generally, our awards will include physical gifts, Steem or SBD giveaways, free IT trainings, etc.
5.3 Referral/Retention Bonus
We hope to reward our members for bringing their friends to Steemit. We will call it referral bonus. This will motivate everyone to work harder and bring in new people. We will also reward our members whose recruits remained active over a specific period of time - say 3 months. We will call that retention bonus. This will motivate our members not just to bring their friends, but to help retain them.
We hope to come up with other innovative ways to reward our members in the course of time.

6. Progress report
In an effort to measure progress, we will publish a progress report once, to show what we accomplished as a team that week. This will serve to inform all, celebrate small success, as well as motivate our members to do more. This report will be made every Saturday of the week, unless otherwise indicated.

7. Country representative for Diary game Season 2 and country team
We do not know if the final Country representative for the Diary game season 2 for Nigeria has been selected. If the position is still vacant, we use this opportunity to apply for that. Our team of 6 members will form the group. We hope to receive the opportunity to use one of the @steemcurator01 accounts to vote for all Steemians from Nigeria. If we will have to make another formal post to apply, we will do that as fast as possible.
We also want to use this opportunity to apply to participate as team of 6 in the upcoming Season 2 of the Diary game. Again, if we will need to make another post (formal application), then we will do that after consulting @cryptokannon.

8. Support us
The size of the task ahead of us requires significant funding. We have already spent on Web design, Mentoring and recruitment. We will be very glad to receive any support from you our dear friend reading this post. If you can send us Steem or SBD donations that would be fine. We will soon form a curation trail with our @steemalive account. We will update this post and ask that you join our trail if you wish. Also, we will gladly accept Steem Power delegations and other forms of support to carry out this huge project. Thank you in advance for your kind assistance.

9. Conclusion
We thank you so much for reading up to this point. We started very small, but we hope to achieve great things on this platform in the nearest future. We celebrate the small progress we have made and hope to achieve more. We want to drive mass adoption of blockchain technology using the Steem blockchain. We want to be part of Steemit success story. Together we can achieve it.
Thanks once again, to you all. Kindly resteem this post if you can.
Special thanks to:
@cryptokannon
@steemitblog
@steemcurator01
@yohan2on
@stephenkendal
@cmp2020
Written by: Charles Okeke @focusnow
For: SteemAlive Team