I recognize that I borrowed the title phrase from Star Wars.
In the early 2019 we have seen sluggish sideway market in January and first part of February, then Altcoin's wave started – peaking between April and June, depending on each crypto.
Bitcoin showed us a strong upward wave between March and June.
But from June 26th to the second part we have recorded steady bear trend. During the last part of December, we have seen sideway trend in most of the cases.
However we have seen a reversal from bears to bulls. You can see a selected list of cryptos on bull run autopilot mode.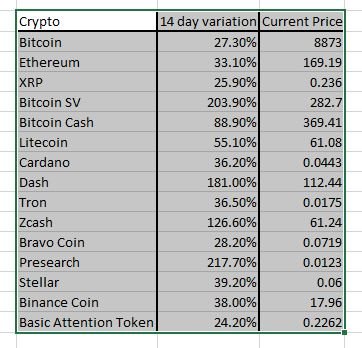 I mention PAR and Presearch because they are on my portfolio included. A lot of altcoins have recorded average growth around 30%. But there were exceptions:
The winner of my portfolio was Presearch with 217% increase, second was BSV (unfortunately I don't have any) – but will analyze this coin closely during this 2020 and my beautiful Dash did its great comeback, with 181% growth. I would like to point out that PRE, BSV and Dash have retraced from the max value, and PRE has found pretty solid support on 0.011 USD.
ZCash made its comeback today, accumulating a 14 day variation of 126%. Bitcoin Cash is an interesting one, this popular BTC fork has soared by 88%.
Yesterday I saw an interesting day for Binance Coin which increased by 7%, around 18 USD levels, and today Litecoin has started to wake up, anyway it did pretty nice comeback of around 55%.
I want to point out that I am not married to any cryptocurrency, even if I have a strong attachment to Dash, I've sold it and exchanged it to Litecoin because I've seen a better potential in Litecoin than in Dash for the next days. But this is my personal opinion, I don't try to convince anyone to do so because there is always a volatility in this market.
You will tell me, you forgot Bitcoin: Bitcoin woke up, too, it increased 27.3%.
Is it an Altcoin wave? Perhaps it's more Altcoin's than Bitcoin's but Bitcoin starts to show signs of steady recovery and getting ready for the king's next jump.
Some traders or people told me about Presearch – I recognize it plunged from its record highs from March to November. But I saw it so cheap in November that I couldn't help it, and bought some of it, only 3% of my portfolio. Despite being it risky, it paid off, since then PRE increased by 500%, so I don't regret it and I'm very happy about this bold move of mine.
Presearch is a nice program, it's a crypto search engine, where you can get paid up to 8 PRE (around 0.09 USD) per paid searches. Referrals are 25 PRE for both parties. If you want to sign up, do it here, remember it's free: https://www.presearch.org/signup?rid=1217188
XLM, ADA, TRX, BAT, BNB, ETH, Bravo, were found in the range between 24% to 40%.
I have to say that I also own 1UP tokens but as a team member, I am not supposed to make any comments on its current Price but what I can say that Uptrennd is a really great company, full of innovation, great vibe and multiple ways on how to earn 1UP tokens, and 1UP token is a deflationary coin. If you want to sign up: https://www.uptrennd.com/signup/NDQwMg
Some days of my life haven't been easy but when I look at my cryptofolio, I feel much better because I know that I have been doing pretty nice job even though I consider myself as an amateur.
I want to recommend you another tip; when one crypto makes a sudden big jump, be aware that the pullback up to 40% is very possible.
This analysis has been performed by myself, it's just a % analysis and before investment or any exchange on your behalf do your own research. BTW this has worked best for me. My opinions and statements are personal, I don't pretend influence your trading strategy in any way.
Despite the dominant bull runners, check also the ones that increased less because in some occasions they can offer higher profits for investors but each case is different, DYOR!
I want to tell you that I detected an interesting opportunity in AIDOC, a crypto currency related to AI which has gotten strong fundamentals lately and the price is interesting.
---
Posted via Steemleo | A Decentralized Community for Investors