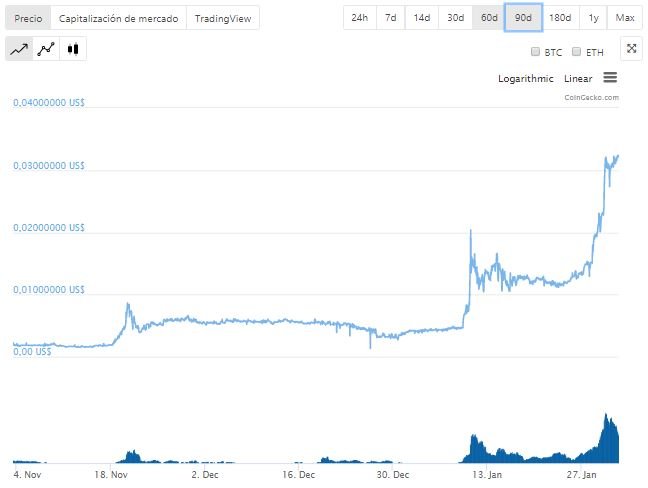 Today it's my birthday and I dedicate this post to one of my birthday gifts.
If someone had told me in 2018 that you could have made up to 1,550 % profit on one crypto in less than 3 months, probably I would have thought that it's a scam.
If you are a fan of one single coin or few coins, and the rest are shitcoins for you, please don't read the following unless you wanna know how I made that profit.
Believe me, even in my own family, they aren't into cryptos. So yesterday I showed my fiancé, look at this, this is what I did with the money destined for dinner at PF Chang's.
Back then, my idea was invest only in top crypto: Bitcoin, Dash, Ethereum, BAT, etc.
At the same time, I started, I joined to Presearch. My reason was: If someone gives you free cryptos – up to 8 PRE per day (0.25 USD), there is no risk for you. Today 1 PRE is 0.032 USD ATM, the price can change; I recognize that cryptos are volatile.
What is Presearch?
Presearch is a crypto search engine which you install on your Google Chrome as a plugin or on your mobile as an app.
For every search you execute, you are given 0.25 PRE. You can do for a day a total of 32 paid searches, and earn up to 8 PRE. Sign up for Presearch from here: https://www.presearch.org/signup?rid=890767
If you do the referral, your friend gets those 25 PRE credited immediately, you will get them after 2 months and after he/she earns at least 100 PRE.
Isn't it wonderful, to get rewarded for something you have to do on a daily basis?
You can set up Presearch for Google, Bing, Yahoo, Youtube and other search engine providers.
After you get 1,000 eligible PRE (which is around 50-70% of all earned tokens – depending on your level) – that means you have to accumulate at least 2,000 PRE, you can withdraw them and exchange them into Bitcoin, Ethereum or USDT.
PRE/USD
I started to observe PRE/USD from 2018, the value of PRE started in October 2018 at 0.06 USD, it fell down to 0.014 USD in February, and then it climbed up to 0.095 in 3 weeks, a dramatic increase of over 400% in few weeks.
Since April PRE started to slowly and steadily plunge to 0.0015 USD to Thursday November 14th, which was a decline of around 98% vs its max value. I honestly stopped paying attention to the value of my PRE since July, and I started to spot of a good buying opportunity this month.
I just felt a hunch. My inner call: you must get it now or never!
I openly recognize that I am not a professional trader – I can identify basic formation of trends and few basis on moving averages but I will study it this year. I base some of my decisions on percentual losses from record highs, that has worked out pretty well for some of my trades. That is also how I got Dash for 50 USD last December.
I took my chances, I didn't go to have dinner PF Changs and instead of that dinner I bought PRE, which was one of the smartest decision of my life.
So I bought small amount of them on HitBtc exchange when the price reached 0.0016 USD last week. I have to admit that HitBtc charged me around 9% for withdrawal of PRE which didn't make me happy at all. It took me around 5 days to buy them on limited
orders – I got desperate, because the trading volume was low and it took time.
3 Bull Runs
And then there were 3 big bull runs for Presearch.
First bull run happened around November 22nd, the price increased up to 300% in 4 days. Then it fell to 0.004 USD. This small "risky investment" lifted up my portfolio worth.
Perhaps it was only me but my crypto portfolio was losing value since August and I didn't do much about it. After the Presearch trade, it stopped. 6% of my portfolio became 24% in 2 months. December 15-17 didn't affect me much, believe it or not.
Second bull run was at the beginning of this January when PRE increased another 400% from 0.004 to 0.02 and then it fell down to 0.01 USD.
And the third bull run is happening ATM, from 0.01 USD it reached 0.039 USD – now consolidating around 0.032 USD.
Now divide 0.030/ 0.00165/1.09 (withdrawal rate of HitBTC) = 1,550% of profit in 10 weeks.
Now, maybe I abandoned my hodling plans for short time because now I need urgently that cash for my living. I exchanged it on Probit for USDT. I will use that money for my expenses: you know bills, supermarket, gasoline, government taxes, sterilization of one black cat (a small panther called Baghera) – I sterilize street cats instead of having kids, you know that's me.
Keyword Staking
There is also one cool thing why you should consider Presearch: keyword staking
If you are doing referrals, you can stake a keyword for a minimum of 1,000 PRE (32 USD) and make an ad, like the one you can do in expensive program of Google Adwords. You stake your PRE for that word, and your advertisement will be displayed there during 2020. If someone outbids your keyword, then your ad won't be shown and you have to increase that amount for 100 PRE more or just change the keyword. This promotion is 100% free for 2020. So now I am participating on it, and if you want to boost your referrals, there's your chance. If you are tired of staking, you can pause it and withdraw your PRE at any time you want.
I wrote this post to share this experience because we have to be open minded and start identifying good opportunities. I noticed that many people think that what matters is the price of one crypto – like Bitcoin for 9,300 USD.
For me, a very important indicator is a % profit or loss. And I don't care if it cost 50 USD, 0.05 USD or 0.00001USD. I also left my emotions behind, they betrayed in some occasions and I learned also that if you start losing in some trade, you'd better accept some small losses instead of losing 90% of your amount.
If you like this article, you can find it also on Uptrennd: https://www.uptrennd.com/signup/NDQwMg
Posted via Steemleo