I am originally from Belgium and those who know the country also know that as a population we are savers.
We love seeing a nice amount on our savings account
Personally I have gone away from this tendency but I recently found an article that shows that the average Belgian citizen really has not.
For those who want to read it : its in Dutch though but there is this graph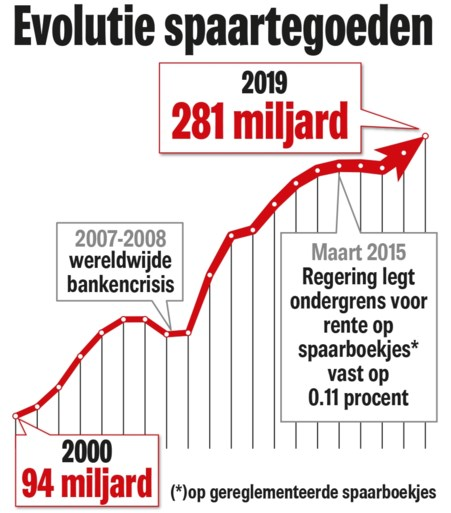 Basically around the year 2000 there was 94 billion euro saved and this has tripled in 2019 and even keeps on growing. This is all on the regulated saving accounts.
Now if you look at this neutrally every Belgian has on average 28100 Euro in their saving account. Inflation is said to be 2%, then add the costs of the account and every Belgian is losing 200 Euro in buying power per year...
But why would anyone put money in an account that has the return of 0.11%
That rate is the legal lowest rate allowed by the government for banks to give. (they are all giving that now)
Well apparently its just bad financial education.
The people do not know any better and of course the banks are not educating them either. They are happy taking the fees and paying out measly interest from the average saver. The rich know what to do and you can be damn sure they are getting richer right now, especially in these times when stock markets are soaring and Gold is rising.
Money should be taught in schools
The sad thing is that most schools are public and as such are being run by the government. The government are the ones printing the money and they really have no benefit for educating the people. Once the population found out that their money is based on nothing but thin air and gullibility their would be a run on the banks. And the banks do not have enough money to pay out everyone in case there would be a run because of banking regulations dictating that fractional banking is ok.
Sound understanding of how the financial system works is something that is sadly missing for most.
Personal view
I am glad I found out in time and am hedging my bets with crypto and gold as I do not really thing stocks are still a good idea being at the peak where they are. I assume that the risk to rewards ratio on stocks is not that healthy. The risk to reward on crypto on the other hand seems very healthy to me right now.
I have kept an emergency fund in my bank and my savings account but everything above that goes in interest bearing stable coins or in cryptocurrencies.
what is your view?
Posted via Steemleo