How quickly the price action changes, just a couple weeks ago we were talking about the beautiful ascending channel bitcoin price was in.
Now, we have a toppy looking formation and the end result could easily takes us to 7K
7,600 Support Save Us!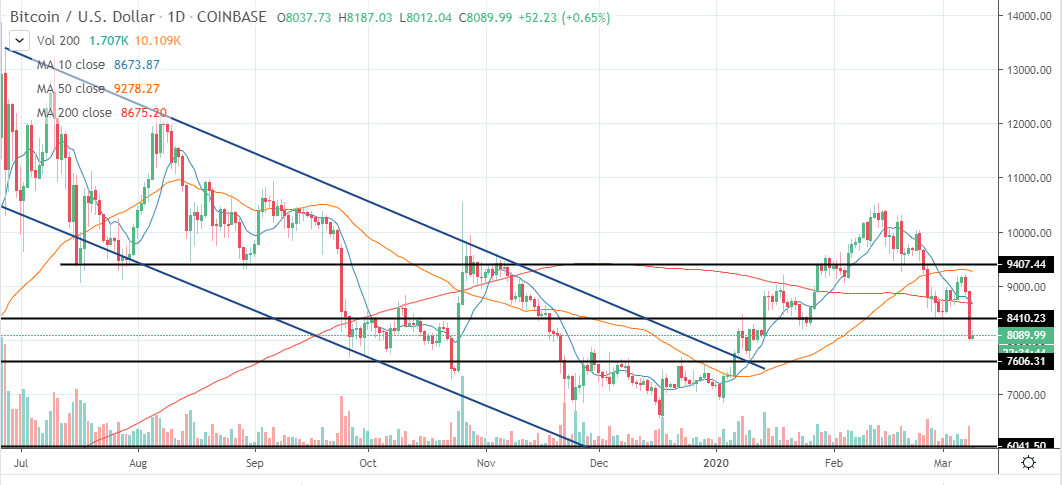 Looking at the chart you can see that price dumped through the 8,400 area support which leaves us exposed to the 7,600 level that has come into play many times.
Buyers need to step in a defend that price if we were to trade there otherwise 7,000 is likely the next stop for price.
On the flip side if price can rally above 8,400 and then somehow close above 9,200 in the subsequent days to follow that would change the tone and negate this bearish price action.
All the Markets Getting Hit
Given that everything from the stock market to oil and bonds is getting REKT. I'd be hard pressed to expect crypto to rally. The hope that crypto will play out as a safe haven doesn't seem to be playing out at all.
If you think about it - crypto is still a "speculative" asset in the mind of the masses. The only ones grabbing it as a safe haven is us crypto heads.
Maybe one day it will be viewed differently, we just aren't there yet.

Posted via Steemleo