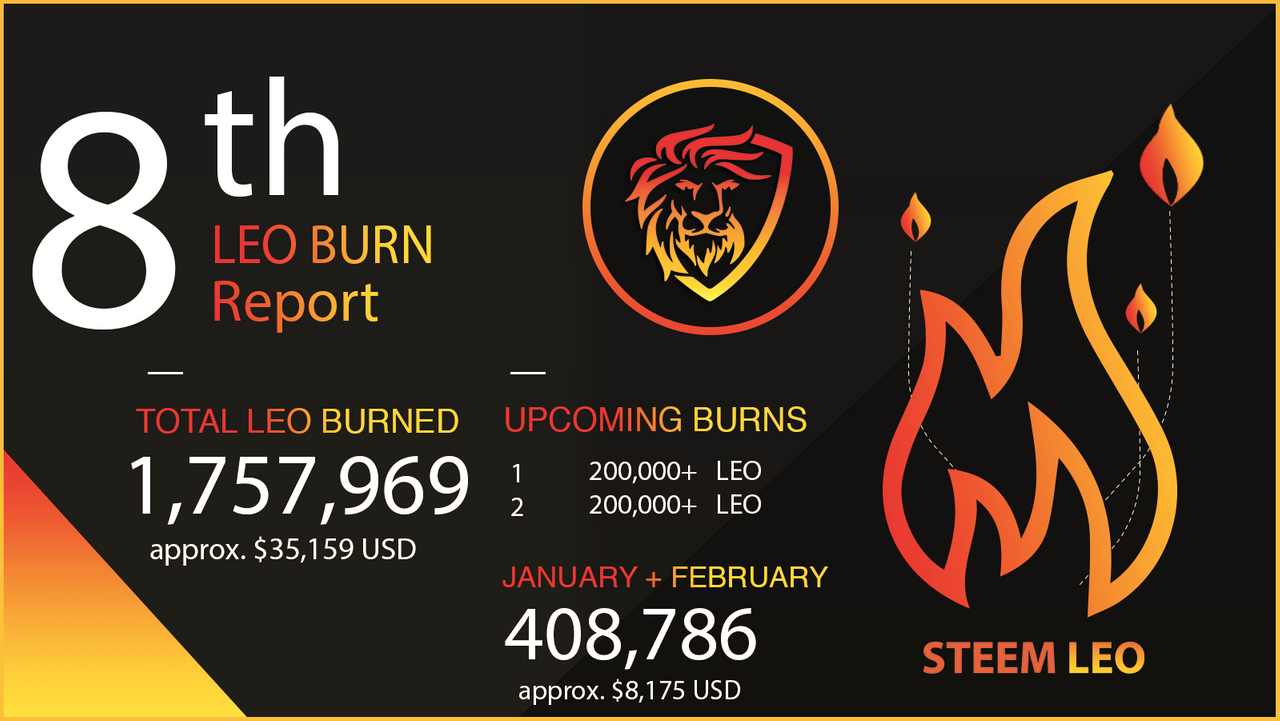 The last official LEO burn report was posted in December 2019. With all the latest happenings on Steem and within Steemleo, we missed the January burn report and this February report is a few days overdue.
This report will cover the numbers for the January and February burns. Since December, we've had a lot of cool things happen for Steemleo. We've upgraded the Leodex in a major V3 overhaul of the entire site and have continued to expand the services (https://dex.steemleo.com/services) offerings. We also launched Version 1.0 of Leoshop which is an open digital marketplace for goods and services where users can buy/sell with STEEM/SBD/LEO.
One of the primary focus points for the Steemleo community is building the sources of revenue that Steemleo generates. These can be referred to as sinks since the vast majority of all this revenue is used to burn LEO. Leoservices, ad impressions, Leodex listing fees and Leoshop transaction fees have taken over as the primary sources of these burns.
Marketing our community across a multitude of platforms has recently taken top priority. We're now pumping out daily content across platforms such as Twitter, YouTube, Linkedin and Medium. The ad revenue available for burns has increased directly in proportion to the amount of content we put out. More to come in the marketing report.
Here's how our burns are looking for the months of January and February:
In total, we've burned 1,757,969 LEO tokens (31.35% of the total supply).
In the Past 2 Months, we've burned 408,786 LEO tokens (10.6% of the circulating supply).
We also have some big announcements on the horizon in regards to marketing, ad revenue and LEO token inflation changes at the 12-month mark. Expect those updates in early March.
LEO Sinks:
Sinks are one of the most important aspects to a healthy token economy. If the underlying token isn't used for anything and burned up, then the supply will perpetually inflate and negatively impact the price. Below is an ongoing list of our major sinks for the LEO token.
1). Crypto Fantasy League. --> Join our discord, build a play money crypto portfolio and compete to win LEO by having the highest ROI each week. 15% of the weekly LEO prize pool is burned.
2). SteemLeo LABS (Now Called LeoServices). Leo Accelerator for Businesses on Steem. We're working 1-on-1 with businesses, tribes and token creators to help them with their launch and various other things like token airdrops, marketing, etc. In exchange for all this, we accept either LEO or STEEM which is primarily used for burns. At first, L.A.B.S. didn't have an interface and it was all via discord. Now we are displaying the services we offer on https://dex.steemleo.com/services. This page will be continually updated as our services expand to SMTs, marketing, etc.
3). We're burning all of the LEO posting/curation rewards earned by our main @steem.leo account (so upvoting any post made by @steem.leo is effectively earning you curation rewards but then burning our author rewards and depleting the supply of LEO — also referred to as a "burn post")
4). Burn LEO to promote your post on the Steemleo.com interface --> if you send LEO to @null with your post link in the memo field, then your post will appear as promoted on our trending page and those tokens are permanently removed from the supply
5). Ads on Condenser and LeoDex. We partnered with Coinzilla to display their ads on the SteemLeo interface. This happened a few months back and has been on a steady upward growth trend, especially with our latest marketing strategies on Twitter, YouTube, Linkedin and Medium.
6). Ad Spots on the Steemleo Show Podcast (future sink). We've mentioned this sink in the past, now we are looking at a Spotify ad program where we can run pre-roll ads on each podcast episode which would work similarly to ads on condenser by burning tokens from the market.
7). Syndication Posts. Syndicated posts burn a portion of the LEO earned. We are working on a refresh for our syndication strategy in order to get in front of more content creators outside of the Steem blockchain. Expect an official update on this later in March/early April.
8). LeoDex. Over the past few months, LeoDex has burned over 20,000 LEO in listing fees and gateway fees -- not including any of the ad revenue it earns. We're just at the beginning stages of ramping up this mechanism for sinking LEO tokens as we expand the LeoServices page, increase the ad impressions and add more Swap (https://dex.steemleo.com/swap) features.
9). LeoShop. LeoShop is a digital marketplace for selling goods/services in exchange for STEEM/SBD/LEO. Version 1.0 was recently released and we have found several bugs/necessary features that need to be added to streamline the shop and put it in front of a wider audience (outside of Steem). Expect a major visual/feature update in the next 30 days.
Amount of Staked LEO Is 89.7% of the Circulating Supply: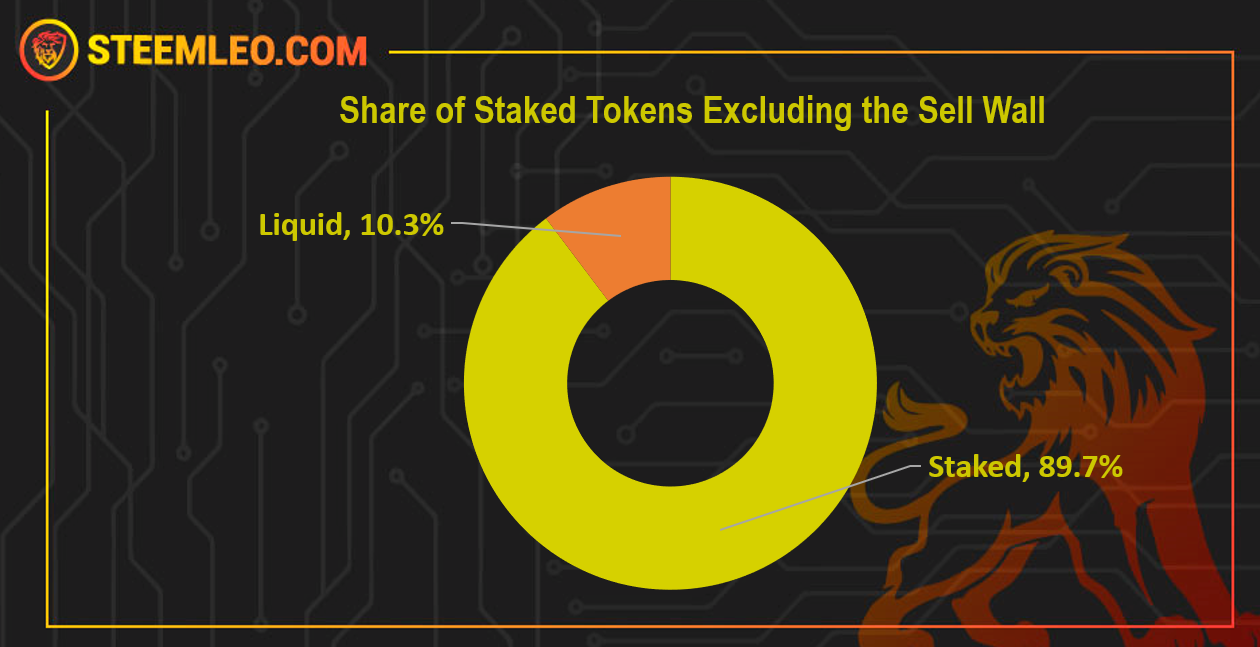 See More SteemLeo Statistics From Our @leo.stats Account
2 Months Ago (December 2019), the amount of staked LEO was 2,783,450.
This month, the amount of staked LEO is 3,112,546. An increase of 329,096 LEO or 11.82%.
That's 80.86% of the circulating supply if you factor in the sell wall. (last month, this number was 72.25%. So we're seeing a continuation of this trend of LEO being staked and burned faster than its earned).
Technically, the sell wall doesn't really count as those tokens will likely never see the light of day. So if you remove the 400,000 tokens still remaining in the wall (which will be completely burned in 2 months), then the actual staked number looks more like this:
2,783,450.41 LEO staked = 90.2% of the circulating supply (when excluding the sell wall).
This means that less than 10% of the LEO supply is actually liquid and "available" for the market to trade.
As I said last report, it's not uncommon to see people complain about liquidity when they try to accumulate LEO. There is good and bad to this problem but it means that when a new whale emerges, we see the LEO price jump anywhere from 50 to 200% or more.
LEO Price & Buy Walls
When all of the Tron/Tronit/Justin Sun news broke out and Steemians across the globe started freaking out about a potential token swap and threat to the blockchain, we saw a massive dump in the LEO price. You can see it clearly on the chart. This happened to many Steem-Engine tokens.
The interesting thing about a rising STEEM price is that LEO has held it's value in terms of $ at a relatively steady pace (see the second chart below from the @leo.stats report).
The market for LEO (and for all SE tokens) is still very young and very much developing. It's interesting to see how the LEO/STEEM and LEO/USD relationships develop as we see the market mature.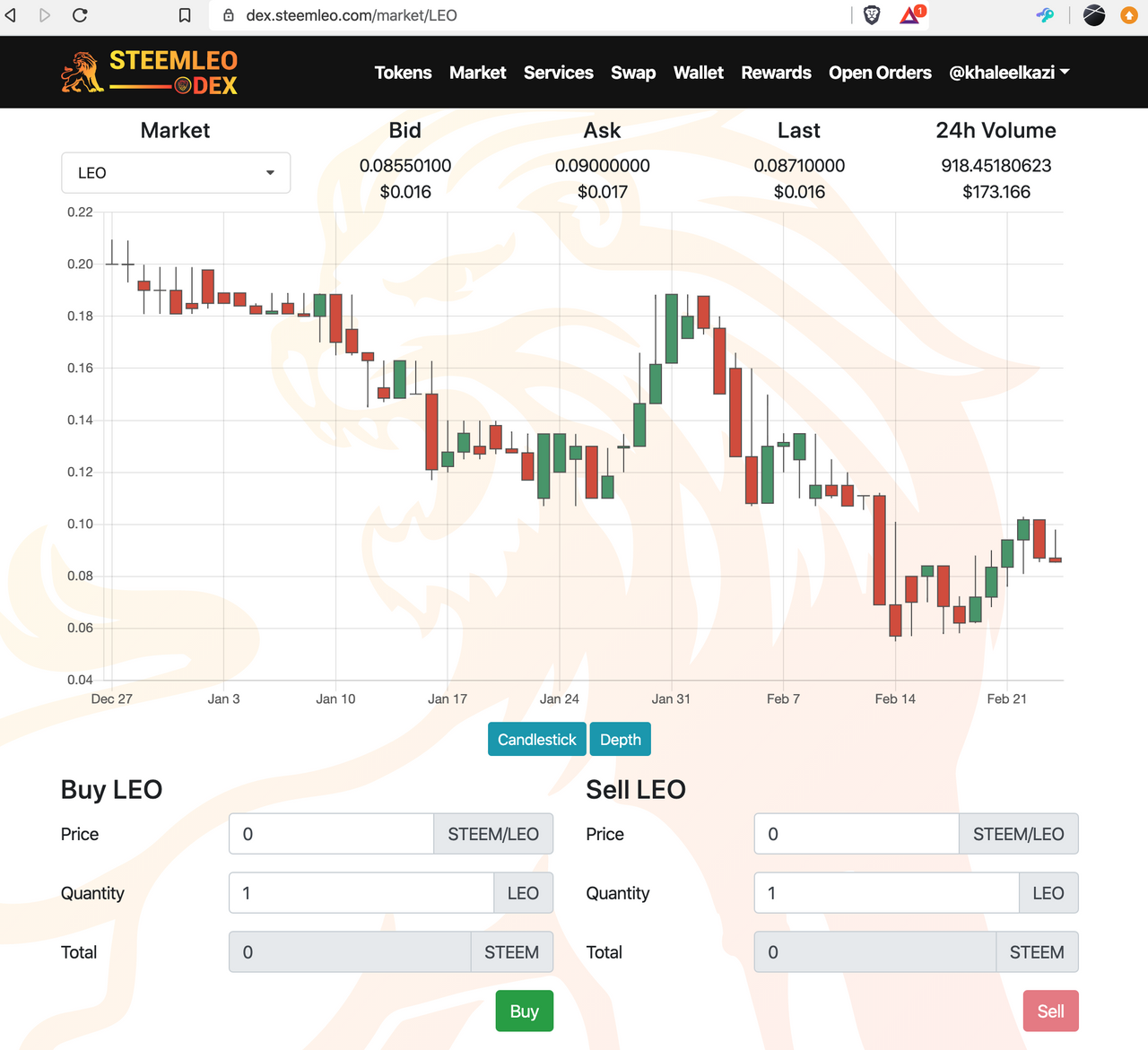 https://dex.steemleo.com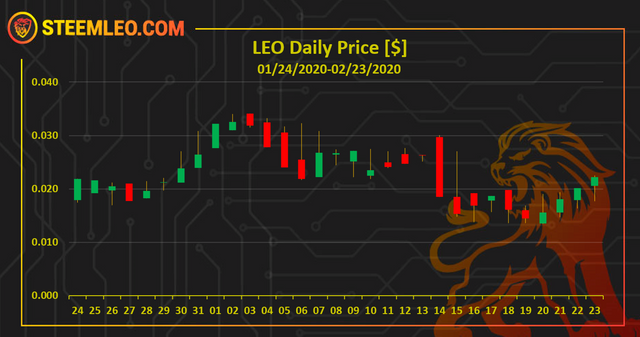 See More SteemLeo Statistics From Our @leo.stats Account
---
Tronit and The Potential Impact on SteemLeo
I didn't want to make this burn report about the Tronit situation because I still believe that it will end up being a positive thing for Steem in the long-run, but I've gotten a lot of DMs about what will happen to SteemLeo if something happened to the Steem blockchain.
SteemLeo runs on a side-chain (Steem-Engine) using custom JSONS to track token activities which means that it can run on any chain that allows us to transmit text data. Even if we have to track it manually by hand.
This means that SteemLeo is not Steem-dependent. We can operate virtually anywhere we want. We could even spin up our own version of Steem if we wanted to. Steem is an amazing community and an incredibly strong blockchain. I love it here and I'd sink with the Steem ship because I believe that we'll be on the right side of history no matter what. With that said, SteemLeo and the LEO token will live on no matter what happens to Steem. Just as I believe the Steem community will live on no matter what happens to the "Steem blockchain".
Asgard Steem is not a place, it's a people.
SteemLeo is not a place, it's a people.
Our community is what matters most, not the technology that we decide to run it with.

all of our LEO author/curation rewards on this post are permanently burned from the token supply

Posted via Steemleo