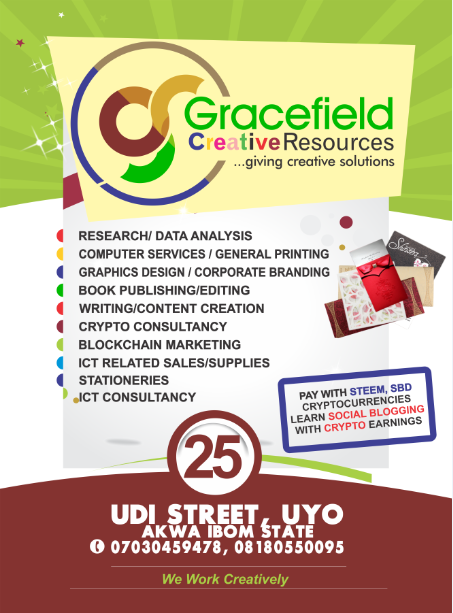 Hurray! it's the beginning of my working week 001. My Creativity Hub is officially opened for business in 2020. We celebrate all our clients who patronized us in 2019 and we've been able to make some tangible developments and innovations in my hub to give clients reasons to continue with us this year.
One of the powerful development apart from the physical aesthetics of the office space is our readiness to help all our clients to invest in blockchain and particularly, steem. This we'll achieve by officially beginning to receive steem and SBDas payment options though manually at the moment.
We are giving a promise of 20% discount to all payments made with Steem and SBD at the moment. Each client that comes in automatically would get to know about steem even in our Clients' Information Form and we'll give a brief on why it will be great for them to own a crypto account for free and how awesome the steem ecosystem is.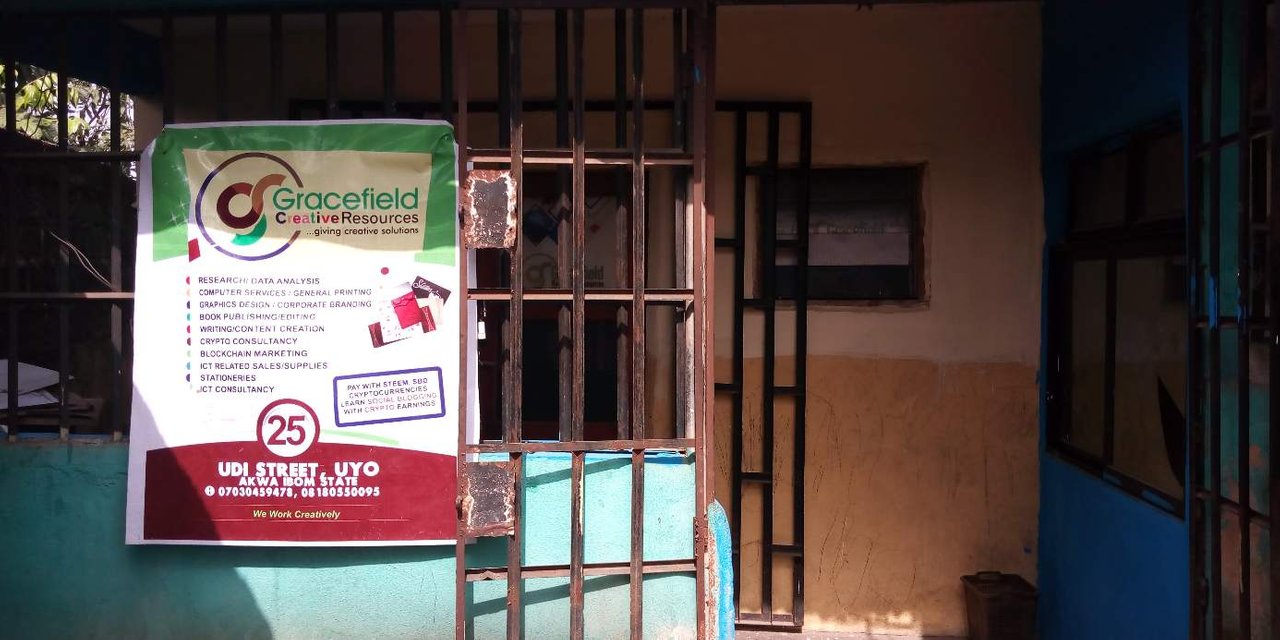 This morning, I decided to hang out the flex banner outside to serve as a signage for us in our newly renovated creative space although some renovation and re-branding works are still on course.
In the Creativity Hub, we primarily carryout research services to individuals, academic communities and organisations. Just as contained in our motto: we give creative solutions.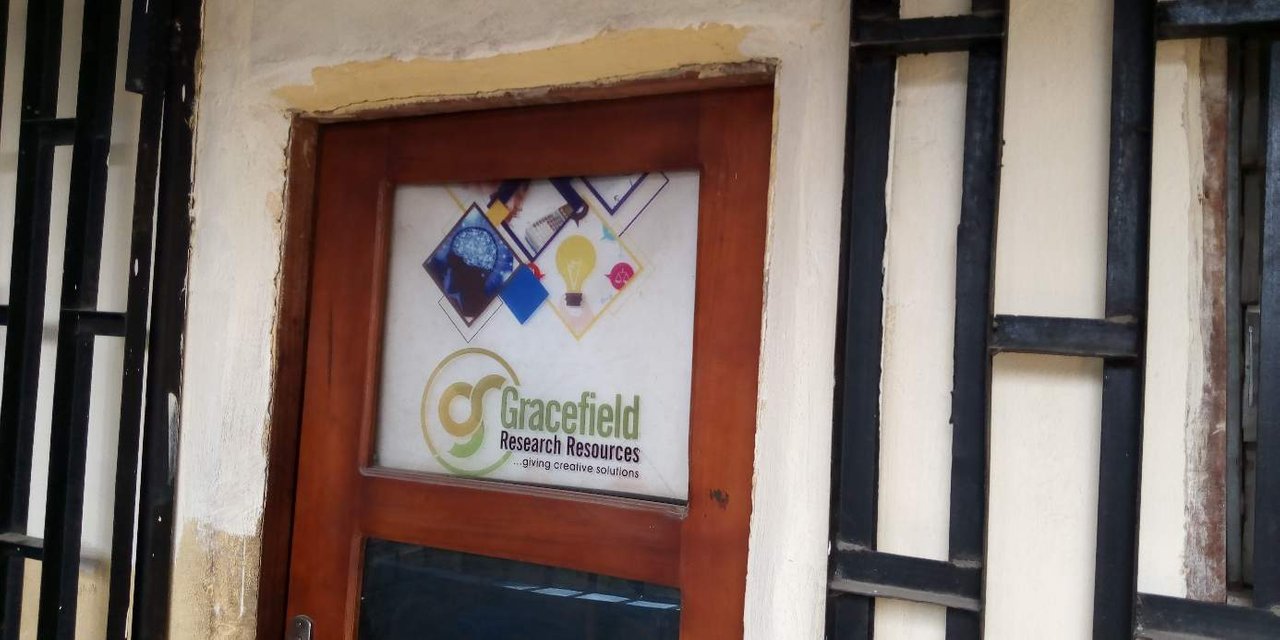 Services offered in our creative hub are:
Creative Writing
Research Consultancy
Data Analysis
Graphics Design/Corporate Branding
General Printing
Content Creation
Sales of Stationery
Book Editing and Publishing

In the flex banner is clearly written that we receive Steem, SBD and other cryptocurrencies lke Bitcoin, Ethereum and Telos as payment for our services. To also spice and encourage clients, we are slso offering free training for social blogging on Steem and its interfaces depending on Clients' interest.
Right below is a view of the interior of our hub. We have a #paywithcrypto poster on the desk directly facing the entrance and notifying clients that we now receive Steem and SBD as payments for services.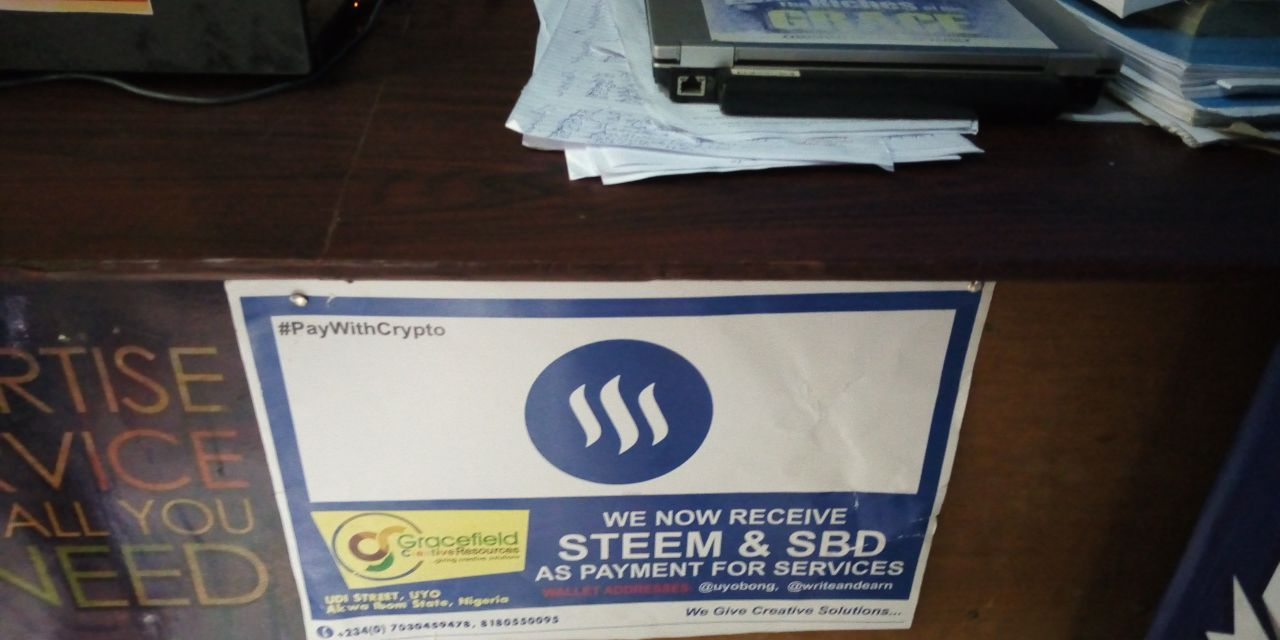 Moreover, our working gadgets have stickers of Steem dapps and projects on them. Nearly all our laptops have the @threespeak stickers on them and they obviously attract the attention of our clients.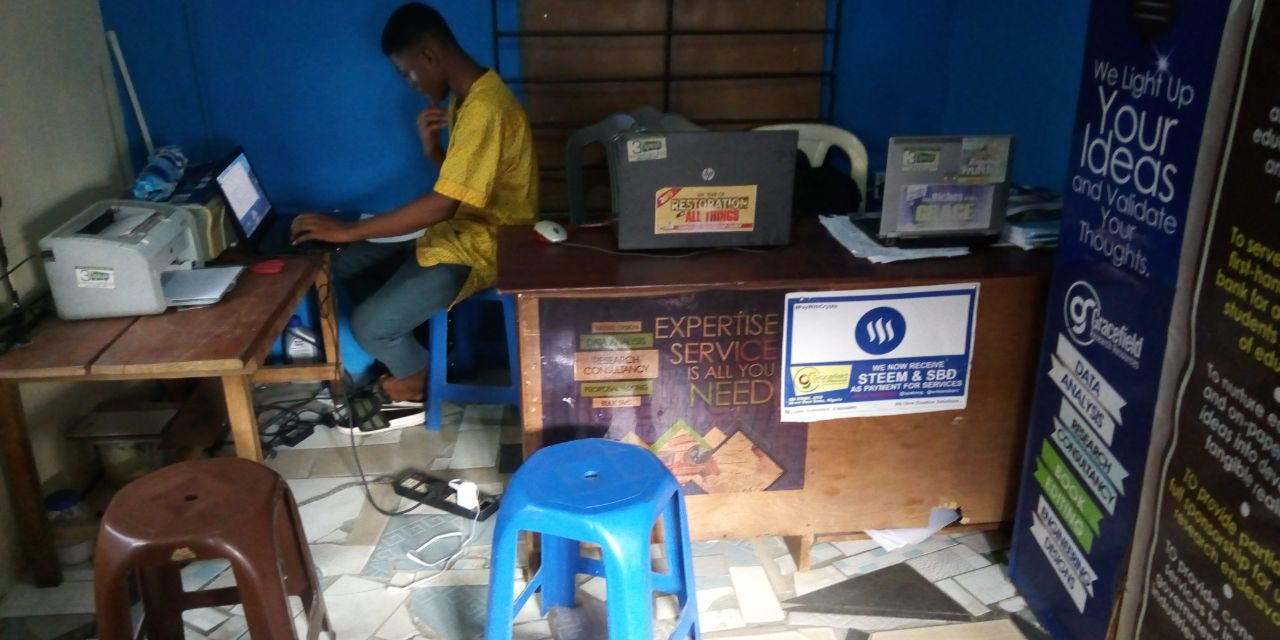 For me, this is a big way to resume my working season in 2020. Soon, we'll create a #creativityhub community for all our clients and affiliates who join steem to enjoy community curation.
This is to me a holistic way to promote Steem and also encourage others to invest in Steem. As part of the modules to invest in Steem, I will dedicate 2% of all service cost to clients to invest in Steem on their behalf. Each of them would be able to access the funds at the end of our service cycle and I imagine how glad they will be to know they have an investment by patronising us.