Perhaps we can come to some sort of a win-win after all
Listening to the conversation between Justin Sun and the Witnesses it sounds like Mr. Sun just wants to make some money...
As of right now I am only half way through it, but that is my opinion of things thus far.
Here's the recording of their conversation if you'd like to listen along:
In my opinion him making money as well as everyone else making money should be something we can come to some sort of agreement on.
A win-win of sorts.
Unless of course we are dealing with Dwight, which he aren't, hopefully...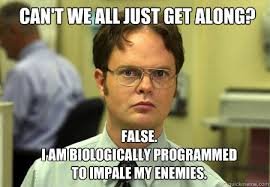 (Source: http://www.quickmeme.com/meme/3fwe)
Like I said, it sounds like Justin mostly just wants to make money off of his investment, which hopefully is something we can work with.
Stay informed my friends.
-Doc