Hello Everyone!!!
Hope all are safe and Good!!!
Last November 29, 2021 I attended the wedding of my boyfriend's @jearo101 sister and two cousins. It's so good the feeling to witness such beautiful women and men who loves each other and be tied in the house of our creator.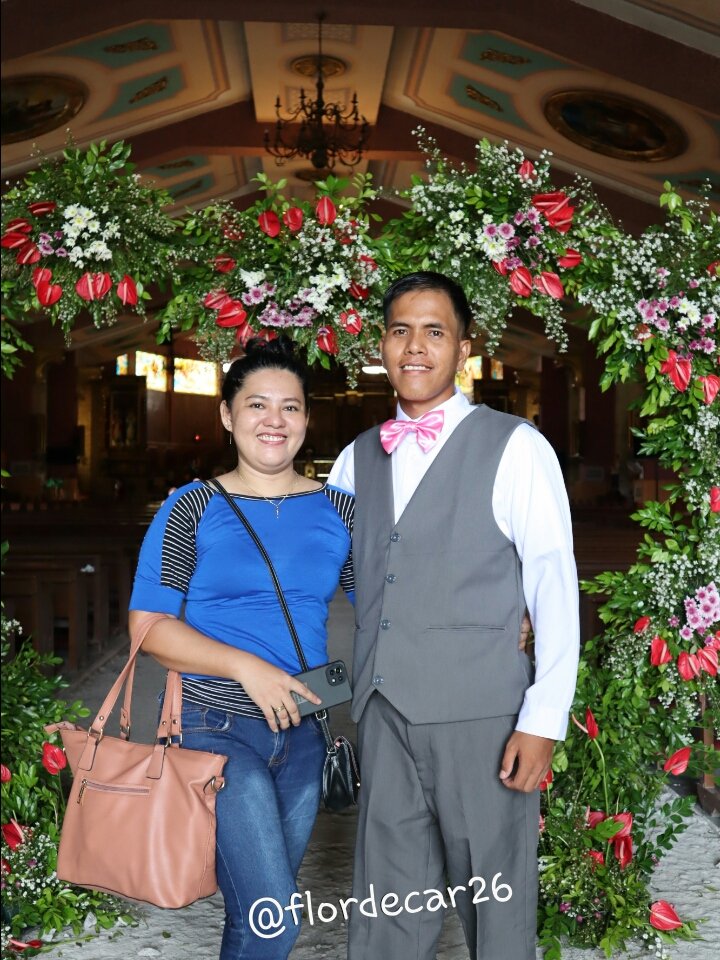 The day before the said wedding the sister of my boyfriend chatted me and asked me if is it okay with me to helped her event organizer to do there "backdrop" and I said yes. And Oh by the way the other couple is in another reception hall. So the backdrop that we are preparing are for the two couples.
So I arrived there in the reception hall right after I got off at my work. I took first my lunch at home and a minute later my boyfriend arrived to get me. And as we arrived there the organizer and some of my boyfriend's cousins and sibling are cutting the wide white cloth. And some of them are just seating on the chair while holding on there cellphones. So I asked if what should we do, so that we can help. But the organizer didn't response us. Maybe he is shy to command us, that's why he himself did it.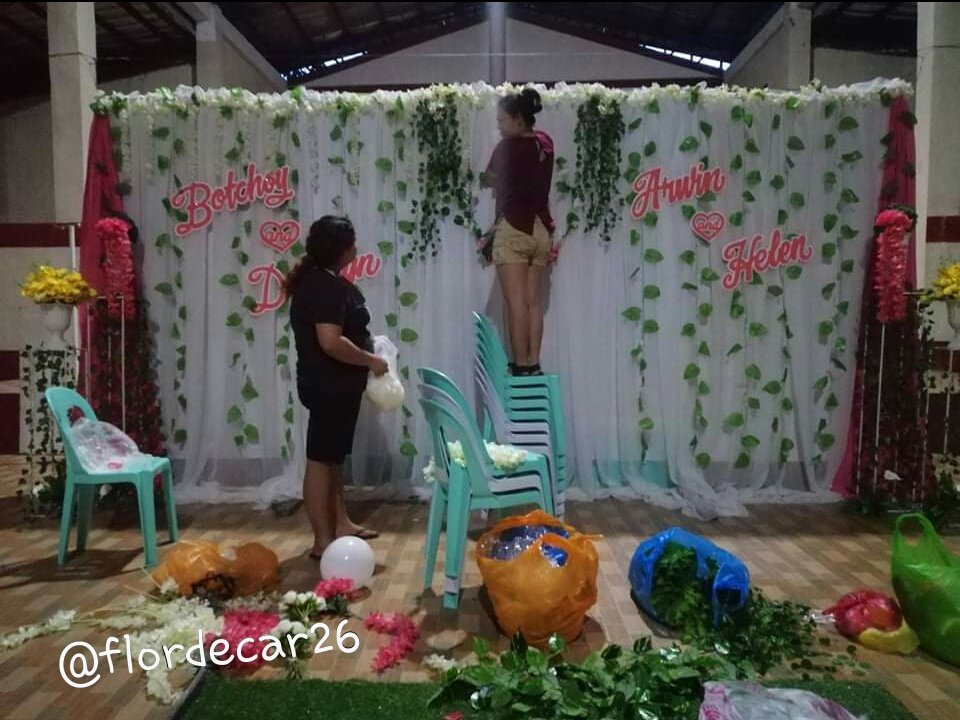 But what we did in order to help is that, we follow on the other side on what he is doing on the other side. And we suggest somethings to be added on the designs so that it became more beautiful. It's just so simple but we love the simplicity of it.
I went home at around 7 in the evening. Me and my boyfriend took our dinner. And after that we took a rest, while watching movie on the television. It's a tiring day for me. It's really not so easy preparing and having a wedding.
On the day of the wedding my boyfriend get me and my sister at home earlier before the wedding started. We went to there home first. As we arrived there all of them are busy changing there clothes and my boyfriends niece are having there make up, which the girlfriend of his brother is doing it.
They need to be rushed because the time of the wedding is fast approaching. My boyfriend is one of the grooms men so I helped him to wear his tuxedo, so that he will become more handsome. I put a little amount of lipstick on her lips to make it looks like a redlips. After that were the first one who went to the church and prepare somethings on what is not ready yet. And oh there is. There's not yet a candle on the side were his sister will seat. And the bag that I brought from there, all the things that there going to used are there. So My boyfriend put the candle on both side of the place were his sister will be seat.
And so to fast forward, the wedding started and I'm one of the photographer using the cellphone of his sister. His sister asked me to be a photographer. And so I took a shot more until the wedding ceremony has done. It was really an unforgettable memories.
That's all for now steemians. Keep safe alwaya and God bless.
truly yours,