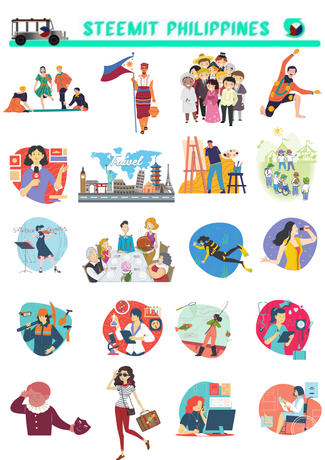 To all Filipinos, "we have grown by numbers and we are truly grateful for your continued support and dedication".Day by day the Steemit Philippines Community have received numerous post from the different genre from our users. We would like you to continue to show us your versatility in writing hoping that these posts will generate ideas of what to post in our community. For this matter, we've also come up with an idea to make a proper tagging on every post.
What to Post in Steemit Philippines?
Besides from the Diary Game which is an original theme from Steemit Team, our community also welcomes all the post that comes in your mind like your talents, about Filipino culture, your daily life, discovered recipes, funny videos, health, your DIY, hobbies, travel, motivation, art, the latest news, anything that is engaging that has sense worth reading and your reader will learn something from you.
Reminding you again, for you to have a chance for curators to upvote on your post you should submit a quality post not less than 300 words or more. Also, your post must pass the required plagiarism standard. You can check personally your post and the number of words on this free plagiarism checker tool.(Note: This is a free plagia checker tool, it is better that you check your post before posting to make sure your sentence are unique, and if not, there any time you can rephrase it to make it unique. Be aware that that sometimes this system also has errors and you will be plagiarized in your post especially if you posted a few days ago.)
What are the proper tagging in Steemit Philippines posts?
The main reason why there are post-left unvalued is because of inappropriate tagging. After publishing an article, with all the hardships that we've been through we might get frustrated of being unvalued just because of improper tags. That's why proper tagging plays a significant role in every steemit post. It is the way where most curators checked our posts. So, from now on, we should not forget to follow the proper tagging that is relevant to your posts which are listed below. This is not only for your contest's entries but also we ask you to follow proper tagging in all of your articles posted here in the Steemit Philippines Community.
Here is the list of proper tagging of your Steemit Philippines posts;
We hope that this post might help you and give you information about proper tagging. Your adherence to the given information is highly needed. Know that our cooperation matters the most.
Thank you,
@juichi
MODs for Visayas Region