A Blessed Day to our Steemit Philippines Members!!!
We have shared a few days ago a #Club5050 tag Eligibility Tool introduced by @tomoyan which is a big help for us to monitor our eligibility status for the #Club5050 program of the Steemit Team. The previous version of the #Club5050 Tag Eligibility Tool is not yet accurate but today, we have found that there is a new update of the tool that has an excellent user experience so far.
Just a reminder to everyone that the #Club5050 tag should only be used if you are eligible to use it, but how do we know if we are?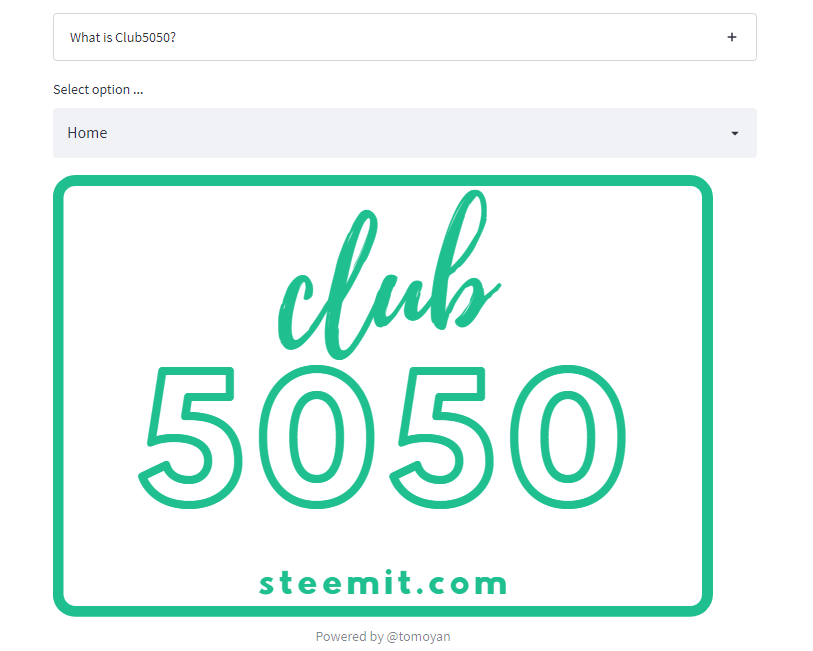 Steemit Club - Streamlit Home Page:
Here is a new updated #Club5050 Tag Eligibility tool introduce by @tomoyan from the Steem Japan Community which is a big help for us to monitor our #Club5050 eligibility, and even with the #Club75 and #Club100 eligibility.
Just Click the Link Below:
---
Just remember the notice you can read after you click the Expand on the Homepage which states what is #Club5050, #Club75, and #Club100 all about and how to be eligible.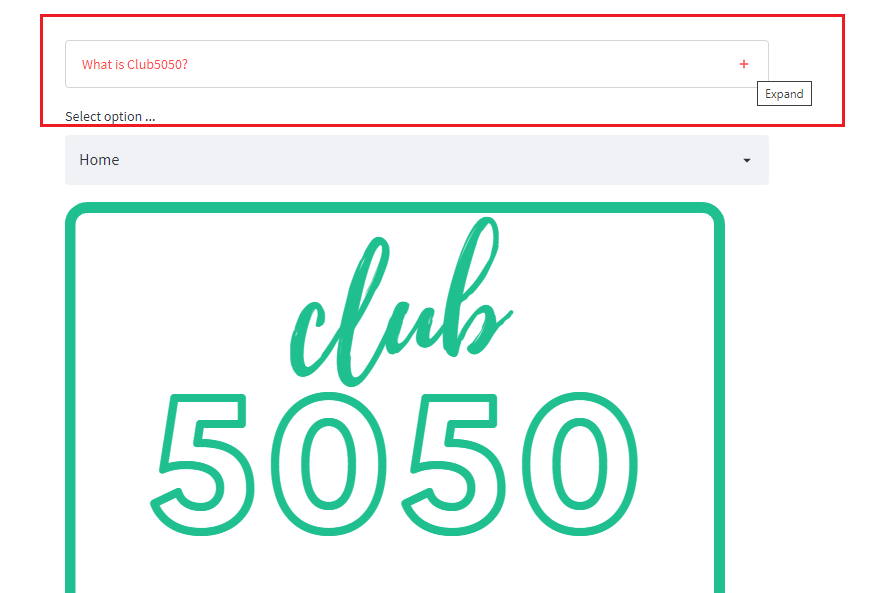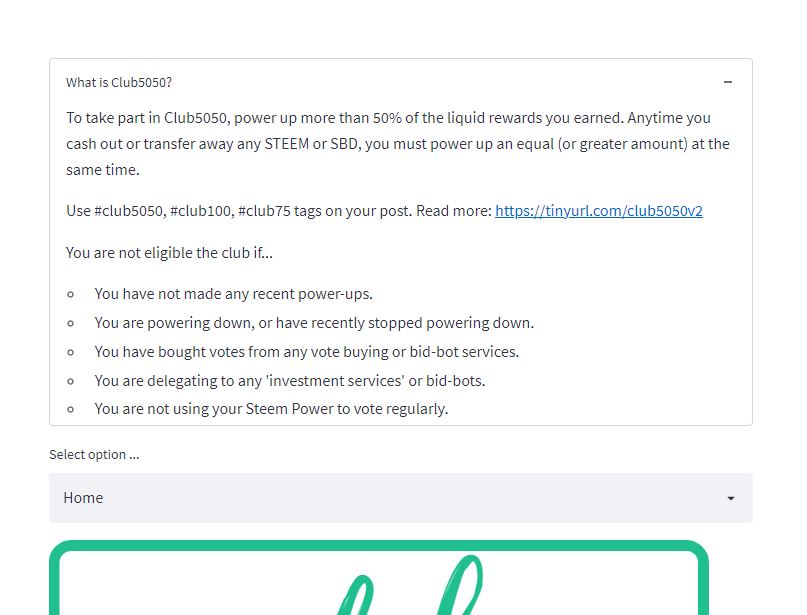 There are newly added features in the updated tool and you can see them after you select an option.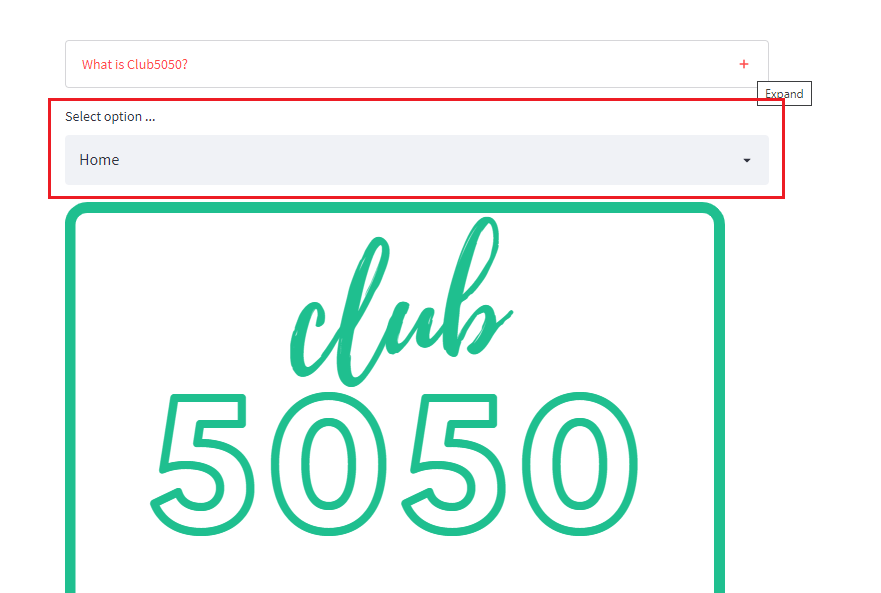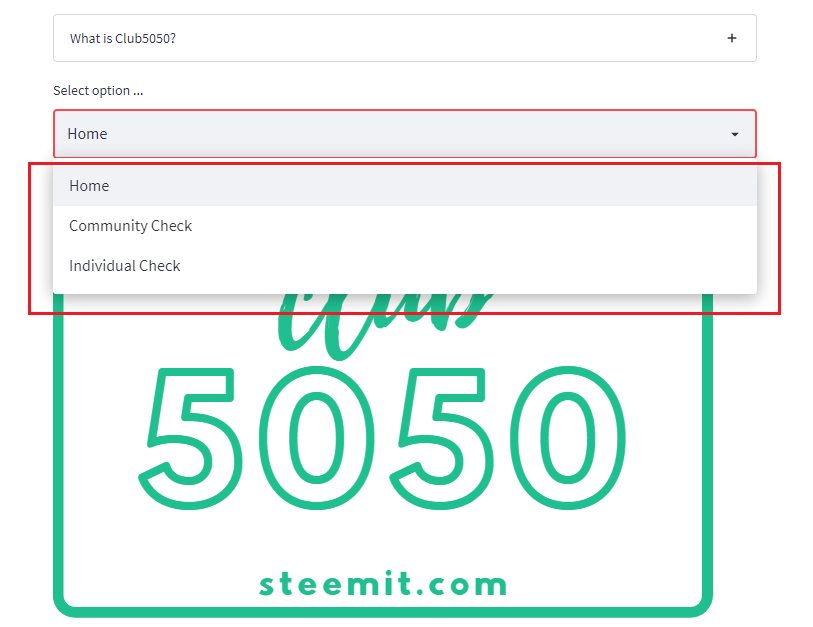 We can now see the options such as the Homepage, Community Check, and Individual Check.
Now, let us start first with the Community Check option which will allow us to check the number of members who have used the #Club5050 tags and other Club tags which shows either eligible or not.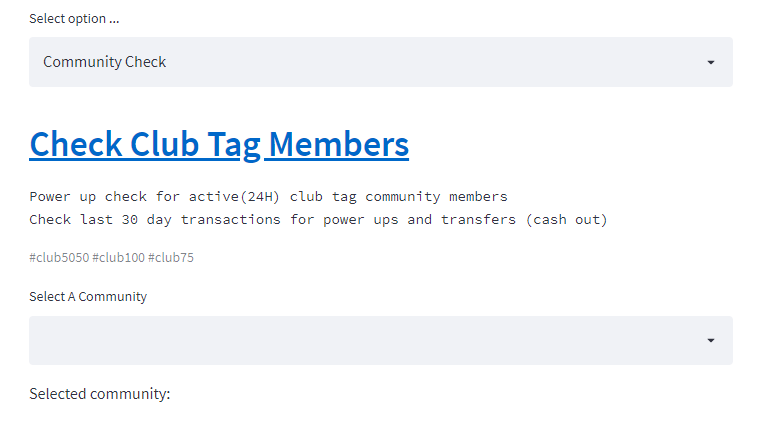 Just select your desired community you want to check the eligibility of the members and for this example, I will check our very own community, Steemit Philippines.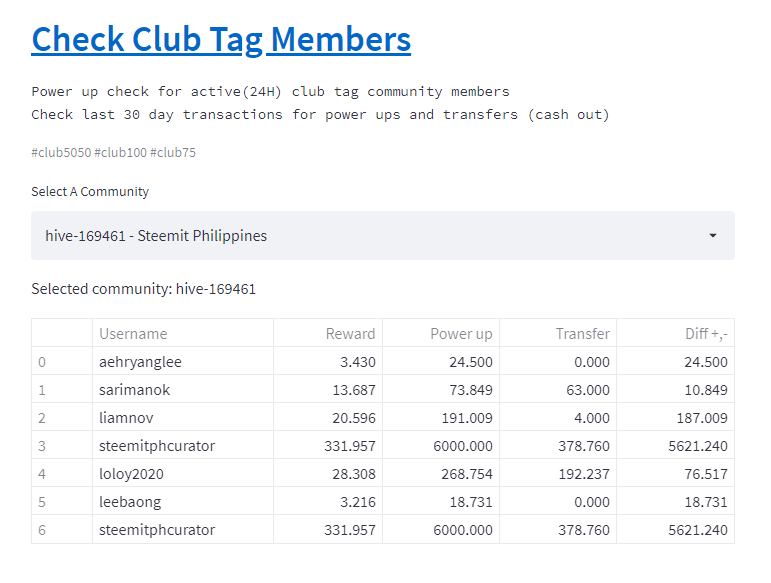 If you see in the list that your Diff or Difference, the leftmost side of the column, is in RED color, it means that the member is sending or cashout much higher STEEM than what is powered up, but as far as we can see from the list, all of the members are eligible to use the #club5050 tag and have a chance to be supported by the Steemit Team.
Let us proceed to the Individual Check option which will allow us to check the status of the member's eligibility to the #Club5050 and to other Club tags.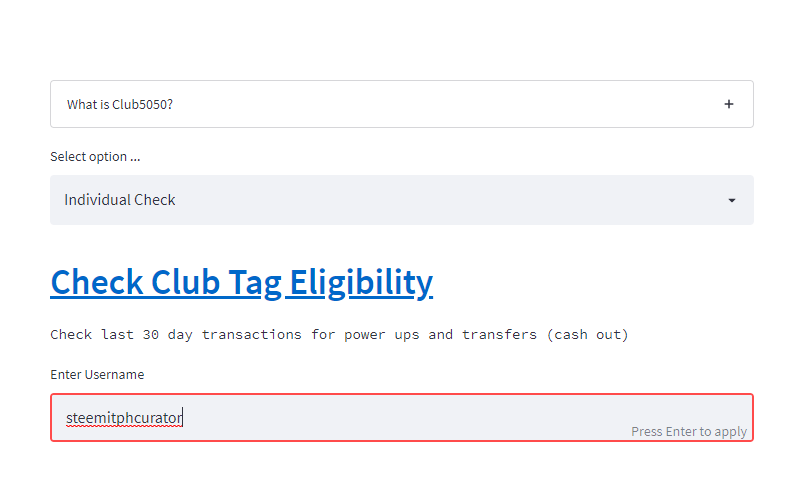 For example, let us check my own eligibility to the #Club5050 program. Just type the desired username you want to check then press enter to continue.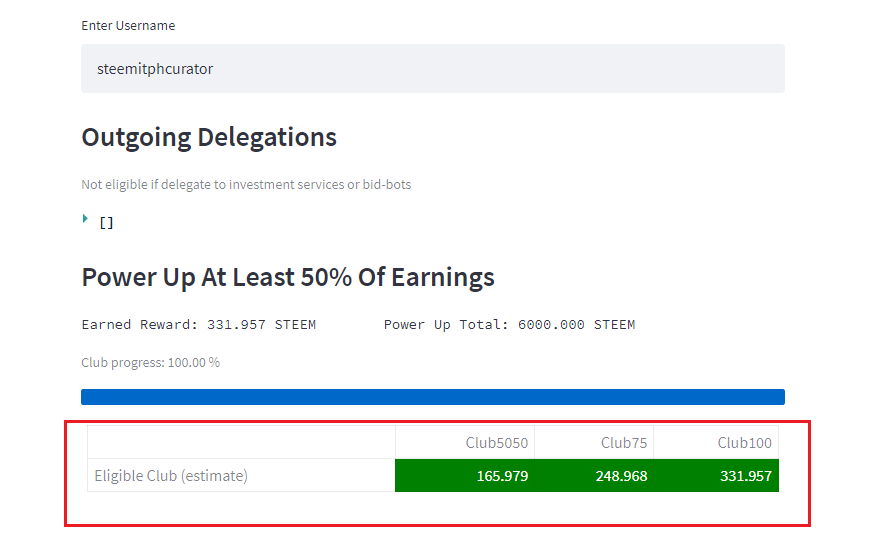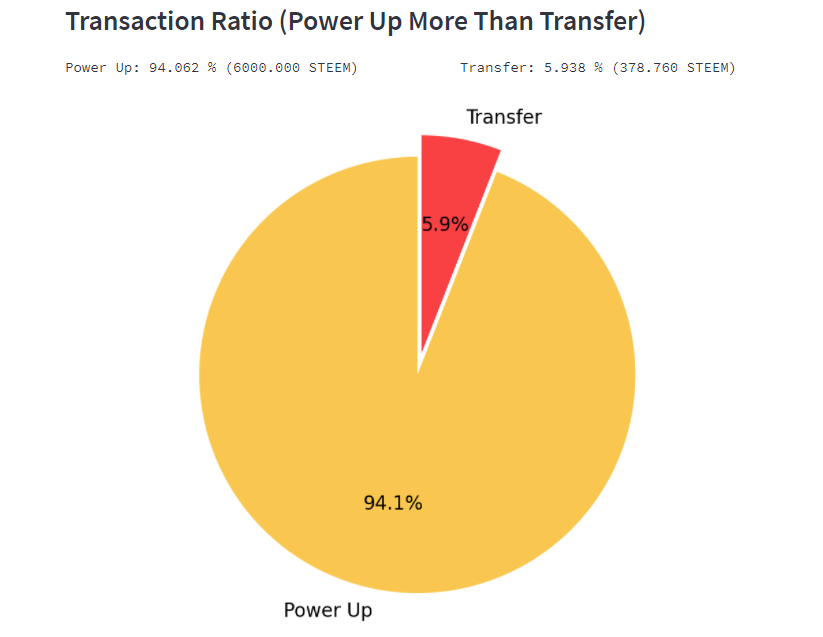 Here we can see all the important data of our eligibility status just like the eligibility status on the #Club5050, #Club75, and #Club100. We can also see a graphical presentation of our Normal Transfer and Power Up or Transfer to vesting which is now easy for us to identify our eligibility status.
Here is a GIF Sample Presentation:
Community Check Option: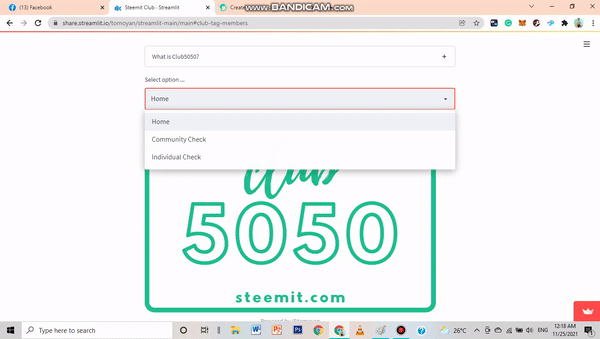 Individual Check Option: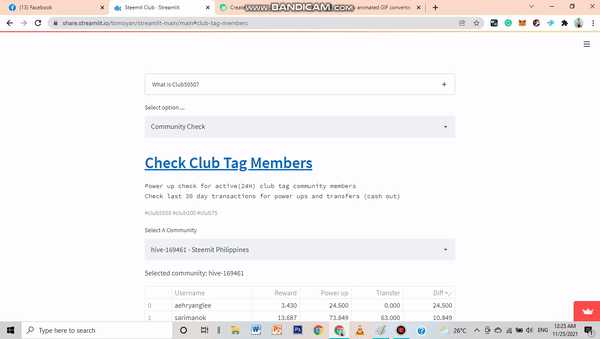 Thank you very much @tomoyan for this amazing #Club5050 Tag Eligibility Tool and we are hoping, this will help us monitor and know when to use the #club5050 tag and other Club tags.
---

---
If you want to help our Community by delegating and curating, you can do the following.
1. Quick Link
I've created an easier way to be able to delegate just select at the link below.
Delegate 50 SP | Delegate 100 SP | Delegate 150 SP | Delegate 200 SP | Delegate 250 SP | Delegate 300 SP | Delegate 350 SP | Delegate 400 SP | Delegate 500 SP | Delegate 750 SP | Delegate 1000 SP
2. Delegate to how much you want.
To be able to delegate use the link.
---
3. Use Steemworld.org
Go to https://steemworld.org then log in. Just follow these simple steps.
Go to the Delegations Option


In Delegations, go to Delegate so you can delegate.


Type steemitphcurator and the amount of SP how much you want to delegate.

Then use the Active Key to make the delegation successful.
---
For the full Tutorial on how to delegate and follow the curation trail of the @steemitphcurator community curation account, please go to @loloy2020's Tutorial. Please Just Click the link below.
---
Hopefully, it will go through and be supported by the Steemit Team and Curators. Many thanks to the Steemit Team for their support, especially to:
THANK YOU TO EVERYONE WHO SUPPORTED OUR STEEMIT PHILIPPINES COMMUNITY

GIF Footer Credits to @baa.steemit
Many Thanks to all and God all the Praise and Thanksgiving !!!