Hello, Newcomers of Steemit!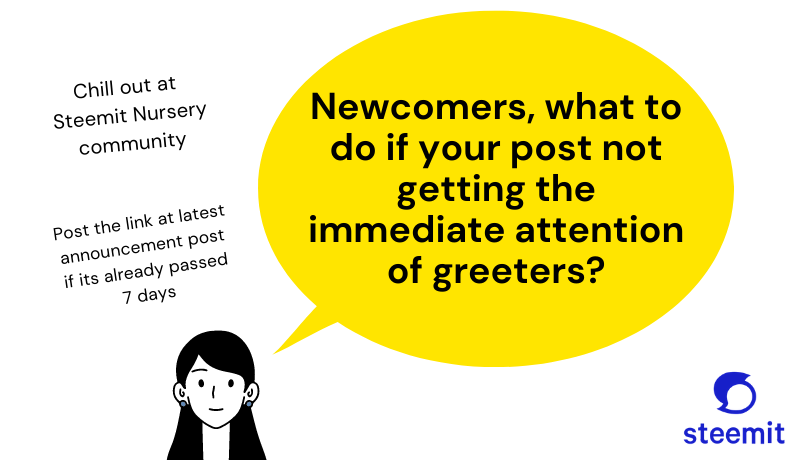 Welcome to Steemit and we are happy to see you here. Lately, there is a sudden increase in the growth of newcomers into Steemit, and our workload in Steem Greeters Team also been double than before, but still the same numbers of team members that been doing the task of verifying your post at Newcomers Community especially the Newcomers' Achievement Program. We actually have a new method of verifying and rated your achievement task so that we would not miss each of your tasks post that you have published.
Now greeters team is doing catch-up on the post that already passed its curation windows of 7 days and also will start checking and verifying tasks that are from the oldest post to the latest in the date of publishing it.
For example, they will be catching up on the post from Newcomer A that is from the oldest in age from the "NEW" tab dropdown categories in the Newcomers' Community.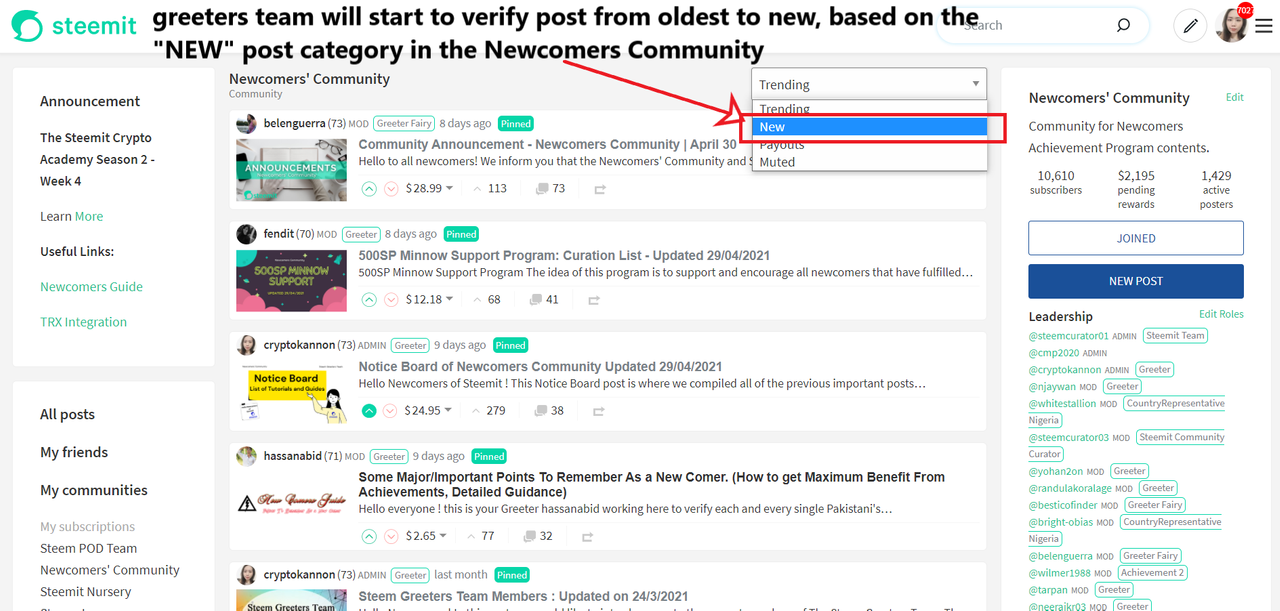 The Workflow of Steem Greeters at Newcomers Community
The greeters will be verifying the achievement tasks post every day;
they will verify your achievements' tasks making sure you follow all the required tasks to be done and asking you to do some correction or add some more required information. Please make sure to follow their instruction on what needs to be done. For example, if your Achievement 1/Introdcution post not having a proper verification photo, please provide the proper one so they verify you and authorize you to the next achievements tasks. Everything you need to provide for the achievement tasks has been clearly stated on the guide, please just follow it through properly and the greeters team will check and giving it a Rate.
if your achievements task is ok and no correction needed, they will give your account a title for example "Achievement 1 verified" if you have passed your Achievement 1 task.
they will then leave a comment on how many Rate points they will give to your task based on your post accuracy, presentation, and other things that are in their judgment.
Rating points we will be used are as follow:
Achievement 1 rating scale metrics
For Achievement 1 we have allocated a maximum 25% VP from @steemcurator03 which is around 10$ upvote worth for each post at this time of writing.
Mentors may give a rating to each Introduction post on Achievement 1 as follow based on if the post has met all the criteria for passing the achievement with a high or low rating:
Rate 1 is 8%VP of steemcurator03
Rate 2 is 16% VP of steemcurator03
Rate 3 is 25% VP of steemcurator03
Achievement 2 to Achievement 6 rating scale metrics
Then for Achievement 2 to Achievement 6, we have allocated a maximum of 10% VP which is around 4$ upvote worth for each post at this time of writing.
Mentors may give a rating to each post on Achievement 2-6 as follow based on if the post has met all the criteria for passing the achievement with a high or low rating:
Rate 1 is 3%VP of steemcurator03
Rate 2 is 6% VP of steemcurator03
Rate 3 is 10% VP of steemcurator03
We will adjust this rating metrics/percentage of VP in accordance with the average price of Steem every 2 weeks if needed. This is because we will not use the same metric if the price of steem is 5$ for over 2 weeks for instance.
next they will update your details such as the date you been verified,your achievement 1 post link into the google sheet for record of verified newcomers.
they will then update the SUT SUT - Steemit New User Tracking - Adding Remaining Countries To Track Newcomers' Activity/List so we have a record of how many newcomers still active on steemit after being verified.
when it is their turn to curate/upvote with @steemcurator03, they will be looking up for the post that already verified, checked, and has Rate from the oldest post to the latest verified posts, if your post has been expired/already pass the 7 days curation window, they will upvote any of your active post as an exchange to the missed curation window post of yours.
That is the overall workflow of Steem Greeters mentor and curators on Newcomers Community. We hope that you understand our situation when your post not being verified at an instant. There are very long queues of post that is waiting to be verified ahead of yours. Steem greeters team consists of Country Representative who also managing several other communities on Steemit, so they do not do this full time, it is an additional task for them.
Hopefully with the new incoming Country Representative that will be appointed soon will aid us on this gigantic task.
Currently, these are the greeters that are actively verifying and curating newcomers achievement program ;
Some could not be doing the task of verifying daily as they have other works in the Steemit Community that need their attention too as they are Country Representatives and also building and managing several communities besides the task of Steem Greeters Team project.
This is the Roster of when is the turn of each greeter to upvote with @steemcurator03
https://docs.google.com/spreadsheets/d/e/2PACX-1vSuYG-AksHTMasWvTEu7nK3aISnq8K3cXQUhZX8m8bxoQiYI4cMGRIFekNq2wSdBb9BWCqTaR1QC2Rq/pubhtml?gid=0&single=true
They will be using UTC timezone as a reference for the day on curation as greeters live at different timezone.
What to do if your post has not been visited?
No need to be anxious
Let say you have published your achievement tasks post for a few days now, and no curators coming to attend to your post yet, don't worry, they will be coming to you soon as they are working through the tasks from the oldest post to the latest one, so we don't know when they will arrive at your turn, as you see currently there is about 1430 active poster in this community and that means at about 14300 posts to be verified as each newcomer will have to submit 10 posts for this Newcomers Achievement Program.
We would be grateful if you could patiently wait for your post to be verified and please be on the lookout if they have arrived at your post and asking you to do any correction.
If for example, your post has passed 7 days, you may post your post link on the latest announcement post of Newcomers' community so greeters may look at it and check it out if they need some correction, then they will vote any of your active post as an exchange to the achievements' post-task that has expired. Note that greeters might still could not attend to your post at an instant if they still catching up with the previous/oldest posts
Chilling at Steemit Nursery Community
While waiting for your task to be verified, you can go to Steemit Nursery and hang out there, meeting other Newcomers and also existing Steemit users through the contests that the greeters team organizing there. You may post any contents that are of your interest there too and please don't forget to attach your Achievement 1/Introduction post link at the end of every of your post in there so curators and others get to know you better and you will get a better chance of getting support from them if you're doing this.
---
---
Possible solution for the lack of human resource on verifying the achievement tasks
I have discussed with my team member about hiring a user with the title of Pro Newcomers Verified user on Newcomers Community(they are the users that already completing their Newcomers Achievement Task) to help with verifying, checking, and guiding the newcomers that are still on this program. They will be title "Greeter Helpers".
Greeter Helper task on verifying Achievement 2 to Achievement 6 tasks posts
Their tasks will be checking, give correction if needed and leave a comment that the tasks have been verified, then giving it a Rate Point so the Greeters team will upvote the post later with @steemcurator03 when it is their turn to curate. They will only be checking Achievement 2 to Achievement 6.
Greeters Team will verify Achievement 1/Introduction post and the Compilation Posts
The Greeters team will still have to verify the Newcomers introduction post or Achievement 1 task post as this needs to be recorded on the SUT and also google sheet and proper verification.
Greeters will upvote the tasks post of Achievement 2-6 that already being checked, verified, and rated by the "Greeter Helpers" with @steemcurator03.
Greeters team will review all the Achievement tasks from Achievement 1-6 through the compilation achievements tasks post and then giving the user a "Pro Newcomers Verified" badge/title at Newcomers' Community.
Reward for Greeter Helper works
We will be using @steemcurator03 to reward their work according to their daily work report. We propose an upvote worth $10 for their daily report work, and they should have verified at minimum 30 posts per day to get the full $10 upvote worth. We would be glad if @steemcurator01 team could upvote some of their reports too.
Hopefully with the new addition of Country Representative that will be appointed soon will help with the workload and also with the hiring of Greeter Helper as we proposed in this post.
Thank you for the continuous support on Steem Greeters Team Project.
Best Regards,
Steem Greeters Team.