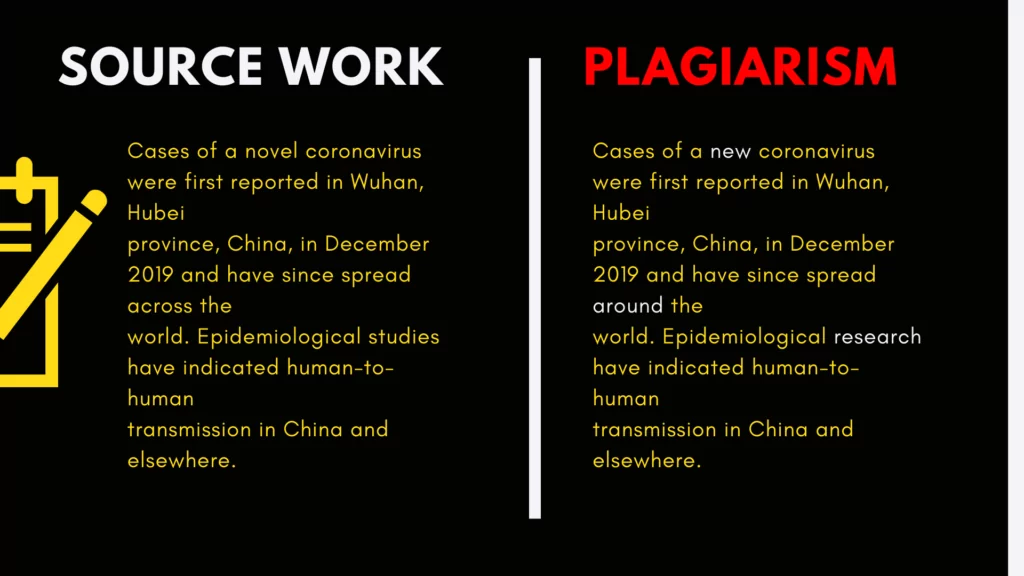 source
What is Plagiarism?
plagiarism is using someone else's words without giving them proper Credit in your essay plagiarism is stealing. That's right stealing another writers work. This is plagiarism always complete your own work. Let's look at another situation you find an article of the internet that says exactly what you would like to say in your essay. You copy a few sentences and forget to add a citation. This is still plagiarism. You might have made an honest mistake and forgetting your citation. But if you do not include it, it looks like you are using someone else's words and you tried to slide them by as your own remember to avoid plagiarism at all costs. Here's the key to avoiding plagiarism the Golden Rule if You will always write a source citation for words and ideas that are not your own.
Always include that Source on your references page.
types of plagiarism.
-Number one: cloning cloning involves submitting another's work word for word as your own I think of it as turning in someone else's paper or homework assignment and just writing your name on it. You've basically taken a complete assignment or paper and turn it in as your own.
-The second: type of plagiarism is control C a control C is a written piece that contains a significant portions of text from a single Source without alteration. It is called control C because that is a shortcut on a PC computer that lets you copy text this form of play. Ism is essentially copying and pasting your assignment paper or Project without any citation quotes or credit to the author.
-The third: type of plagiarism is find and replace with this type of plagiarism a few key words and phrases are changed. But the essential content of the sources is remain this form of plagiarism happens when you find something to put in your assignment and instead of copying it entirely you just change a few keywords. This is still considered plagiarism because you've taken someone else's ideas and not given them credit.
-The fourth: form of plagiarism is re mixing RI mixing involves paraphrasing from other sources and making the content fit together seamlessly plagiarism happens when you don't give credit to a source you learn something from for example, I'm a librarian. I don't know very much about astrophysics. If I was writing a paper on astrophysics. I would need to do research and cite my sources in the paper.
All the information learned during my research would be new information that I need to cite. You always need to cite whether the information is in your words or the author's words.
-The fifth: form of plagiarism is recycling recycling is the act of borrowing generously from one's own previous work without citation. Were you aware? You can't reuse your previous work without prior approval by your professor. A lot of students are not aware of this being accused of plagiarism is an awful experience. We want you to be aware of the various forms of plagiarism so that you can avoid it.
summary.
Here's the main key the bottom line whenever you use an outside source to write your essay. You must document that Source in your list of references. When you paraphrase or when you copy verbatim.