Good day fellow Steemians, good to be here today with my fifth achievement post. It's been over 17 day I've been in @Steemit and no regret. Writing and being paid is the testimony. Seeing how stressful it will be has kept me back this long from doing this task but it really worth it. It really helped my knowledge more.
Read along as I take you through Steemworld.org.
REVIEW ON STEEMWORLD.ORG
On reaching the website, I had to sign-in with my username and private posting key.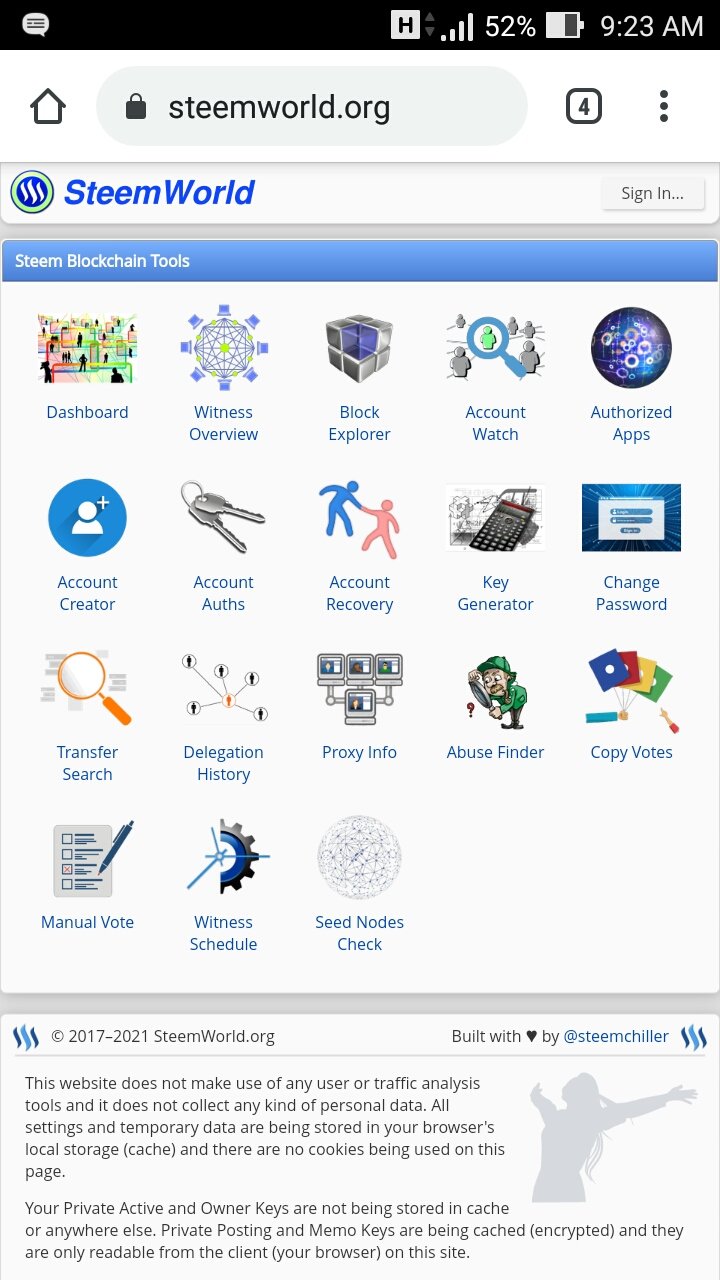 Now on my account, there are Steem Blockchain Tools, which includes ; Dashboard, witness overview, block explorer, account watch, copy votes, etc.
When I click on the dashboard button, it comes with a caution about clicking of links that promises free airdrop, most are scammers who want to steal account keys and remember the @achievement2. I dismissed the notification.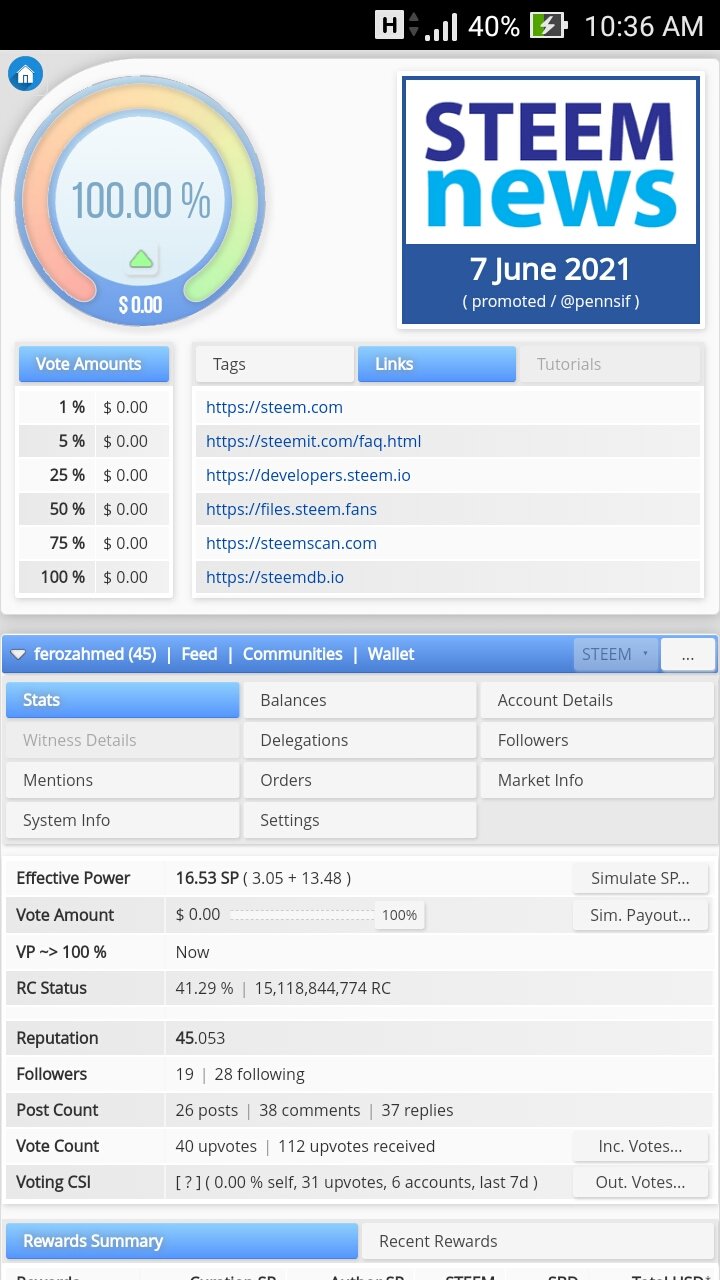 This page comes with information about Voting Power, Stat, Balances, Account Details, Mentions, Followers, Delegations, Market Info, Settings, Posts, Coming Curation Rewards, Coming Author Rewards and Tools.
Now taking them one by one:
° VOTING POWER
This shows my capacity to vote on any post. This is expressed in percentage, as it can be deduced from the chart. My present voting power value is seen under the chart circle.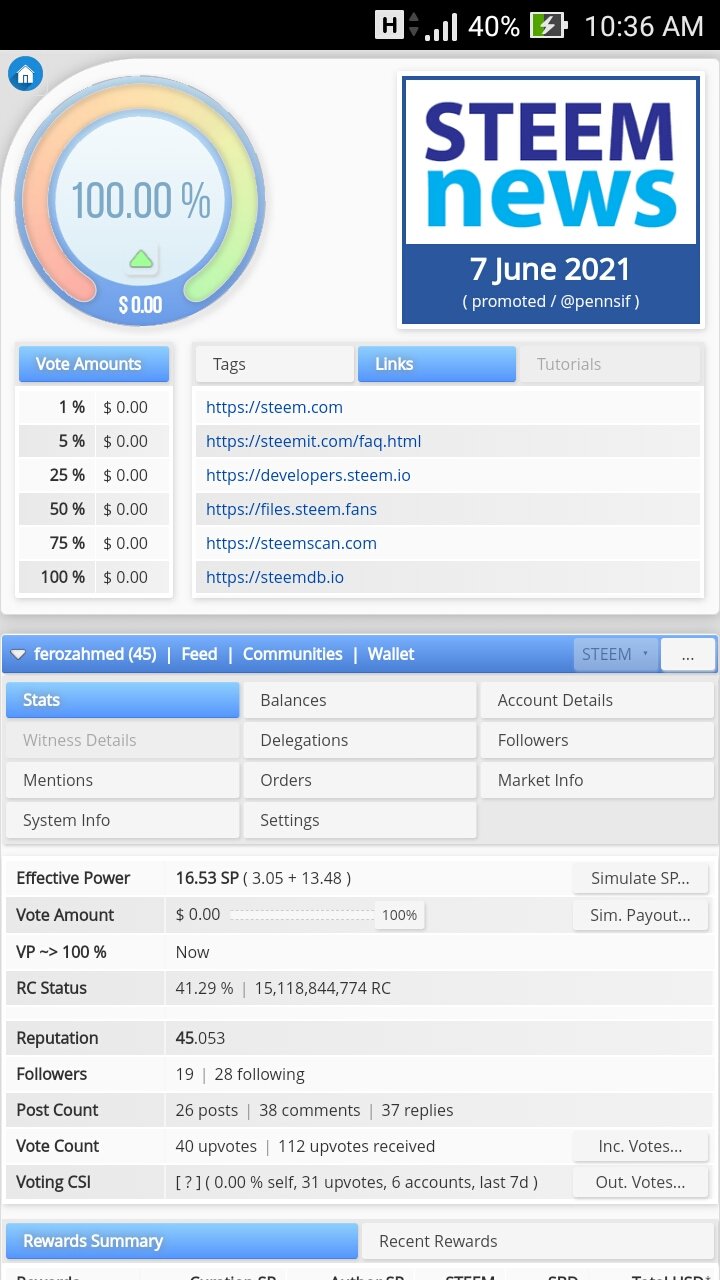 ° STAT
The next thing is my Stats. It is the accumulation of all information on my Steemit account, which are: effective steem power, vote power amount, when voting power returns to 100, RC status, Reputation, Followers, Post count, Vote count, and Voting CSI.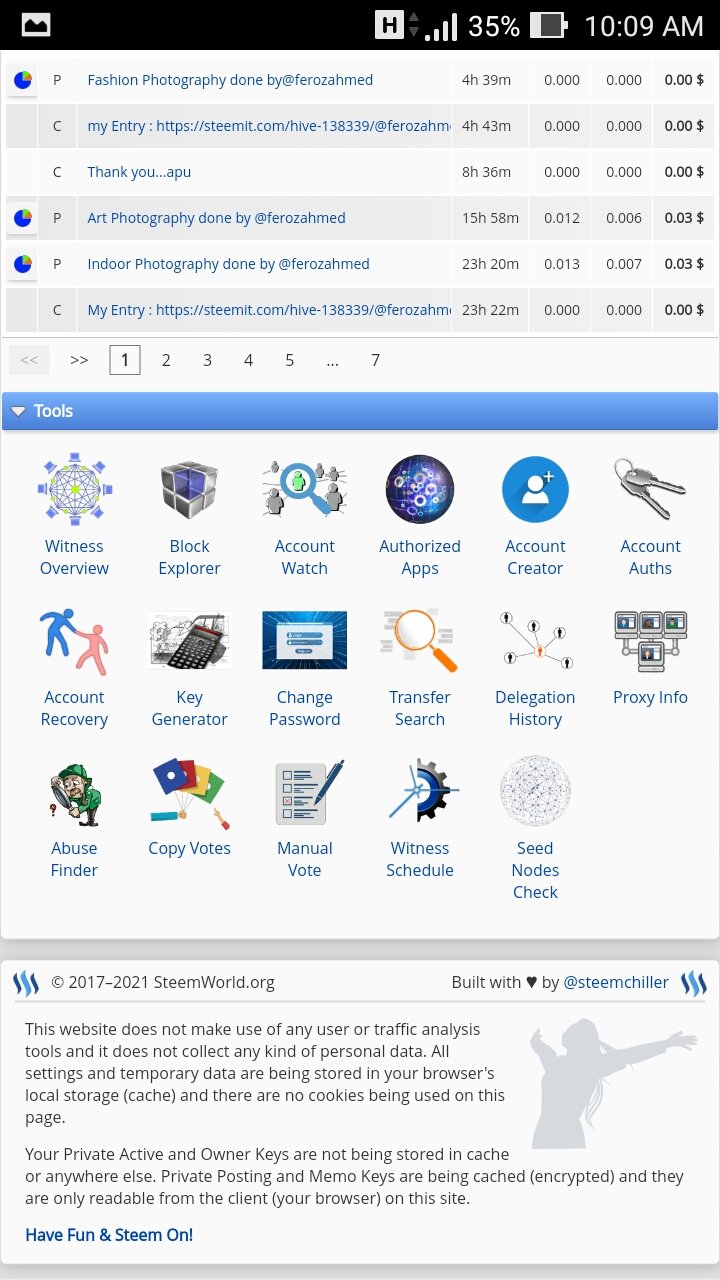 ° BALANCES
This shows what I have in my account. It shows the breakdown of my assets. Take a look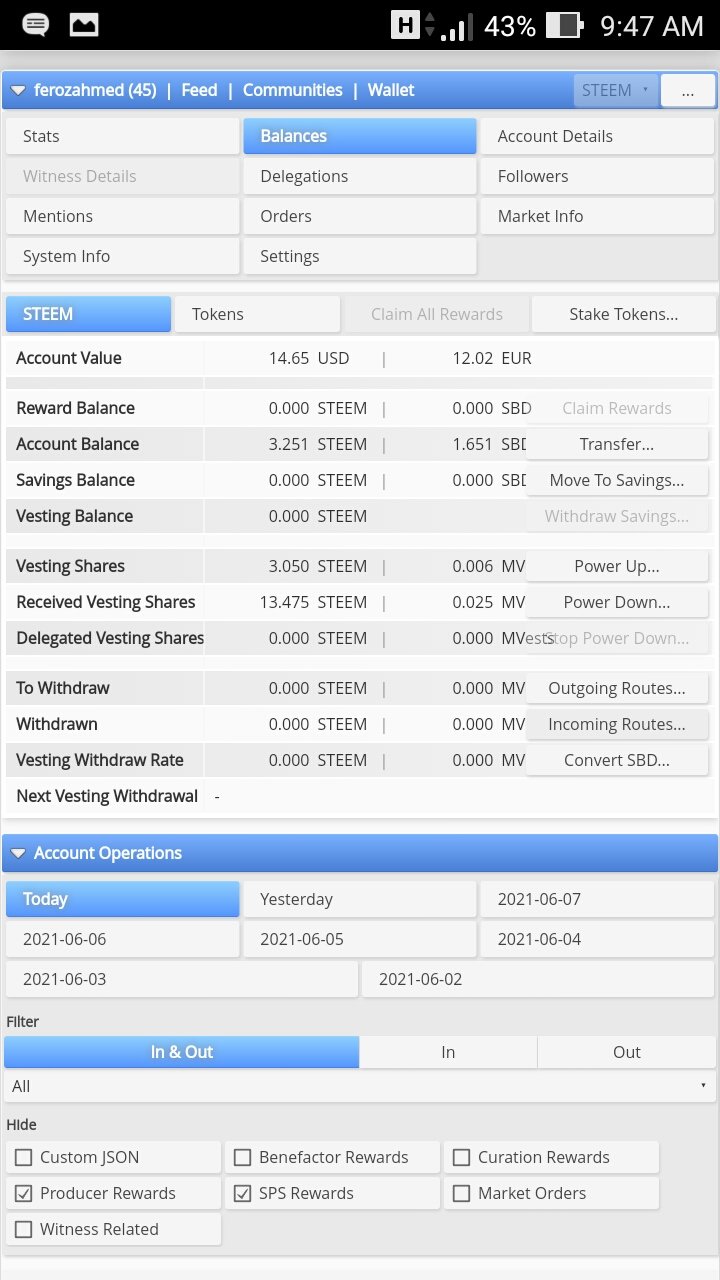 ° ACCOUNT DETAILS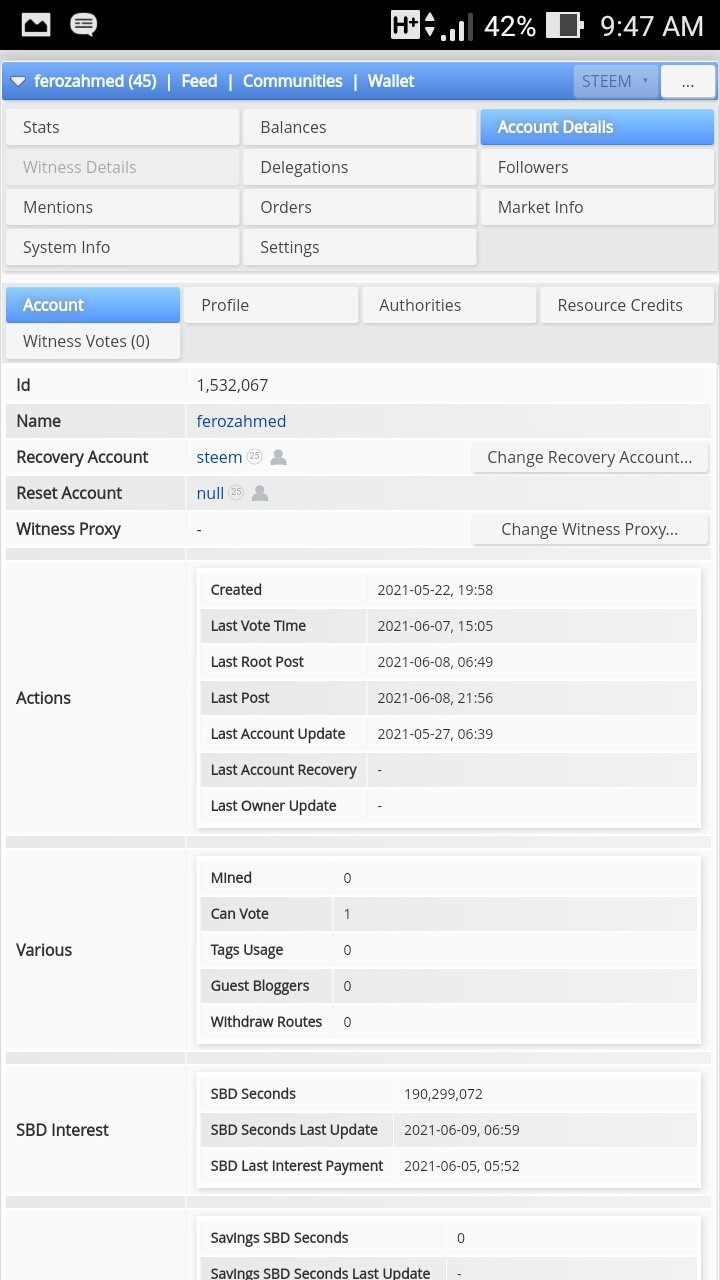 This shows details about my Steemit account like my ID, username and other financial information.
° DELEGATIONS
If steem power has been given to people, it will show here.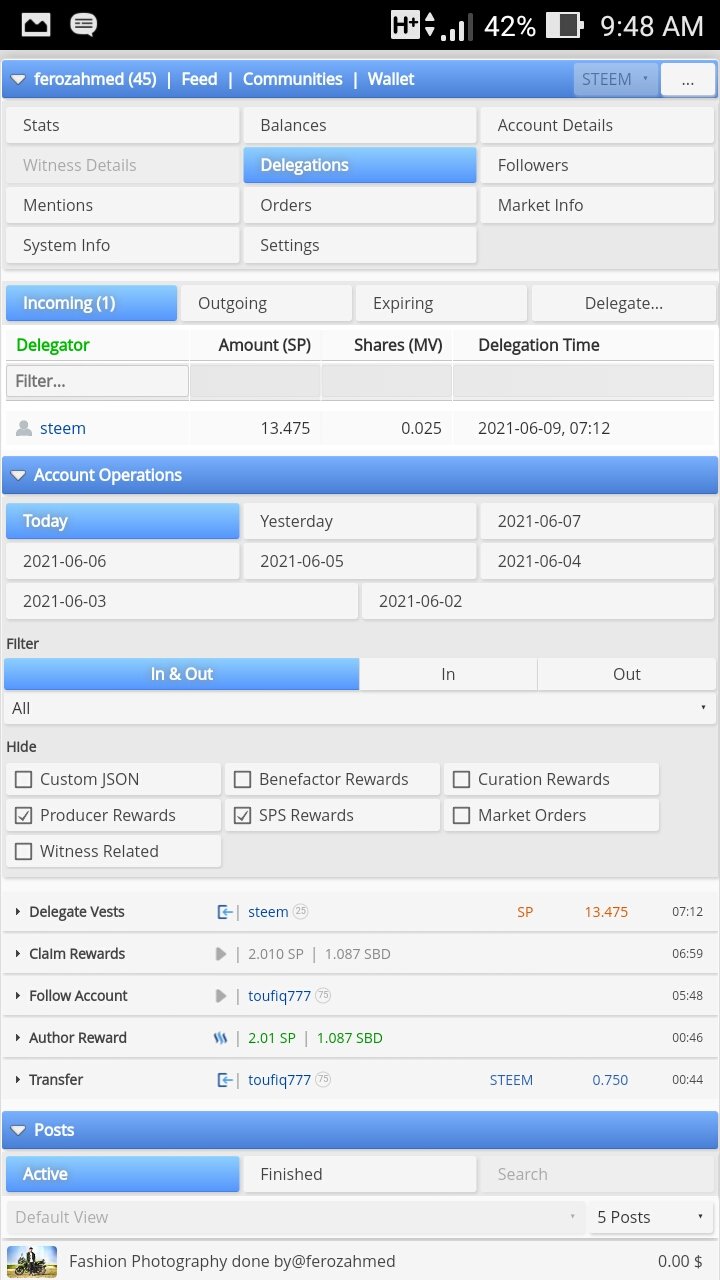 ° FOLLOWERS
This reveals the total number of people who follows me and I can still control it.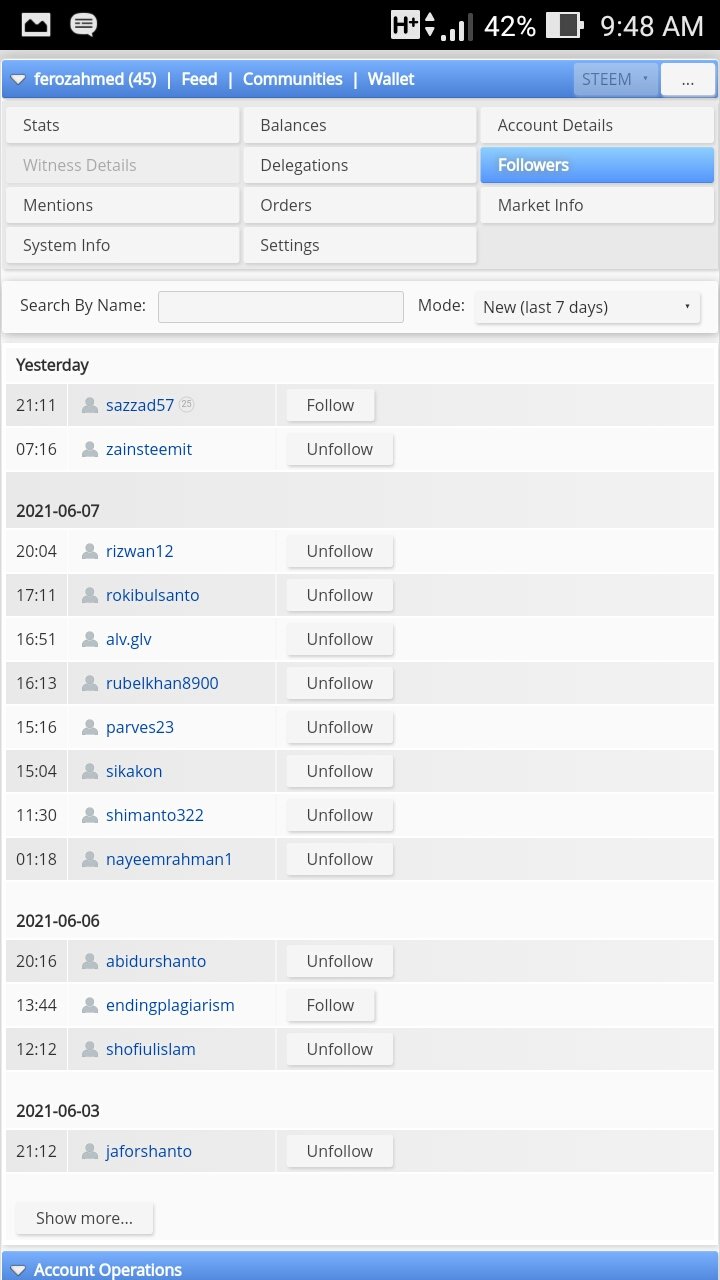 ° MENTIONS
This expose the total number of people that has mentioned my username in a comment or post on Steemit.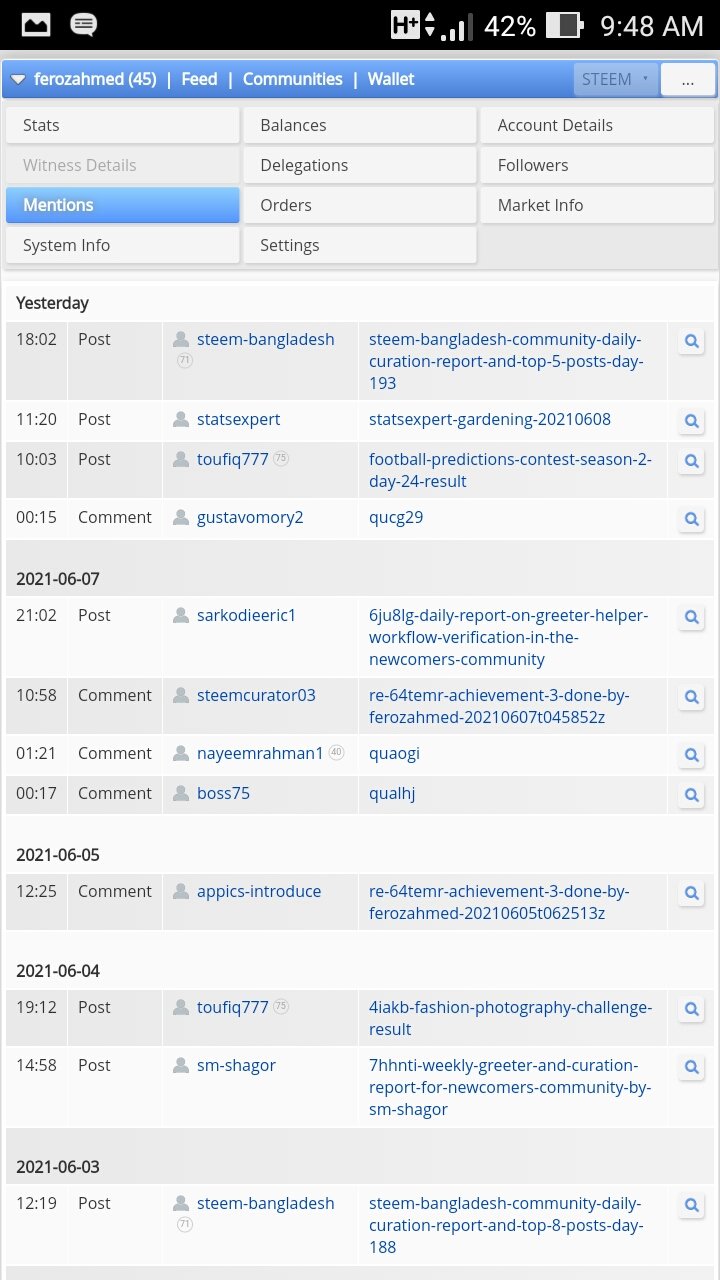 ° MARKET INFORMATION
This shows the latest and current rates of steem and SBD i.e steem Dollar, in USD and EUR.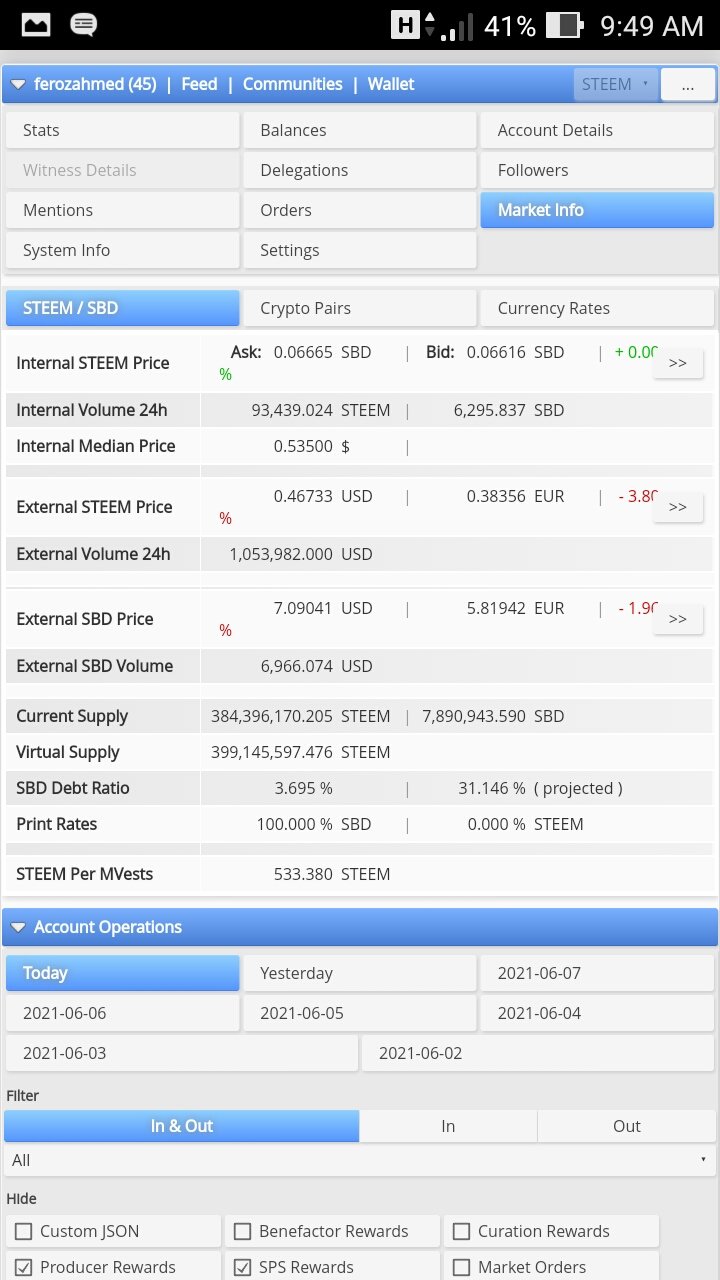 ° SETTINGS
I can set and reset my account here.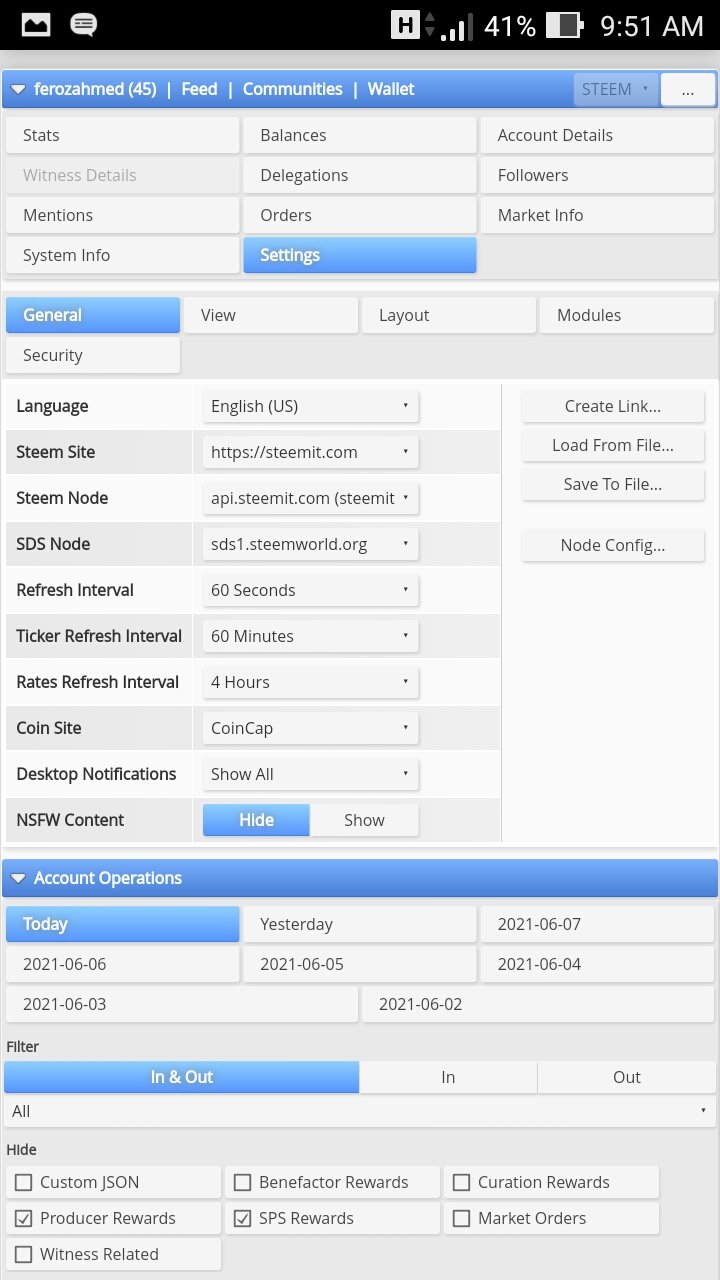 ° POSTS
All my posts from day by day. I posted can be checked here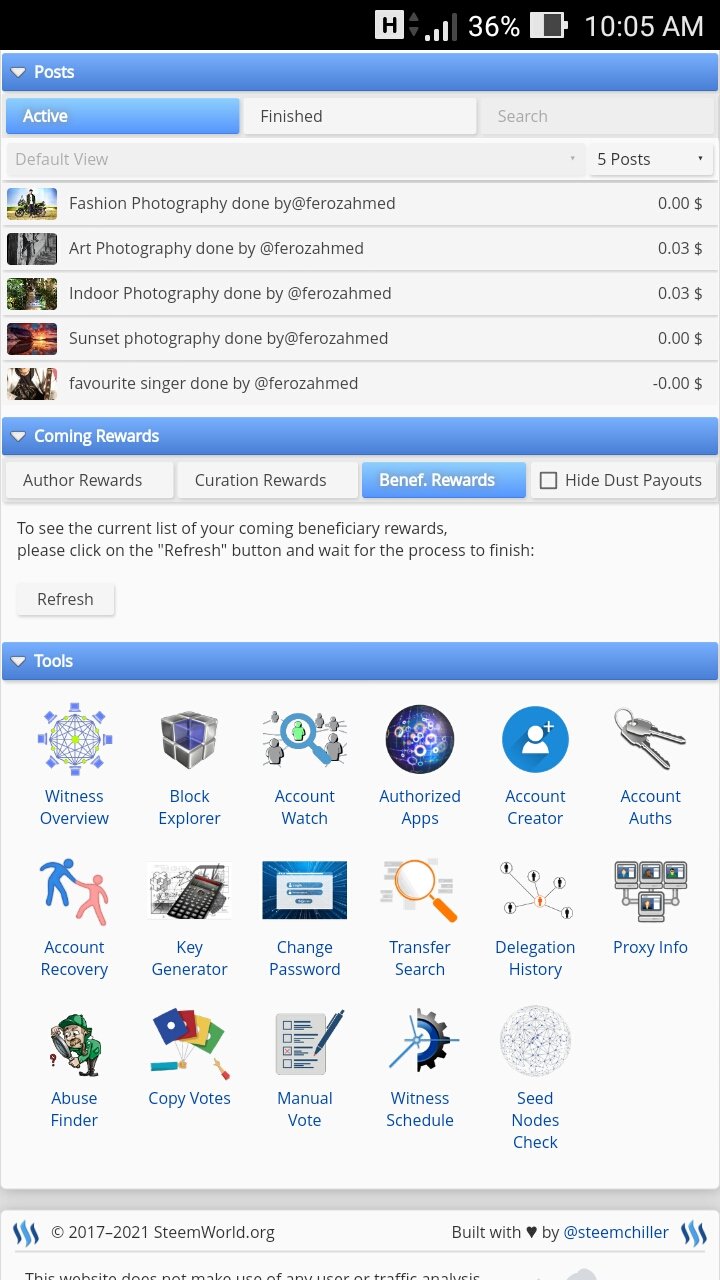 ° COMING CURATION REWARDS
If I have any incoming Curation rewards, it will show here and much more.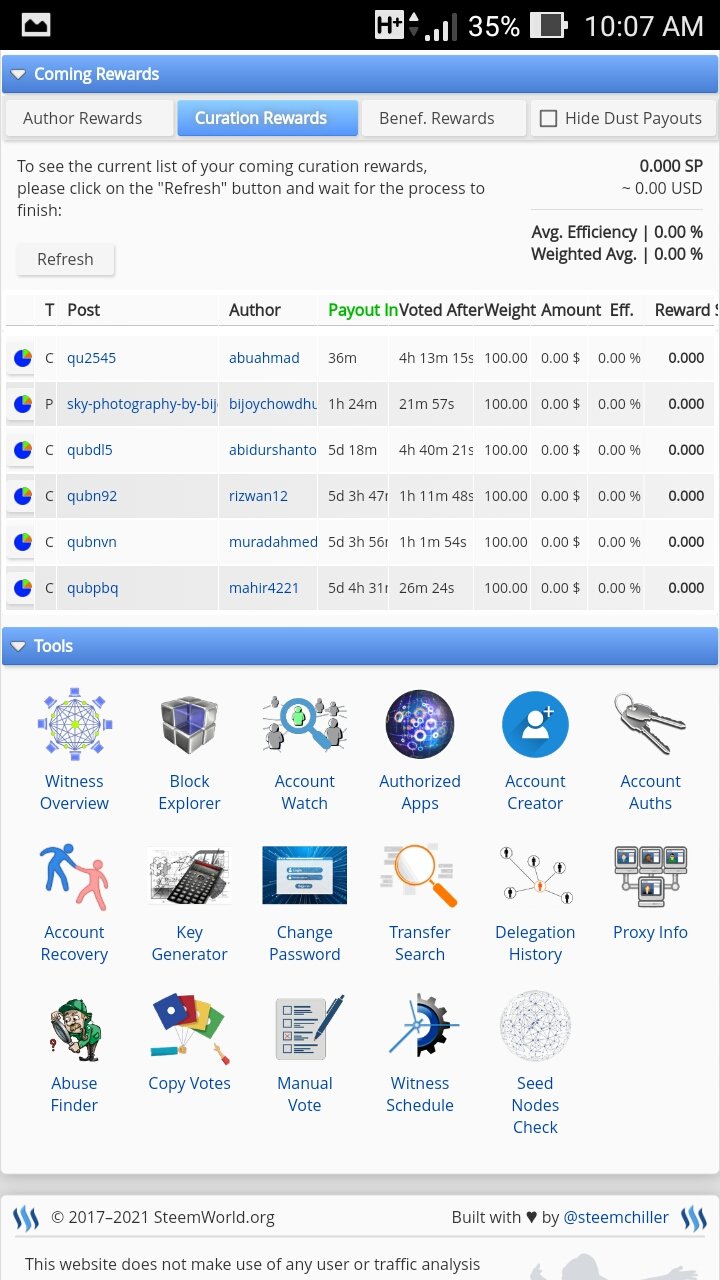 ° COMING AUTHOR REWARDS
This shows rewards coming on the posts I've made.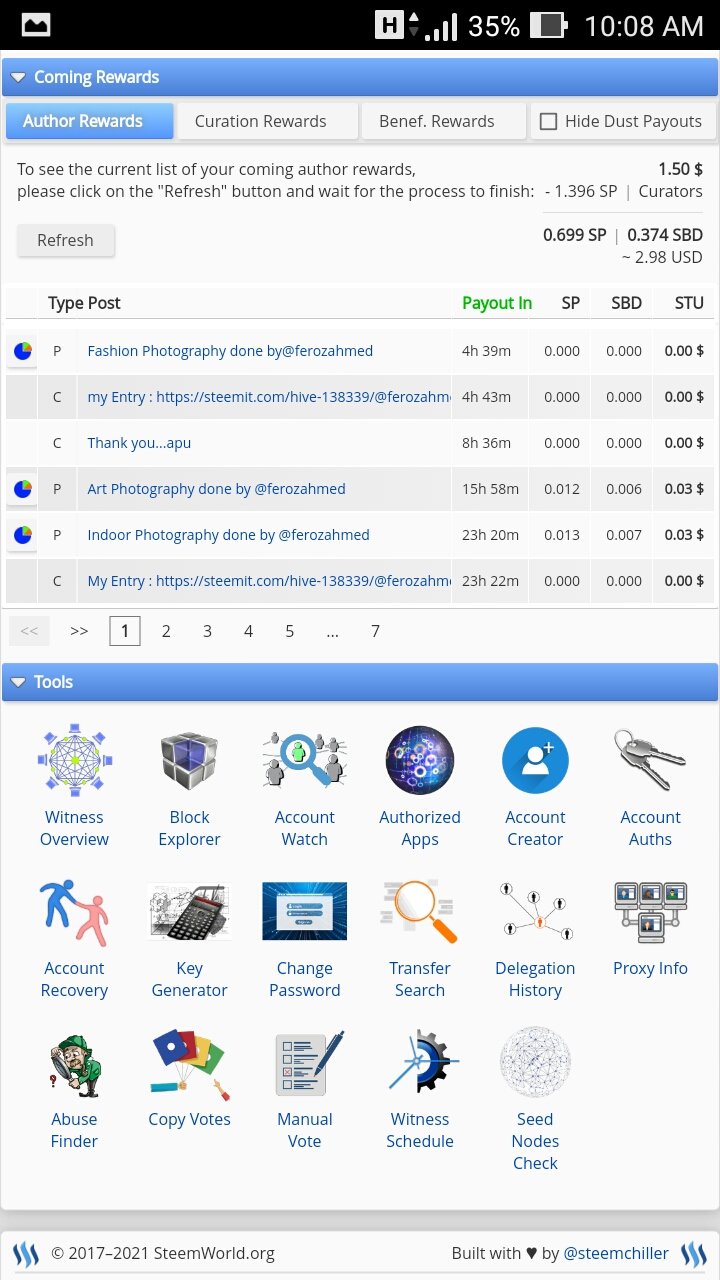 ° TOOLS
Some operations can be carried out here like Witness Overview, Block Explorer, Account Recovery, Key Generator, Transfer Search, Delegation History, Proxy Information, etc.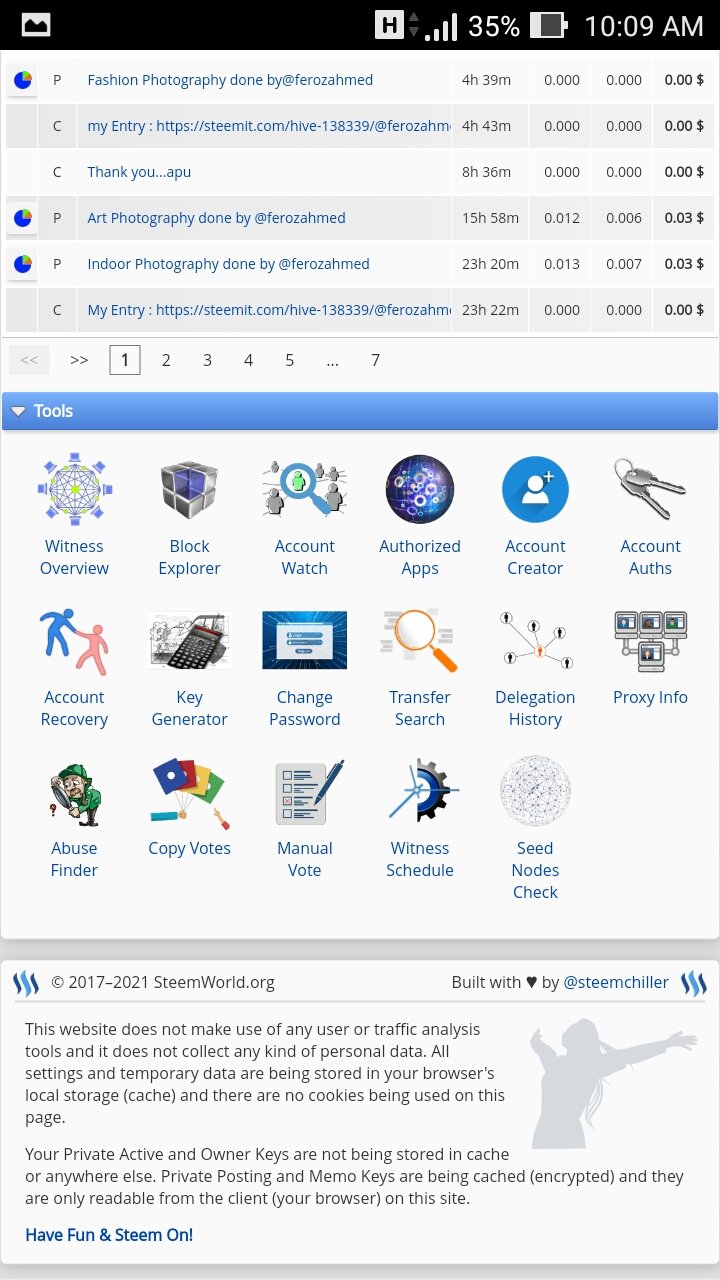 Though I've overcome my fears but I must confess, the task is worth it. It gave me an open eyes to what happened with my account. I really love the experience.
Thanks to @steemalive community that makes it possible to progress in @Steemit, big kudos goes to @focusnow for the leadership and to my brother @fredquatum, he won't just allow me to rest, we steem on!