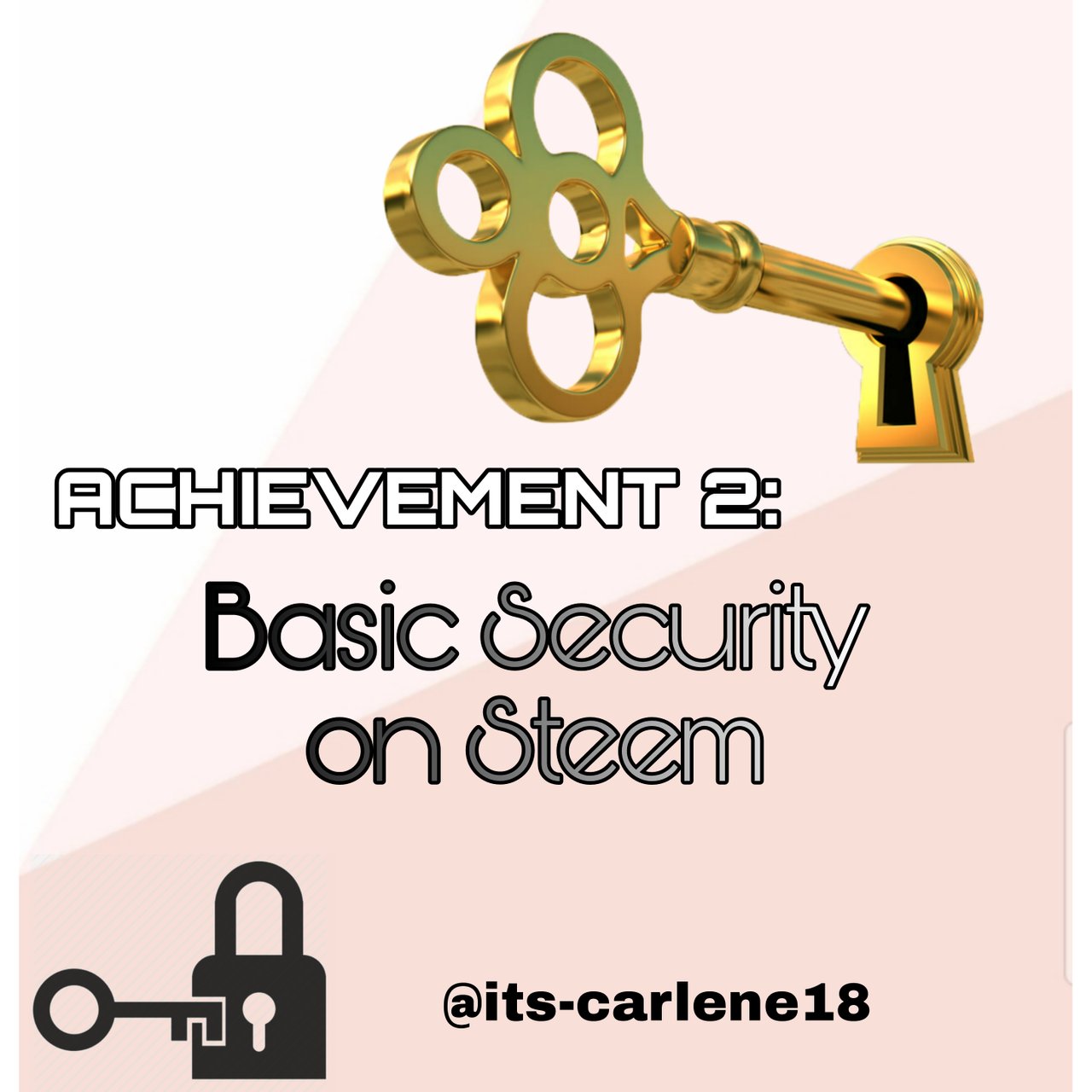 Good day Steemit Community!
My account and my Achievement 1 post had been verified for the passed days so today I want to proceed to the next level. I first asked ate @liamnov on what I was required to write for achievement 2. And it is about the Basic Security on Steem and I am going to talk about it. All questions about, What are the Steemit Account Keys? How to use the different keys? How to transfer steem token?How to power up steempower? What to do to keep your password safe? These questions will be answered.
By clicking on the wallet after reading through, I was able to gain access to all of my keys. I was redirected to the steem wallet in a new tab, and I clicked on the Keys and Permission tab to access my Keys.
ACCOUNT KEYS
The types of these keys has its own functions and limitations.
PRIVATE MASTER KEY
The private master key is used when you lose or forget your private keys, you can use it to create a password. It will restore your steemit keys. When you lose your private keys, you can use this to unlock your steemit account. It's important that this is kept safe and stable.
PRIVATE POSTING KEY
The private posting key is the most popular way to access your steemit account. It will enable you to upvote another steemit user, comment on other steemit users' posts, and even post your own content on the platform. You may also resteem some posts to make your resteem post visible to your followers.
PRIVATE OWNER KEY
The private owner key is used to clear all of your steemit keys. It's mostly used to restore the account if the account owner changes their keys after their account is hacked. It's a good idea to keep this password somewhere secure.
PRIVATE ACTIVE KEY
The private active key is used in monetary and wallet transactions including moving Steem or SBD from one steemit account to another. It's also used to increase and decrease the steempower.
PRIVATE MEMO KEY
The private memo key is used when transferring funds, particularly SBD withdrawals on your steemit account, this key is decrypted private memo.
We are issued this Tron account Public and Private Key in addition to steemit keys.
TRON PRIVATE KEY
The tron private key holds the most power in your tron account. This is used in transactions like exchanging tokens, freezing, and voting where signatures are needed.
STEEM TOKEN TRANSFER
If you want to transfer Steem token to others , you will fist need to open and access your wallet.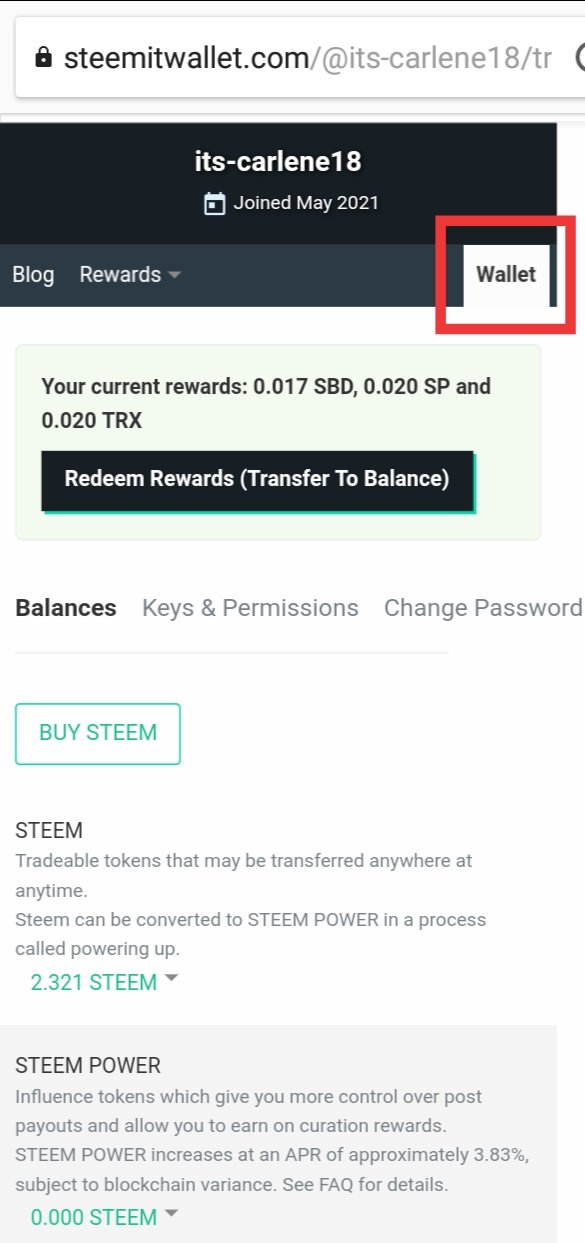 Click on the arrow next to STEEM under the Balance tab, then click TRANSFER.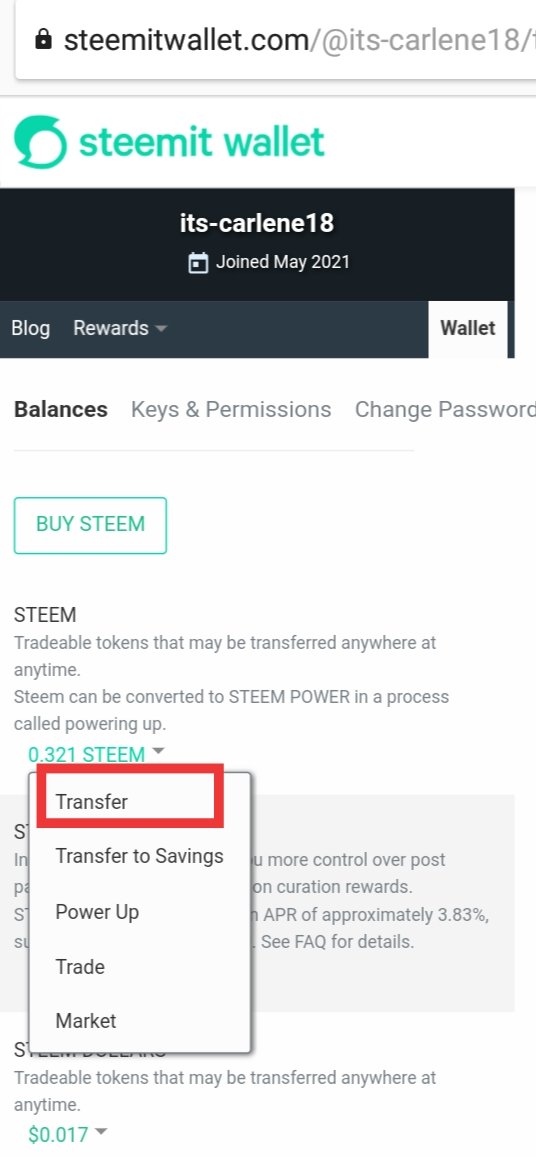 When you type in the recipient's username, the amount, and the memo, a dialog box appears. Following that, you will be asked to enter your Owner Key, Private Key, or Master Key before the transaction can be completed.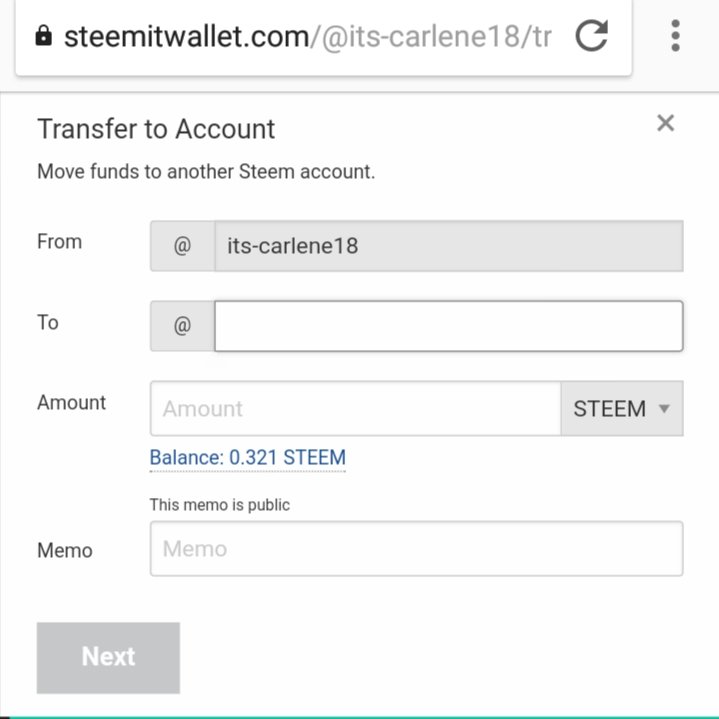 STEEM POWER UP
Buying some steem and convert by powering up can increase your steempower. Also, you can increase your steem power by having a quality content of your post which the curator will upvote with high rewards. The following are the steps on how to power up your steem to steempower.
To power up your steem you need to first access your wallet. Below the Balances tab you click on the arrow near "STEEM" and press on Power Up.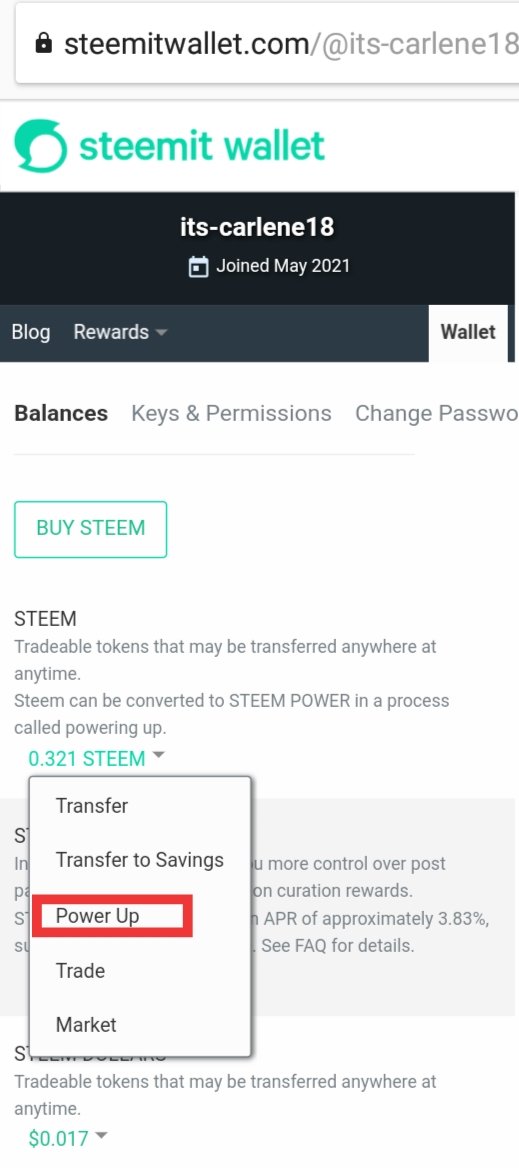 After inputting the amount of Steem you desire to use for powering up you click on "Power up" and use your active key to complete the whole process.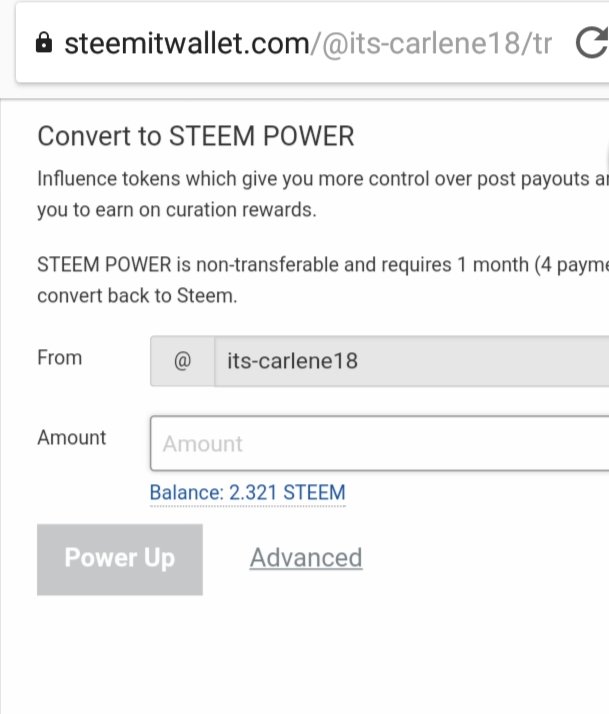 KEEPING PASSWORD SAFE
Saving password offline is the most safest and convenient way unline saving it online, it can be hacked at any time. Write your password in a piece of paper and stored it kn your wallet or at that back of your phone.
I want to extend my greatest gratitude to @cryptocannon for his post which serves as a guide so that I would know more about this platform. Thank you.
This is my achievement task completed
Achievement 1: https://steemit.com/hive-172186/@its-carlene18/achievement-1-my-introductory-post-to-steemit-by-its-carlene18